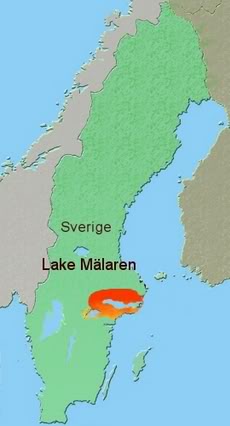 Area: The Lake Mälaren and the close area around it.
Mälaren is the third in size lake in Sweden and the area I call my home. It has a climate quiet different compared to other close by areas. It is more humid and warmer in the summer, but not as cold in the winter. This has created a specific flora and also a special fauna. Several species of flowers and trees only grow around Lake Mälaren and in the south of Sweden. The mistletoe for instance is rather rare in Sweden but we can see dozens of them from our window.
Many fortifications and castles have been built around the lake. You can for instance visit 5 Royal Castles by boat on a 6-hour trip roundtrip from Stockholm. This building of fortification and permanent settlements began early, around 5000 BC, and there are many fort hills and archeologically sites around.
Everyone has probably heard about the Vikings, and you can still find lots about them in this area. I live only a 10 minutes walk from a very important Viking monument: The Sigurdsristningen. Being so close to a site like this makes me feel in touch with this part of Swedish history and has made me fascinated by the early history of Sweden. Around Lake Mälaren there are many spots where you can find signs of early culture, like in Birka and Sigtuna. Along the roads you can see a lot of Runic Stones.
Interesting points to see in the area are:
• Anundshög: old burial mounds from Viking Age.
• Birka: ruins from old capital city of Sweden.
• Mariefred with Gripsholm Castle. A picturesque village and a beautiful castle. In the castle is also the Swedish National Portrait Collection.
• Sundbyholm with Sundyholms Castle and the famous stone carvings from the time of the Vikings: Sigurdsristningen.
• Eskilstuna is not a real tourist destination, but it has some nice places. My favourite of all is the Fors Kyrka (Fors Church). Also worth visiting is the Klosterkyrka, sculpture 'Hand of God' by Miles, the historic area of "Rademachersmedjorna" and the museum "Faktorimuseet".
• Härkeberga Church: famous for its well-reserved frescos by Albertus Picto from around 1480.
• Taxinge slott: Get a taste of the typical Swedish Christmas celebrations at the yearly Christmas market at Taxinge Slott. The castle is also famous for its cakes :-)
• Engsö Castle A haunted castle from the 15th century and one of the many smaller castles in this area.
• Strängnäs one of Sweden's oldest towns. The highlight of this city is its beautiful cathedral.
• Västerås: is one of the top 10 largest cities of Sweden. Suggestions: visit the park (Djäkneberget), interesting for the many boulders with inscriptions. The old part of town with historical houses at Kyrkbacken and the Cathedral.
• Örebro is an university city and the 7th largest city in Sweden. Places to see are castle from the 13th century and Wadköping, which is the old town and now open air museum.
• Garpytthan National Park
• Engelsberg Ironworks is a Unesco site and a wonderful museum to visit. This site is the best-preserved and most complete example of Swedish ironworks from the 17th and 18th centuries.