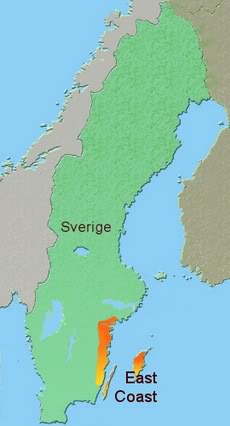 Area: The islands of Öland and Gotland on the East Coast, together with the area around Växjö in middle of province Småland (generally called Glasriket or Kingdom of Glass).
The Islands of Öland and Gotland have the best summer weather in Sweden, sunny but not too hot due to a nice sea breeze. Öland you reach by a 6 km long bridge, Gotland by a ferry. Both islands have a unique and different flora and fauna compared to the mainland because of their limestone surface. Both also have a lot of historical memories. Visby, the "Capital" on Gotland has so many that the whole city is on the UNESCO World Heritage list. And I can only agree; this town is really something special!
Tip: Buy strawberries before you leave Öland, it is said that they are particularly sweet and good here :-)
Glasriket/Kingdom of Glass: Glassblowing was introduced in Sweden 1556, by the king Gustav Vasa. He brought the best glassblower of that time - a Venetian - here. Since then almost 200 small glass industries has been established in Sweden, half of them in the southeast corner of county of Småland. Nowadays there are around 15 left and some have merged to bigger companies of course. Kosta Boda is the largest and has incorporated the famous Orrefors Company also. Orrefors had a big epoch with the designer Simon Gate and Edward Hall in beginning of 20th century. Still you can find extraordinary glass art here.
Tip: If you like hand-blown glass like me, go to the "Factory Shop" and buy second quality. You can't tell the different from first class and the price is less then half.
Interesting points to see in the area are:
• Blå Jungfrun National Park.
• At Gotland there are 92 churches!! But the amazing part is that every one of them is built before 1350 AD on an island of only 3160 km2 ! I've visited a few of them and they were quite special.
• Visby, medieval city and a highlight of my visit to Gotland.
• Fårö, island north of the big island of Gotland, worth taking the ferry over!
• Gotska Sandön, island far north of the big island of Gotland. Not easy to visit, so plan ahead. Breathtaking tranquile island and National Park.
• Borgholm (Öland) and the castle ruin.
• Eketorp Fornborg, extraordinary well kept museum in a fortification inhabited 300-1300.
• Lighthouse Långe Jan at south end of island. Bird sanctuary and Nature reserve.
• At the Kingdom of Glass: Kosta-Boda, Glass ware.
• Skruf, Glass ware in the village av Skruv
• Lessebo, Three hundred years old factory making paper by hand, open to tourists.
• Dadesjö Church
• Norra Kvill National Park, With the largest oak tree in Sweden.