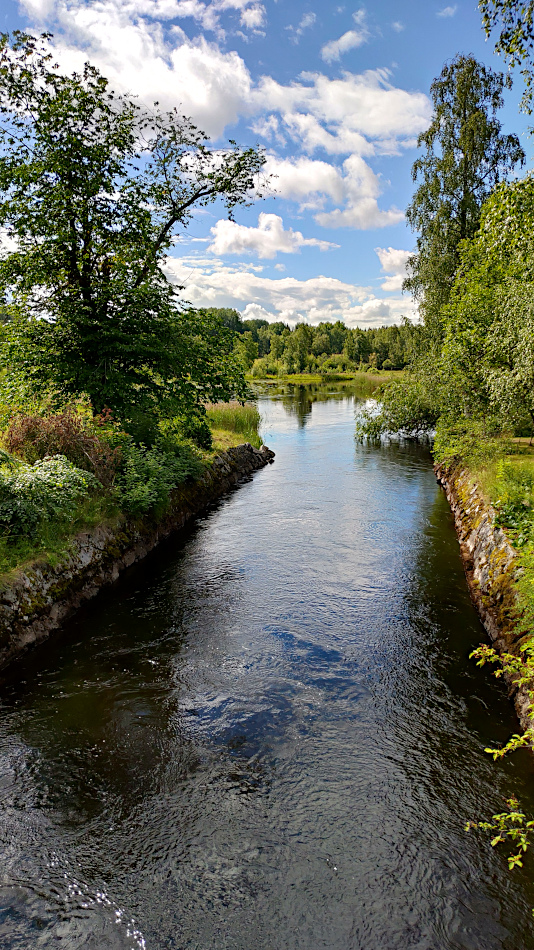 View from the garden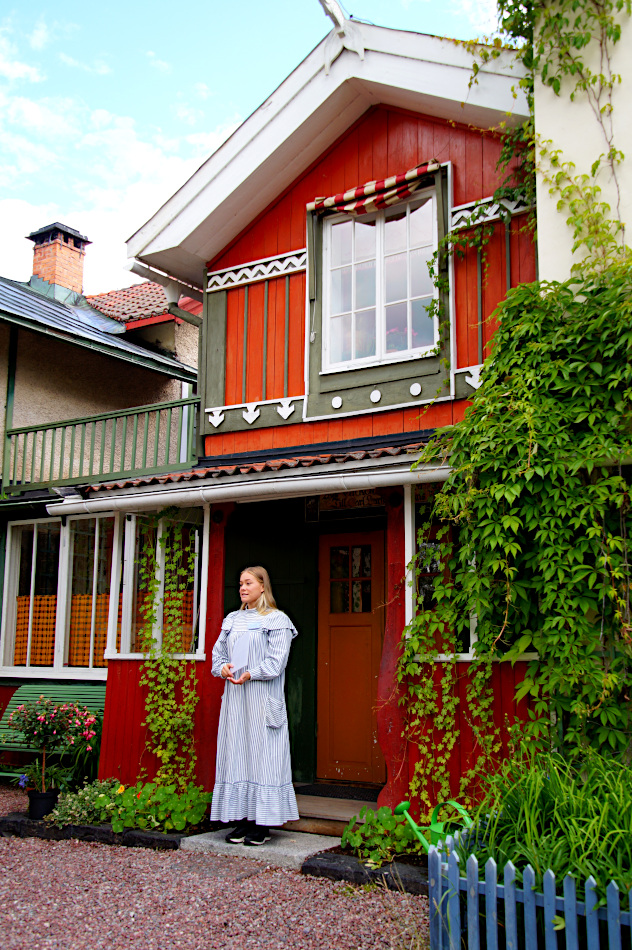 Warm welcome by our guide at the start of the tour
On our way driving north we planned in a stop at the "Carl Larsson Gården" in Sundborn. It is not that far from where we live, but just a bit too far to do it just in a daytrip, driving back and forth. So combining a stop with our travels towards the north of Sweden was perfect.
On the photo above to the right you can see our friendly guide, dressed in clothes typical for the time.

"War välkommen kära du, till Carl Larsson och hans fru!"
Or freely translate: "Be welcome dear you, to Carl Larsson and his wife!" These are the words written above the entrance to Carl and Karin Larsson's beloved 'Lilla Hyttnäs' house in Sundborn, just outside Falun. And this little line of words gives a hint of the quirkiness and character of the interior of this house.
To be honest, I didn't have any high expectations at all for this visit to Sundborn and Lilla Hyttnäs, home to these two famous Swedish artists. Åke really wanted to go. But myself, not orginally being from Sweden, had no real attachement to these artists and their history. But as soon as I walked through this door it all changed; what an amazing and surprising place! And the story of their lives really touched me deeply.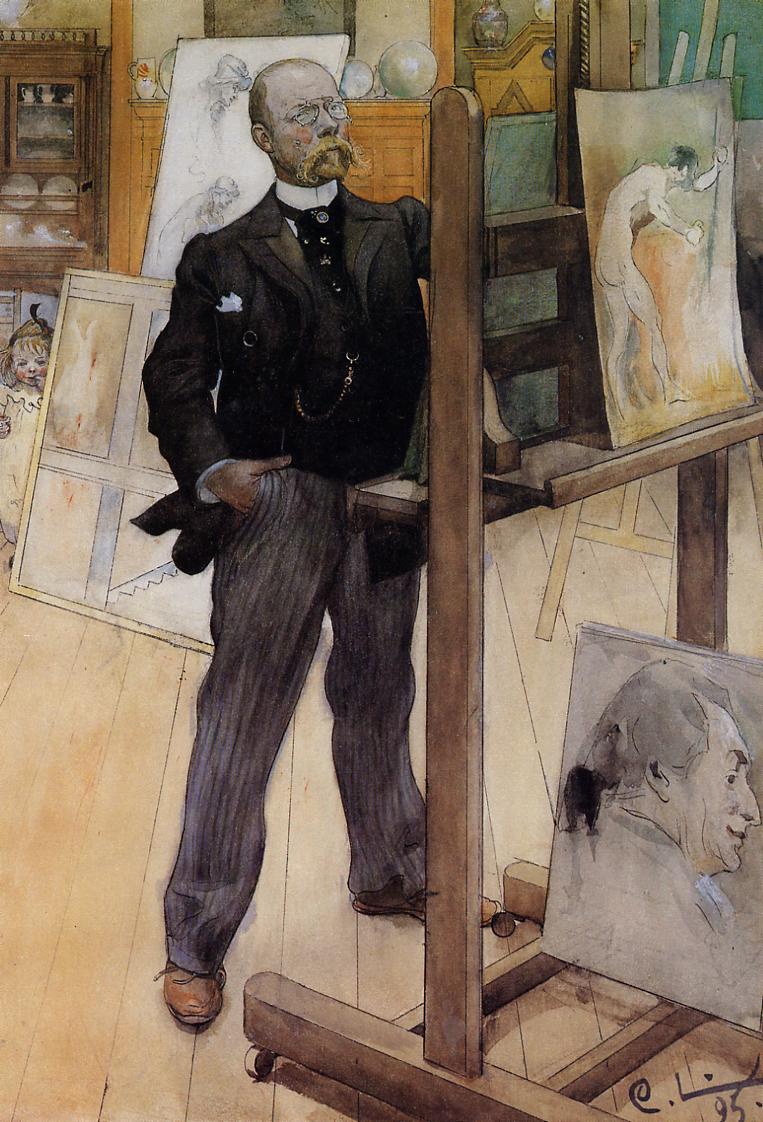 Self portrait Carl Larsson
On the left you can see self-portrait of Carl Larsson, one of Sweden's most well-known and loved artists. Born in 1853 in Stockholm and died in 1919 in Falun. His family was poor and Carl grew up in dismal circumstances. The only glimmer of hope was his strong artistic talent, which emerged early on in his life. He spent several years in Paris where he tried to establish himself as an artist, but in spite of all his hard work he never achieved any success.
The turning point came in 1882 when he moved to the Scandinavian artists' colony in Grez-zur-Loing outside Paris, and where he changed his style from oil painting to watercolours. And it was also in Grez-zur-Loing where he met his beloved wife and fellow-artist Karin. Carl and Karin were married in 1883 and had eight children. Karin and the children quickly became Carl's favourite models. The paintings of their home quickly became popular and reached a wide public.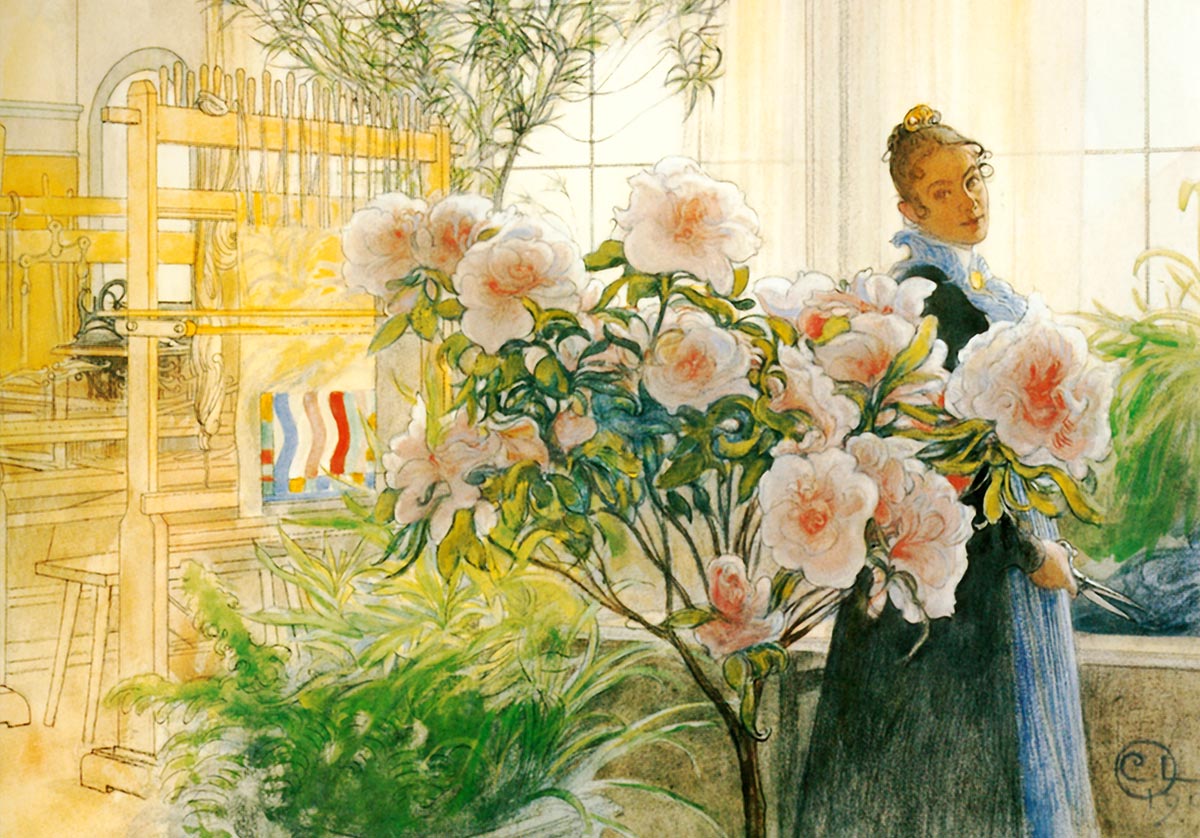 Karin Larsson
And on the right you can see Karin Larsson, painted by her husband. Born in 1859 in Hallsberg and died in 1928. A fantastic painter in her own right, trained at the Academy of Fine Arts in Stockholm and Paris.
After the birth of Suzanne in 1884 she could not combine the task of taking care of the children and painting at the same time, which in principle made her stop painting. Instead she turned her artistry to decorating the home, especially to weaving and embroidery, but also designed furniture. She became a trendsetting designer long before her time! And even if I may not always like her designs; she was definitely far before her time with her work, and I admire her for that.
In the background of this painting you can see her weaving loom, which you can see in her atelier during your visit in Sundborn.
The museum is not a real "museum". It is the house they lived in for most of their lives, with lot of the original interior and items remaining as it once was. It is like you take a step in a time machine and transported to the early 1900's. You can see some photos of the house itself further below.
Below you can see the view from the garden, such tranquille place! If you like you can take a picnic basket with you and sit in the garden and enjoy a lunch overlooking the picturesque lake.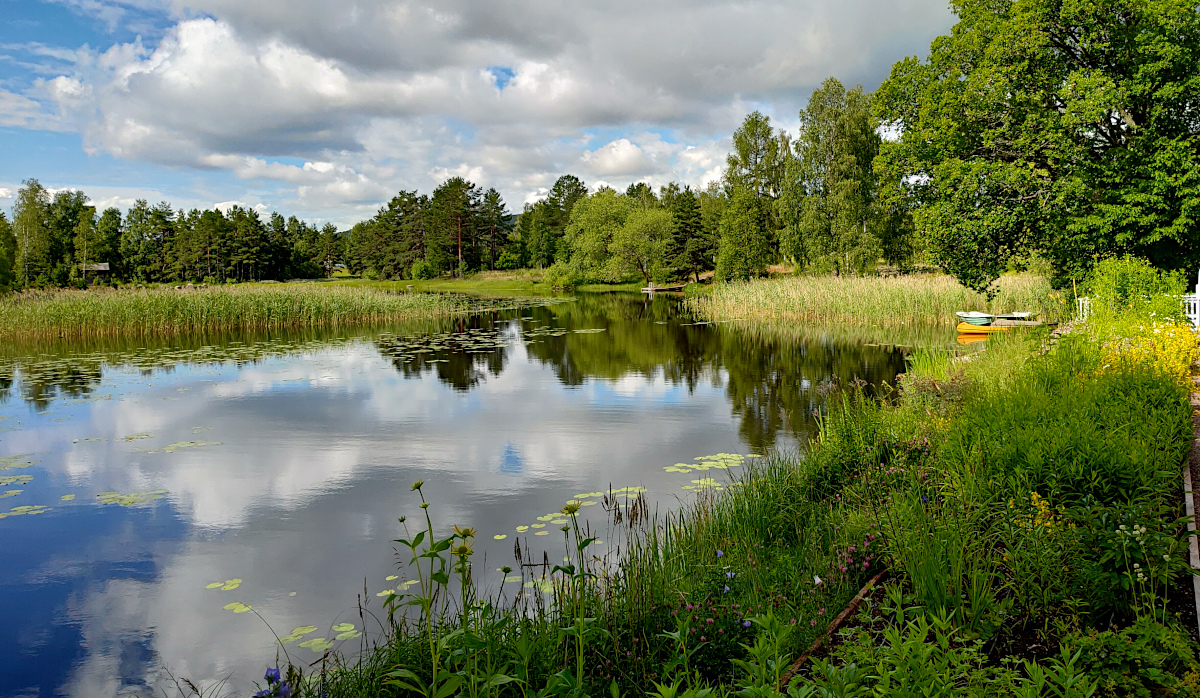 A lot of the paintings of Carl Larsson where made inside and around the house. There are e.g. paintings of the lake in the photo above. And also of the many interiors, which you instantly recognize when walking around in the house. It is like walking into one of his famous paintings.
A stricking example is the painting below called "Bron" from 1912, where you can still see the same bridge nowadays in the garden.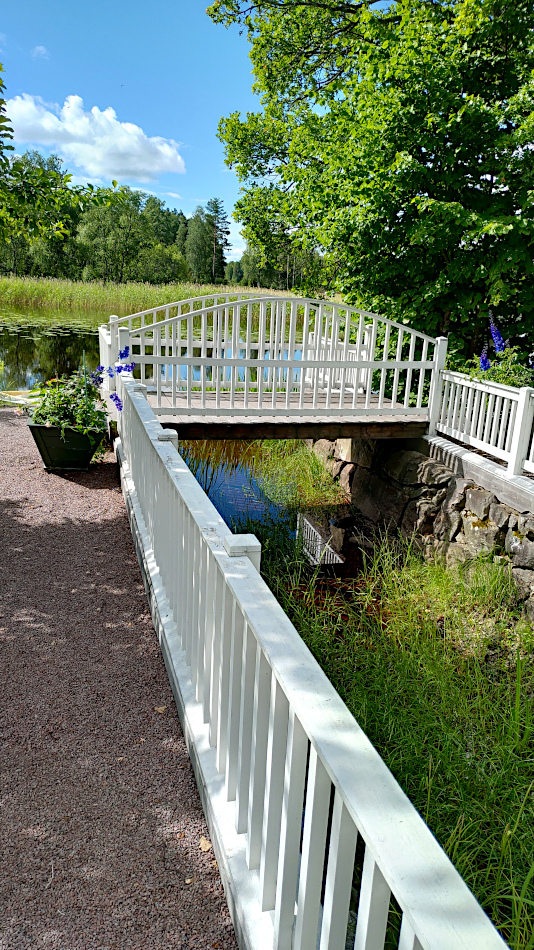 The bridge in the garden today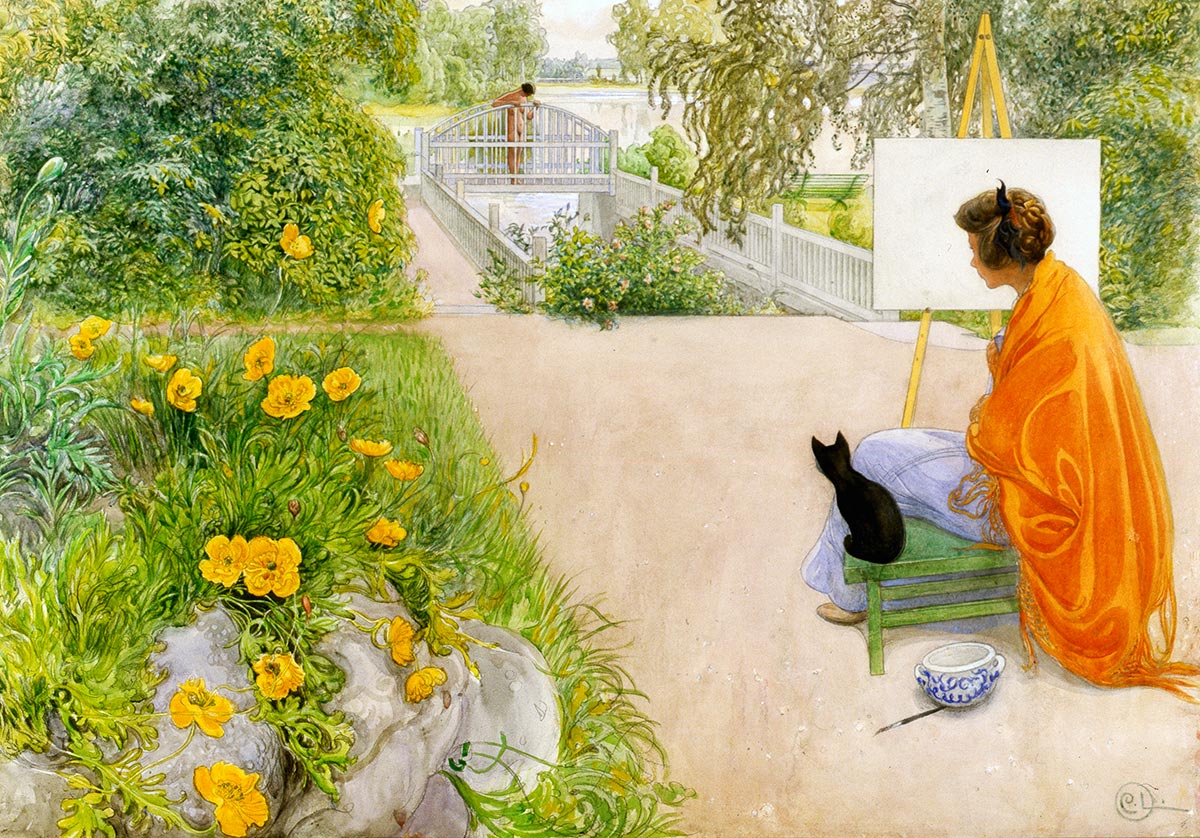 Painting "Bron" / The bridge, from 1912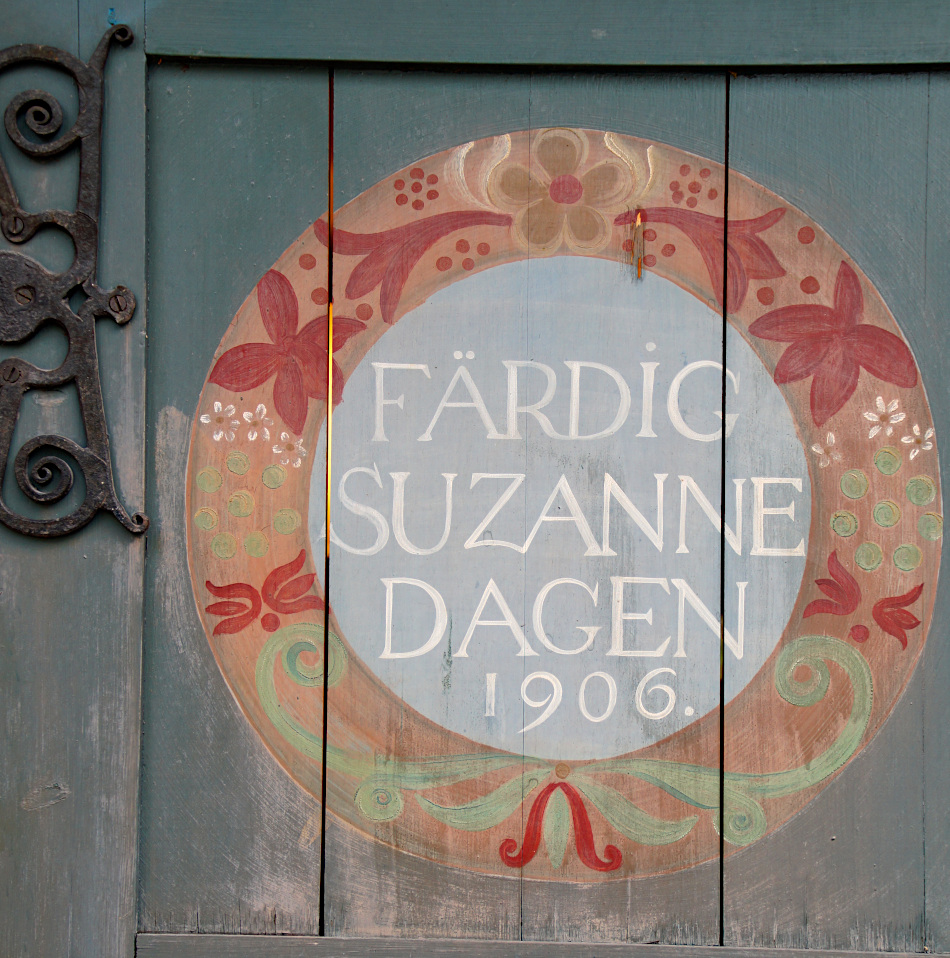 Unfortunately you are not allowed to take any photos in the house itself, so I cannot share you anything from the wonderful and quirky interior. The photo above is a drawing on one of the outsides doors, in honor of one of their daughters called Suzanne. The house is full of these special touches of family live and the love of their children. It was a really special family, lightyears in front of the times that they lived in. The stories and items displayed were excellently put into their historical perspective by our guide and it portaited so well the times they lived in.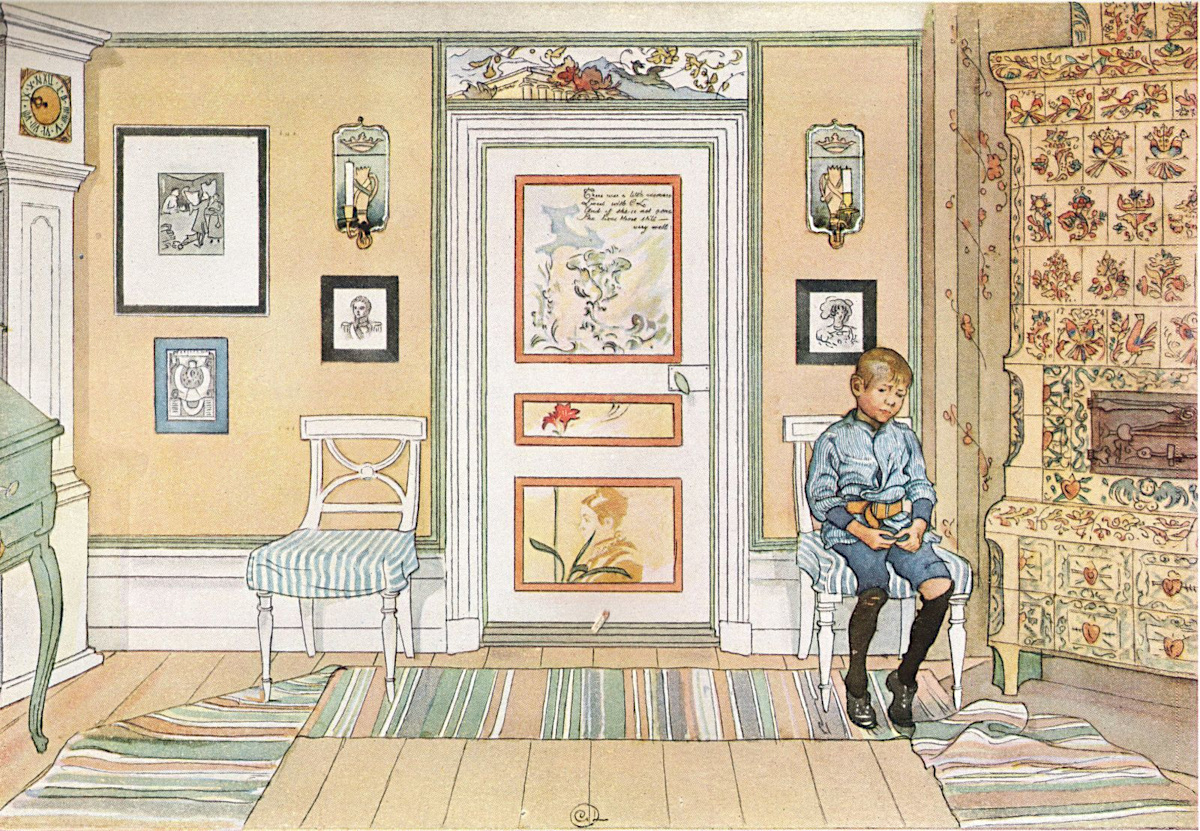 Watercolor "Skamvrån" depicting son Pontus from 1894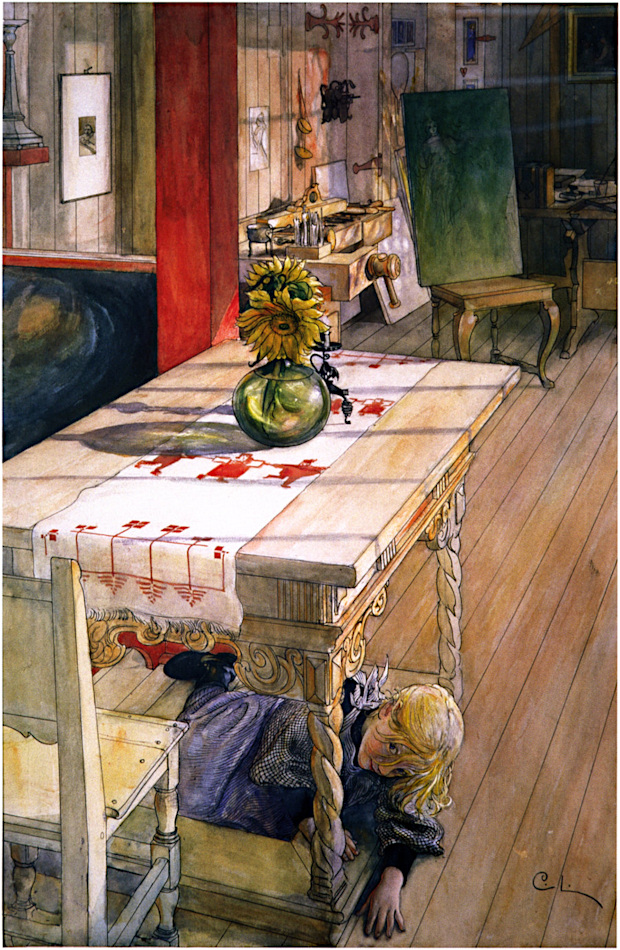 "Playing hide and seek" ("Kuragömma") depicting daughter Lisbeth from 1898
The watercolor on the left above is a painting of his son Pontus sitting in the corner of shame between the old tiled stove and the door. The tale goes that he had been rude at the dinner table, and there was an arrow into the atrium, where he had to sit and think about how in all respects it is unfavorable to behave badly.
I could really imagine the little boy sitting here. A nice detail on the right of the painting is seeing the old tiled stove: the stove is still here, making the connection between the painting and the room we are standing in so vivid.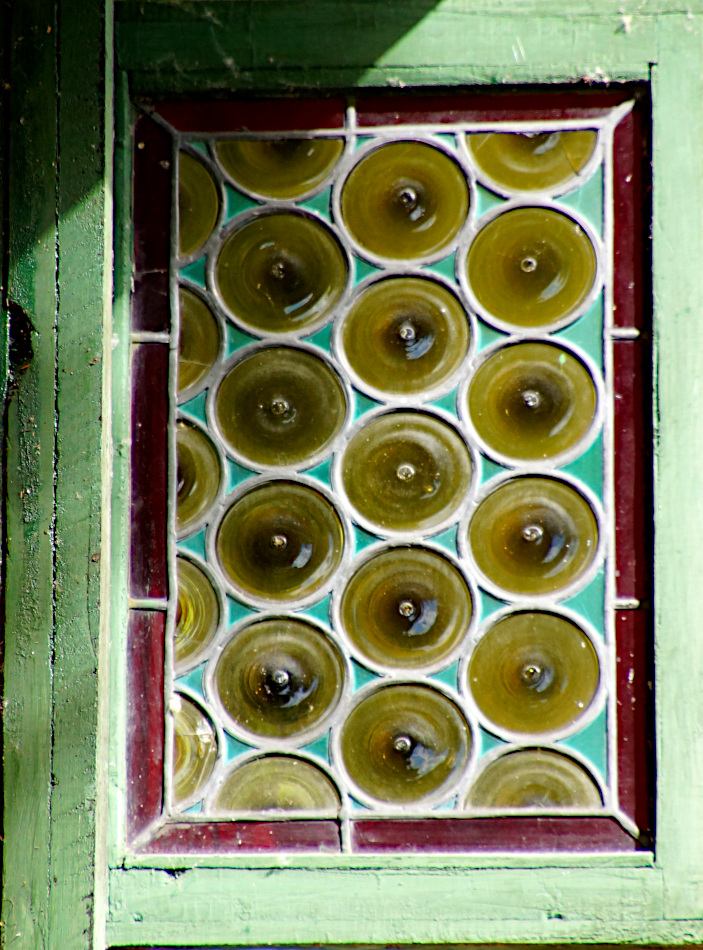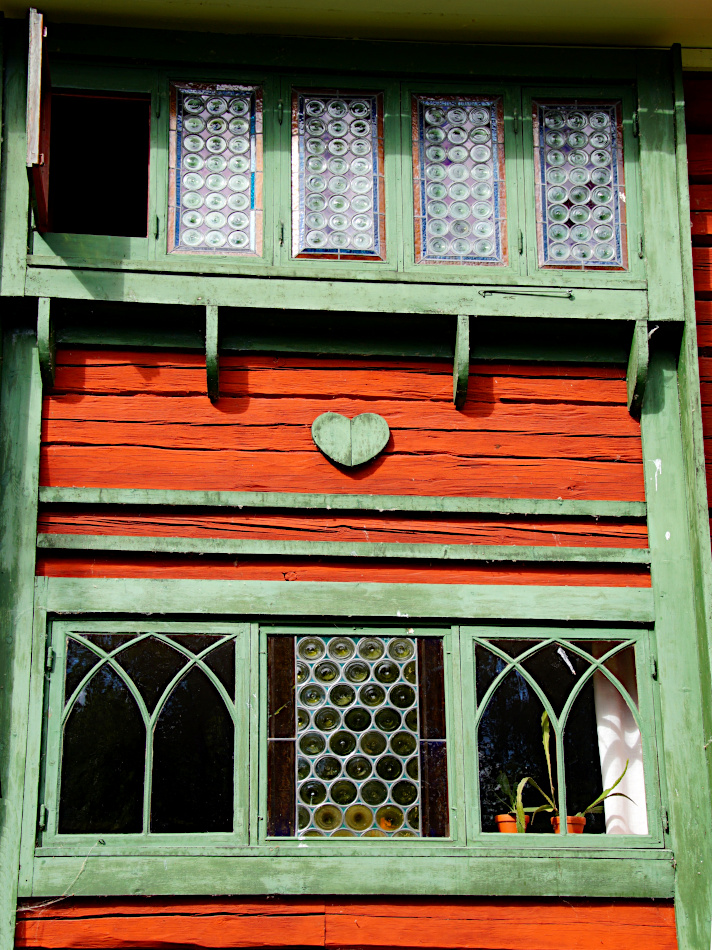 Photos below of the interior taken by Åke during a previous visit.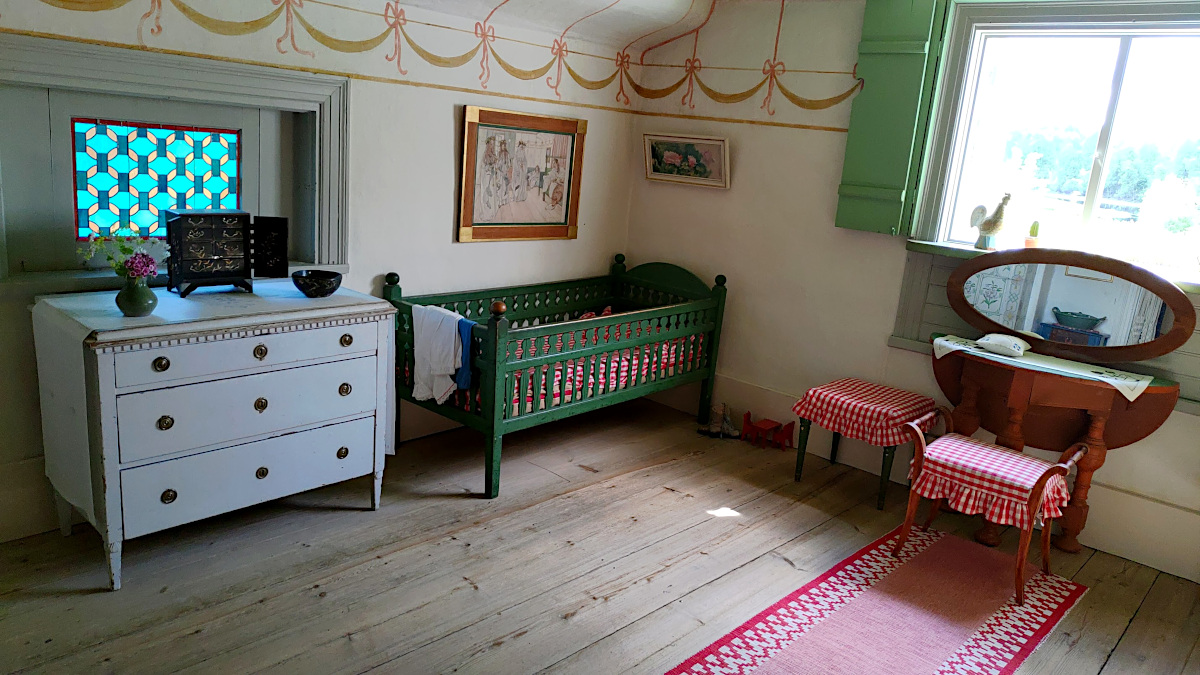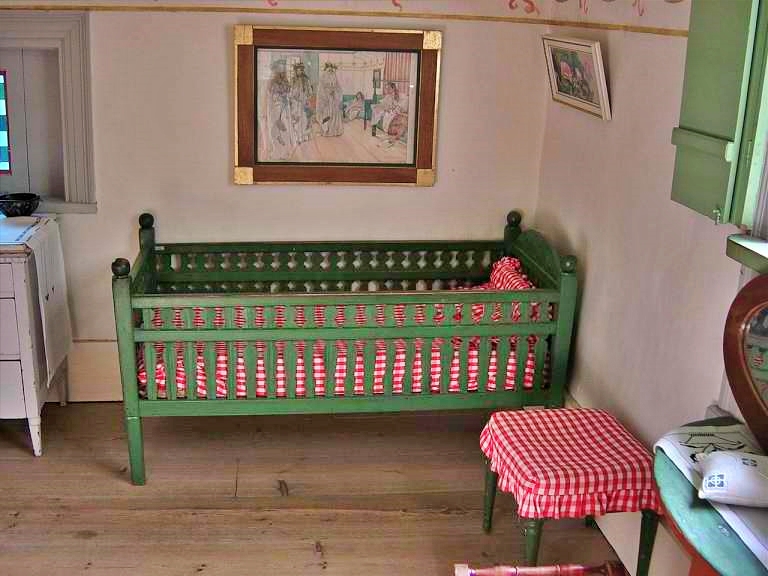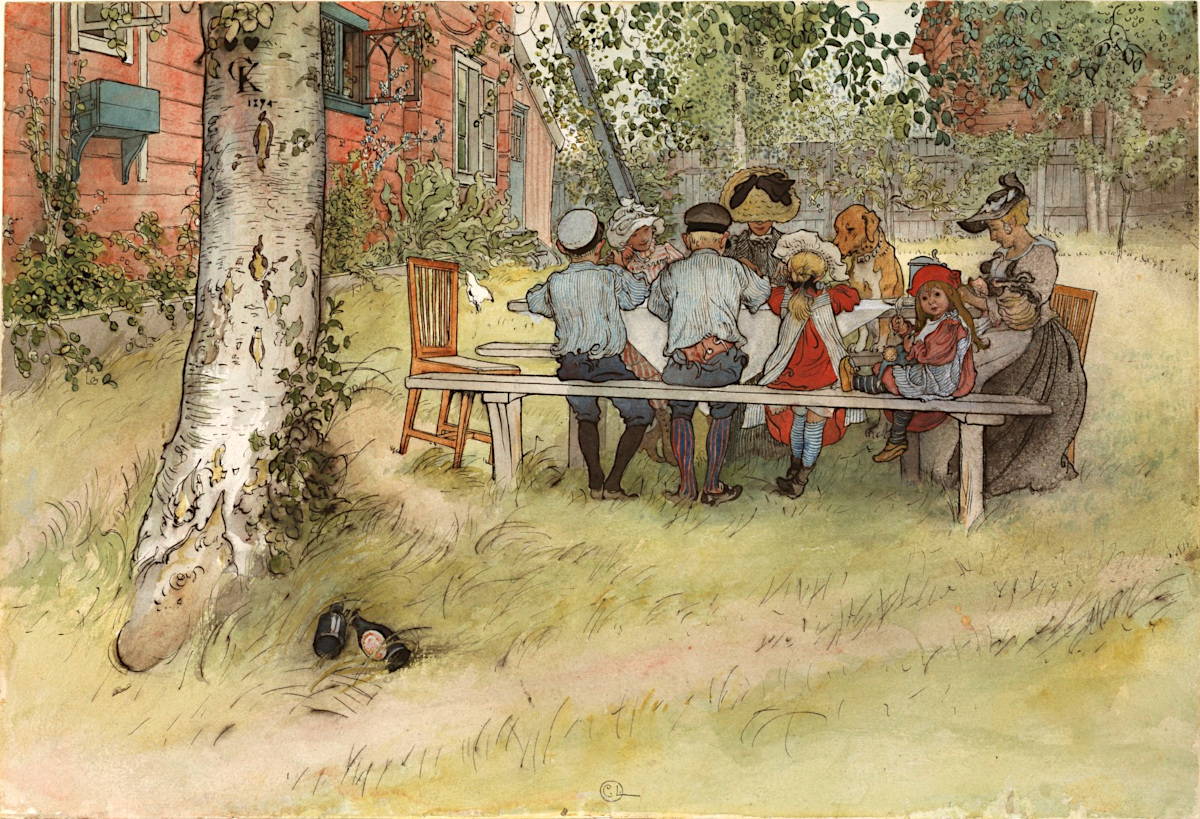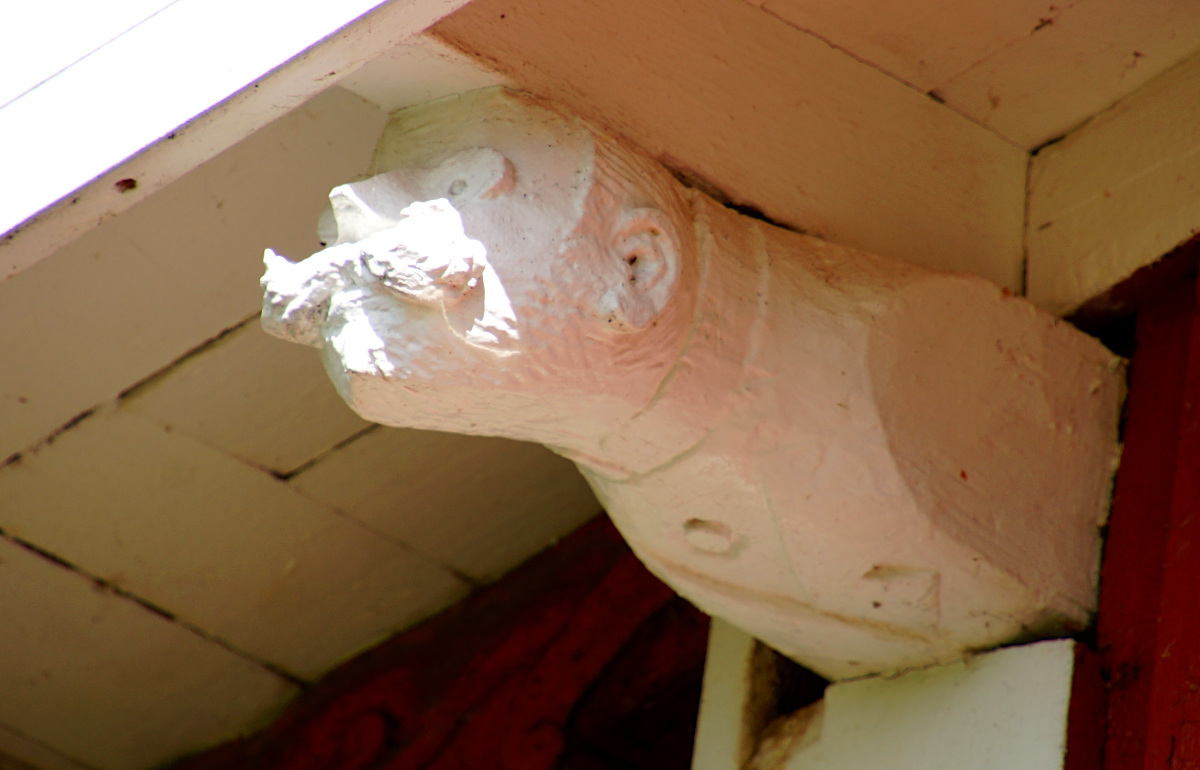 One of his well-known paintings on the left, with the family eating in the garden. There is a birch tree still in the same spot, and also a similar picknick table, where we enjoyed some relaxing time waiting for our guided tour to start.
Photo right above is one of the quirky details of the house: one of the beams sculptured with the face of Carl Larsson.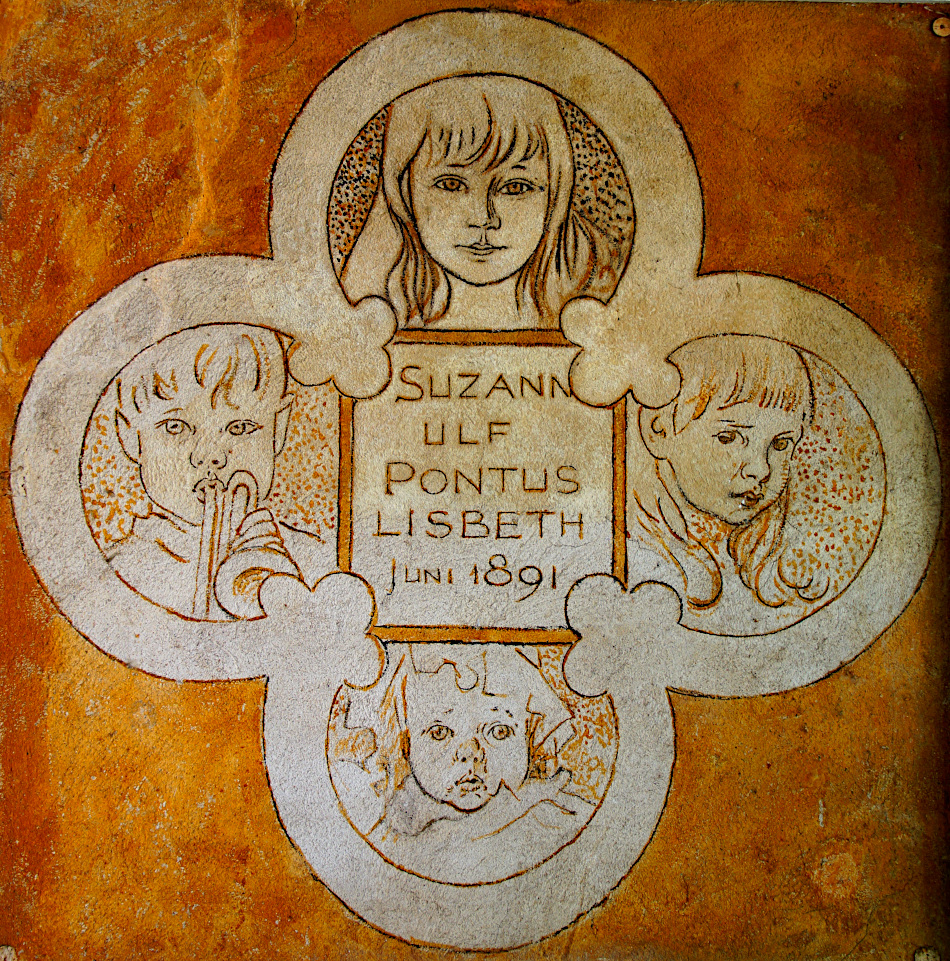 All in all we had such an enjoyable time during our visit to Sundborn. The fact that I hardly knew anything of the artists had no influence at all on the experience, I thoroughly enjoyed it.
ey also do guided tours in English during the high season. So if you ever are in this part of Sweden, I can really recommend to drop by for a visit. I would recommended to book in advance (can be done online on their website) as it is in high demand and often fully booked.