Area: Provinces of Bohuslän and Halland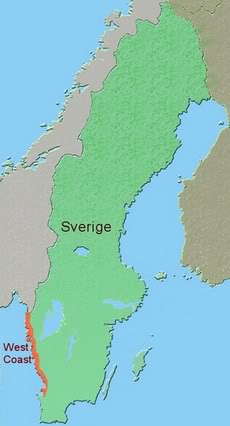 The landscapes of the Västkusten (the West Coast) have been formed by the Inland Ice. Inland Ice is the name for the glacier ice that has been covering northern Europe during 100.000 of years, and nowadays only present in Greenland and Antarctica. The ice has scraped the surface and grinded the landscape into smooth bare rocks. The (at times) wild sea has helped to wash the rocks clean. Inner parts of the provinces have lots of forests of birch and aspen.
This part of Sweden is a favourite part of mine to visit during late spring / early summer, and I have been here many times. I try to visit before the tourist season starts (end of June) when the area starts to get flooded with visitors. Sitting on these bare rocks in the evening, overlooking the calm sea, while eating fresh sweet strawberries and sipping a glass of wine. The eyes are treated on a beautiful view of the sun slowly setting behind the horizon in an array of colours ranging from orange to red. Life doesn't get any better than small enjoyable moments like this :-)
Interesting points to see in the area are:
• Stocken: small fishing village on the northwest coast of Orust (Island north of Göteborg). A little village that I've often used as the place to stay during my visits of the West Coast.
• Mollösund and Hälleviksstrand: two small picturesque villages at Orust Island.
• Käringön: Small island outside Stocken, and a favourite place of mine.
• Gullholmen: Another favourite; oldest fishing village in Sweden, 11th century. Very picturesque.
• Flatön: small island north east of Stocken known from lyrics by Evert Taube (the in Sweden well known and loved song writer).
• Smögen: A very popular fishing village with the tourists that ten doubles its inhabitants in summer.
• The beautiful island of Marstrand with its historic Carlsten Fortress
• Tanum: Rock carvings, on the UNESCO list of World Heritage Sites.
• Koster Islands: Swedish most westerly islands with unusual nature, and recently has become a National Park
Click on the names in the map below
to go to their destination pages.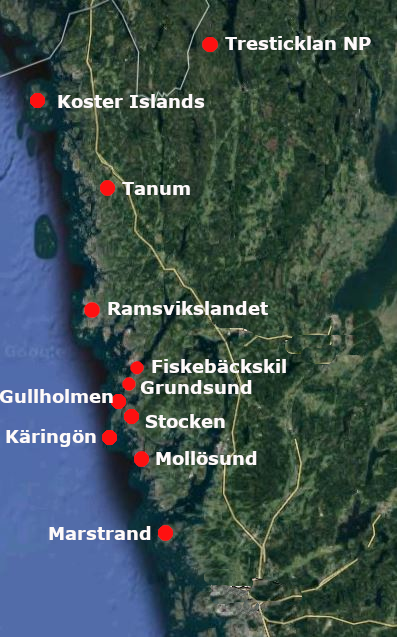 The West Coast of Sweden