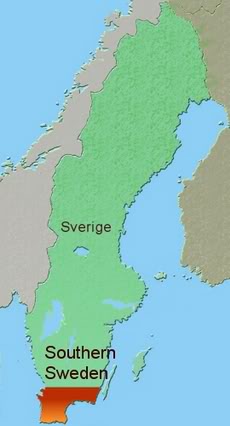 Area: Province of Skåne and Blekinge.
The very south of Sweden, with the provinces of Skåne and Blekinge, is actually the part of Sweden that I have visited the least so far. Skåne, that has belonged to Denmark for many periods, has a rather flat landscape with large plains in the south and west and forests in north and east. The flat and fertile landscape personally reminds me a bit of my former home country of The Netherlands.
Skåne has many soft ridges and also long sandy beaches, and is a very popular tourist destination in the summer for the Swedes. The typical alleys of willow-trees that are seen everywhere close to the farmhouses, has a historical background. They were planted by order of the King in 1643 to prevent erosion of the soil.
The province of Blekinge, that also for many periods has belonged to Denmark, has a dramatic archipelago and has for centuries been the Naval Defence Port.
Interesting points to see in the area are:
• Falsterbo: the most southwest part of Sweden. It has long sand dunes and around the lighthouse a beautiful golf course.
• Kivik: an area with lots of orchards (especially apples), but also has a famous market (end of July).
• Kullens lighthouse and Kullaberg nature reservation.
• The National Parks: of Stenshuvud, Dalby Söderskog and Söderåsen.
• Castles: Southern Sweden, together with area around Lake Mälaren, are the regions with the most castles in Sweden. Most of these castles are from 13th to 16th century. And I love castles, as you might have noticed, so these are must-visits for me :-)
• The naval town of Ronneby with Ronneby Brunn (=spring)
• The naval town of Karlskrona (on the UNESCO list of world heritage site)
• Tjärö Island: beautiful island owned by the STF Swedish Tourist Association. Village and Hostels with well kept buildings and landscape from 17th century.
• Ebbamåla Bruk Totally of the beaten path, but I had a wonderful time here, lazying at the side of the river "Mörrumsån", and enjoying its industrial museum. The museum is maybe the best preserved and most complete engineering industry from the industrial revolution in 1850-1950 remaining in this area.
• Ales stenar (Ale's Stones): A stone ship, oval in outline, 67 m long and made with 59 large boulders. It was probably created towards the end of the Nordic Iron Age (1400 years ago).