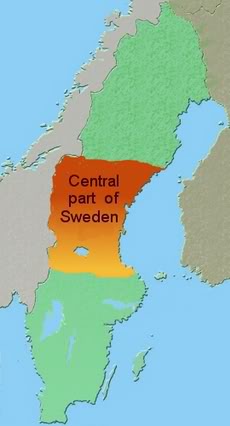 Area: Roughly said: the province of Dalarna and northwards untill the border of Västerbotten.
Dalarna is a county full of historical traditions, more numerous and stronger traditions then in many other part of the country. Here the Swedes go when they want to se a "real" midsummer-feast or enjoy truly genuine Swedish folklore and fiddler music. It is no coincidence that The Folklore Symbol of Sweden is a Dalahäst (= Dala Horse) and it is produced in Nusnäs in Dalarna.
The main important industrial factor in this region has for many centuries been the copper mine in Falun. The company "STORA", that is using the mine, is one of the oldest existing company in the world, at least from 1288. An interesting spin off product from the mine is the red paint. This was originally a "waste" and not thought about for hundreds of years. That colour "Falu rödfärg" (Falu red paint) is now by far the most used colour on houses throughout Sweden and has become a national symbol. Because of the high concentration of certain ingredients, the colour is a good conservator. And it is inexpensive! And as during 16th and 17th century red was seen as an "up class" colour, used only by the nobility, the country folk of course started to paint their huts and houses RED. Swedes are like that; they don't allow anyone to stick out too much ;-)
Interesting points to see in the area are:
• Falun Copper mine On the UNESCO list of World Heritage Sites.
• Lake Siljan area with the Carl Larsson Gården in Sundborn
• The High Coast: A beautiful stretch of coastal landscape, with a beautiful national park called Skulleskogen, and an unique area declared a UNESCO heritage site. After the last glaciation, the land has elevated a total of 800 metres. The land, previously weighed down under the weight of a glacier, lifts at rates that are among the highest in the world! And as a consequence islands appear and unite, peninsulas expand, and lakes evolve from bays and develop into marshes and peat fens. And walking around in the High Coast you can see a lot of evidence of this land rising, which makes hiking in this landscape fascinating.
• Sälen: winter ski resort and nice hiking area in summer.
• Färnebofjården National Park
• Fulufjället National Park
• Hamra National Park
• Sonfjället National Park
• Töfsingdalen National Park
Click on the names in the map below
to go to their destination pages.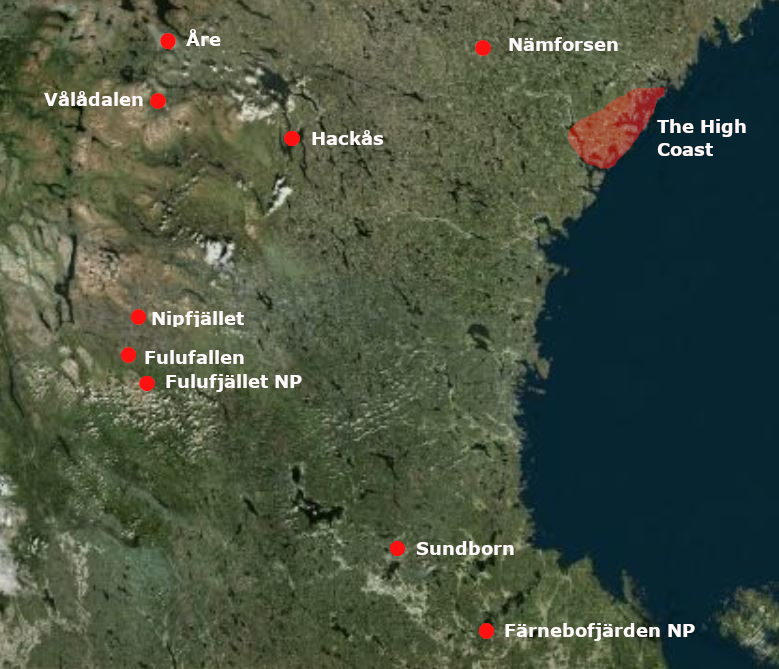 Central part of Sweden