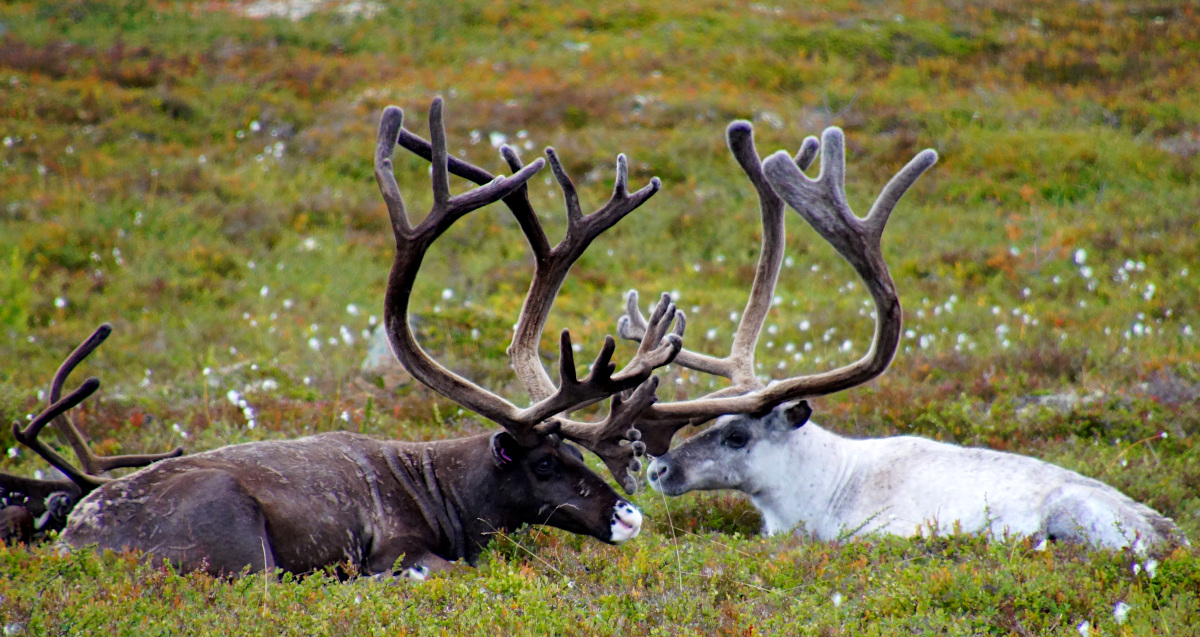 Good morning! It is time to do the hike around "Nipfjället"! A hike of almost 16 kilometers giving a touch of that "Fjällen" feeling. A feeling that we have longed for a lot during these past few weeks, as we do love the Swedish mountains and the atmosphere and calm it always gives us. So this was a hike we didn't want to miss!
We are in 'luck' with the weather today though, it is actually twice as warm as yesterday! Oh yes, this is July 2020, and this year it is unusually cold during the month of July. It is around 8 degrees Celcius (46 F) this morning, and cloudy, brrrr it feels cold.
And yes, there is a drizzle of rain hanging in the air as well, despite the promise from the weather forecast that it wouldn't rain today....
But as the Swedes always cheerfully claim that "there is no bad weather, only bad clothes", we go on our way. I go fully prepared: rain jacket, shawl, my warm woolen hat, gloves, fleece sweater.... oh yes, I pack it all! I cannot agree with the Swedes, as I do think that there actually is bad weather 😉 😜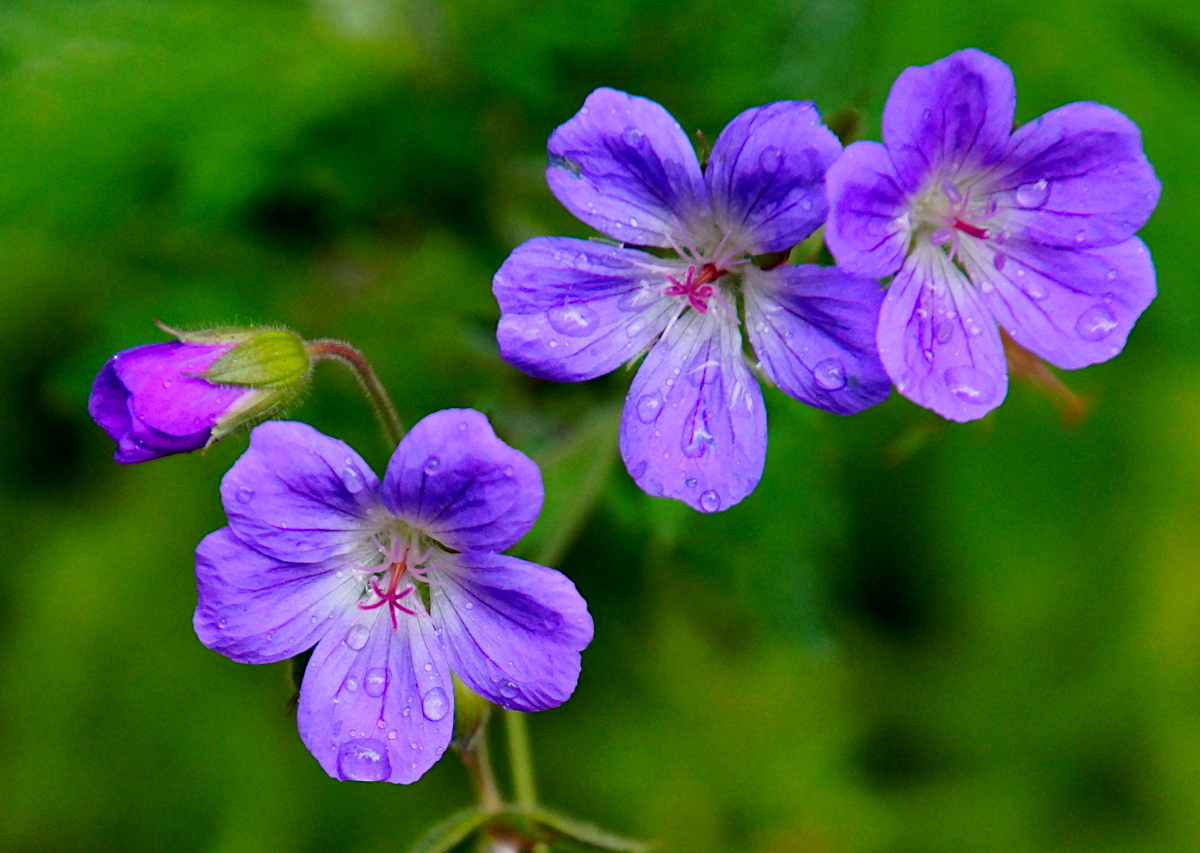 rain drops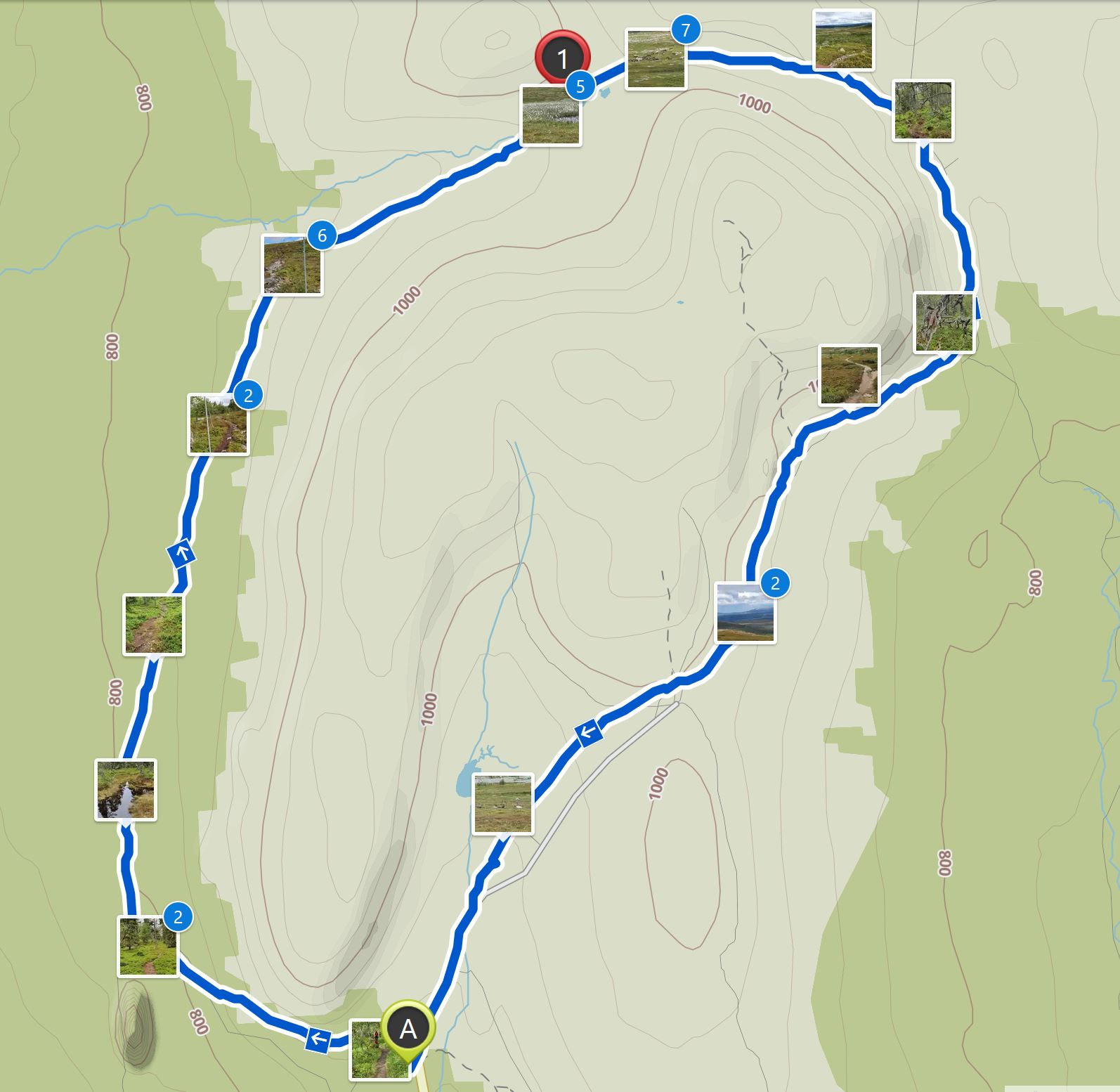 Time for some hike statistics:
We have an app on our phone that records our walks, which is quite fun (the App is called Komoot). The map on the left side is our recorded walk.
If you want to do the exact same hike as we did, you can find the link here: https://www.komoot.com/tour/225899774
Starting point: Nipfjället Winter Parking
GPS starting point: N61.933106, E12.792226 (click to open coordinates on google maps)
Type: loop trails
Length: 15,5 km.
Total height difference: 350 m
Highest point: 1 030 m, Lowest point: 830 m
Trail signs: signs with names to the different areas, not always that well marked
Difficulties: Expect a typical Swedish Fjällen (mountain area) hike, which are usually relatively kind mountain trails to hike on. Sturdy shoes recommended (hiking shoes) as there is rocky terrain, marsh land (yes, you will get wet feet when only wearing sneakers), muddy sections, etc. Some steeper parts in the trail (although these are more exhausting than difficult to walk).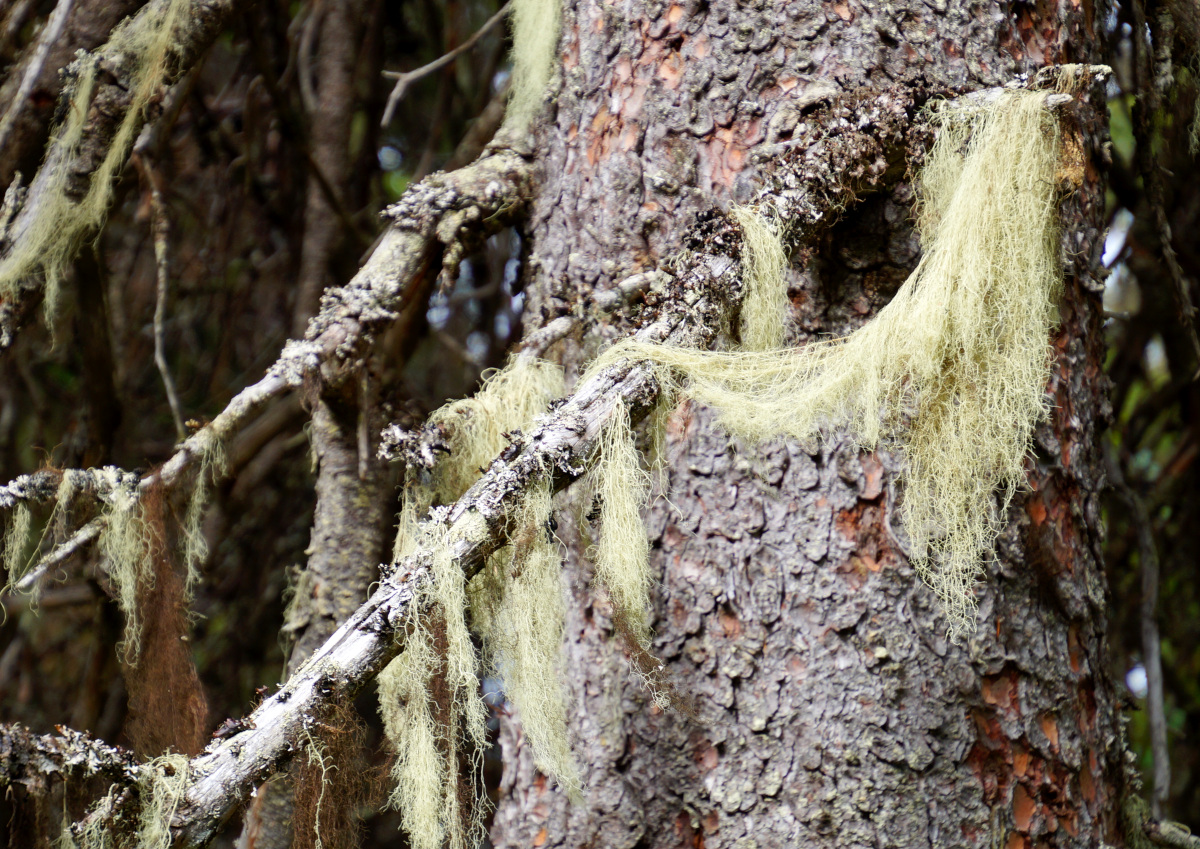 The first section of our hike leads us from the car park and the "Nipstugan" towards "Slagubäckskojan", a section that goes through mountain forest.
And in this forest we are surrounded by its beautiful silence, brought alive with the sounds of a gentle stream in the distance, and the song of a bird in the trees above us. The soft tickling of the rain drops on my face. And each and every step brings us a little closer to the mountain. Some trees are tumbled over, and are covered with lichen and moss in different tones of green with touches of yellow, and even at times with an almost autumn-like red tone. Lichen is also hanging down from these old trees in this damp forest. We slowly climb up, further and further, step by step. It is a great feeling to gain height, as this means that we soon will reach the tree-line and look out over the open mountain landscape..... or... will we not?
No, we need patience, we need to wait a while more and walk some more kilometres. All these steps up and gain in height are to no avail, as the trail leads us just as much down again as it has gone up for us during the past kilometer. We walk on, slowly losing even more height, and at approximately 2 kilometres into the hike we reach the lowest point of the trail at 830 metres.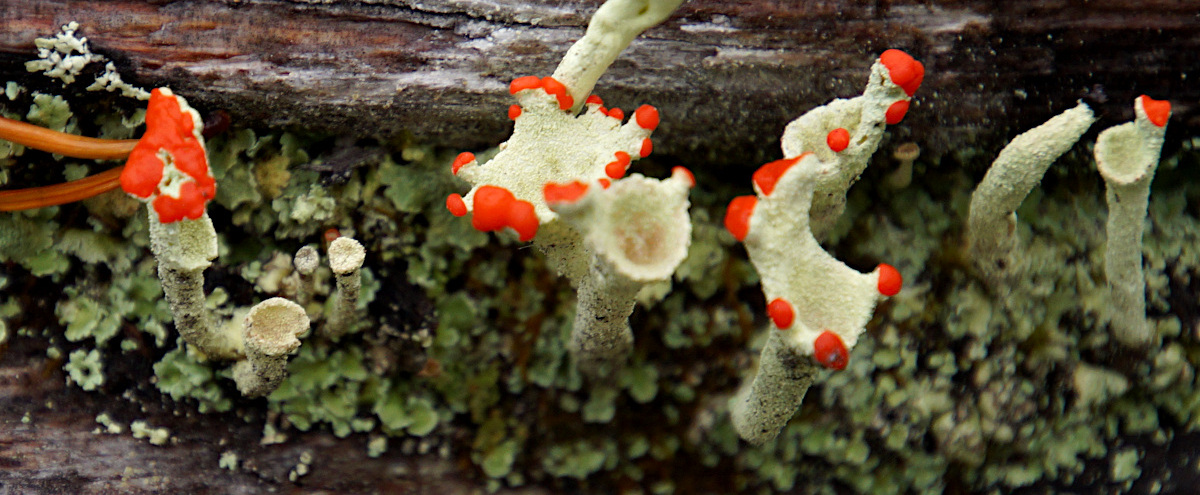 Cladonia, a genus of moss-like lichens
A drizzle of rain embraces us while we hike, the sky is grey, and hidden on a rotting tree trunk on the forest floor I spot this tiny lichen with bright red spots. It almost looks like a creature from Mars or somewhere exotic outside of our stellar system. It certainly doesn't look of something from earth, belonging here in this very forest, calling this old tree its home. But it is, and it belongs here, although I never have ever seen anything like it. Nature never ceases to amaze me. And fascinated by this little plant I of course had to google it, and it is most likely a Cladonia, a genus of moss-like lichens.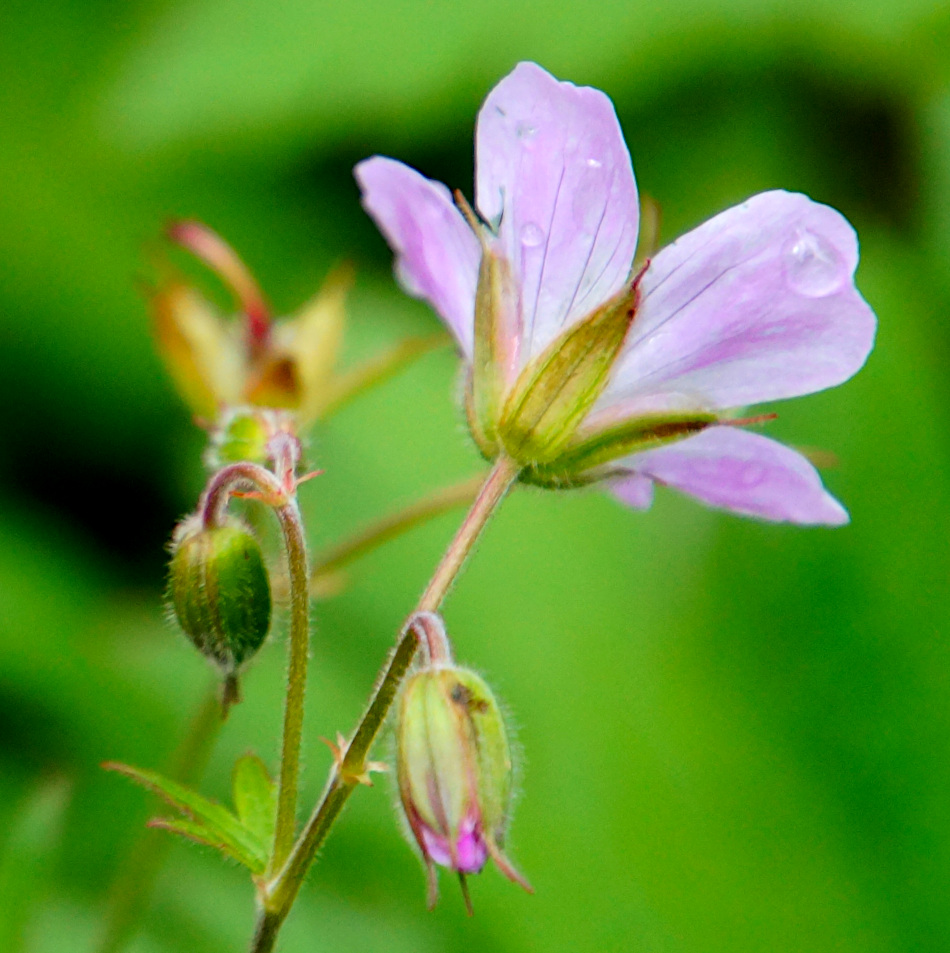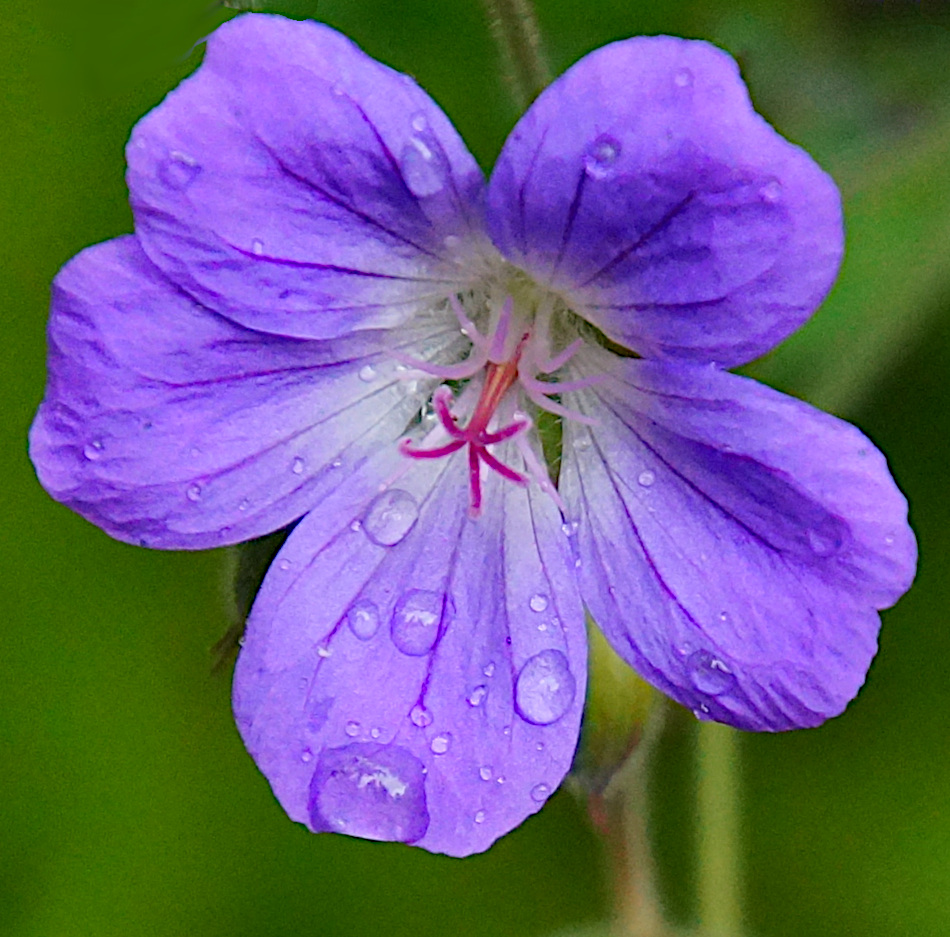 Rain coat on, rain coat off. It drizzles, but ever ever so lightly. Not enough to really get wet, so I take the rain coat off. It is so much more comfortable to hike without a rain jacket on. But at times the drizzle gets a bit thicker and forms drops.... and quickly I put the the rain coat back on again. The flowers do not seem to mind this tiny drizzle, they still show their vibrant colours and their cheerful blooms, while the drops of rain are desperately trying to cling onto their flower petals.
I don't mind it so much either, the walk through this forest is easy and very enjoyable. Although I am looking forward to be up above the tree-line and enjoy the endless mountain views, this is such a nice contrast to the rest of the hike, that I do not want to miss it.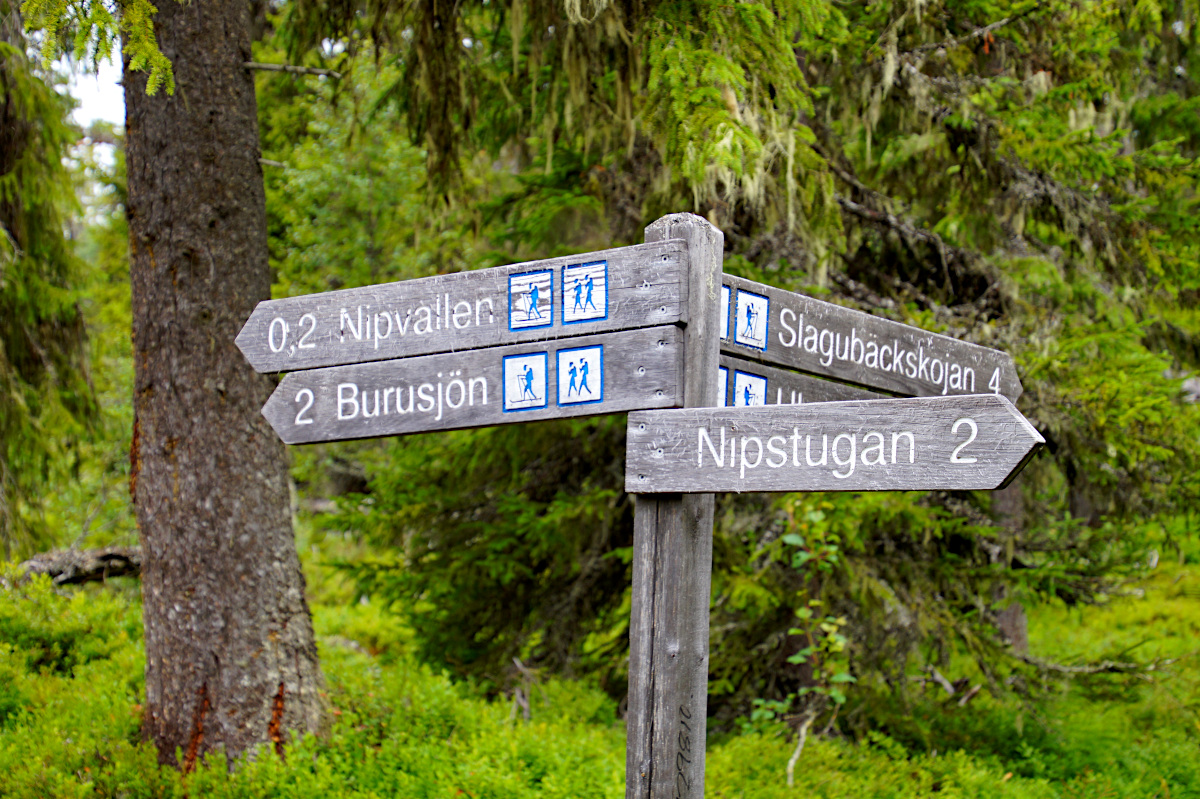 Which direction now?
So which way to go? Normally I go quite prepared on my hikes, having maps with me, knowing directions and the terrain. But we have been so spoiled during our past hikes, with excellent trail signs, that we somehow took it for granted that it would be the case here as well. But, there is no sign that says "Nipfjället round"..... So where do we go now? You probably could easily navigate if you know which mountain huts the trail passes, combined with a good map. But we didn't have either.... oops!
We do know that we should be hiking around a mountain, so that gave a good clue for the route to take :-) Luckily on our hiking app we could see some sort of trail going around the mountain, and also see our current position on the map. So with this we managed to navigate the route quite good anyway. But lesson learned: do not go unprepared and without your map!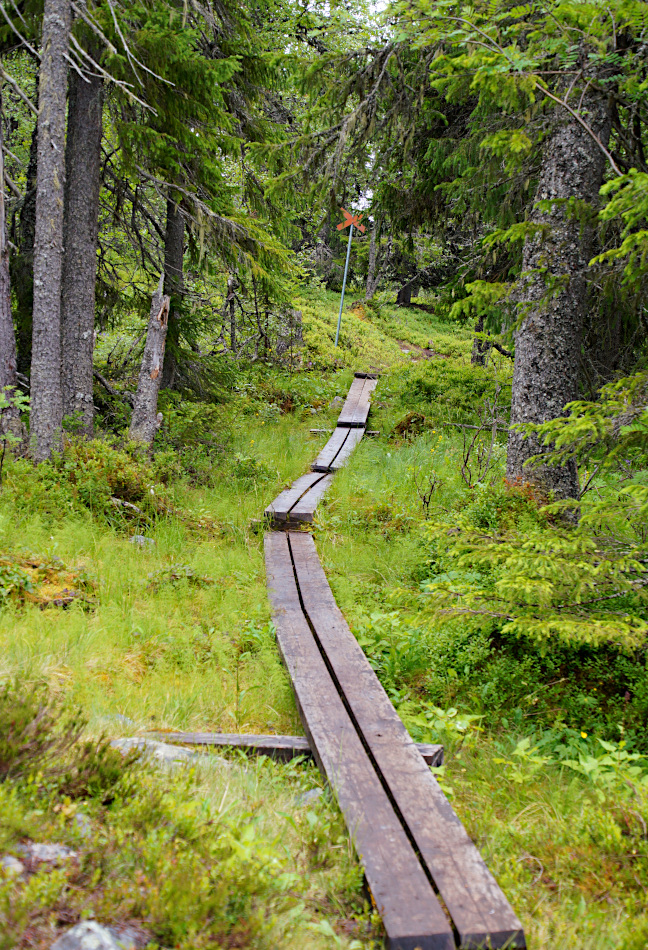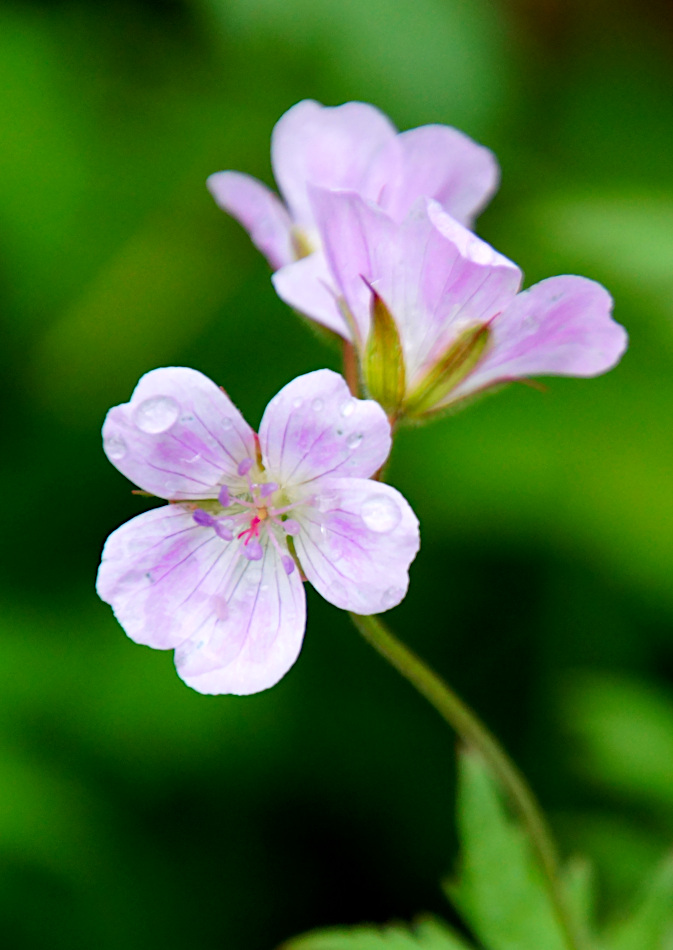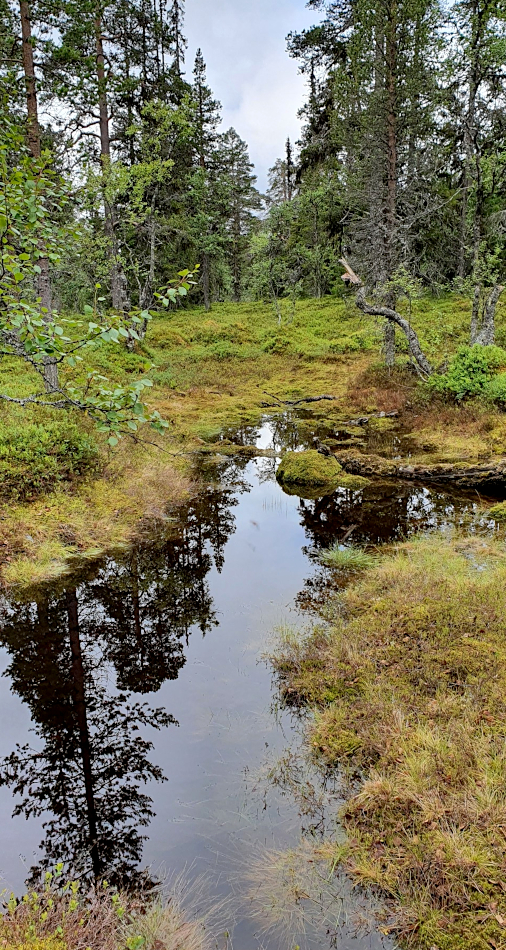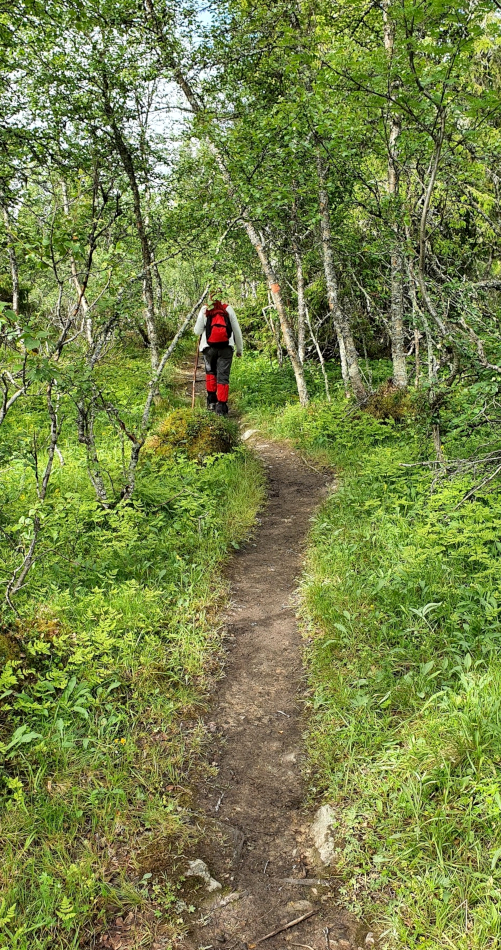 We are relatively close to the border between Sweden and Norway, and I actually had no idea that Nipfjället was part of a 2000 square kilometres of protected countryside! This protected area is called "Gränslandet", a very appropriate name as it freely translated means "Borderland", and includes parts of both Norway and Sweden. This protected area is divided into nine different areas in Norway and Sweden: Langtjønna Protected Landscape, Femundsmarka National Park, Femundslia Protected Landscape, Grøvelsjøen Nature Reserve, Gutulia National Park, Rogen Nature Reserve, Töfsingdalen National Park, Långfjället Nature Reserve, and Städjan-Nipfjället Nature Reserve which is one of Gränslandets most accessible nature reserves.
'Gränslandet' is for the most part untouched, desolate and remote; although people have lived in Gränslandet for thousands of years. Many have lived from hunting, fishing and reindeer keeping. Others were lumberjacks, raftsmen or farmers. But it is now mainly a roadless country, far from everything. Although some of these areas are easier to reach, like this area at Nipfjället.
Quite a few parts of this area have been on my wishlist for ages, like the Femundsmarka National Park in Norway, but also Grövelsjön. So hopefully in the future I get the chance to discover a tiny bit more of this huge 2000 square kilometres protected area.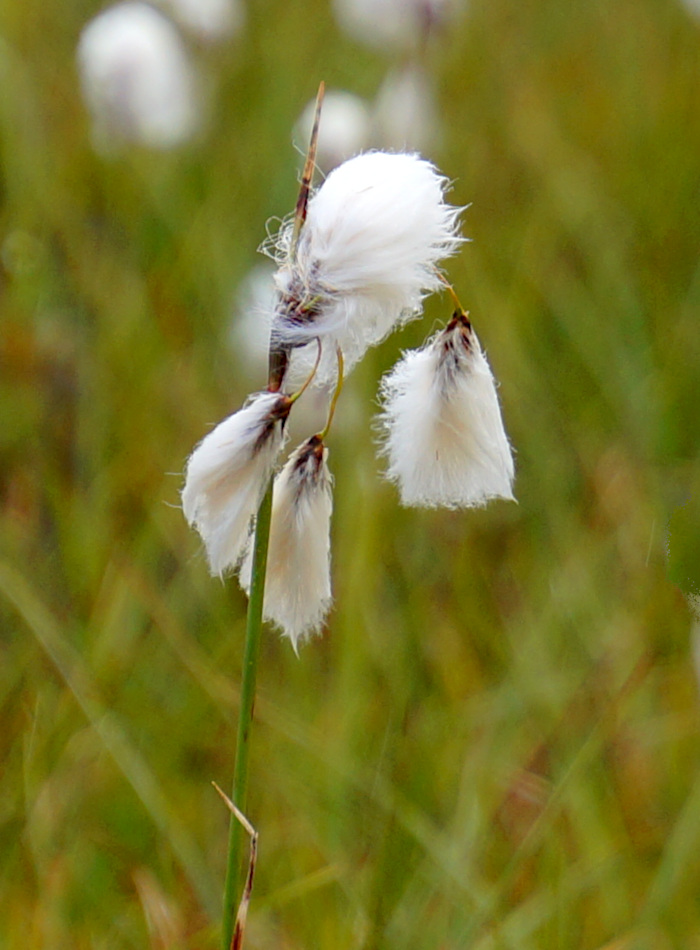 Bog cotton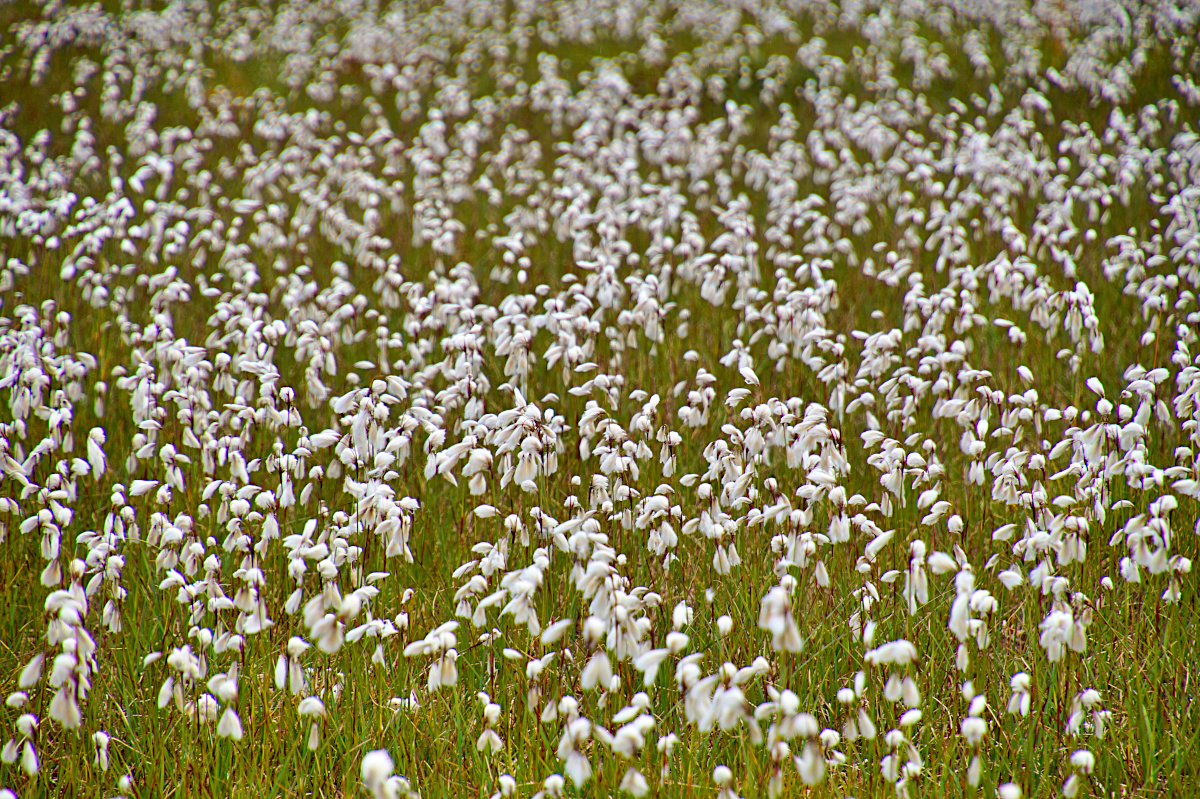 fields of bog cotton
After 5,5 kilometers we slowly leave the woods behind us and the typical "Fjällen" landscape opens up in front of us. This is also where the journey upwards starts. We are at 900 meters and go slowly up to a 1000 meters. And here we meet some small streams crossing our trail and lots of bog cotton. This flower is relatively common around boggy areas in Sweden. And if you see this flower, you also are warned that you feet can get wet ;-) So I am happy having my hiking shoes on, and not need to be bothered so much by the boggy wet stretches along the trail.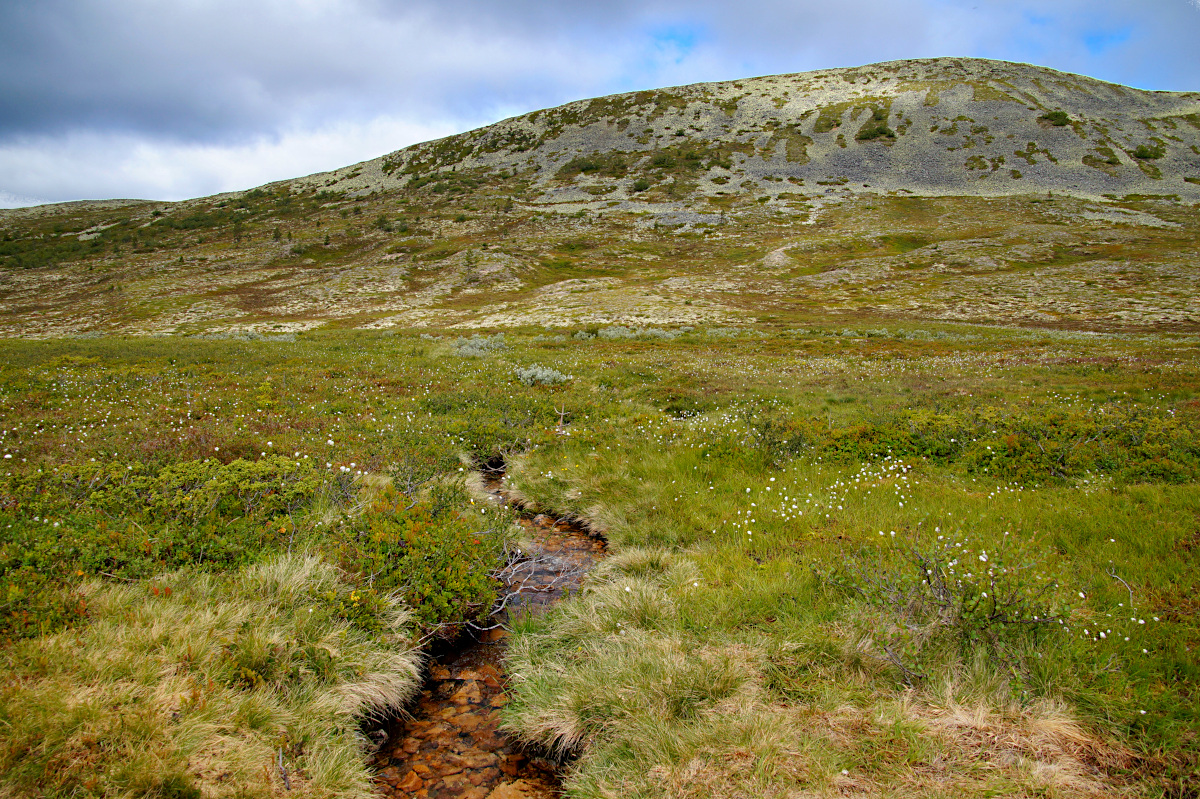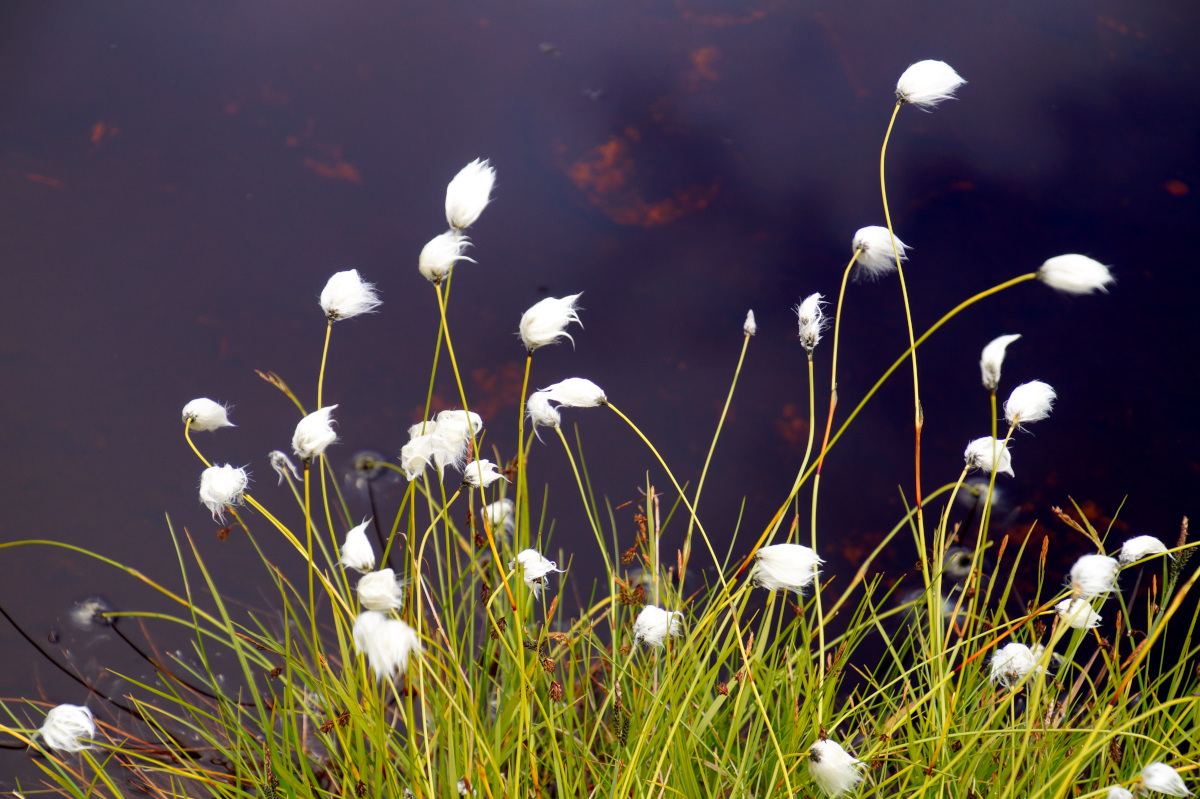 Bog cotton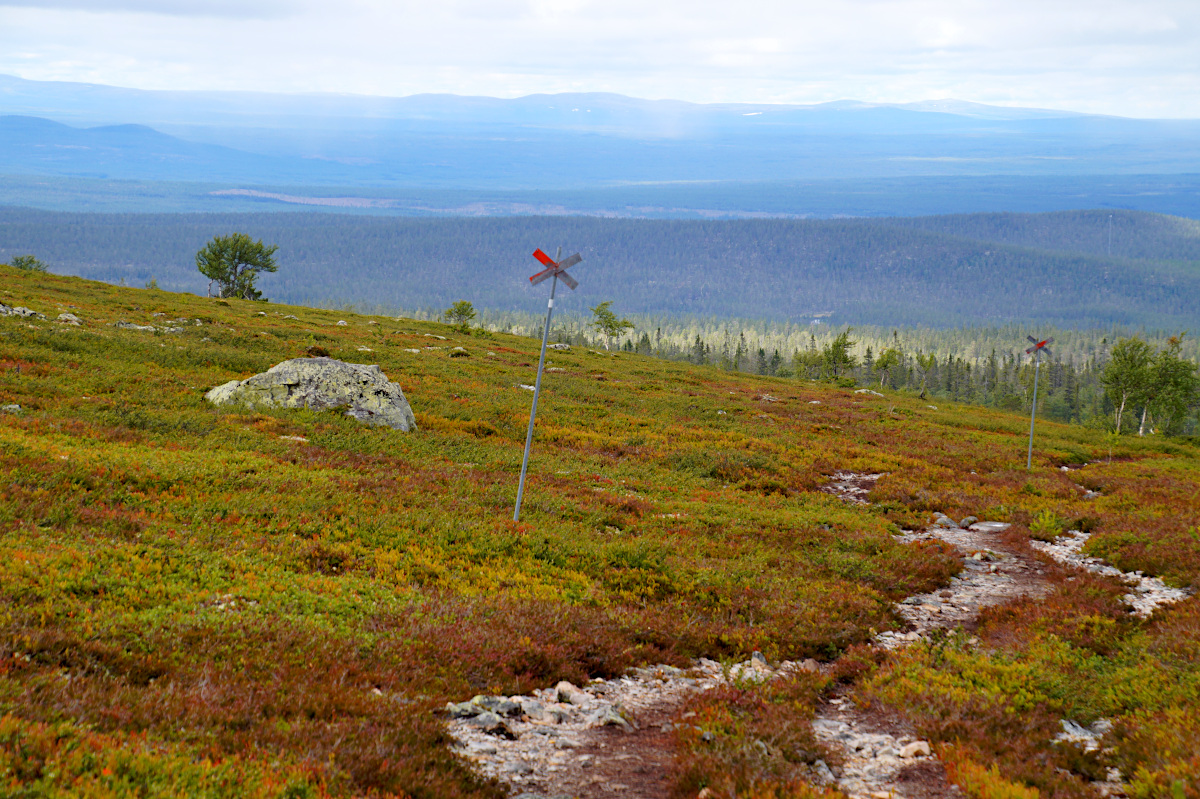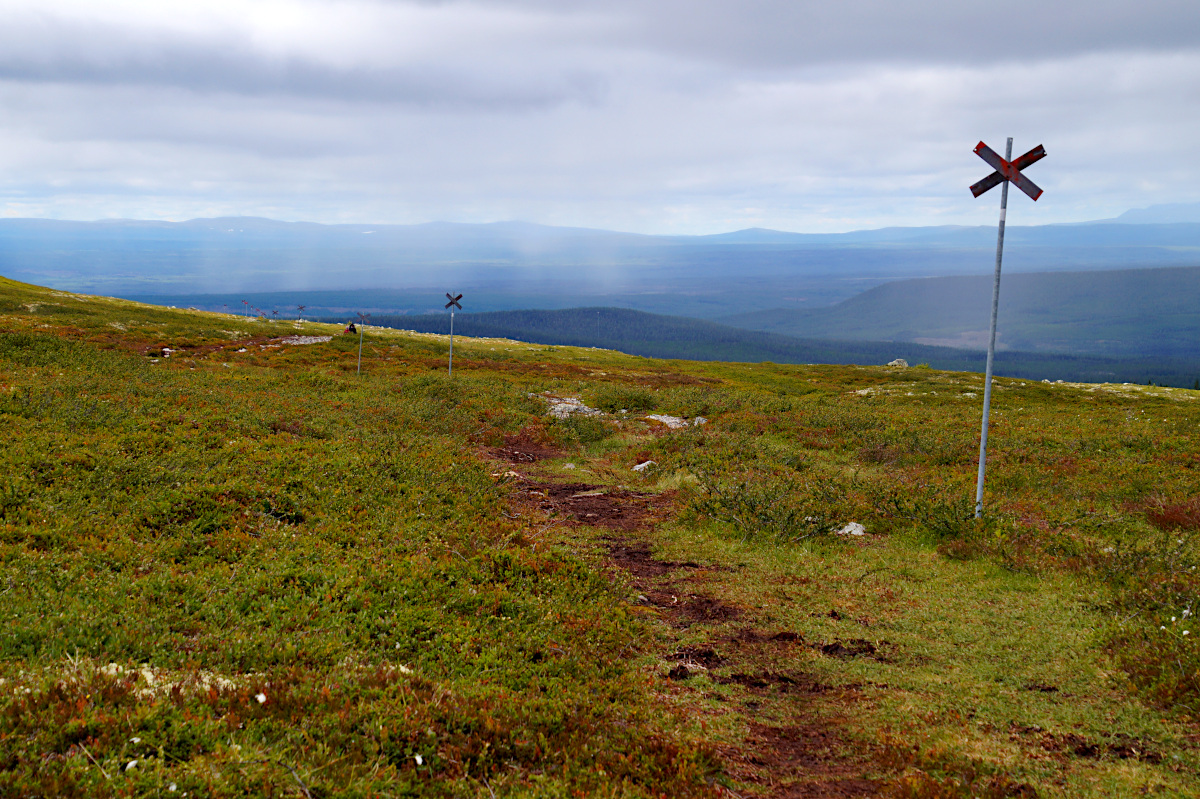 Phew, we have reached the top! We are now at 1000 meters, and have struggled about 200 metres upwards. The views are opening up beautifully in front of us, Just now it is rain coat off, as we have a bit of dry weather for the past 15 minutes :-) But in the far distance we can see that some rain is still coming down.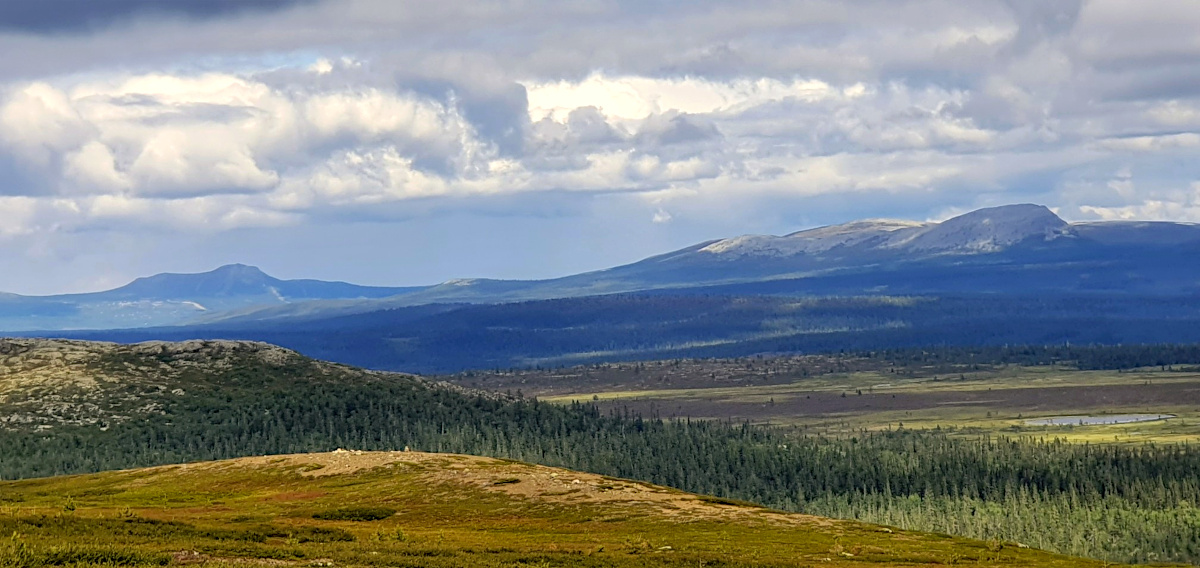 gorgeous views from the top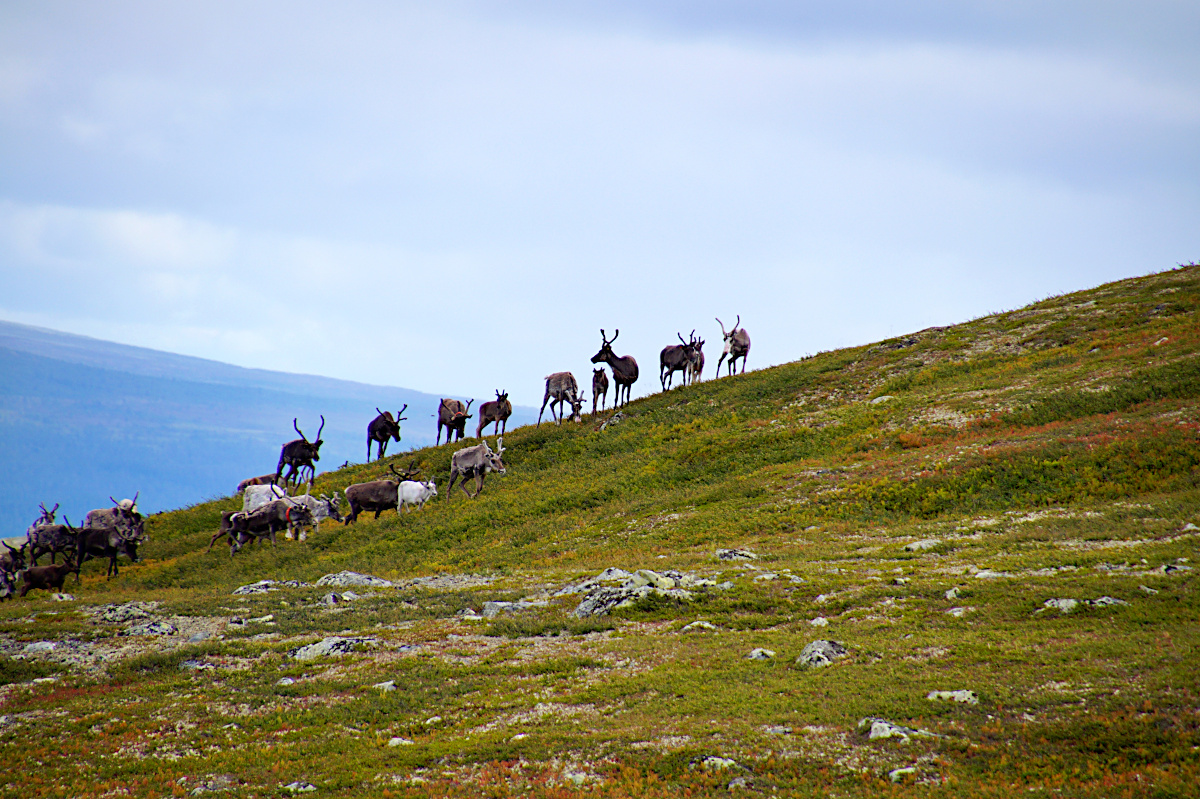 the first group of reindeer
And it is here that we see our first group of reindeers. The reindeer move up towards the high mountains or out into plains where the heat and the insects are less troublesome. The area around Nipfjället and Städjan provides the pastures for the reindeer from the Idre Sami village, one of the smallest Sami communities in Sweden and the most southern in the world.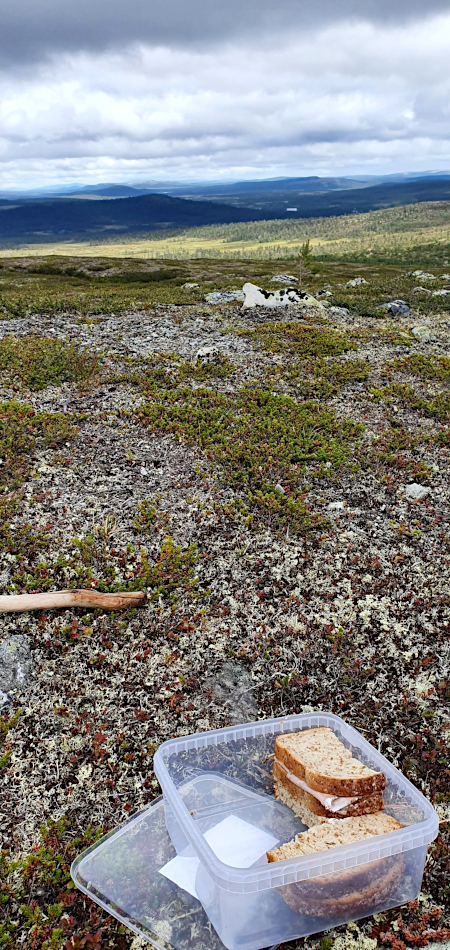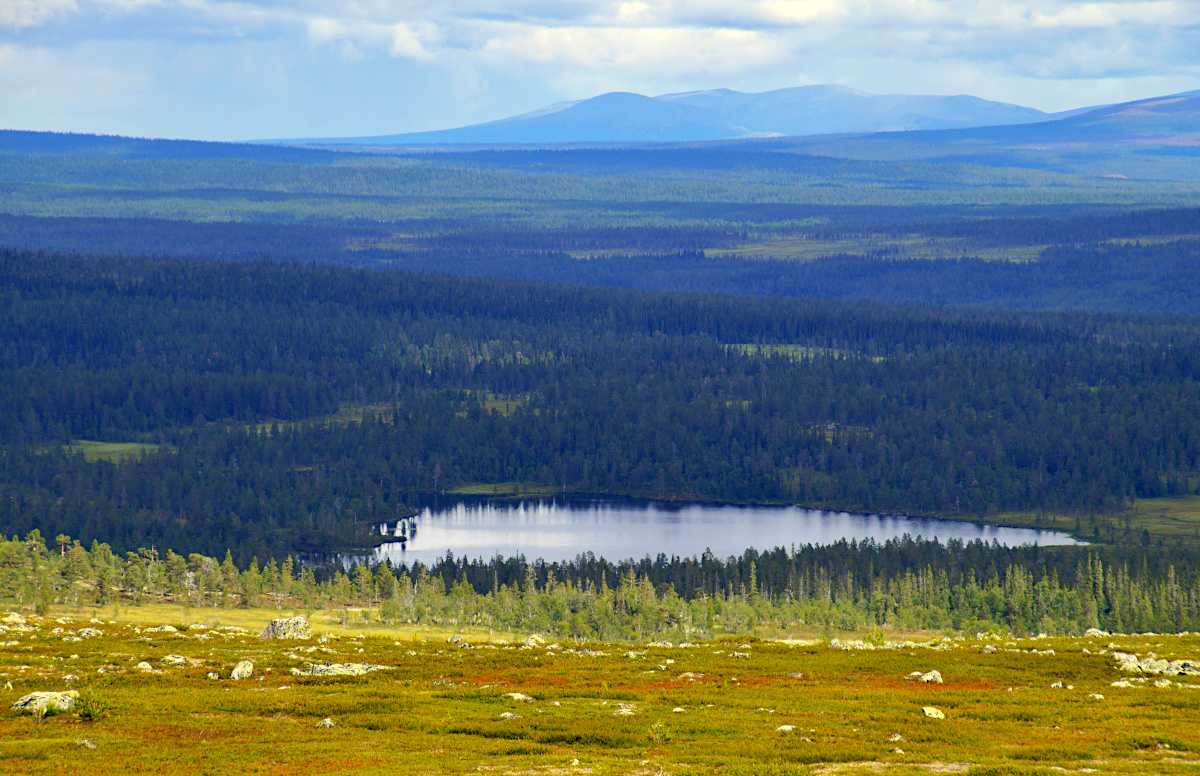 Time for lunch! :-)
We have reached the top of the ridge, and in front of us we have gorgeous views over the surrounding valleys. Behind us we hear another group of reindeer pasing by. A perfect place to find a big boulder to sit on and enjoy some lunch.
Today we have a simple snack of some sandwiches with us. But on most of our hikes we have prepared some type of pasta salad, often with some smoked salmon. But the sandwiches also hit the spot and give renewed energy for the rest of the hike!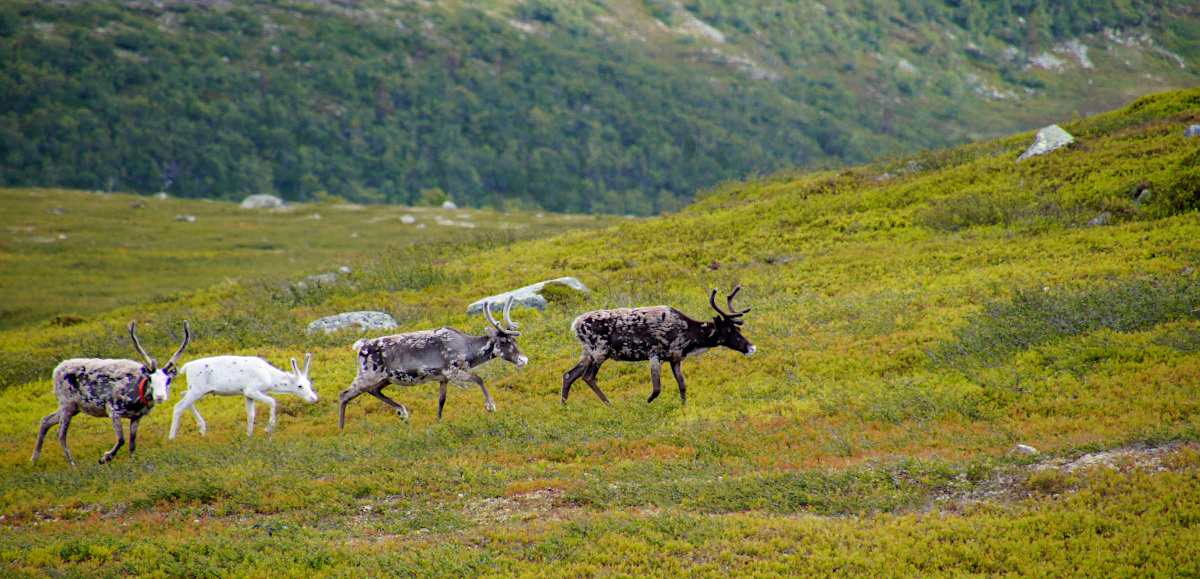 Behind us we hear another group of reindeer pasing by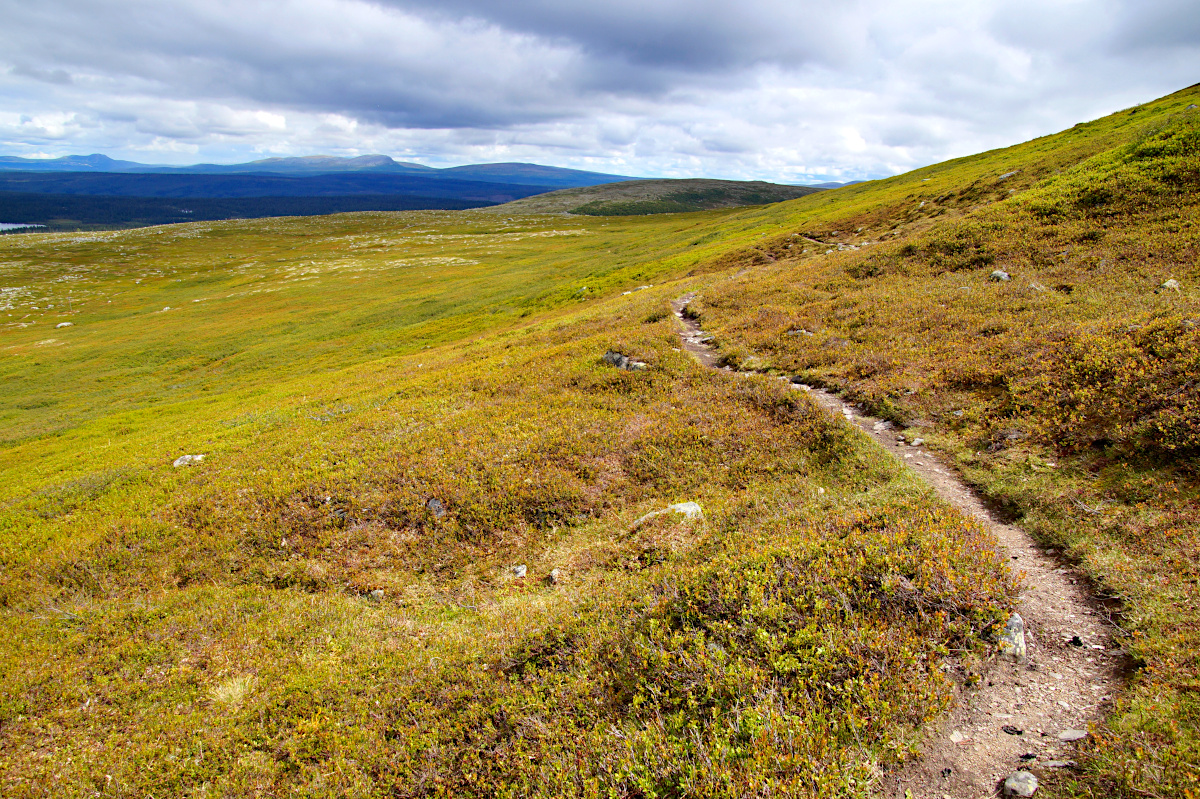 taking a shortcut?
And a hike would not be complete without a tradtional shortcut! Åke has made it a tradition to regularly throw in some sort of shortcut during our hikes. Of course without me knowing about it, and moving us away and onto sometimes very off-the-beaten-path stretches on our hikes. Always leading to some exciting adventures on the way, lol, with different levels of success :-)
And on this hike we took a turn to the right a bit too early than what we probably should have done if we followed the official route. But a lucky shot it was, as this was actually a really nice stretch in the hike, on a small trail, holding a route above the valley giving some gorgeous views. And this is also where we spotted more reindeers.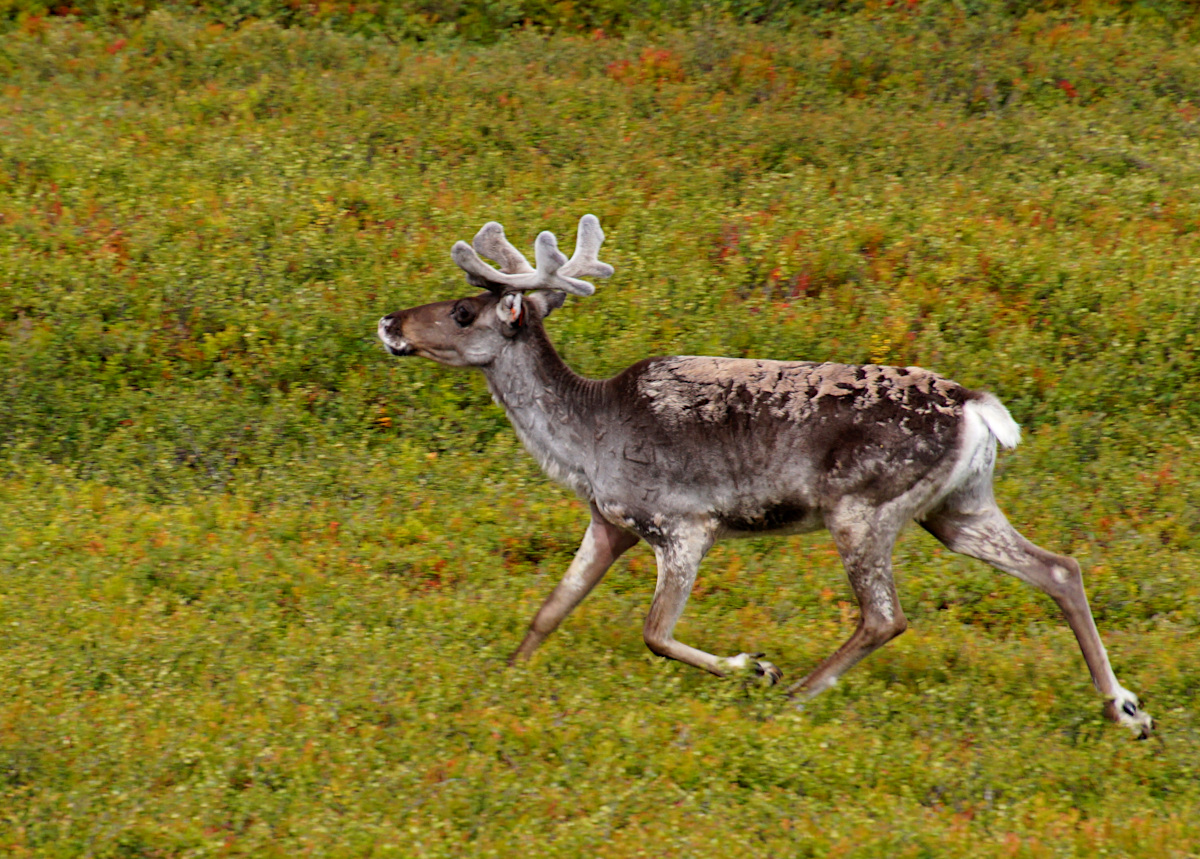 And when you spot one reindeer, be prepared to see more; many many more! When we walked on this little side trail we spotted a large herd of reindeer down below. And all of a sudden the reindeer were not only in the valley below us, but seemed to come from all directions, running past us in front and behind. Such a fun sight to see! So we just stood there for quite a while, taking in the surrounding landscape with its reindeer that consider these mountains as their home.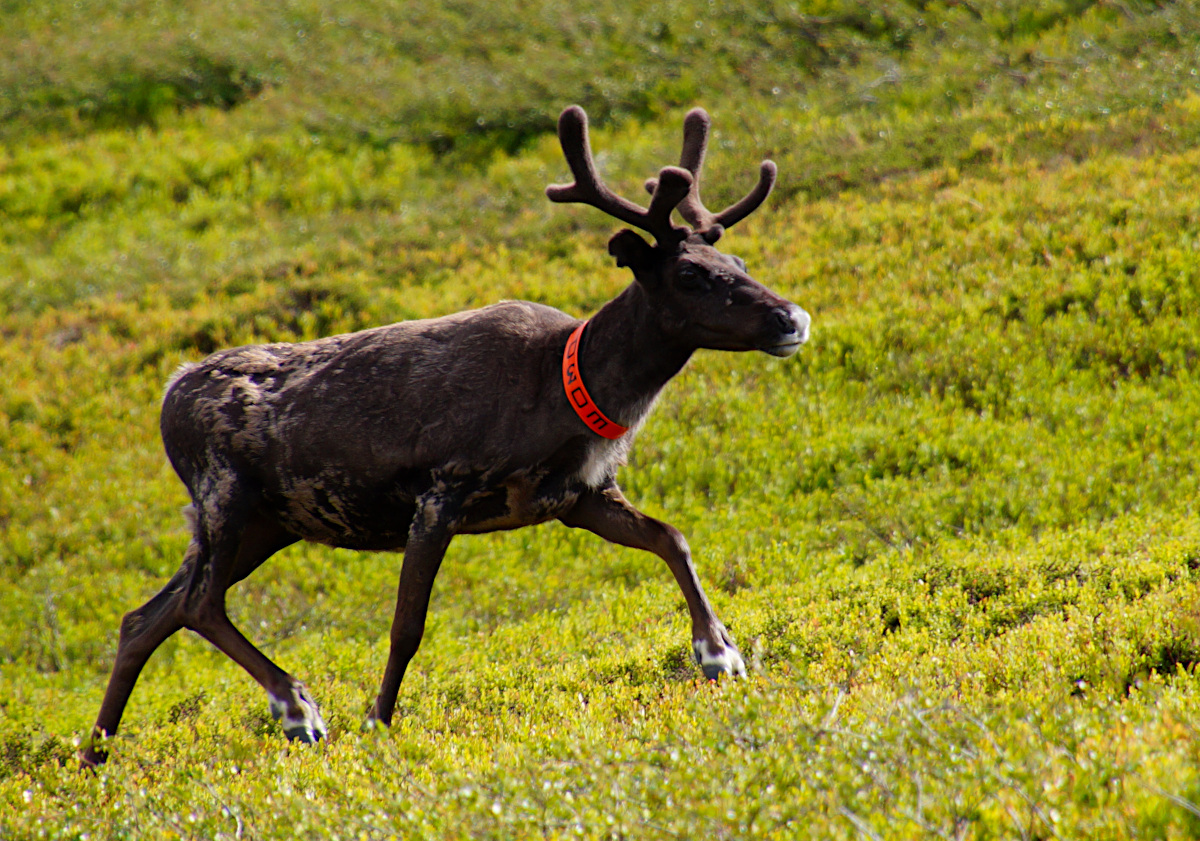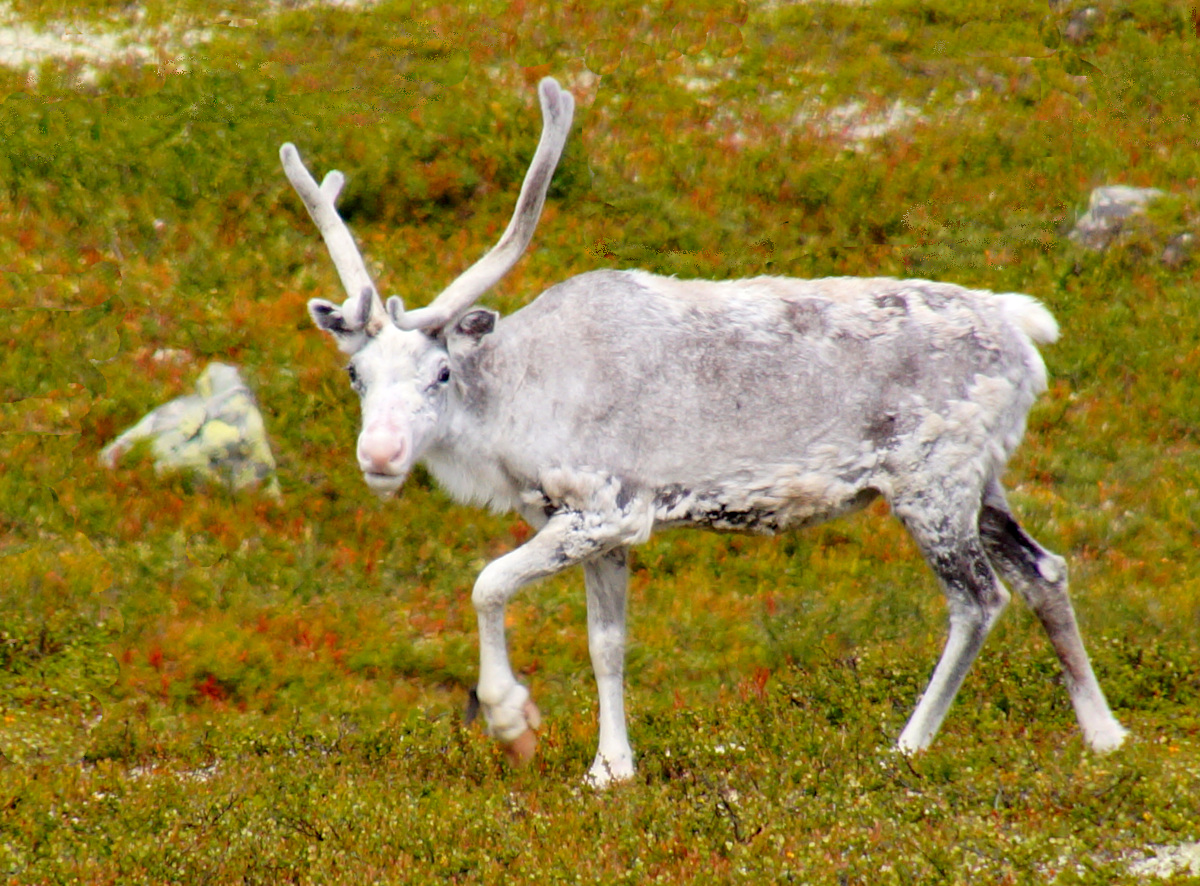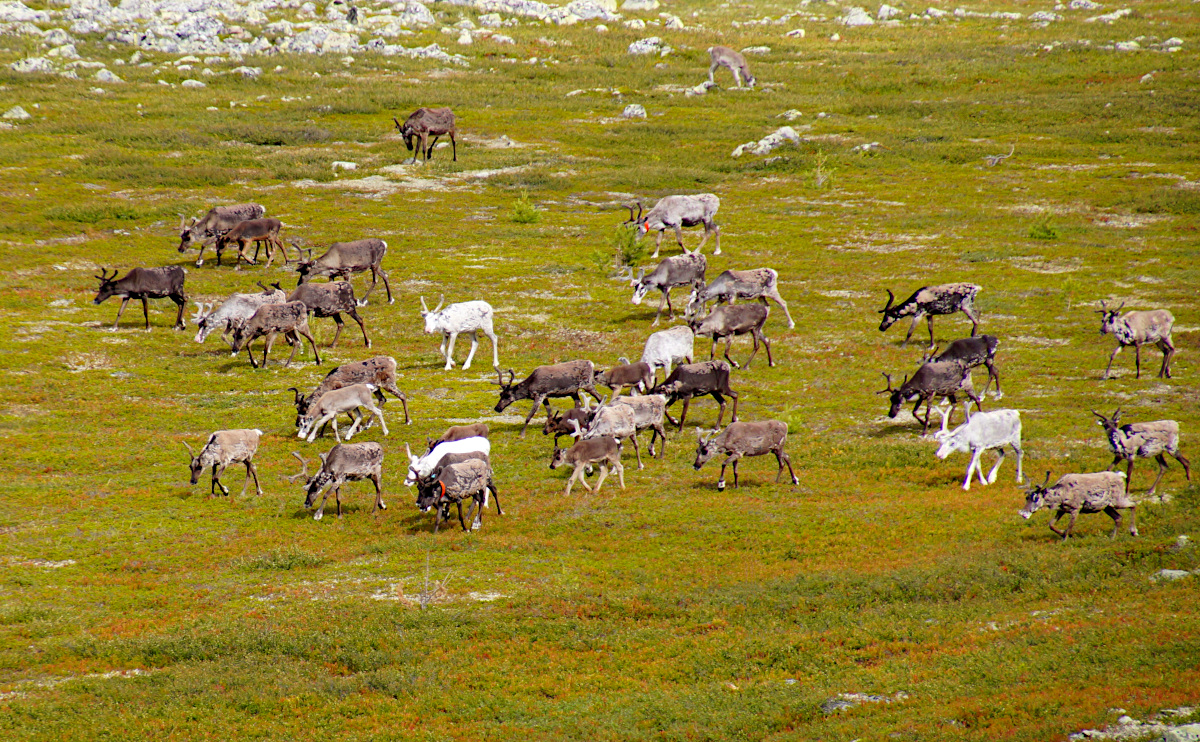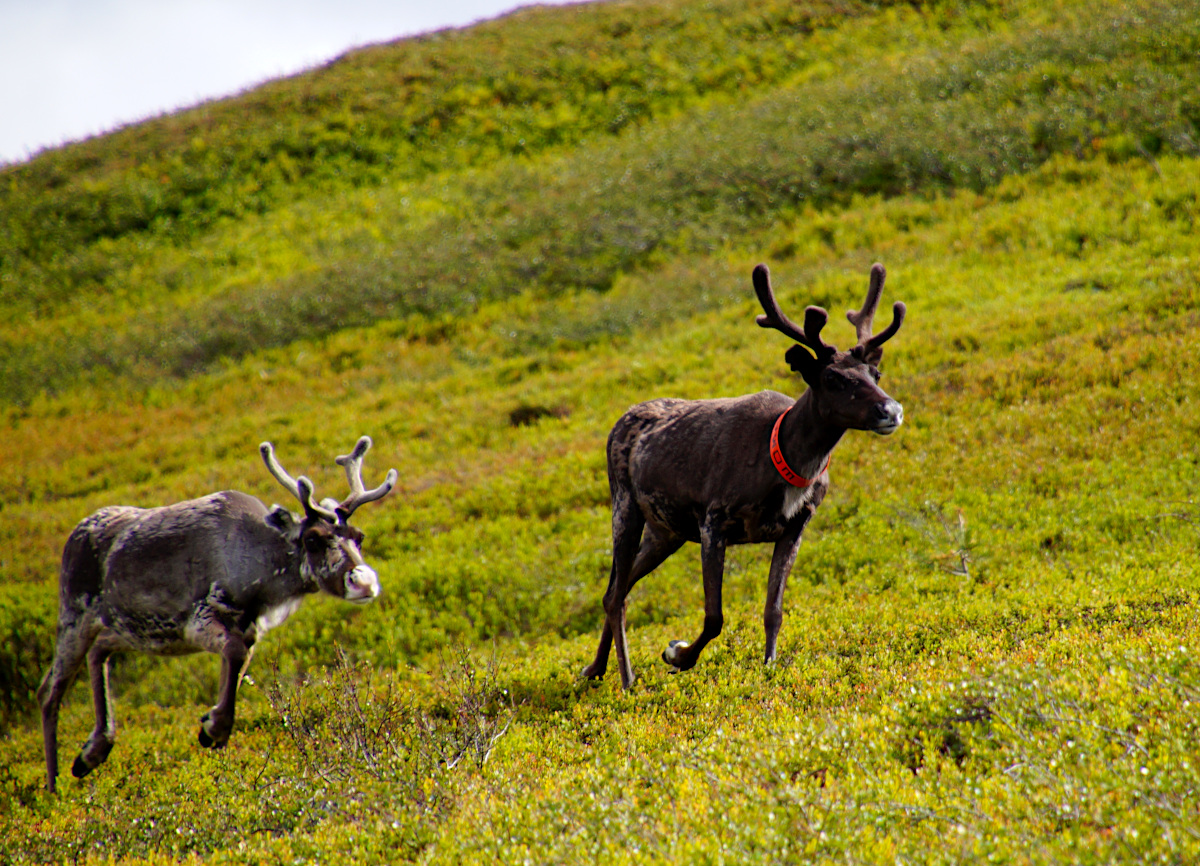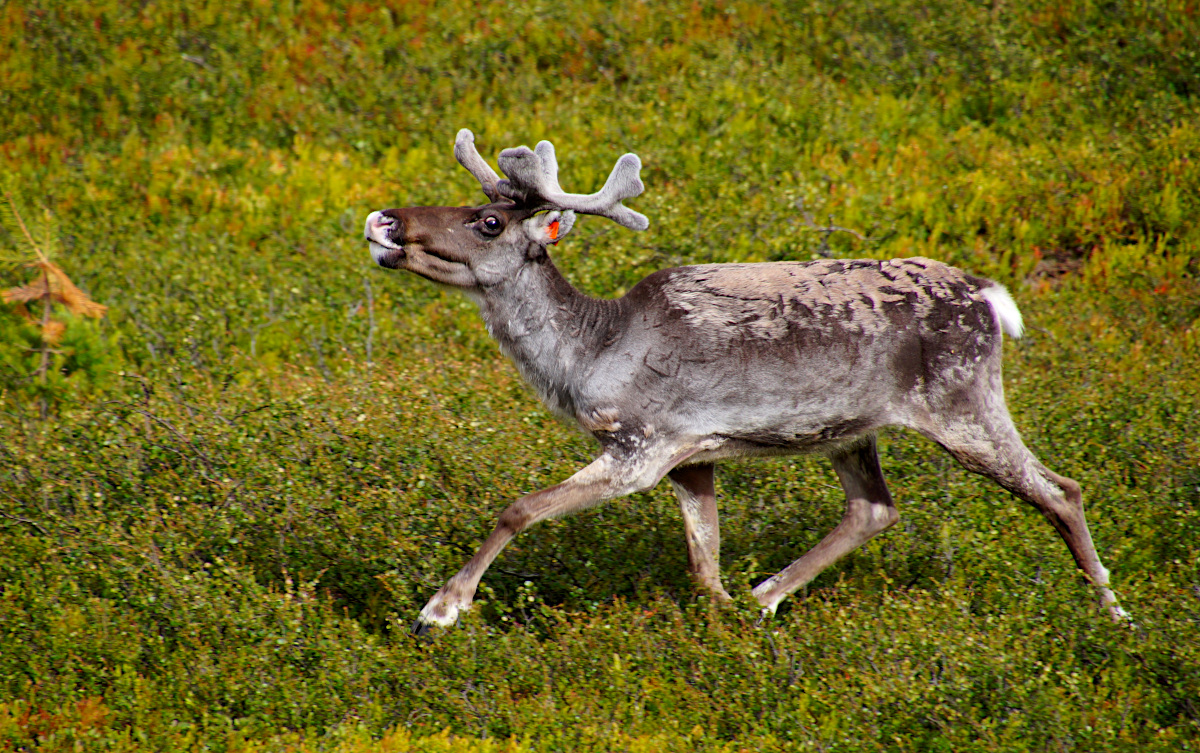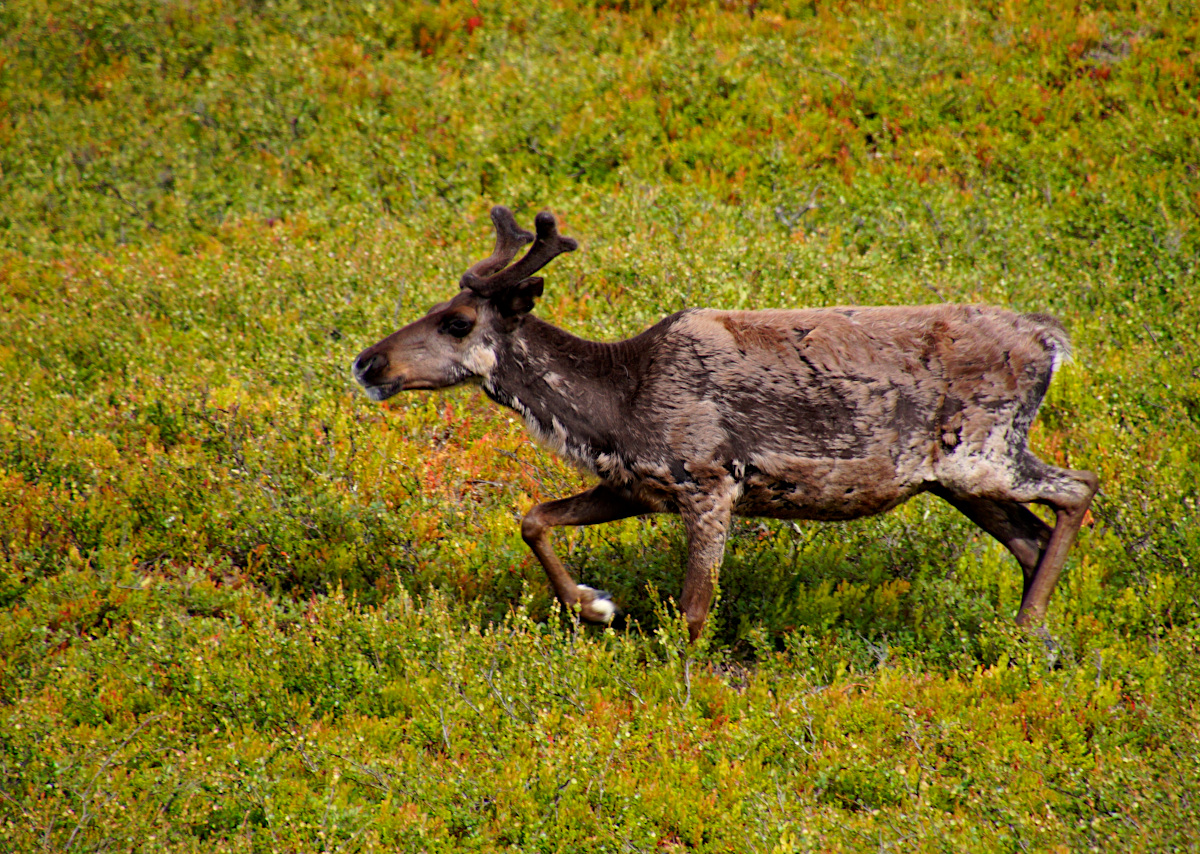 Åke took some short videos of the reindeer moving through the valley, which you can see below.
We passed the halfway mark now and the trail takes us a little steeper down, and back once more into the forest. And yes, up again, to the same height as before. No photos taken here, lol, as I was too busy and exhausted climbing up that slope again ;-)
But it is worth it, because now we get once more above the tree level, but on the other side of the mountain. And once again are treated by some gorgeous views! In the far distance you can see the mountain called Städjan.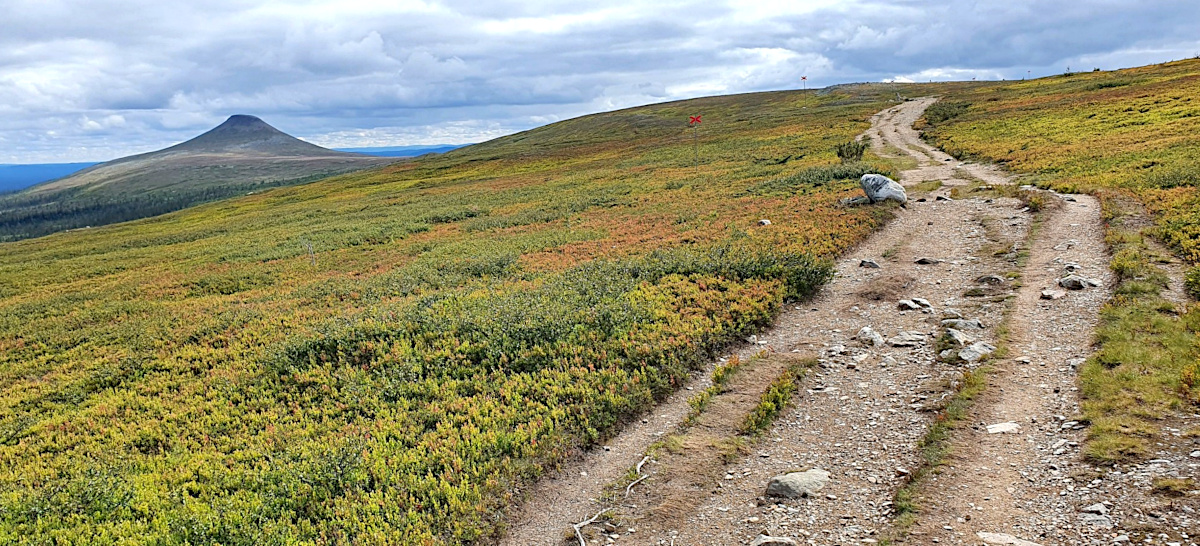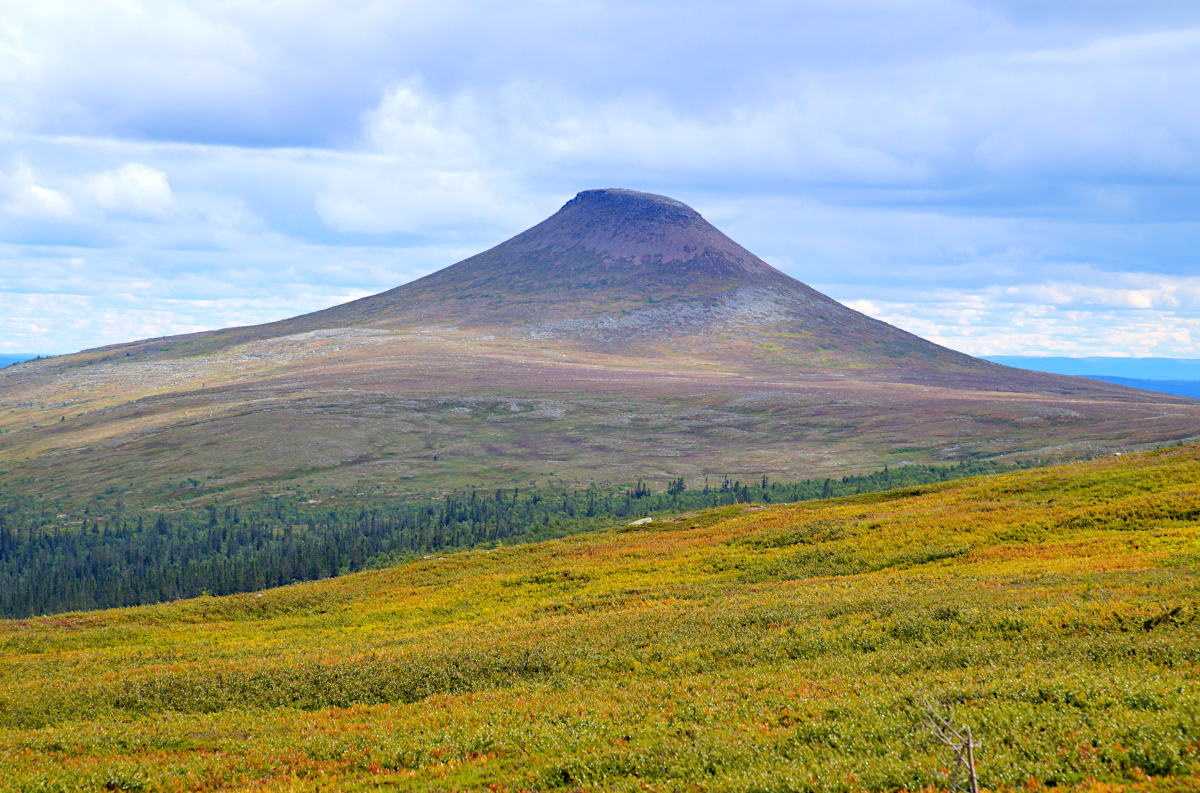 the mountain "Städjan"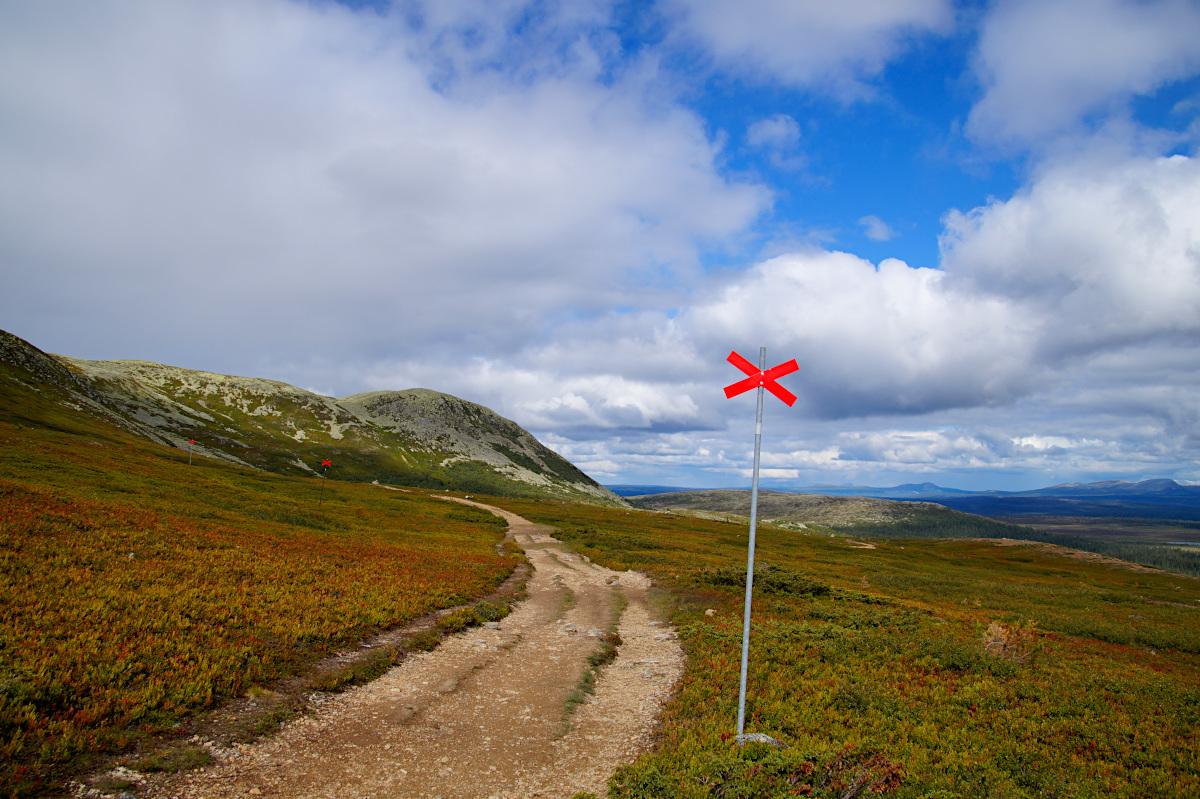 And from here it is 2 kilometres downhill :-) Whoohoo, easy walking! During the final stretch we are accompanied with some well longed for sunshine and even some more reindeer before we reach our car. Today has been a very enjoyable hike, and it was great to get a bit of feel of the Swedish Fjällen area again!