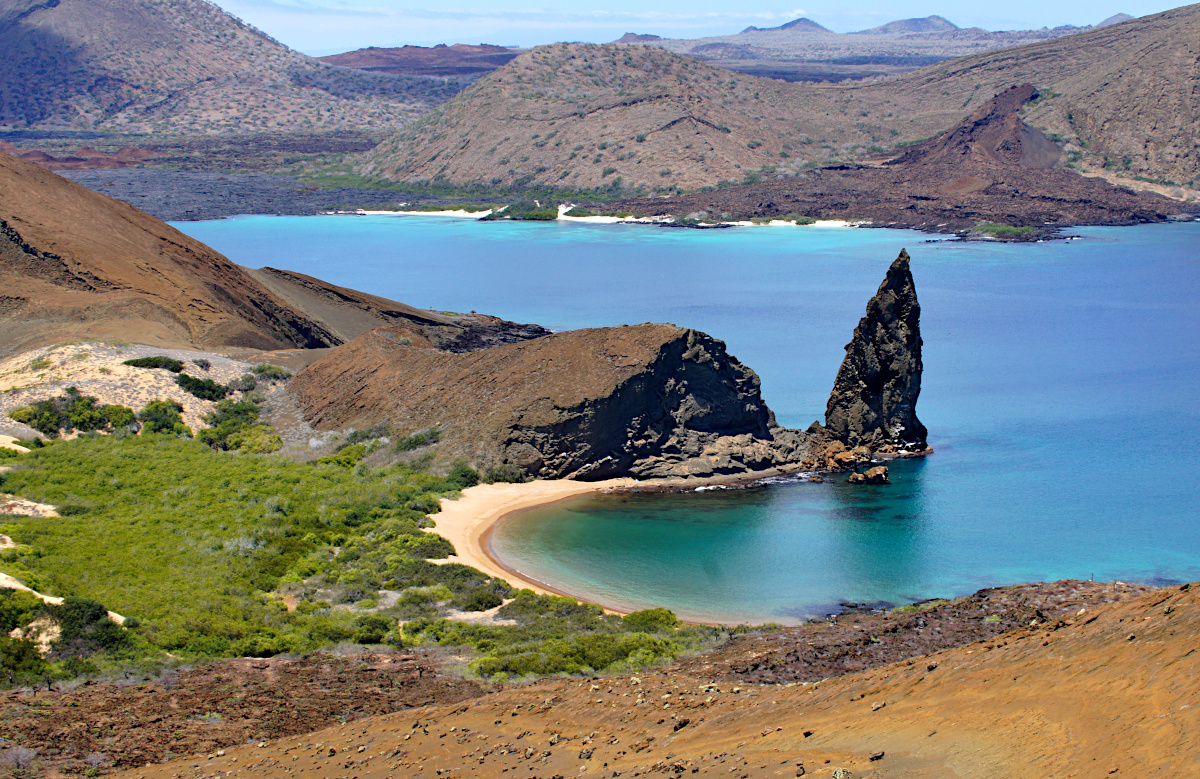 So today we are off for a daytrip to Bartolomé Island! An island that is known for offering some of the most beautiful landscapes in the archipelago. It is only 1,2 km2 in size, but despite its small size it consists of an extinct volcano and a variety of red, orange, green, and glistening black volcanic formations.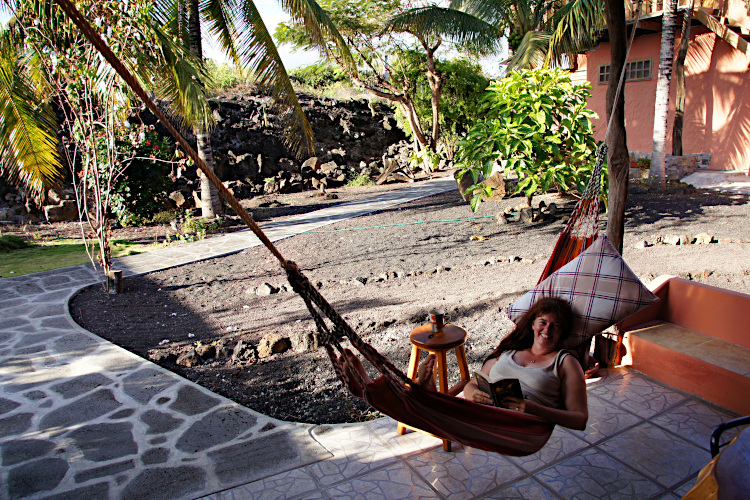 But our trip to the Galápagos and Bartolomé Island was not as straight forward as it might seem....
Unfortunately I got quite ill during our South-America trip, ending up having a short stay in the hospital in Cusco, Peru. This also meant that we had to cancel part of our continued journey through South America, skipping amongst other a visit to Easter Island. While staying in Limas bohemian district 'Barranco' we were deliberating our choices: Should we go home? Or do visit the Galápagos Islands, which was the last planned stop on our South-America roundtrip?
We opted for the later, and I am so glad that we did! Recuperating in a lazy hammock in the shade on Santa Cruz Island, while listing to the birds in the trees above, was a true joy and good for the body :-)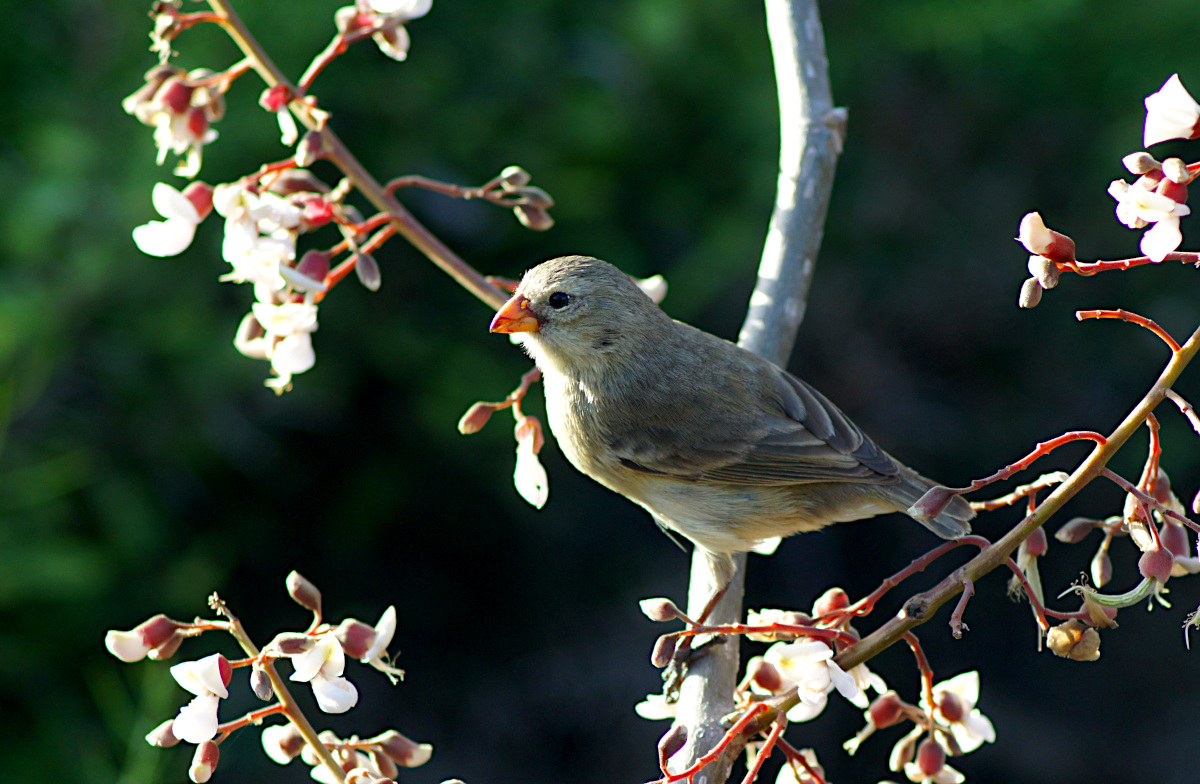 Galápagos Finch / Darwin Finch
Looking up from my hammock I could see the "Darwin's Finches" (also known as Galápagos Finches). These birds are not colourful, they are not big in size, and admittingly, rather plain looking. So maybe not the most spectacular birds to spot. BUT they still are the bird that the Galápagos is known for, all because of the exceptional work of Charles Darwin. These little birds played a leading role in his ground breaking Theory of Evolution, and for that fact alone, they are worthy of taking a few photos of. And I still find them cute, despite their modest looks, especially when they sing their songs in the trees surrounding my lazy spot in the garden.
Ok, ok, I realize I need to get out of this lazy hammock and do something! One cannot travel all the way to the Galápagos without discovering it :-) And well, to be honest, I never am able to lazy for a long time when I am on vacation. I need to go out and explore, no matter what! So we pop into town, Puerto Ayora, and visit some of the many tour operators located here. But my initial optimism that it would be a piece of cake to find a tour for the next day disappeared quickly. Nothing at all available in way of suitable day trips for tomorrow, shocking to me, as we were not even travelling in high season! But luckily, after some searching around, we did find a trip for the day after to Bartolomé.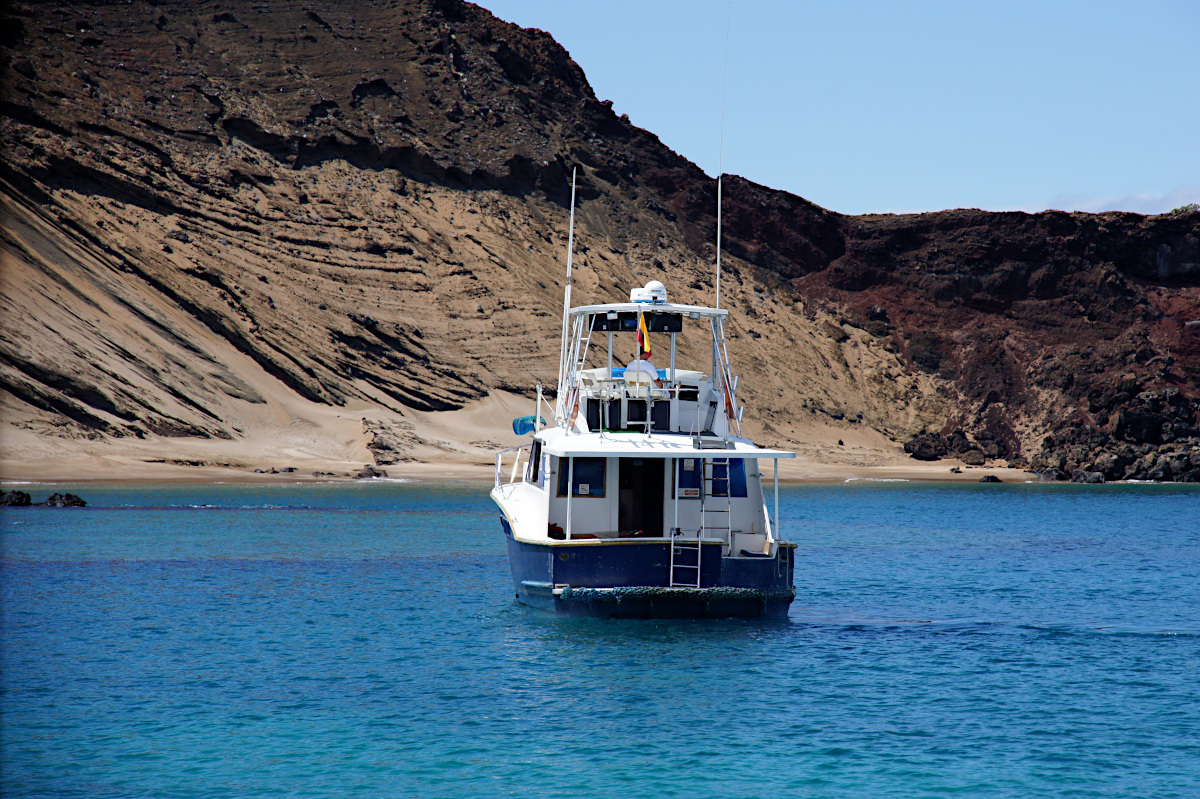 not our boat :-)
Ringgg, ringggg.... ringggg.... the alarm clock is set to "way to early in the morning" and is rudily awaking me. But there is no time to waste this morning! We need to get ready to go to the bus station during the early hours in the morning, from where we will be transported to the harbour on the other side of the island, and our departure point for Bartolomé!
In the bus we sleepely stare out of the window onto the unusual landscape of Santa Cruz Island that is surrounding us, and 50 minutes later we arrive at the Itabaca Channel, where we board the boat. We pop onboard, get our safety instructions, and settle in for the pleasant two hour boat journey bringing us to Bartolomé island. We always do enjoy a nice boat journey and this one is no exception!
Approaching the island we immediately recognized the iconic "Pinnacle Rock", the natural landmark of Bartolomé formed by an eroded volcanic cone.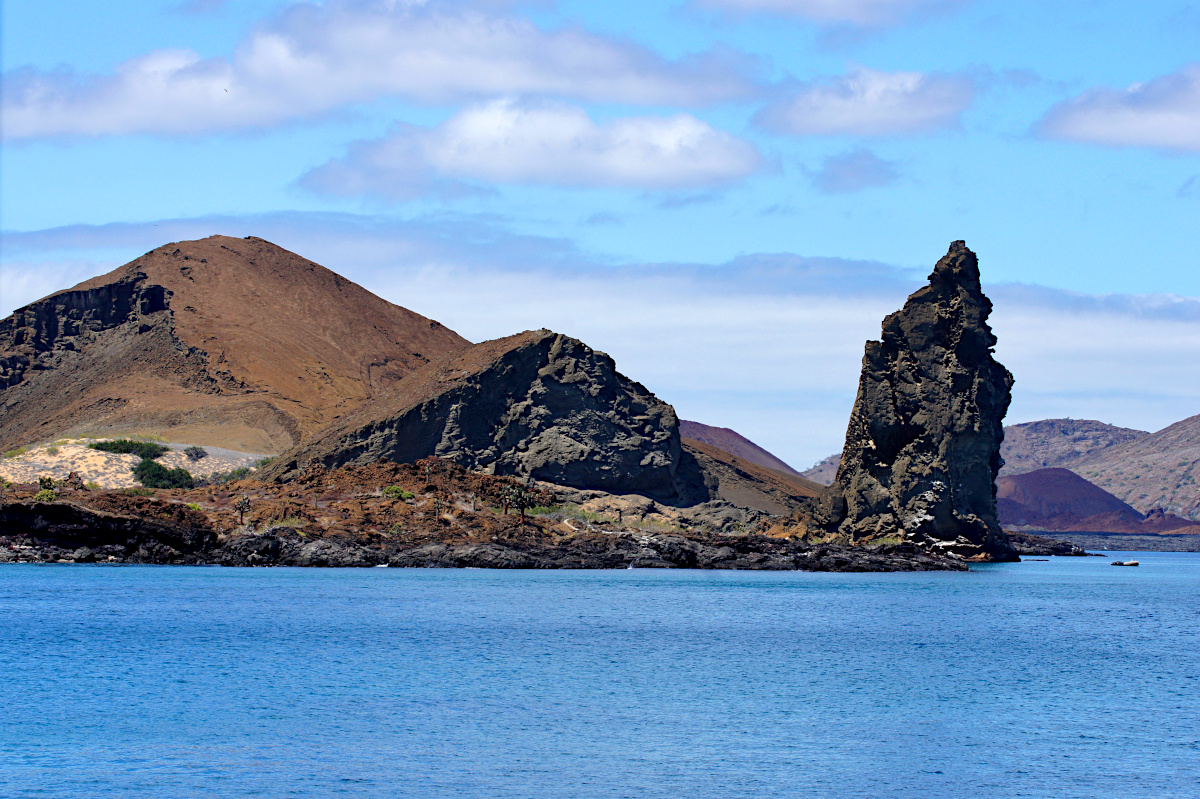 Pinnacle Rock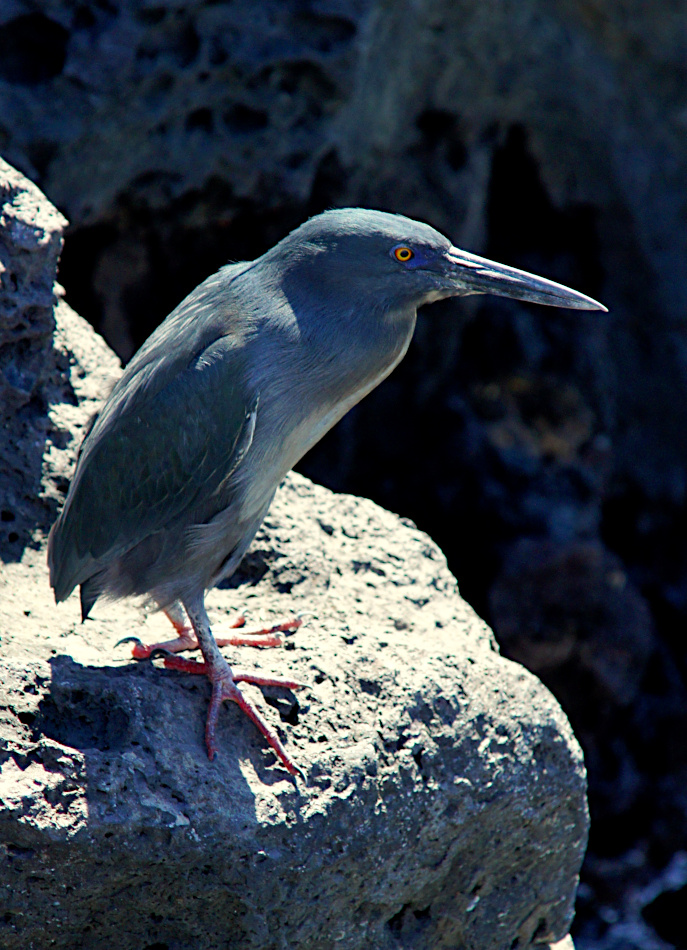 lava heron / Butorides Sundevalli
The first creature to welcome us to the island is the lava heron. It blends wonderfully in with it surroundings due to camouflage colour of their feathers. Galápagos lava herons are usually seen stalking prey on black lava rocks or island shorelines. They are a common sight at the Galápagos islands and although endimic to the Galápagos, they are a widespread species and can be spotted on all of the islands.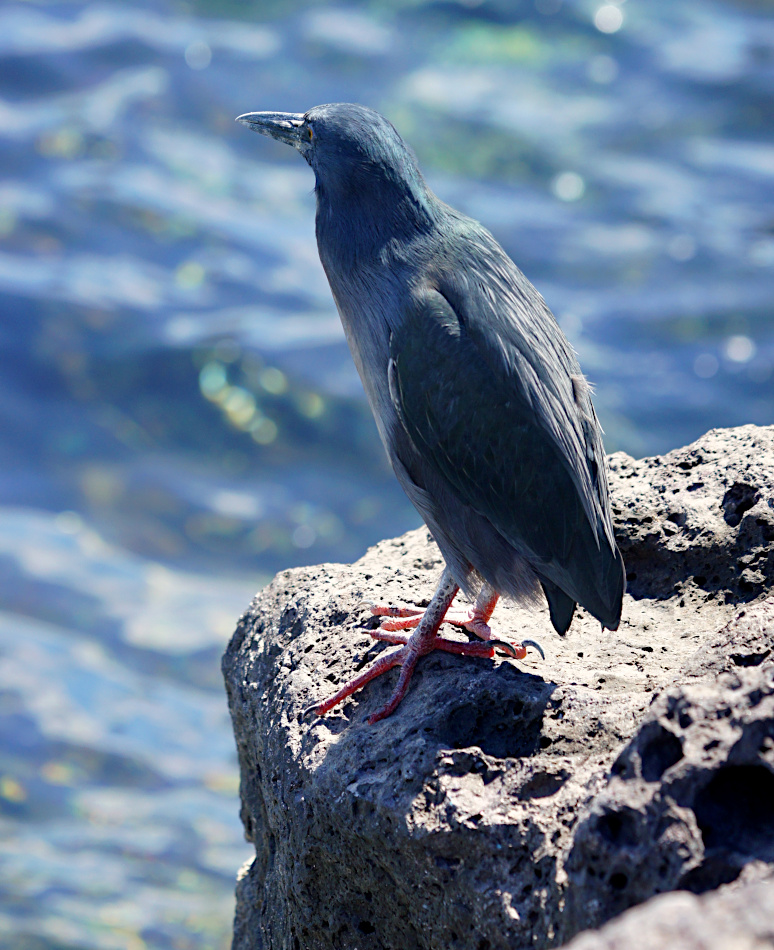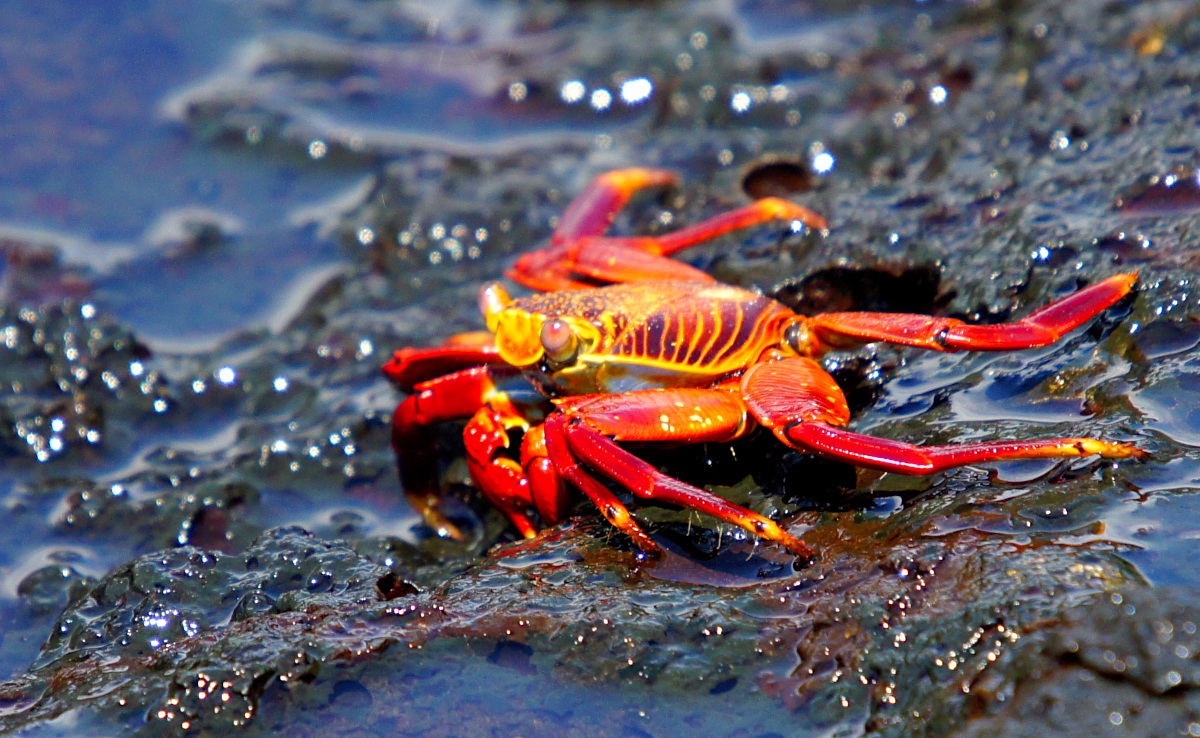 The brightly-coloured Sally Lightfoot crab / Grapsus Grapsus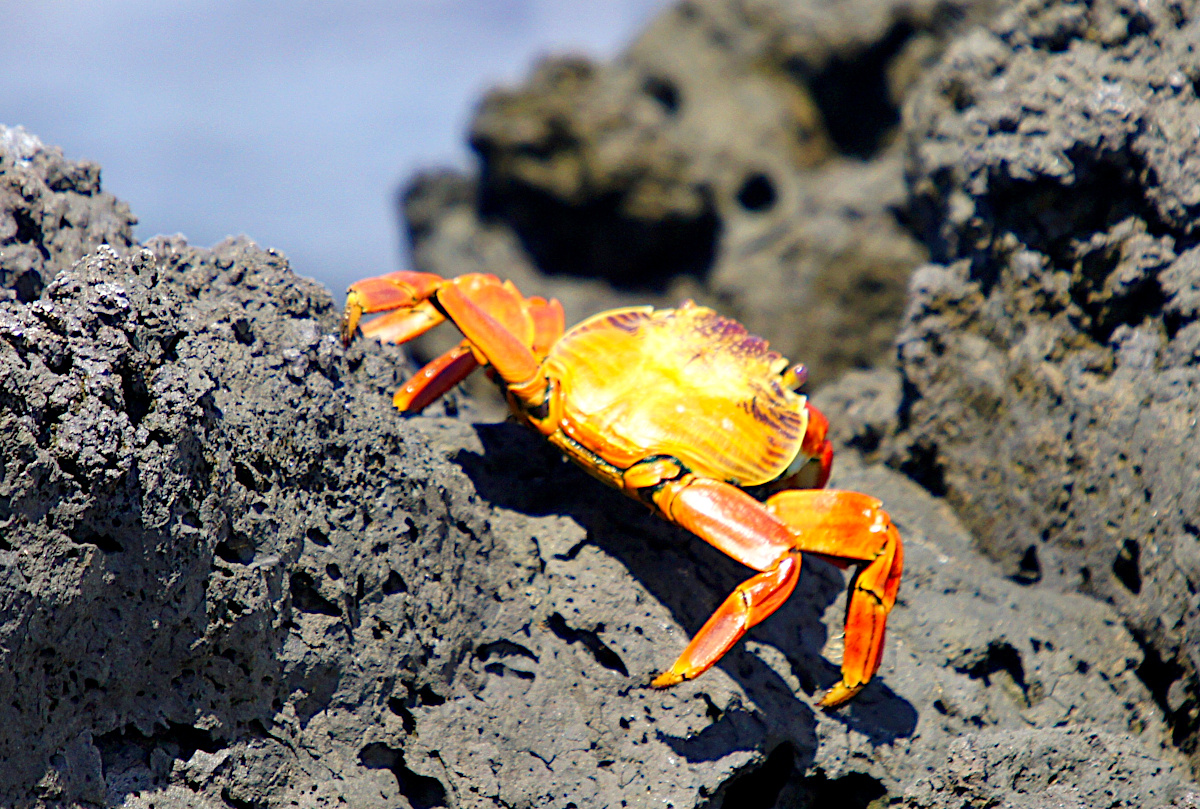 And the second creature to welcome us are the Sally Lightfoot Crabs! I just love watching these brightly coloured crabs, dancing erratically along the rocks. The contrast of the bright red-orange shells against the black lava rocks is striking, and making them irresistible objects to photograph for many visitors, me included :-)
Their strong claws help them to cling to rocks when waves hit. They have 10 legs, and unusual for crustaceans, they can run in all four directions as well as climb up vertical slopes. This, together with their ability to hide in tight cracks in the lava, is part of their defence against preditors.
I saw a few of these Sally Lightfoot Crabs when the boat landed on Bartolomé, but they are widely spread over the Galápagos Islands. And further along my trip I spotted dozens and dozens more of these cheerful coloured crabs.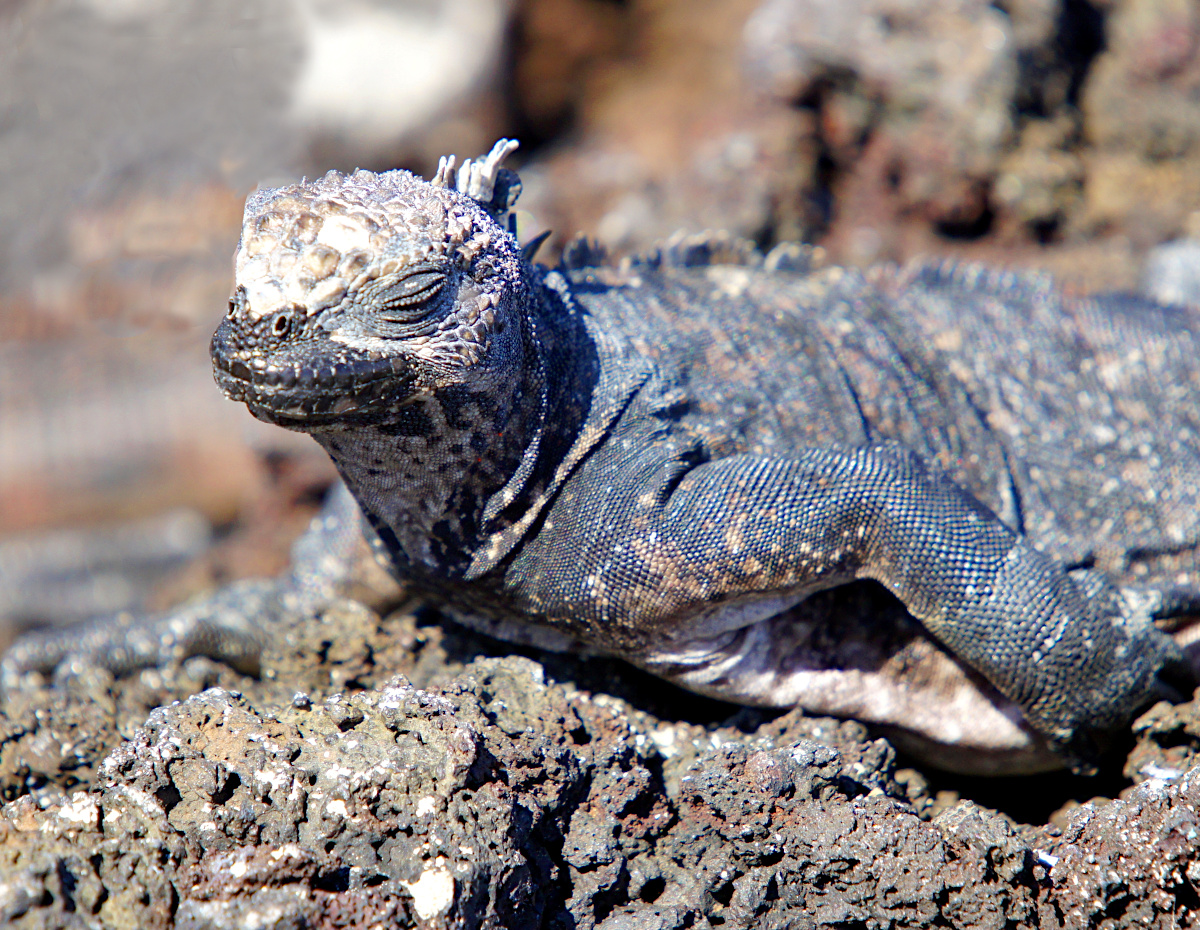 Marine Iguana
And no trip would be complete without spotting a Marine Iguana! My 'first' Marine Iguana I ever saw is this one, but it is one of the many hundreds more that I will spot during the coming week. The Marine Iguana is the only lizard in the world with the ability to live and forage at sea and is endemic to the Galápagos Archipelago.
We found this Marine Iguana sunbathing on the black lava rocks. Bartolomé is not really known as an excursion to spot a lot of wildlife, so I was quite surprised to see as much as we did today. But I guess this also proves how much wildlife there is, and especially, how easy it is to spot wildlife on the Galápagos Islands.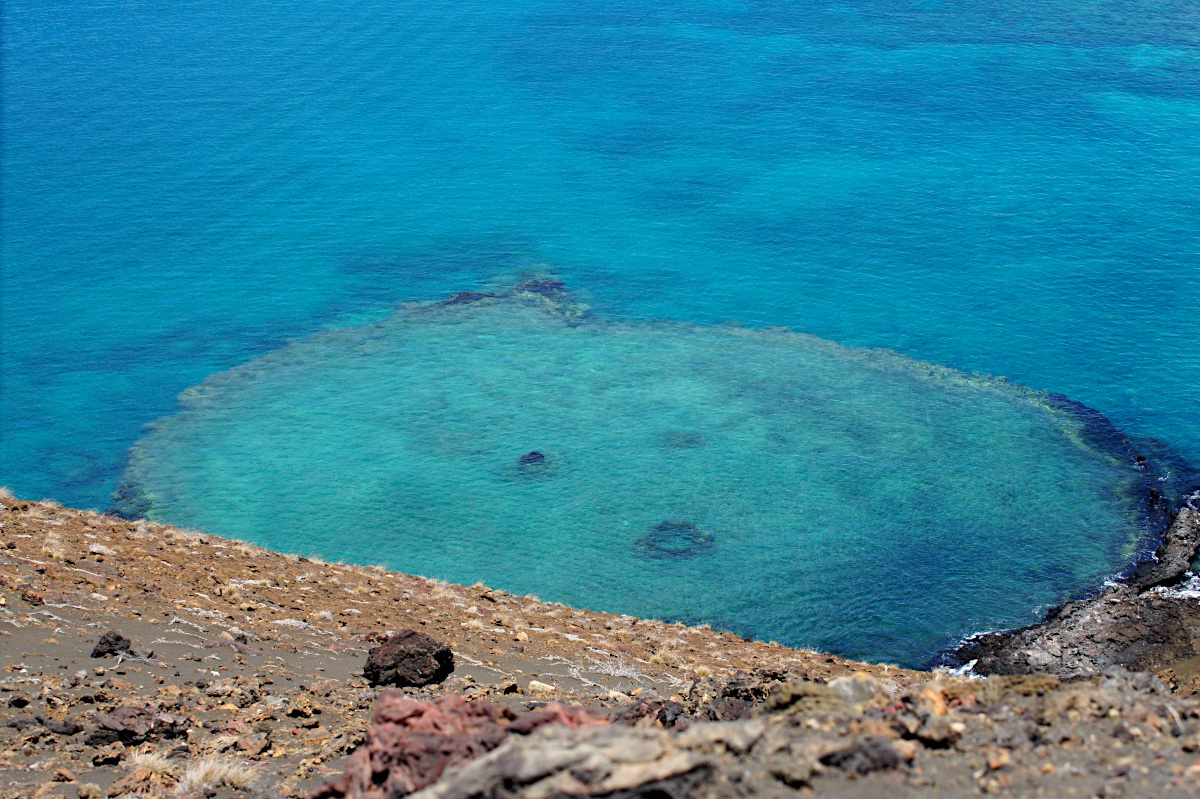 What Bartolomé is known for is its beautiful landscape, and especially the traces of its vulcanic past. I found it absolutely stunning to see these traces of long gone by vulcanic activity in the cristal clear turqoise blue waters (photo above).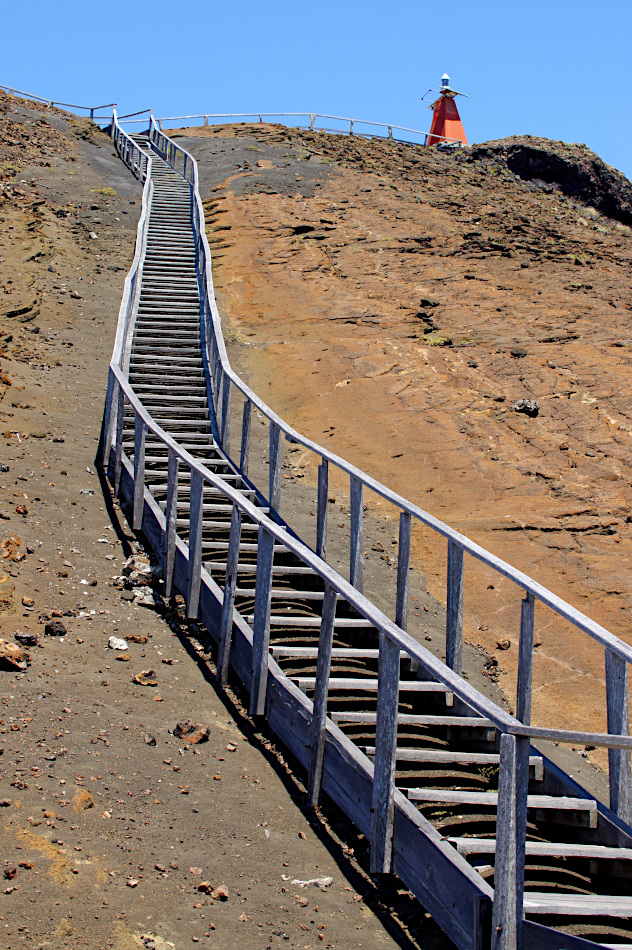 372 steps to the top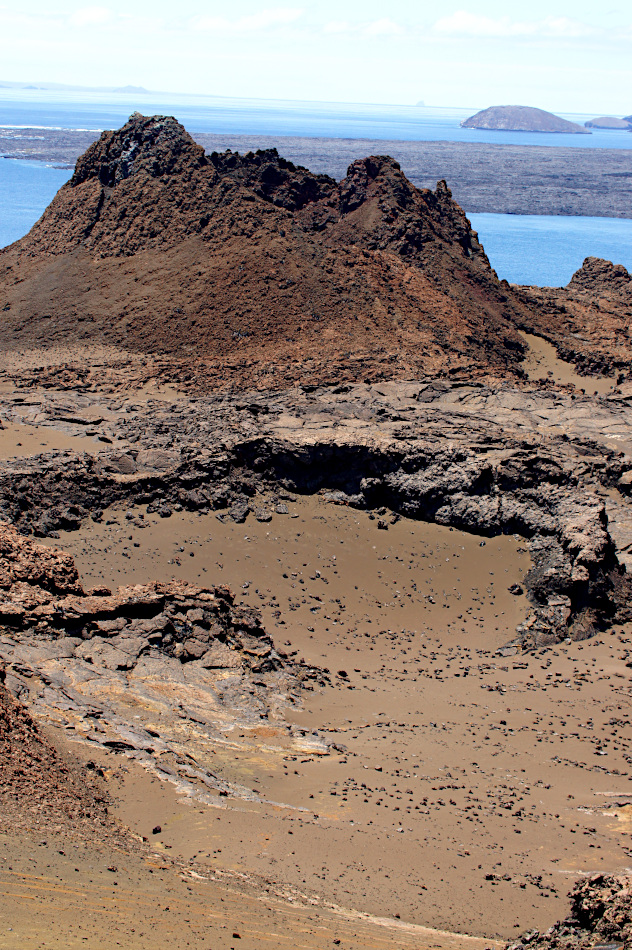 Spatter cone
But to get the best out of the views you need to go up, and up, and up even more up, all 372 steps! Not that I counted the steps myself though; but I can confirm that it is quite the climb, especially with the sun burning brightly on our heads. Making sure we had plenty of water with us, as well as wearing a hat to protect from the worst of the bright afternoon sun was a must for me. But it is so worth making the effort climbing these endless stairs. The views are stunning and are geting better with every step that we take.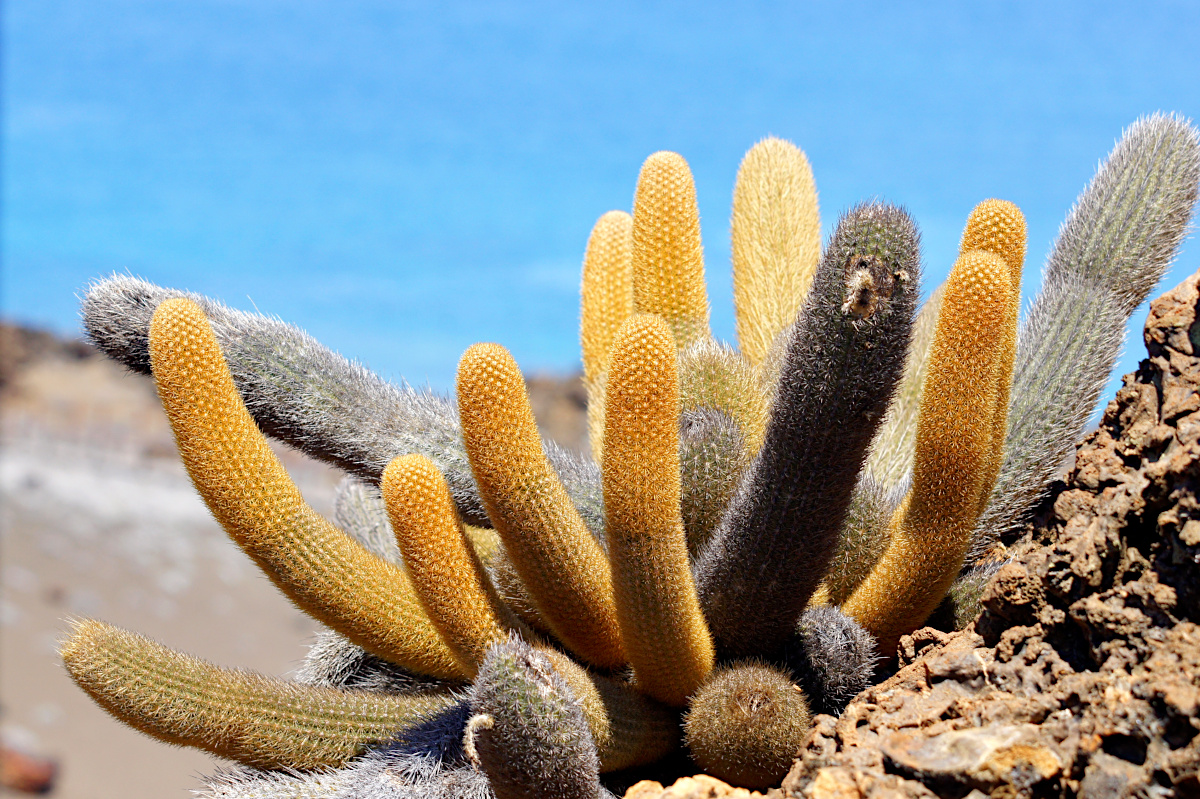 Lava Cactus / Brachycereus nesioticus
The path is wide and easy to walk, and making many stops on the way gave me a chance to take in our surrounding to the fullest. In the photo above you can see a Lava Cactus (Brachycereus nesioticus), with its spiny clumps of up to 60 cm tall. This cacti is endemic to the Galápagos Islands and it is actually one of the first species to grow on new lava flows. This cacti is found on Fernandina, Genovesa, Isabela, Pinta, Santa Cruz, and Santiago, as well as some smaller islands, including here on Bartolomé.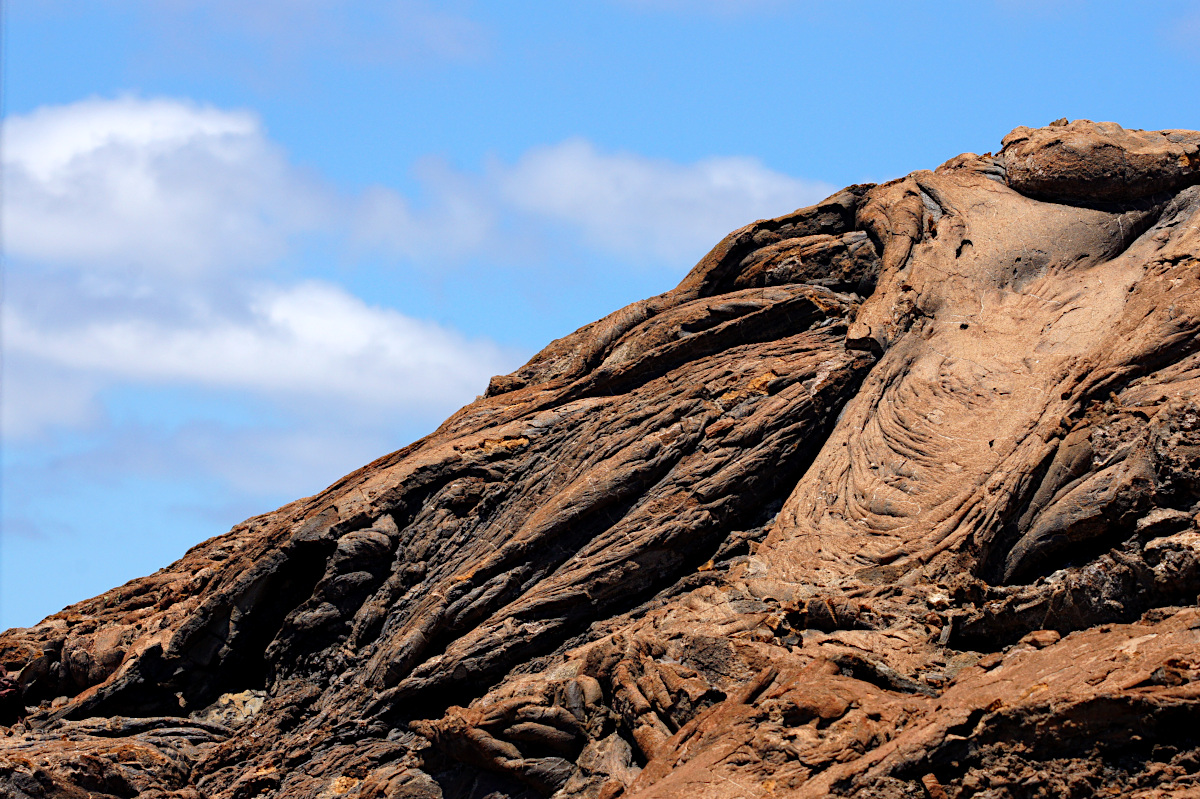 Although Bartolomé is around 1,5 million to two million years old, it is one of the "younger" islands in the Galápagos archipelago and it shows. On Bartolomé you can see the remains of lava rivers that once flowed down the sides of the cone.
The guide showed us some of the vulcanic rocks, and surprisingly they were so very light in weight. The explanation is the conditions during a vulcanic eruption. When water is present in an eruption, like in that of a subduction zone, tuff is created. When there is no water present, basalt is formed. When the volcano that formed Bartolomé erupted, there was not any water present resulting in large amounts of basalt on this island. The basalt hardened together with air creating very light rocks.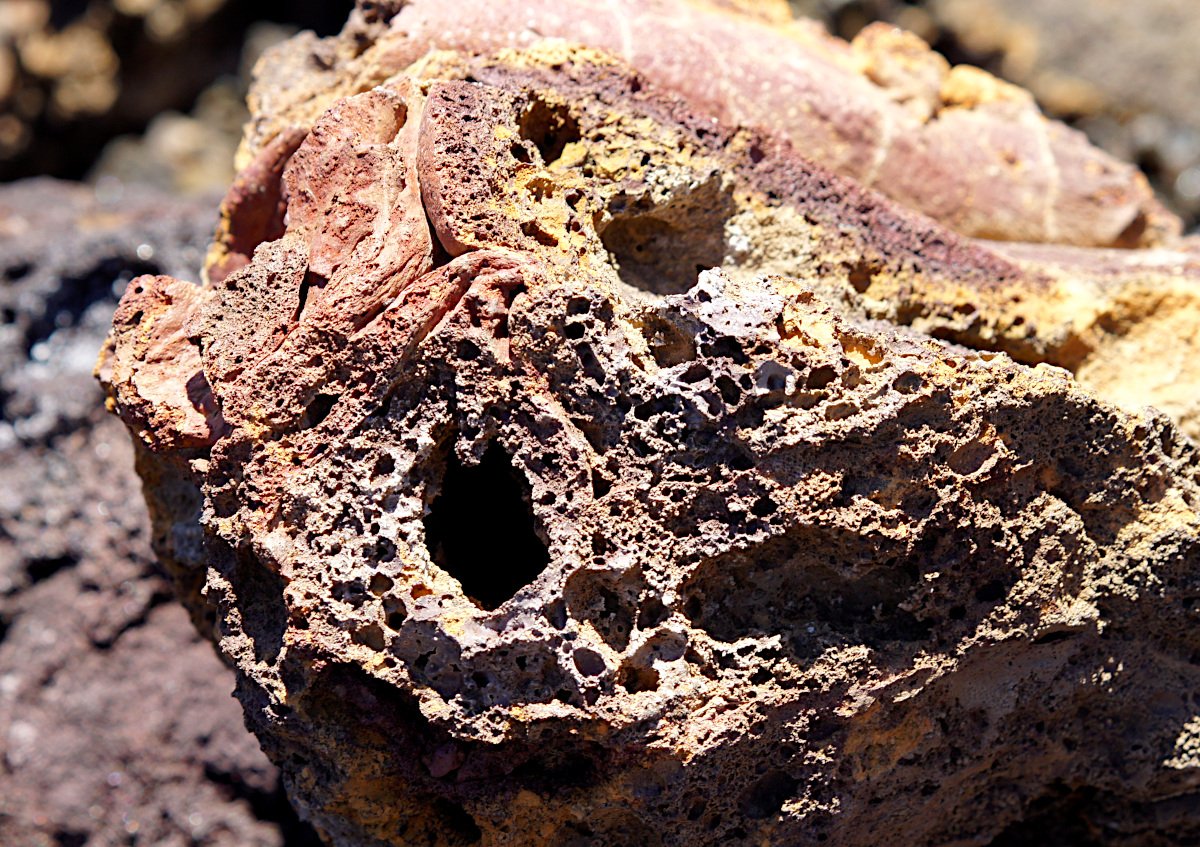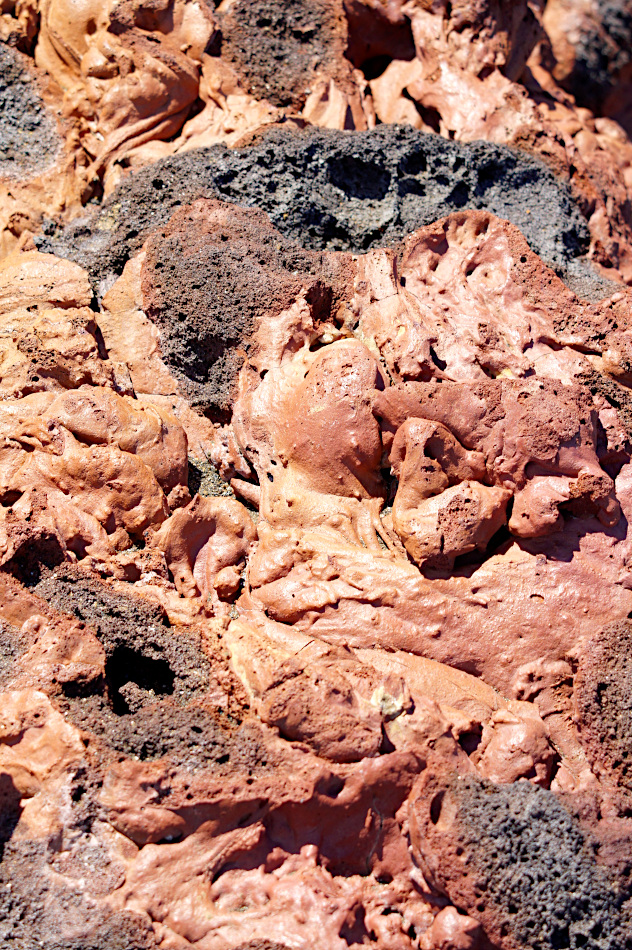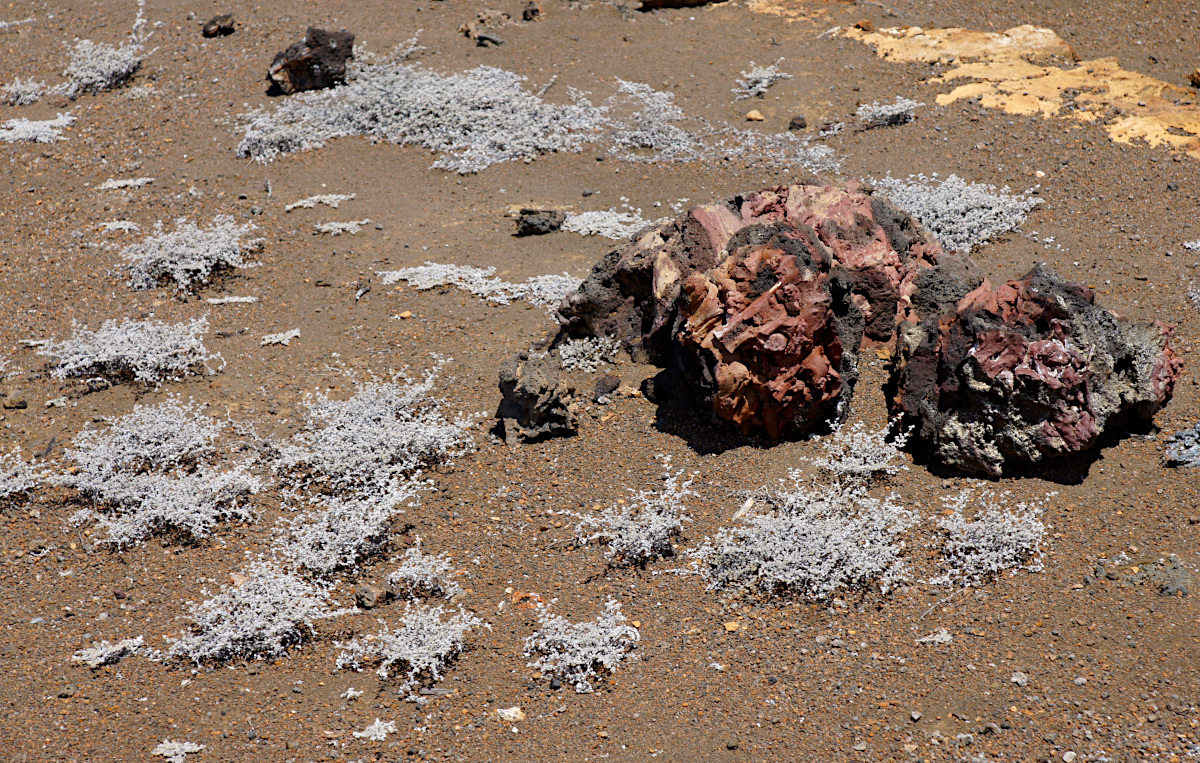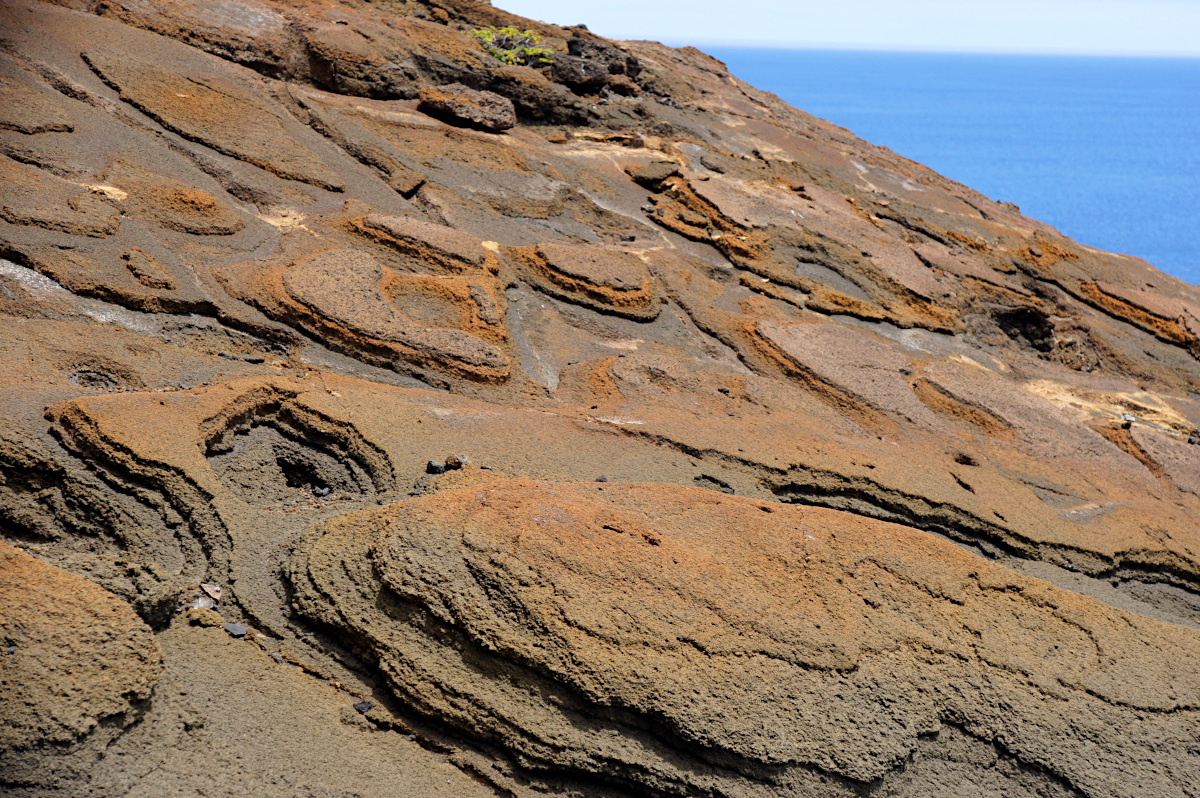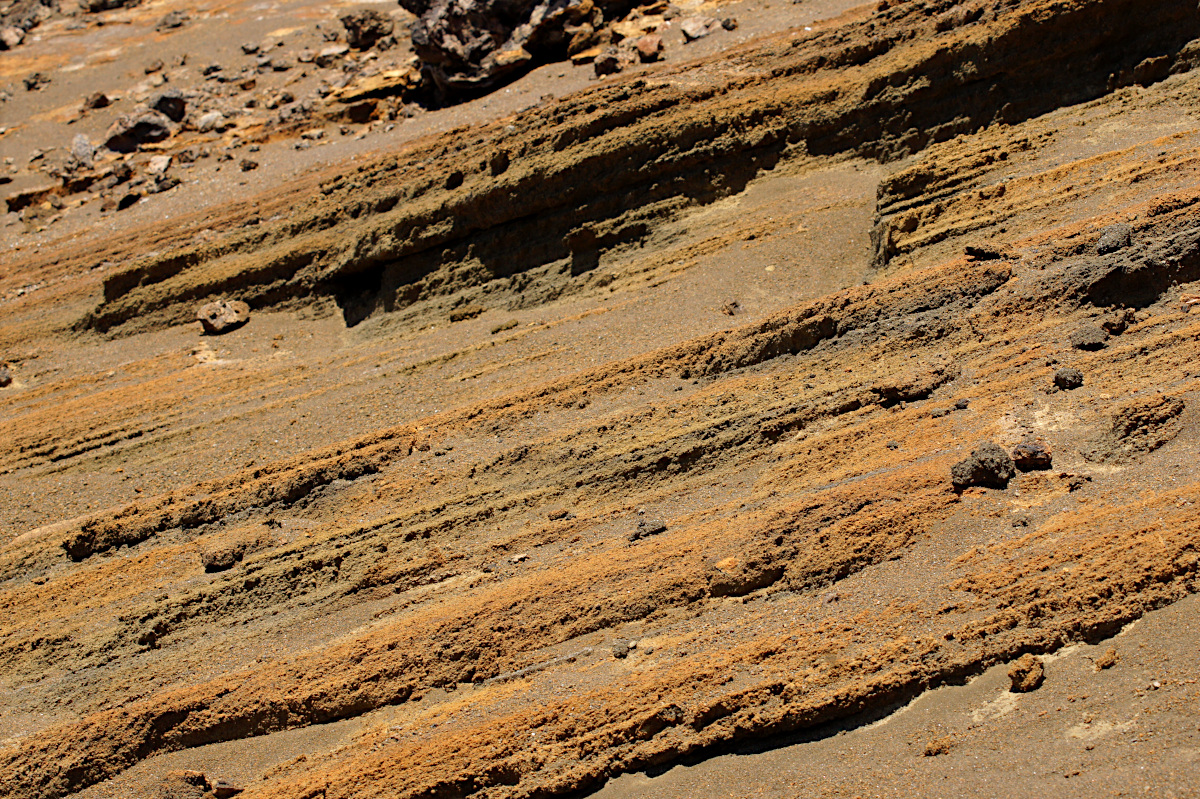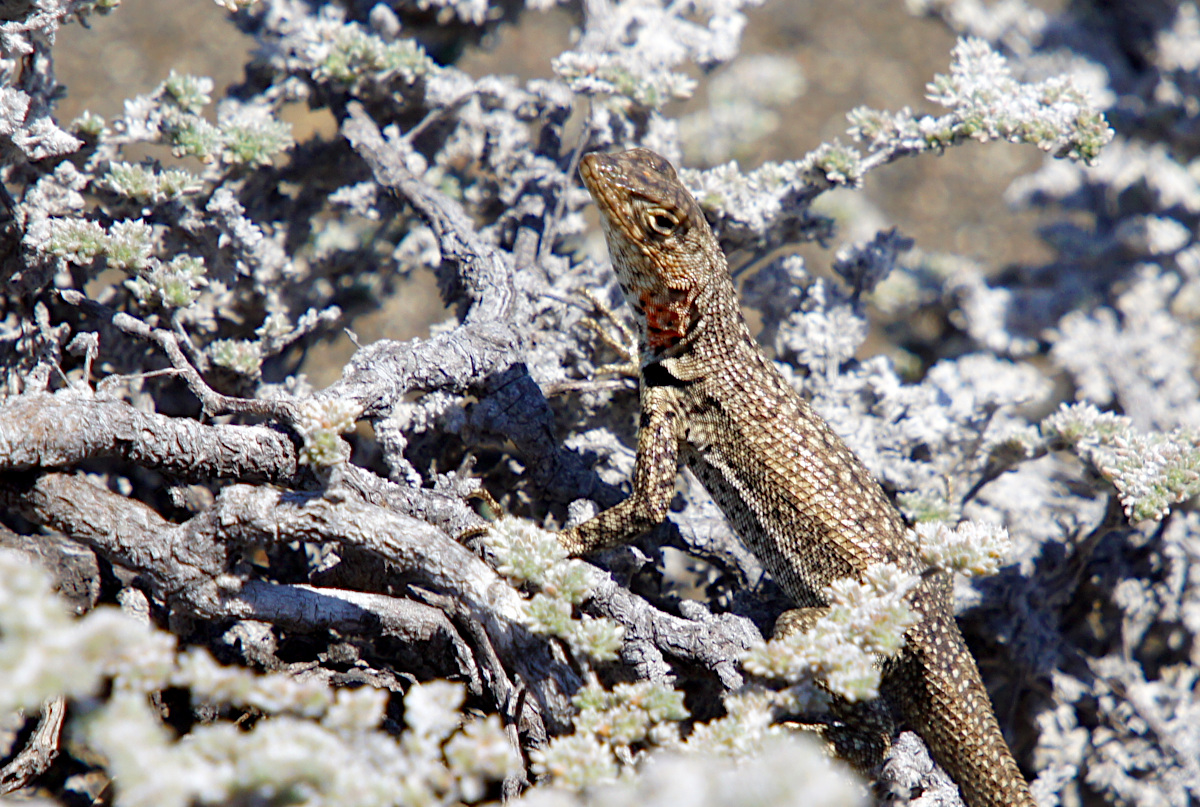 lava lizard / Microlophus
It seems everywhere you go in the Galápagos, little lava lizards scurry about. Even in this harsh vulcanic moonlike landscape on Bartolomé Island! These small lizards, which are endemic to the Galápagos, are around 15 centimeters in size and usually hang out on rocks or in scrubby vegetation. Actually, there are seven subspecies of lava lizards on the islands: they have been on the different islands long enough to develop different characteristics according to the environment of each island. Although I personally cannot tell one from the other ;-)
Most likely the lava lizard species are descending from ancestors that inhabited the South American mainland. The lizards rafted across the open ocean and eventually made landfall on the eastern islands of the archipelago. Slowly the lava lizards continued to colonize every major island in the Galápagos, with only a few exceptions: Genovesa, Darwin, and Wolf. And from there, just like the better-known Darwin's Finches, on each of these isolated islands developed their own subspecies of lava lizards.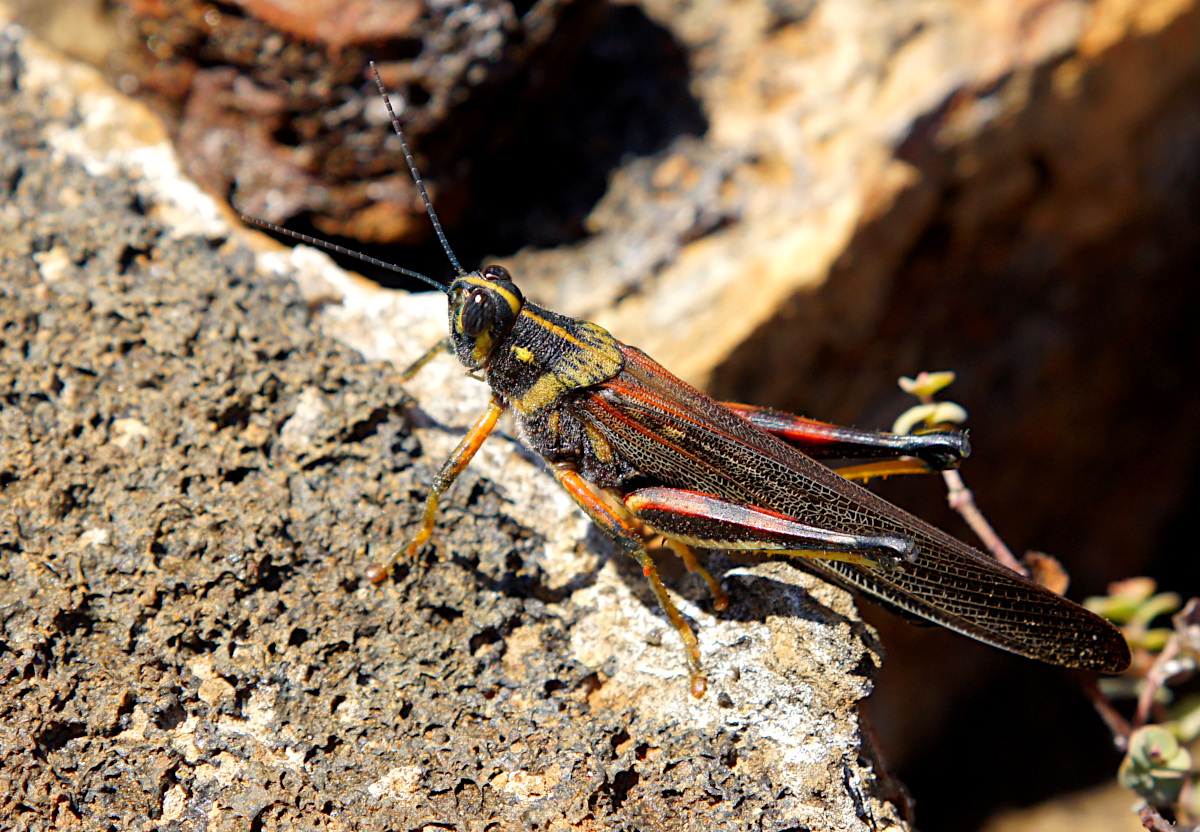 Large Painted Locust, is one of two species of painted locust endemic to the Galápagos Islands.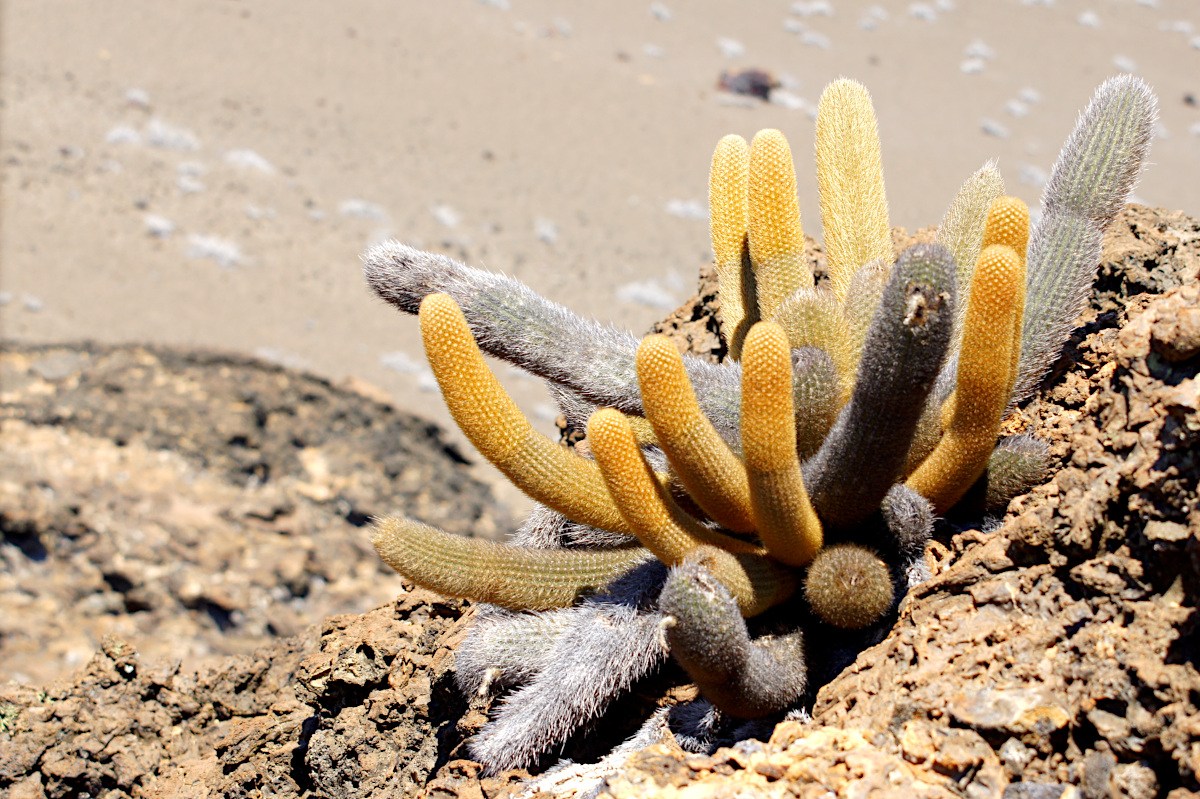 Lava Cactus / Brachycereus nesioticus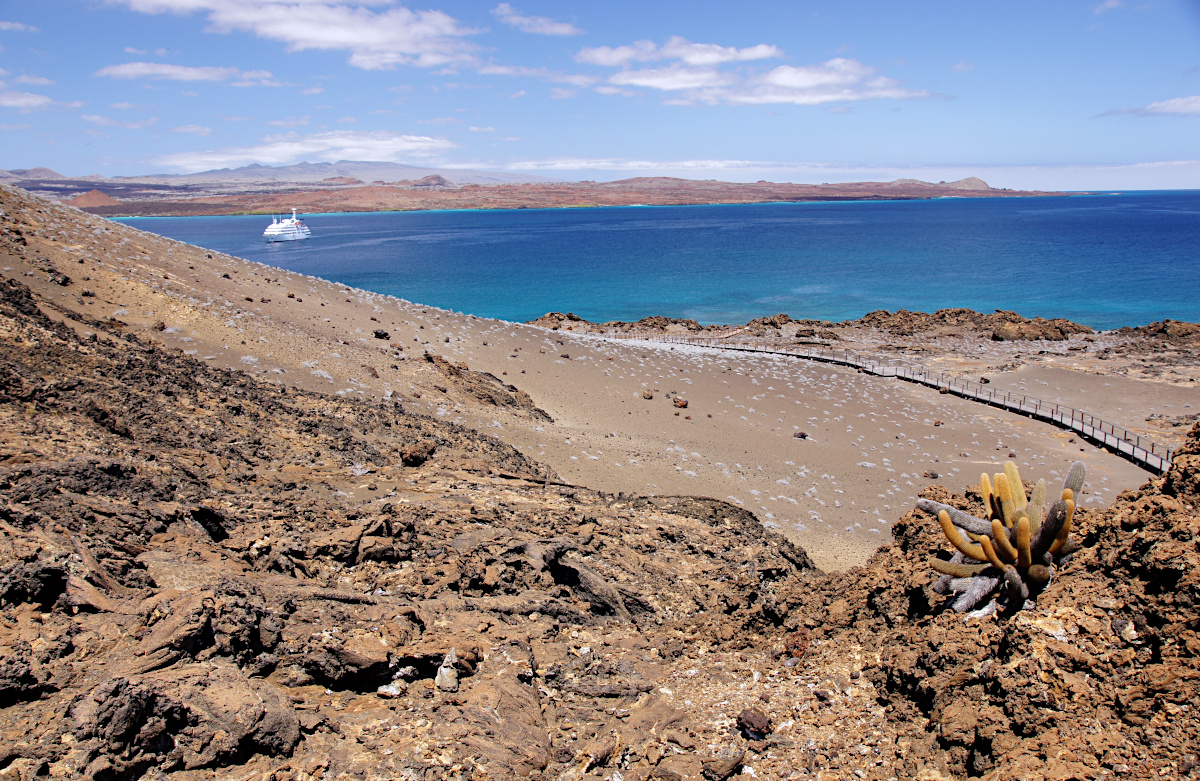 Looking down towards the trail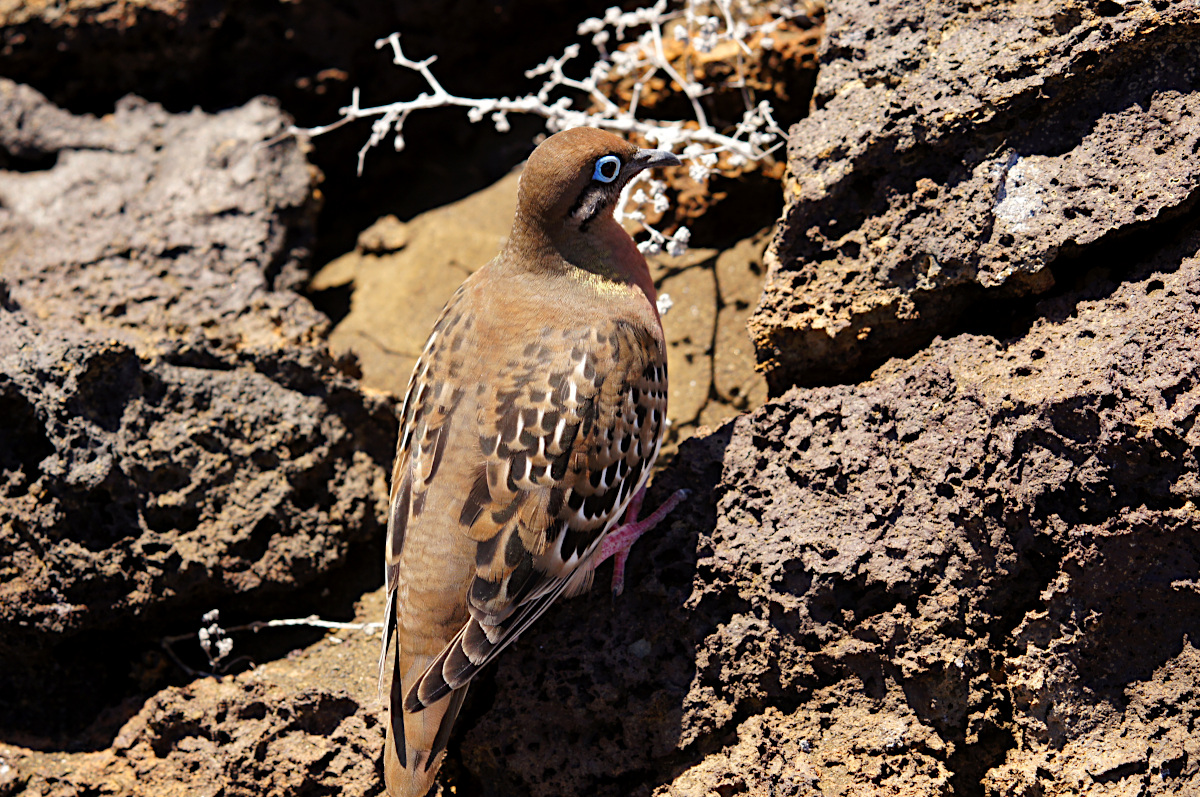 The Galápagos dove, also endemic to the Galápagos islands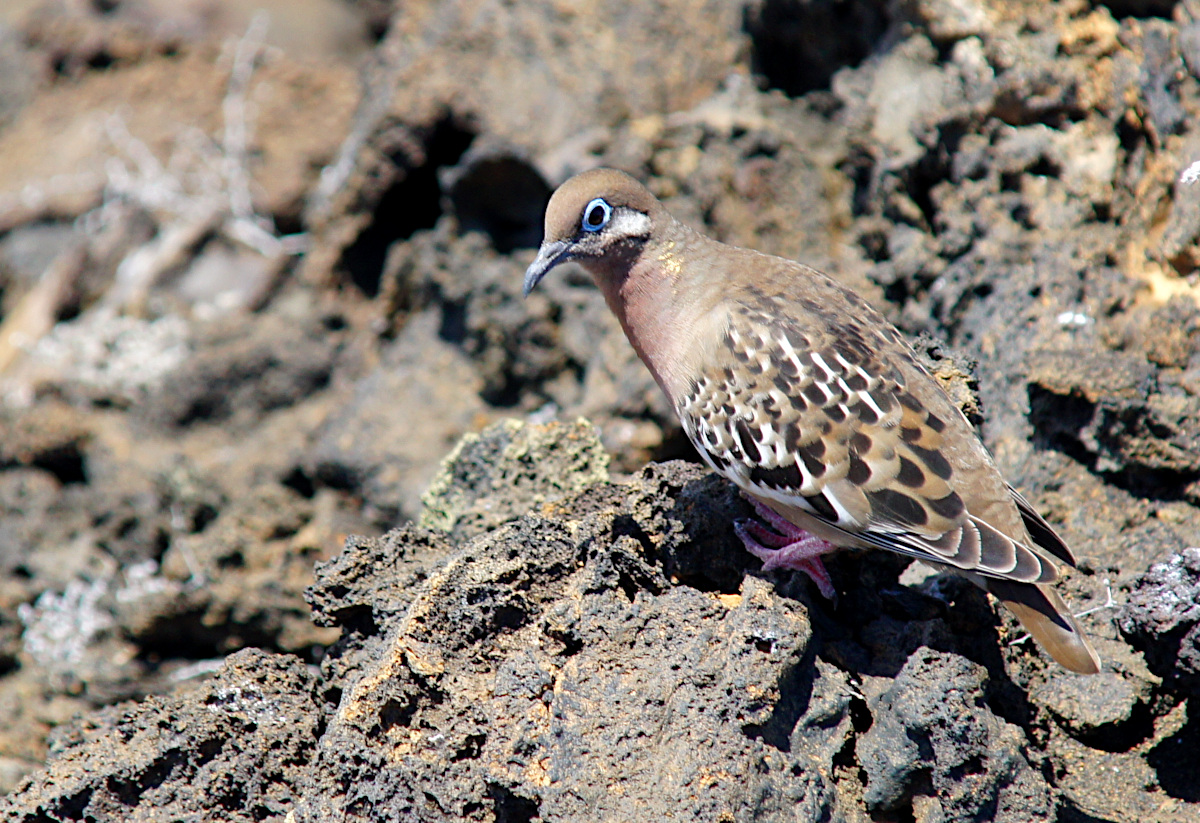 I was quite surprised to see the beautiful Galápagos Dove in this barren landscape walking over the rocks. But I learnt since than that these doves are very reluctant to fly and that it will only do so as a last resort. Galápagos doves spend most of their time on the ground searching for food, mainly feeding off seeds, insects, and cactus flowers.
And like many other of the species that we say today, these are also endemic to the Galápagos Islands. They are really easy to recognize with their red feet, striking blue eye ring, and speckled golden-brown plumage.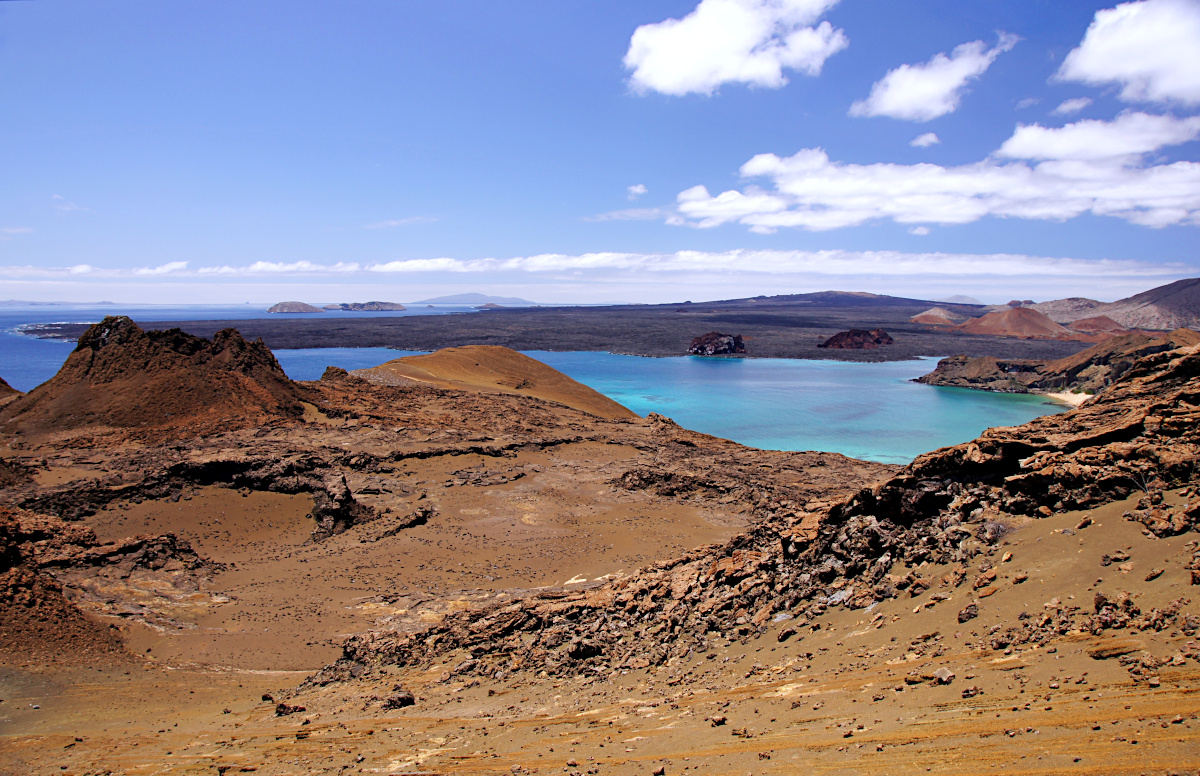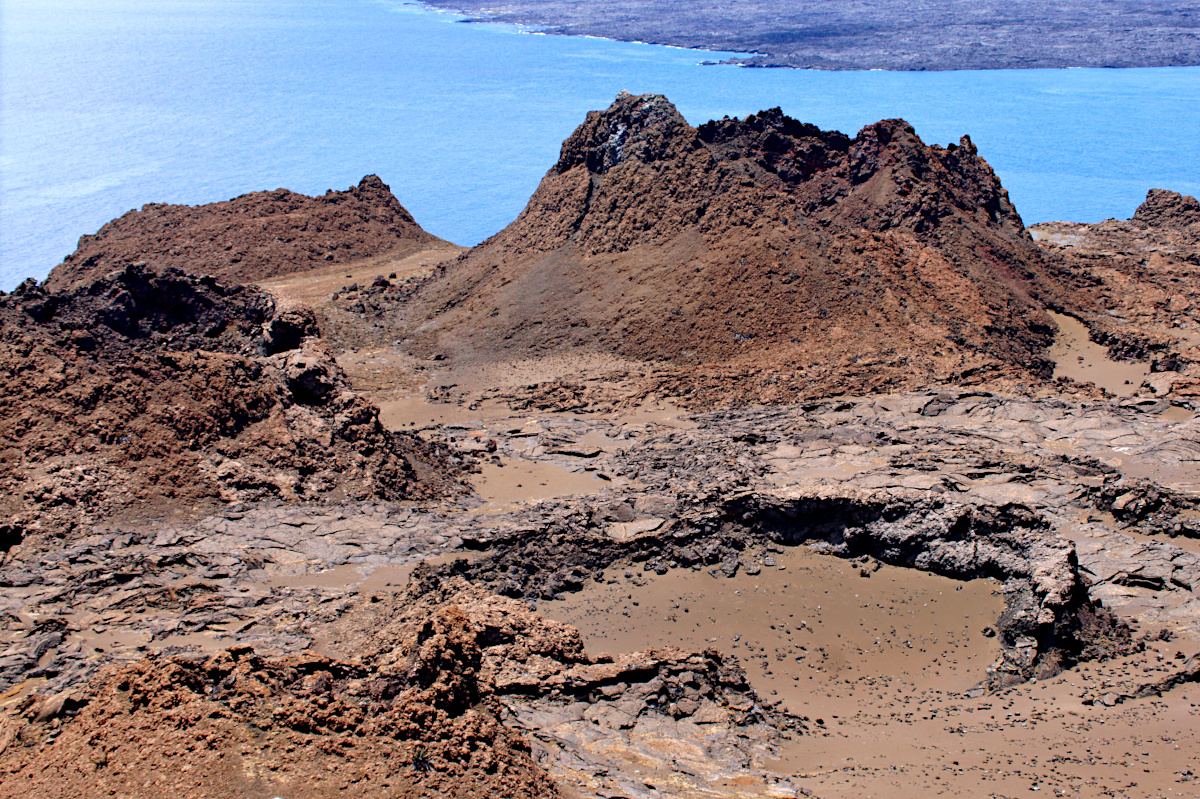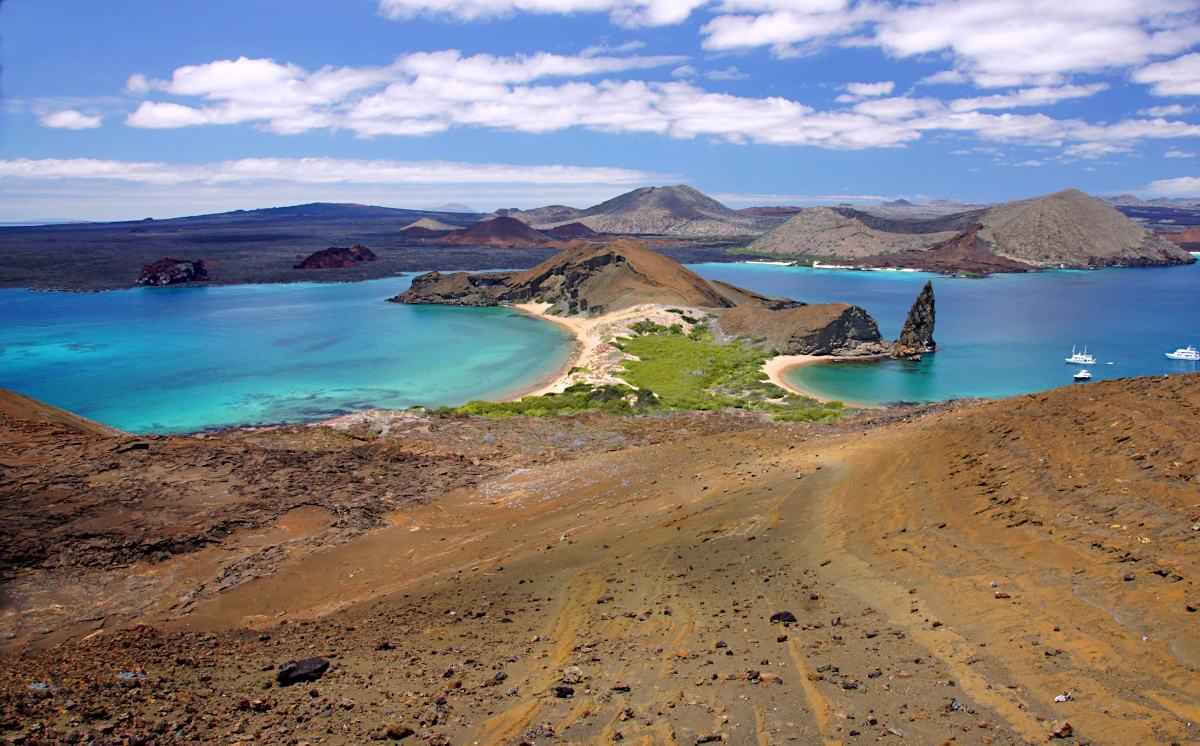 And the further we go up, the more stunning the views get. And when we reach the top we get an almost 360° view over the surrounding landscape that Bartolomé Island is famous for.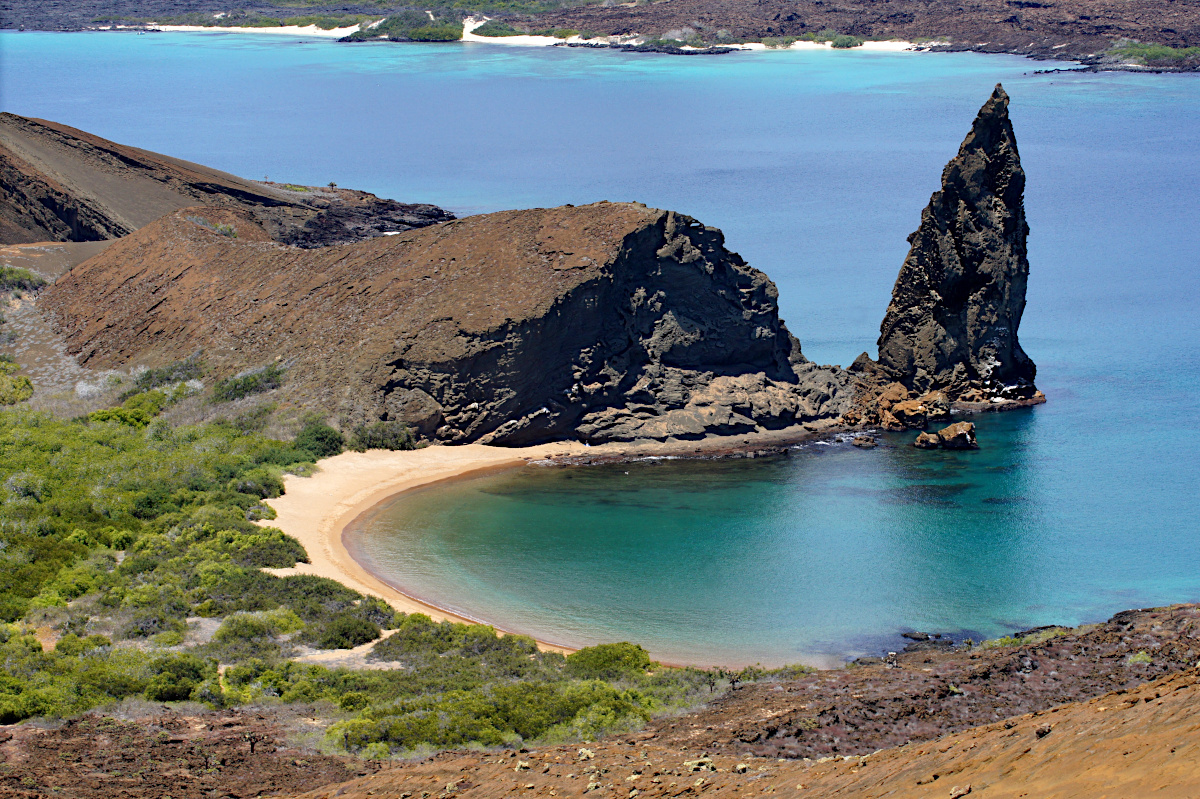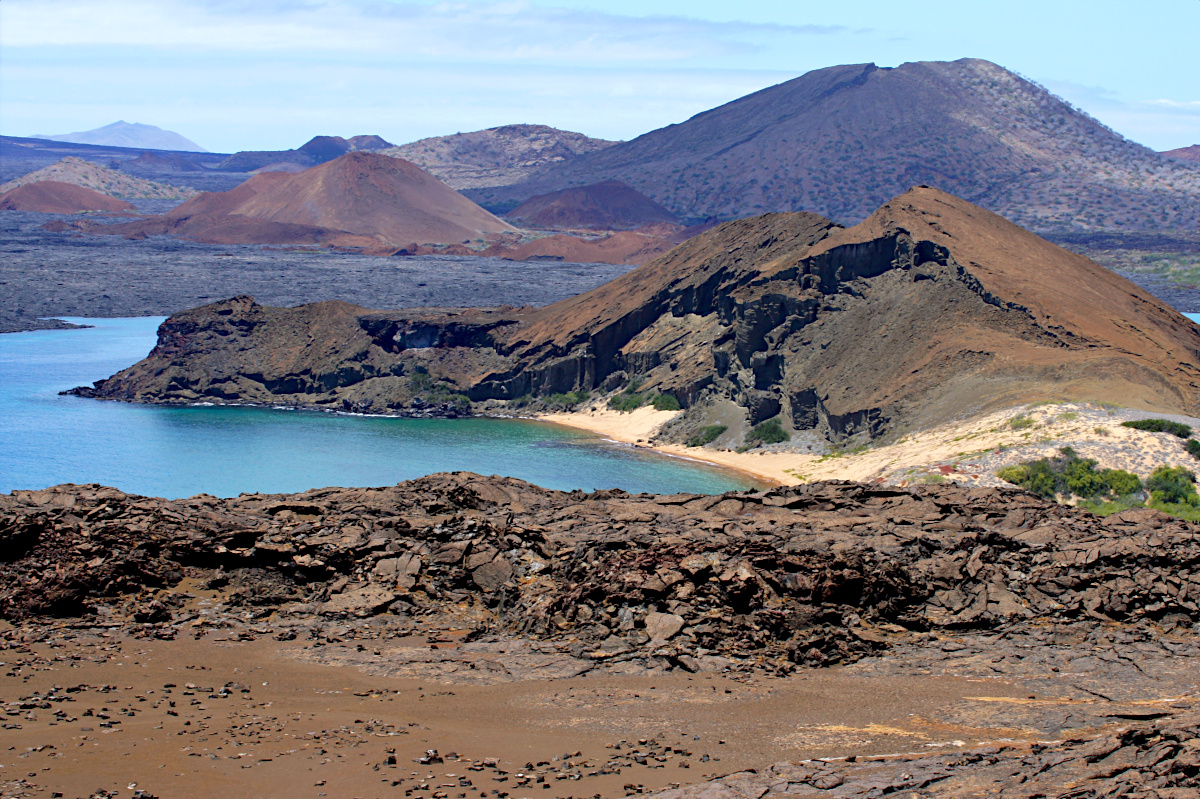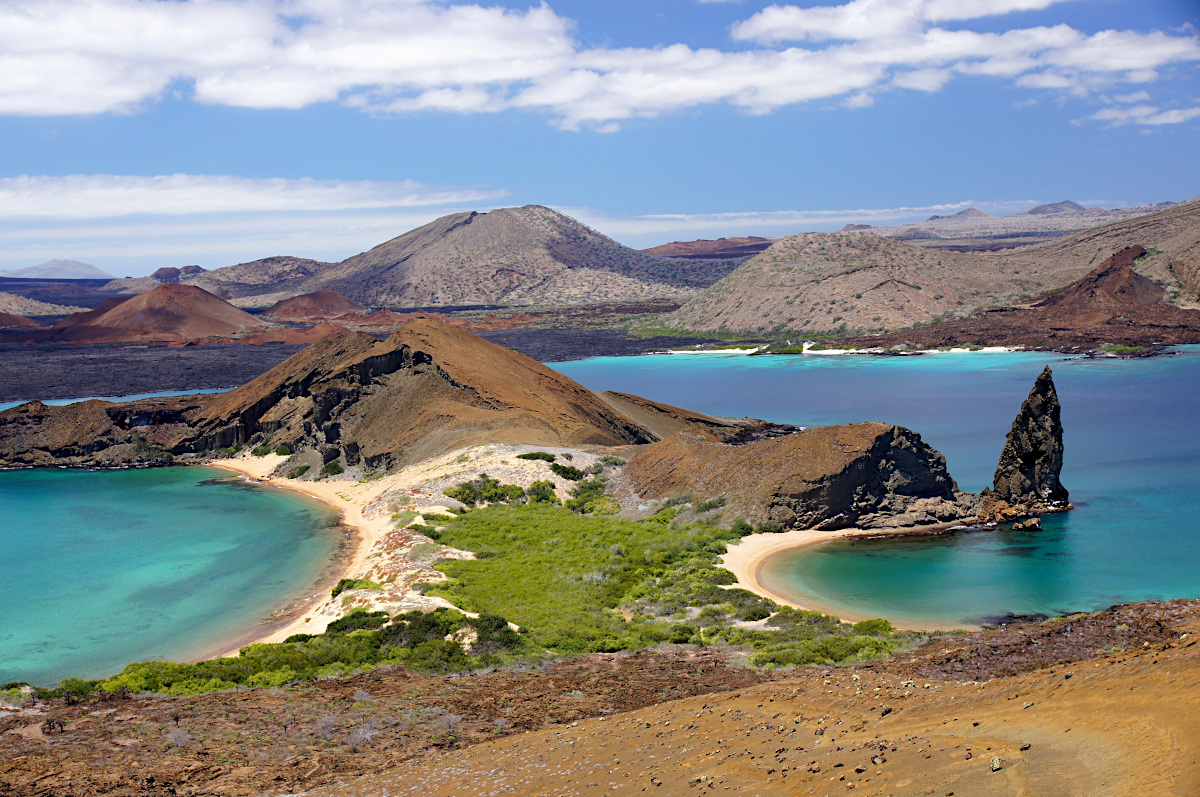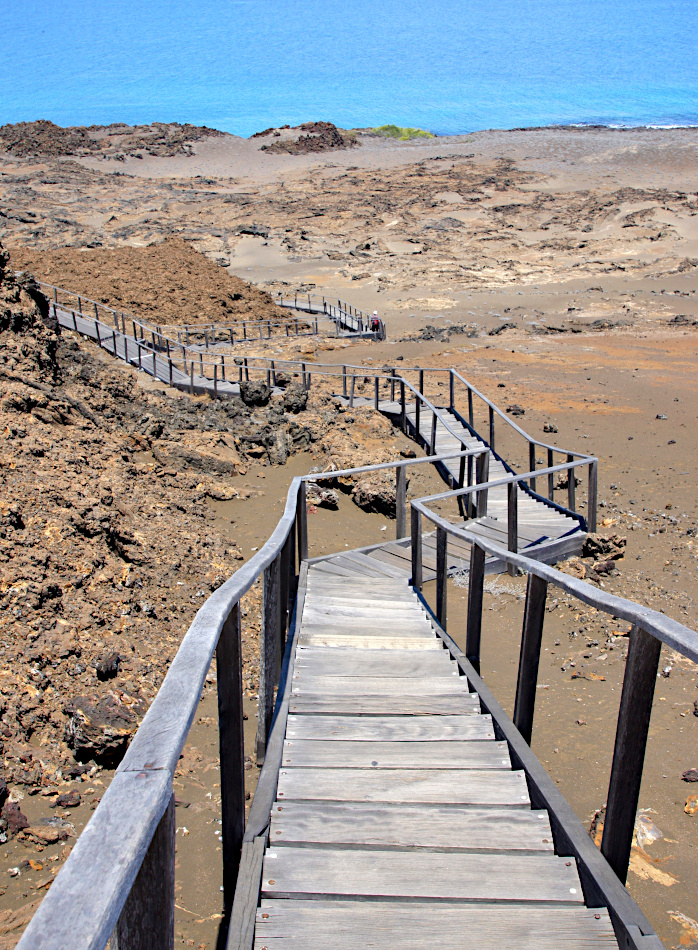 But unfortunately what goes up, most at one point also go down again. So all what remains after this beautiful excursion on Bartolomé is taking the stairs all the way back down to sea level where our boat is waiting for us.
There was one very unexpected hurdle to cross before we could reach the boat however.... a grumpy sea lion lying on the pier. Oops!! He was clearly very unwilling to move, and showed that he was rather displeased with all of us with an angry bark. Hmmm, quite the dilemma! But as in all cases of sea lions "in the way", we managed to wiggle around the grumpy sea lion on a semi-safe distance, reaching the boat in one piece.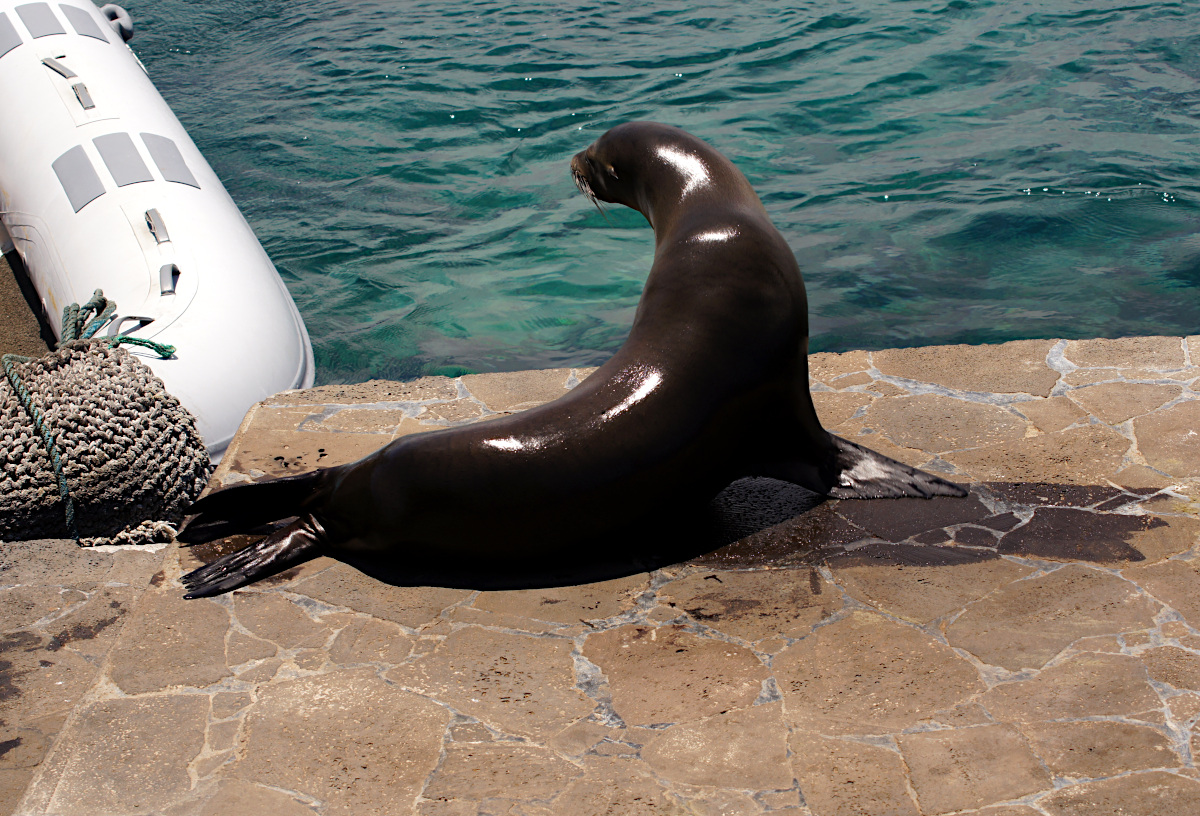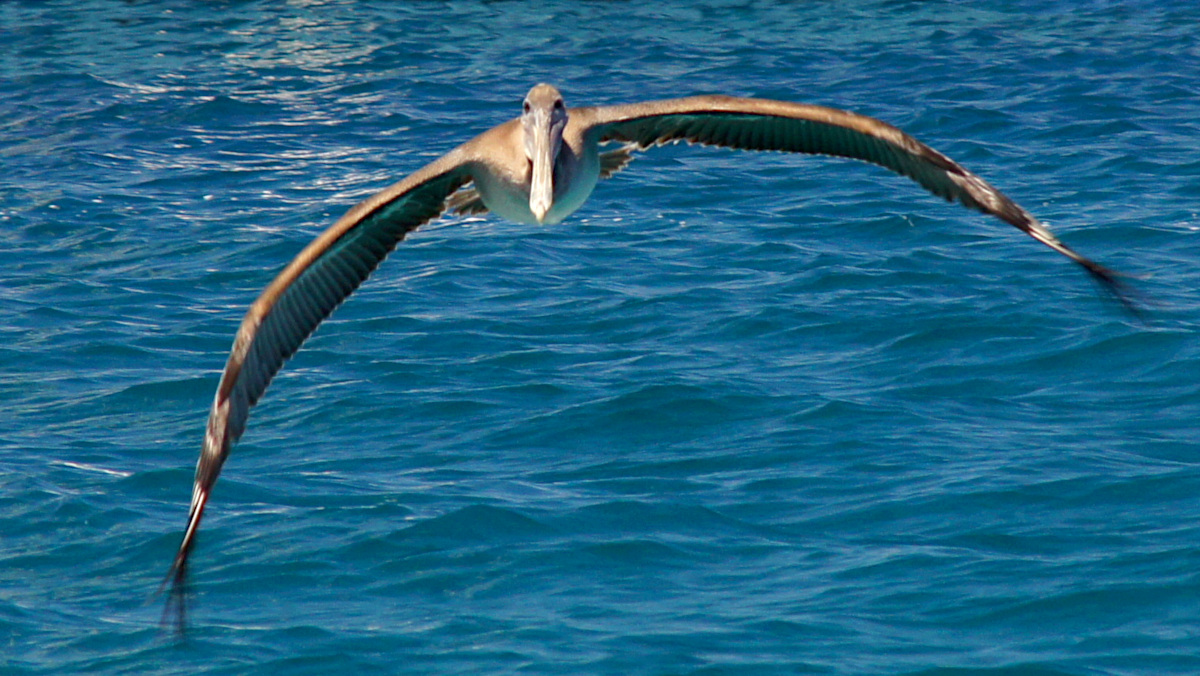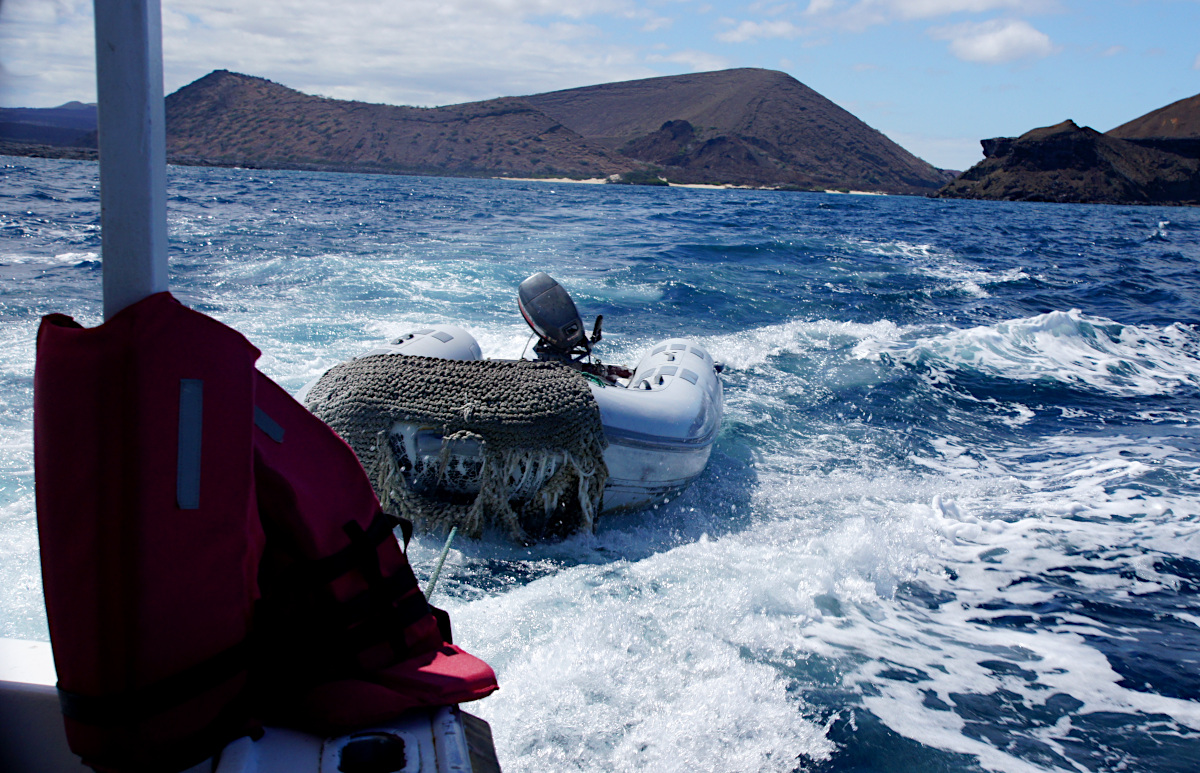 The Pelican is waving us off and Bartolomé island is slowly disappearing in the distance....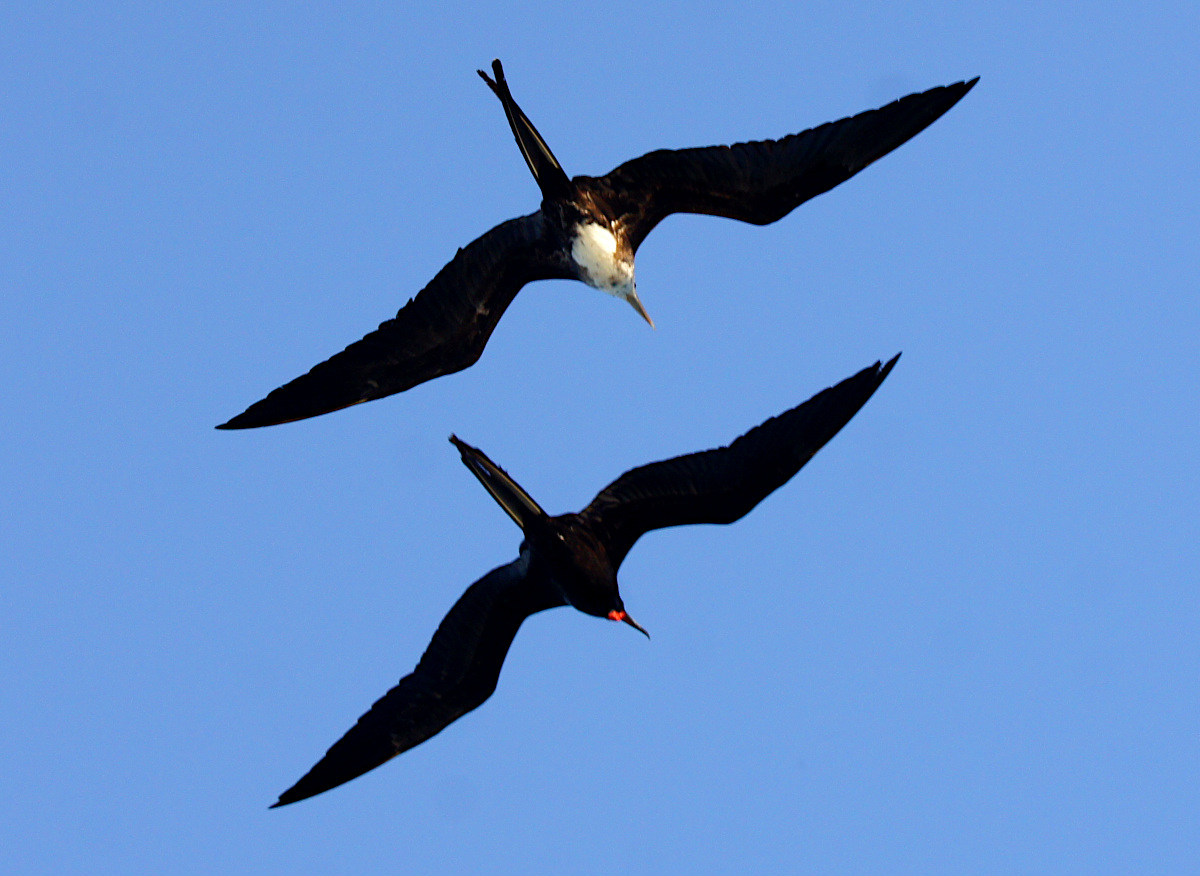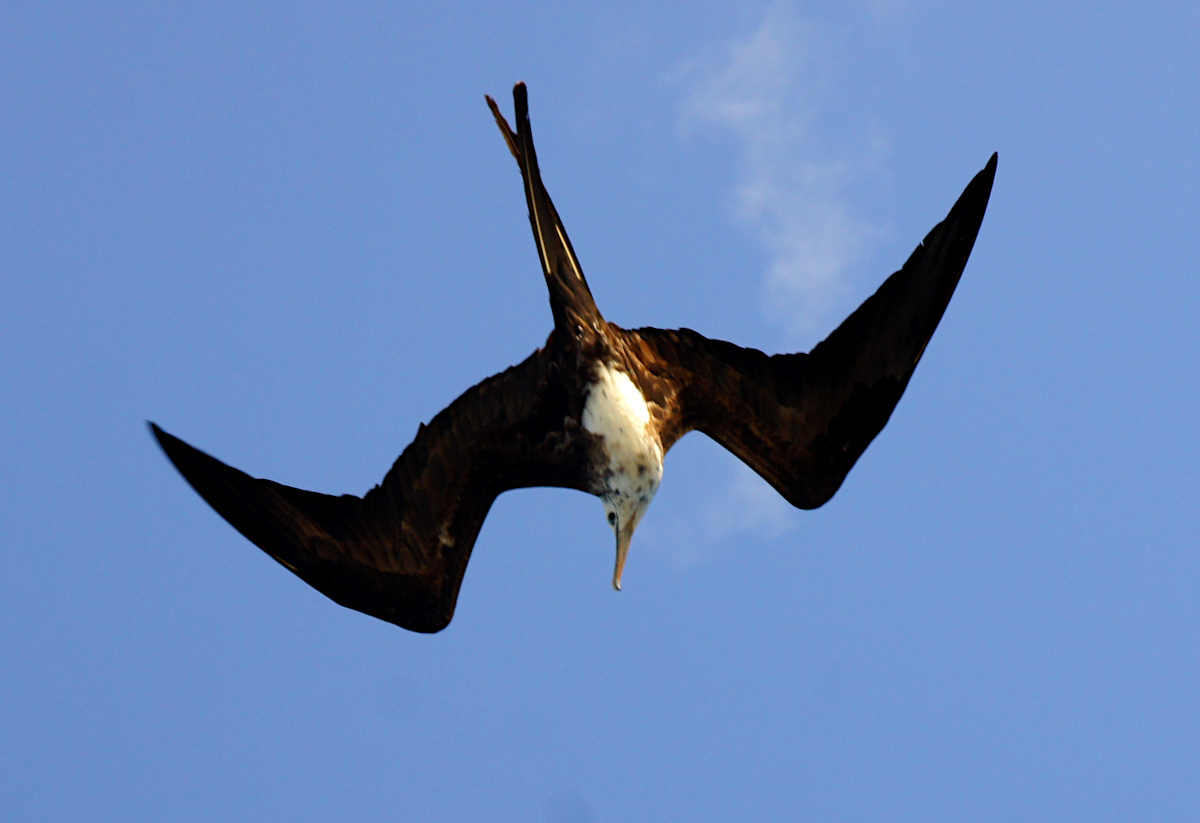 The fregat birds accompany us for a while more, flying paralell with the boat, just above our heads. It is time to say goodbye to beautiful Bartolomé, and head for our next exploration of the Galápagos. But the memories of the beautiful landscapes of the island will always stay with me!