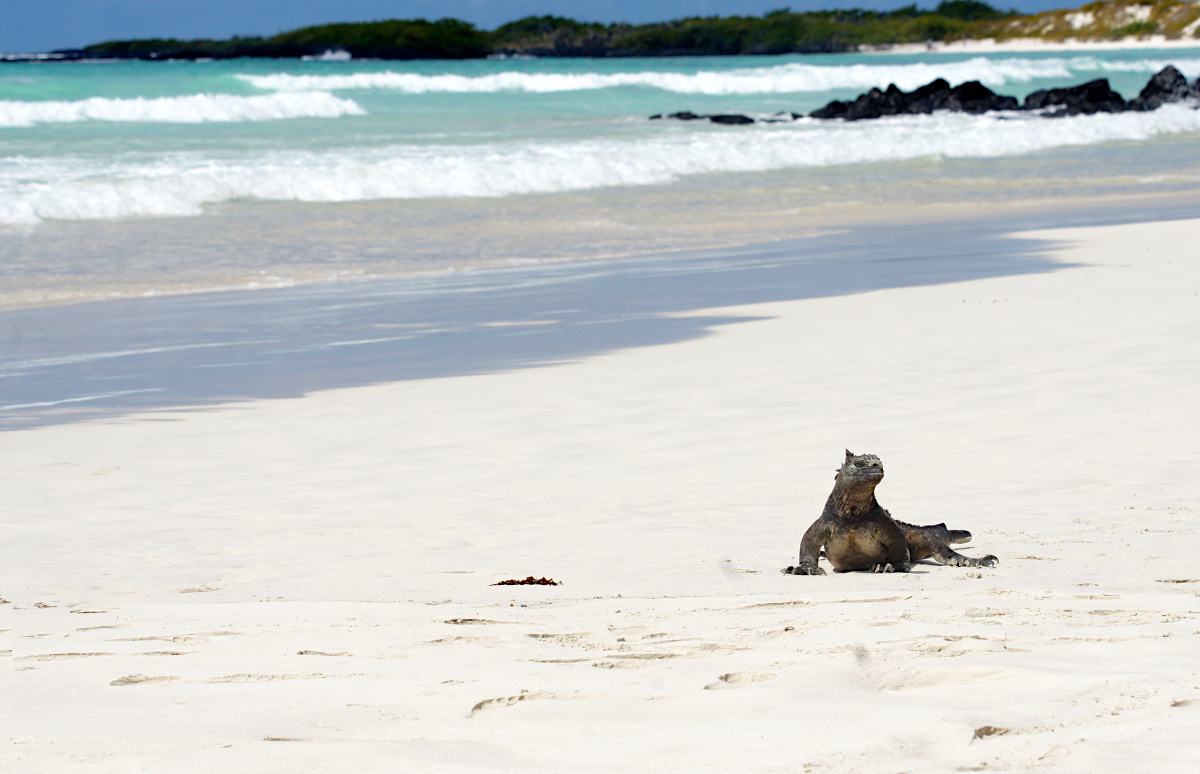 The beach at Tortuga Bay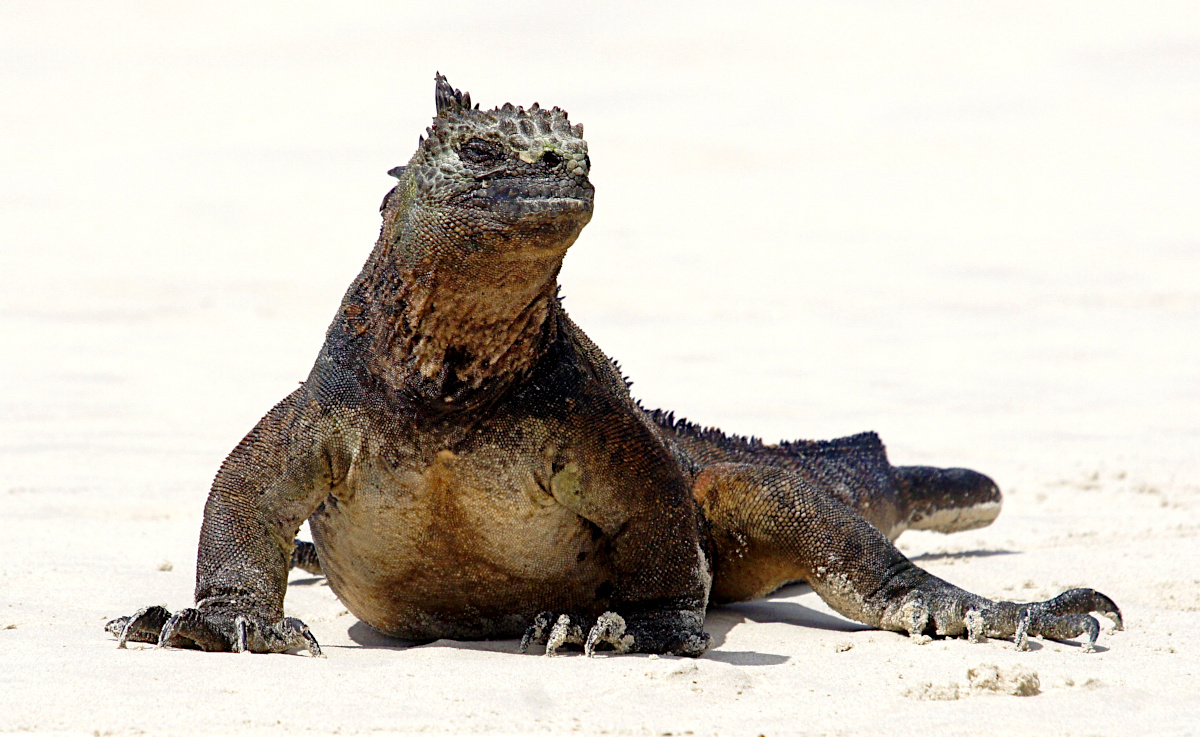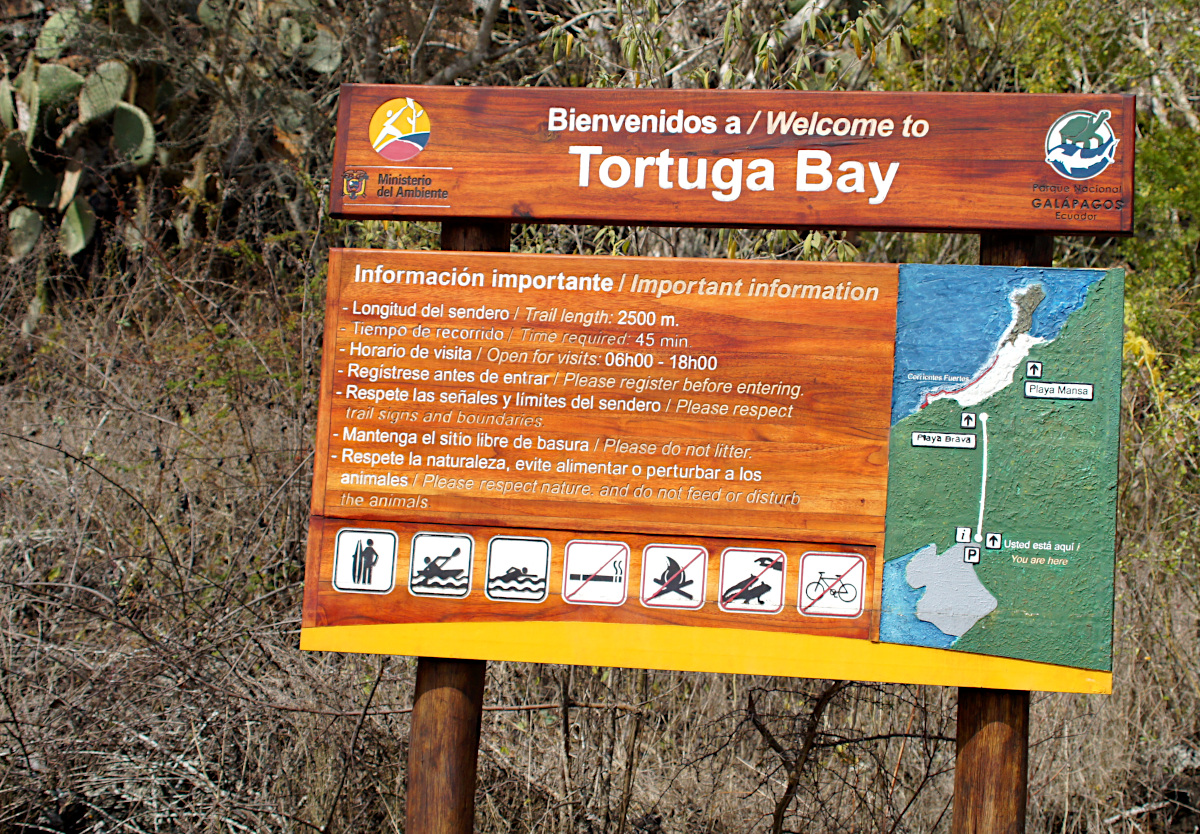 Today we are going to the beach! And not just 'a beach', this is the walk to Tortuga Bay! One of the few places you can visit on your own on the Galapagos without needing a guide.
Tortuga Bay is located on Santa Cruz Island in the Galapagos Islands, Ecuador. It's situated about 20 – 30 minutes (walking) from the town of Puerto Ayora. Once you arrive at the entrance, you'll have another 30 to 45 minute walk to Playa Brava. After walking along that beach (approx 20 minutes) you'll come to a protected bay (Playa Mansa) where you can swim, snorkel, and kayak. You'll see that area on the following map to the right of the red pin.
Galápagos mockingbird (Mimus parvulus)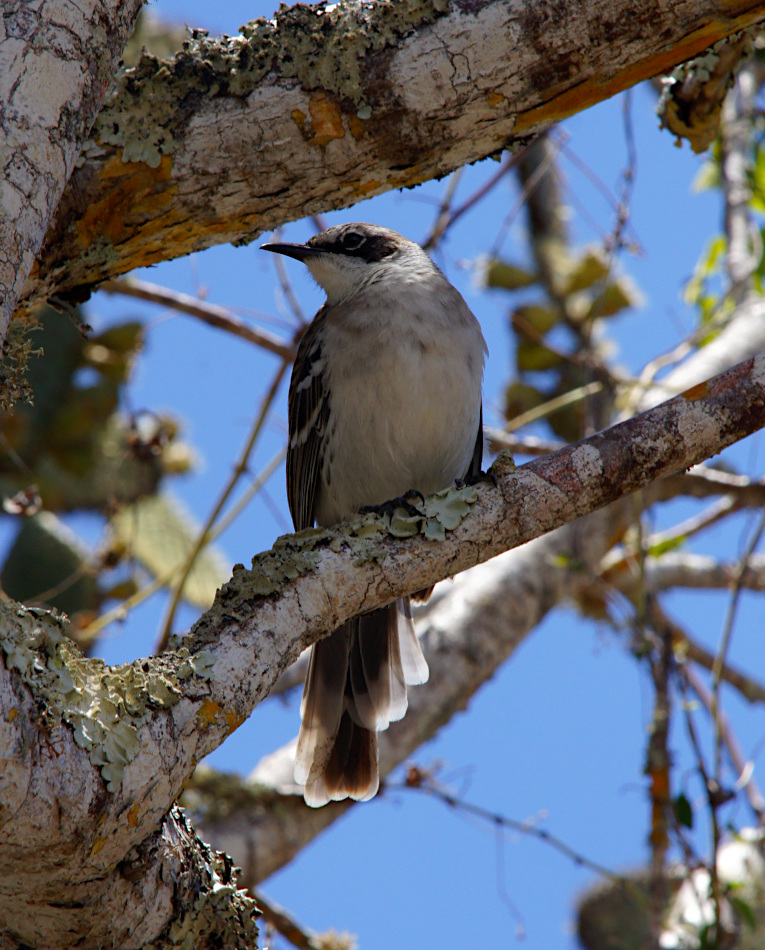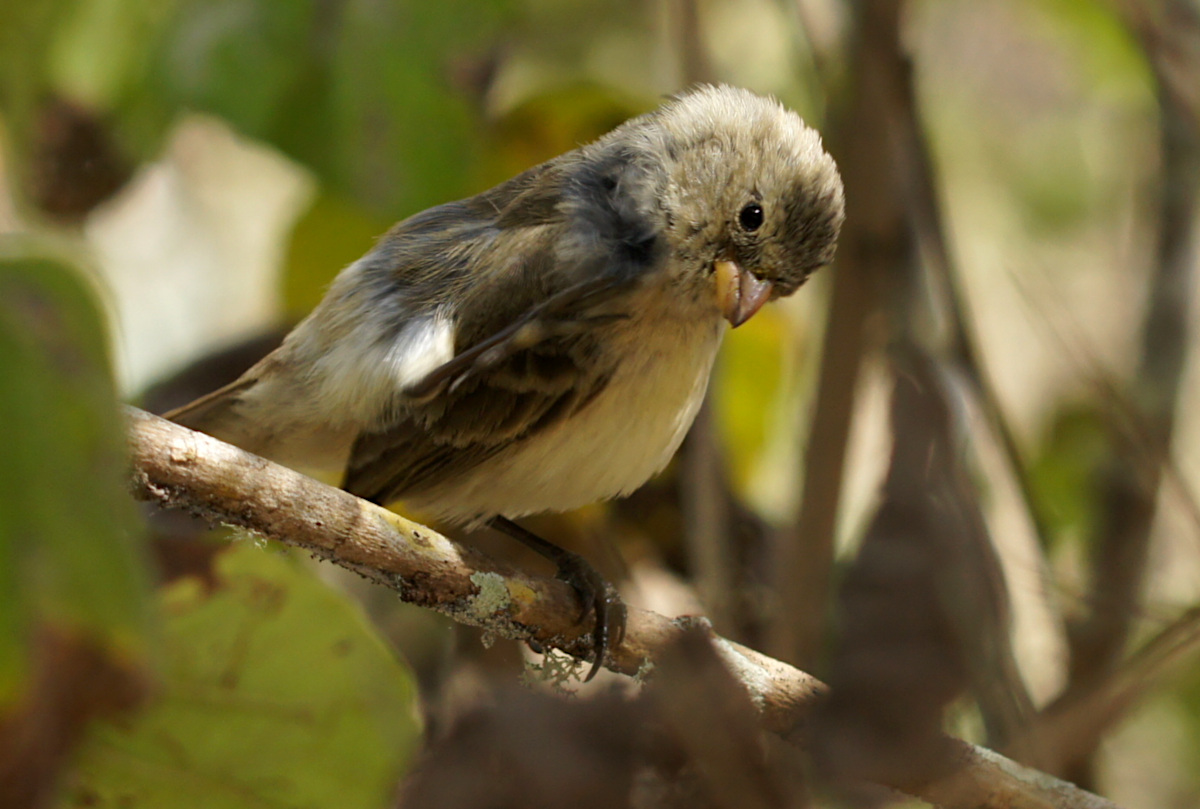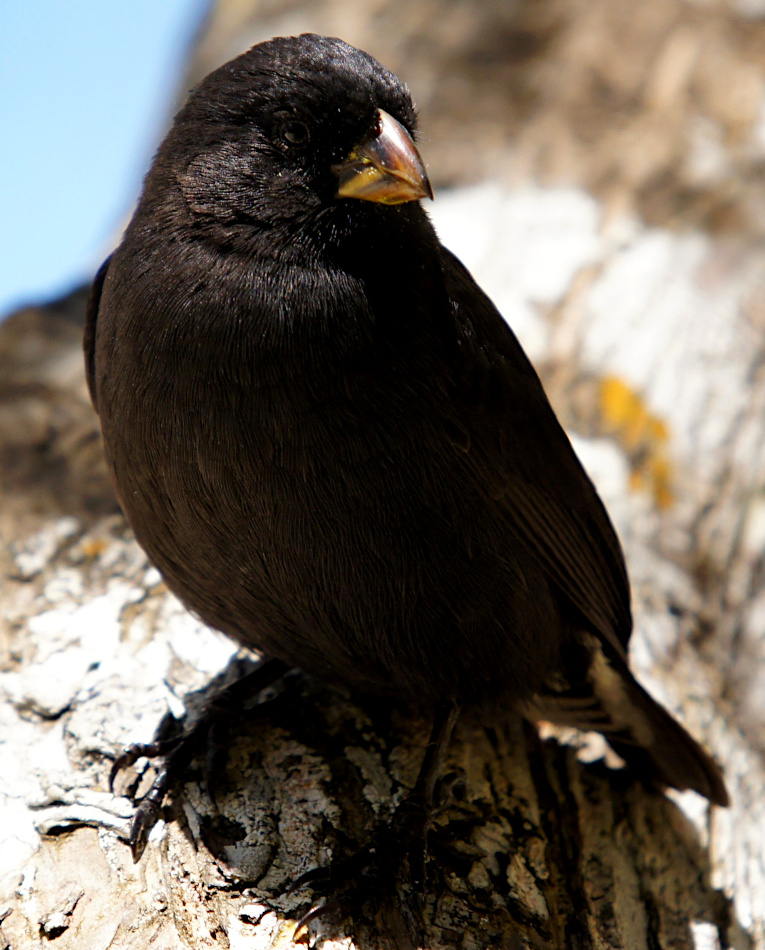 I am guessing that this is a ground finch, one of the many varieties of Darwin finches. The males are black in this species.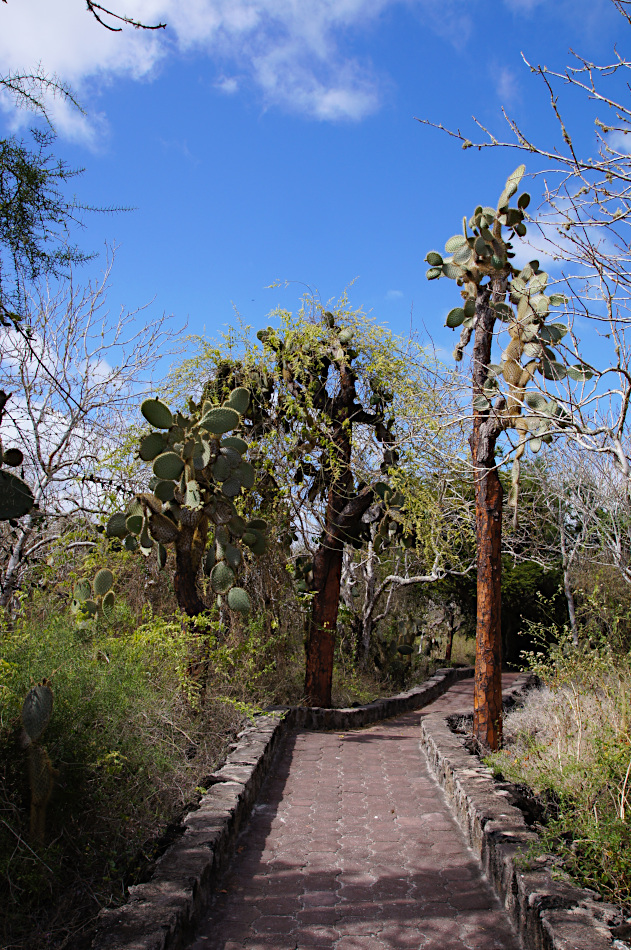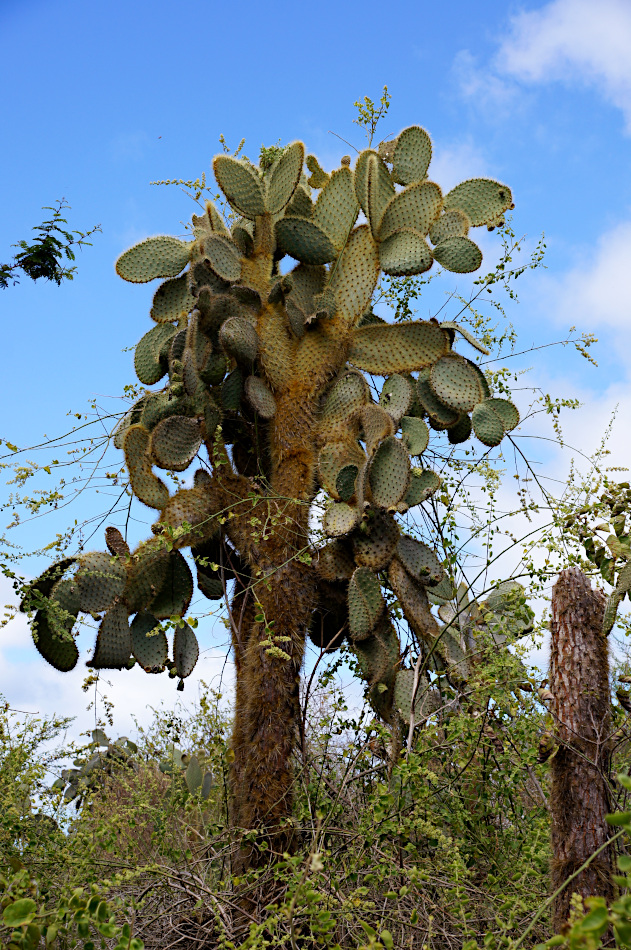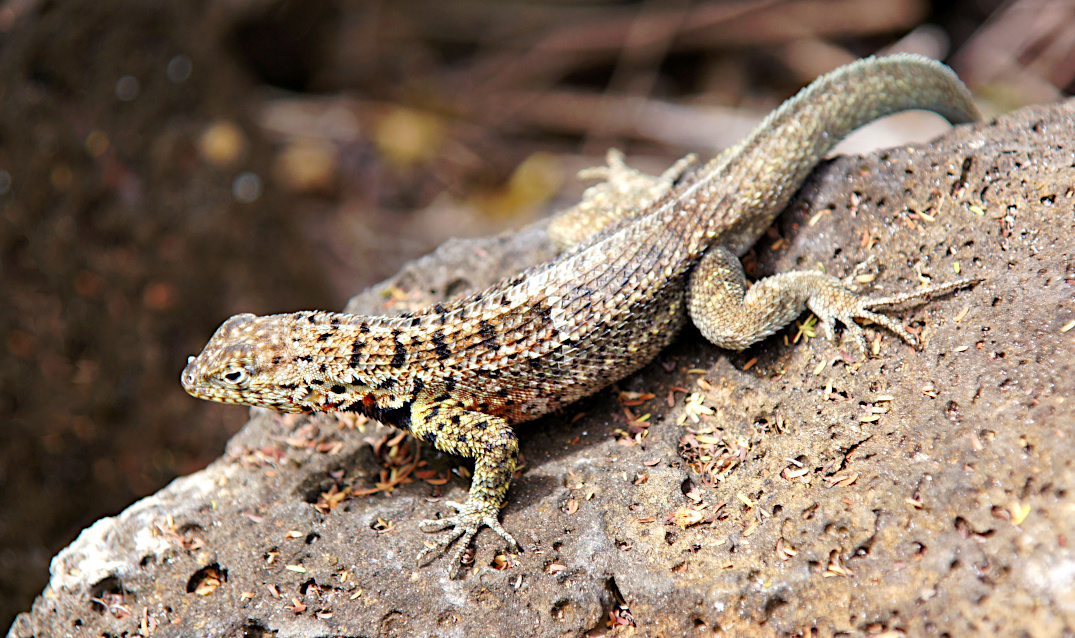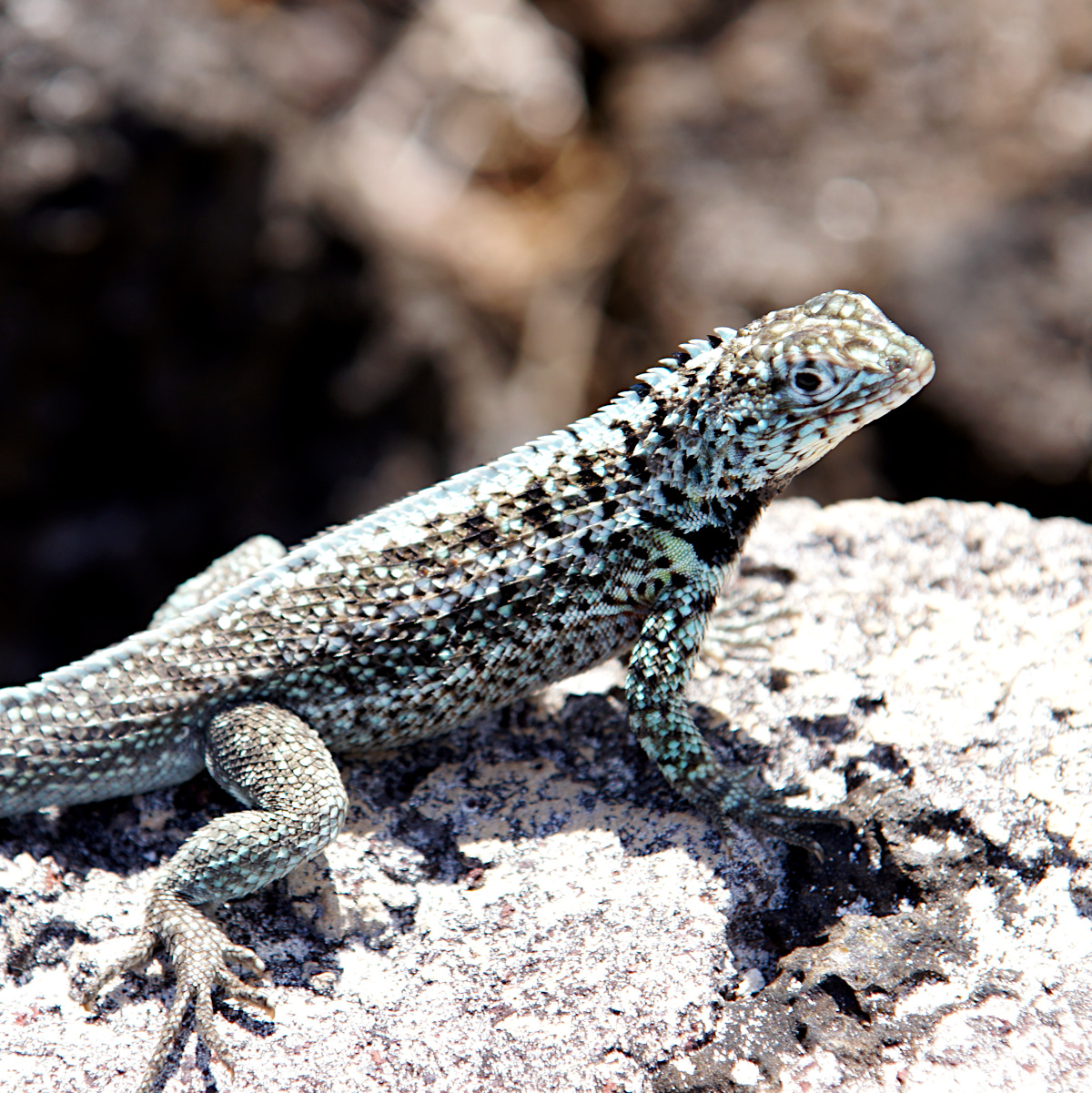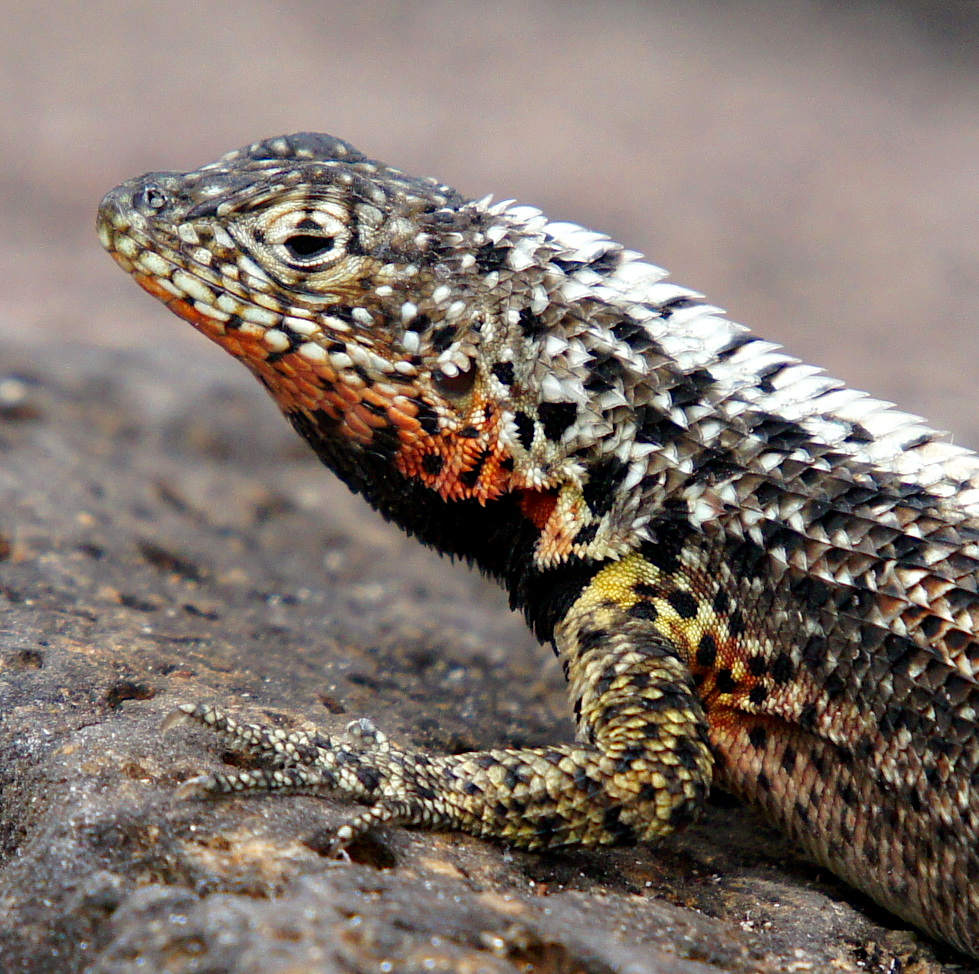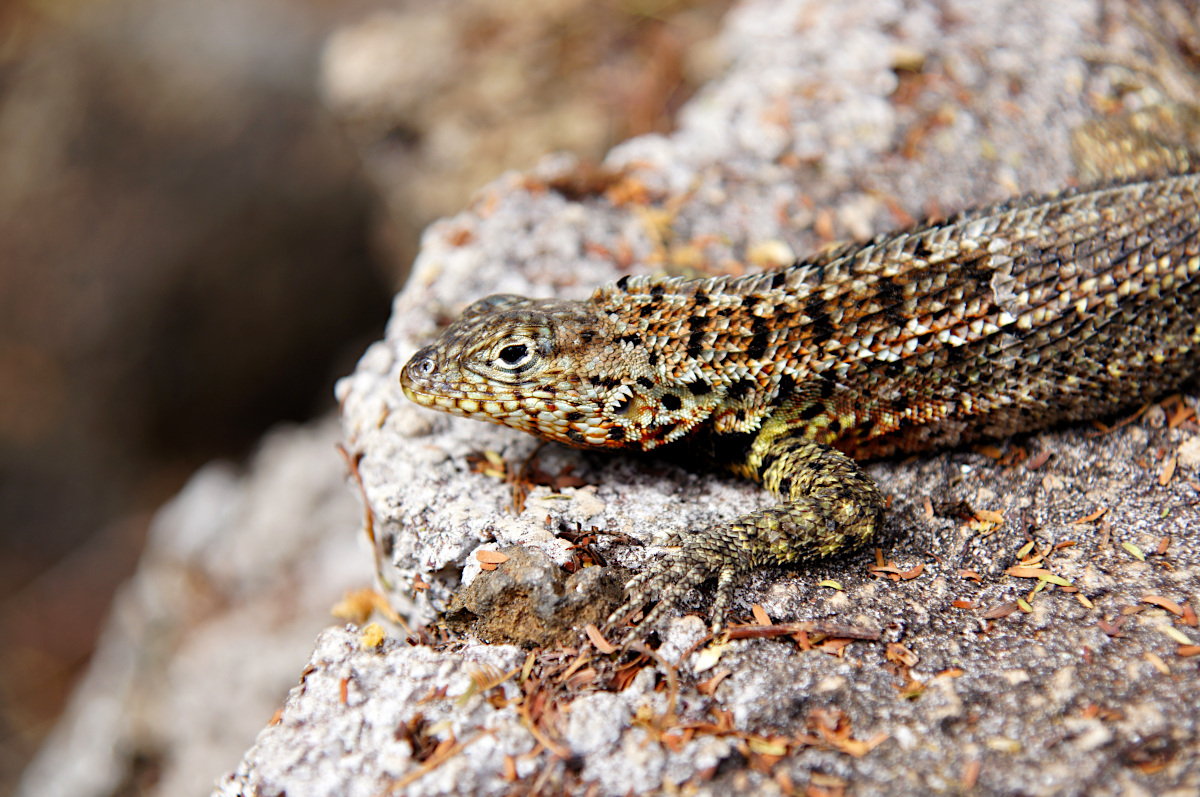 lava lizard / Microlophus
It seems everywhere you go in the Galapagos, little lava lizards scurry about. These small lizards, some reaching a foot long or more, hang out on rocks or in scrubby vegetation. Actually, there are seven subspecies of lava lizards in the islands: they have been on the different islands long enough to develop different characteristics according to the environment of each island. Although I cannot tell one from the other ;-)

Descending from ancestors that inhabited the South American mainland, these lizards rafted across the open ocean on flotsam and eventually made landfall on the eastern islands of the archipelago. In the millennia that followed, the lava lizards would go on to colonize every major island in the Galapagos, except one (Genovesa). Across the archipelago, these lizards are nearly as diverse as the better-known Darwin's Finches and, like much of the other Galapagos wildlife, may be confined to specific islands or groups of islands.

Male lava lizard uses a 'push-up' display to assert dominance.

Clambering over the scorching and rough-textured lava, peeking out of shrubbery, and perched atop their larger brethren – the Marine Iguanas – these energetic little lizards are a treat for the eyes, if you take the time to look at them. Their apt scientific name "micro-" (from Greek mikros) means "small" and "lopho" (from Greek lopos) translates to "crest". The males sport a formidable mohawk of small spines that extends from the back of the neck to the tip of the tail and a pronounced black bib. By contrast, the females are marked with a beautiful orange-red blush spread over the cheeks, throat, and chest. These lizards may be small and at first unassuming, but they were high in my wish-list for my first visit to the islands!

Although the lava lizards may be small, they have a lot to contribute. As is true of island-living lizards around the world, the lava lizards are important flower pollinators and seed dispersers. Also, if you were a sea lion you'd probably thank these lizards for eating plenty of the pesky flies too! In turn, the lava lizards are also prey for the mockingbirds, herons, hawks, centipedes, and snakes of the islands.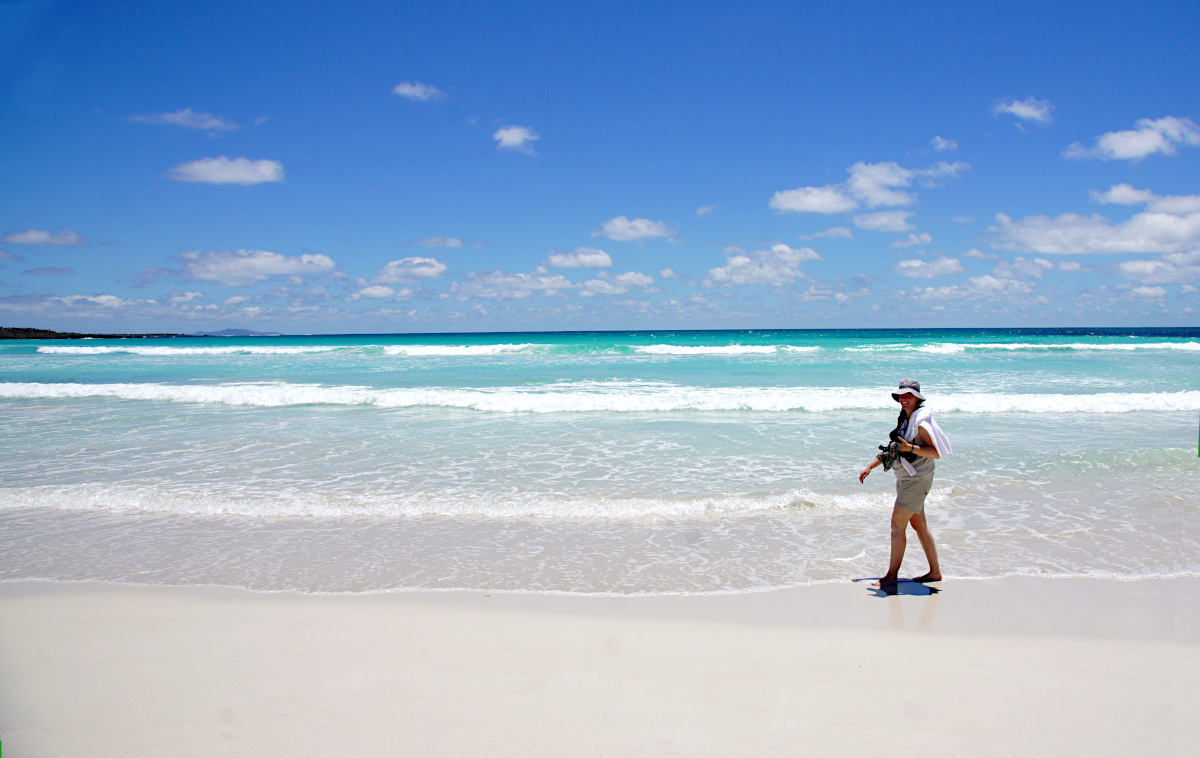 Playa Brava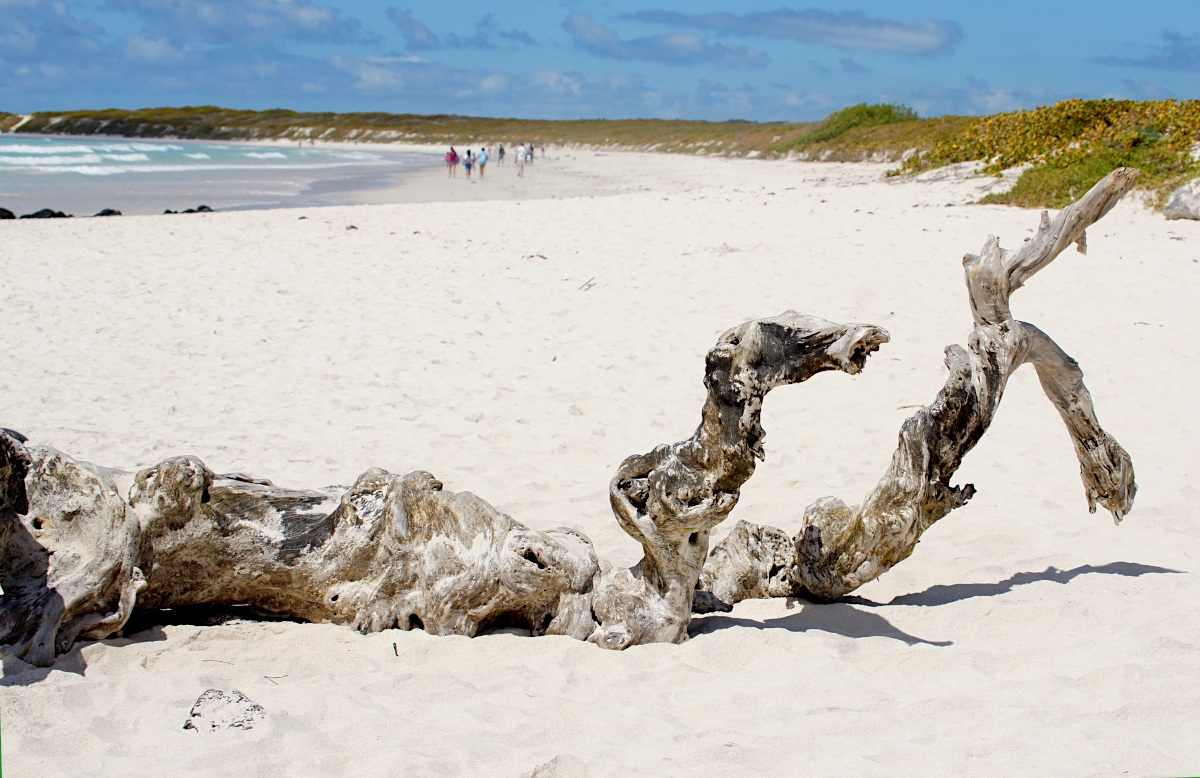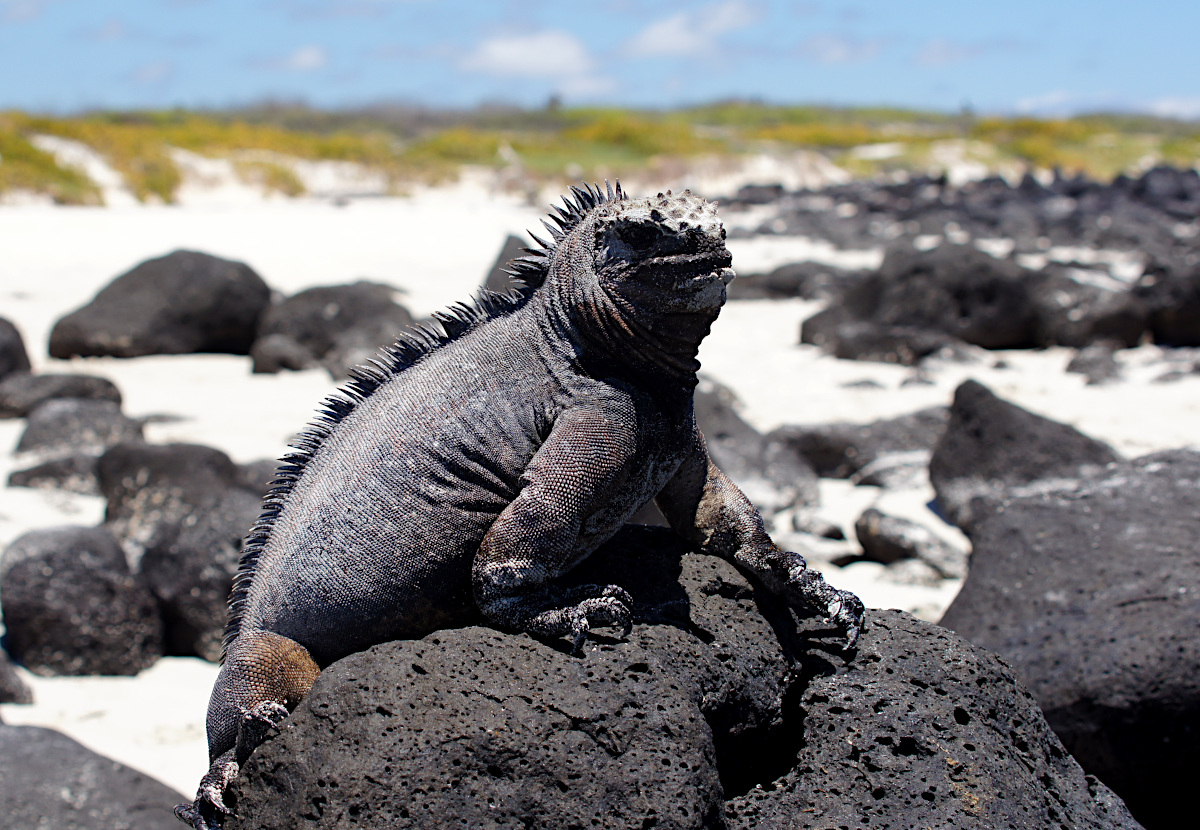 I loved seeing them sunbathing on the rocks and hearing them sneeze salt water out.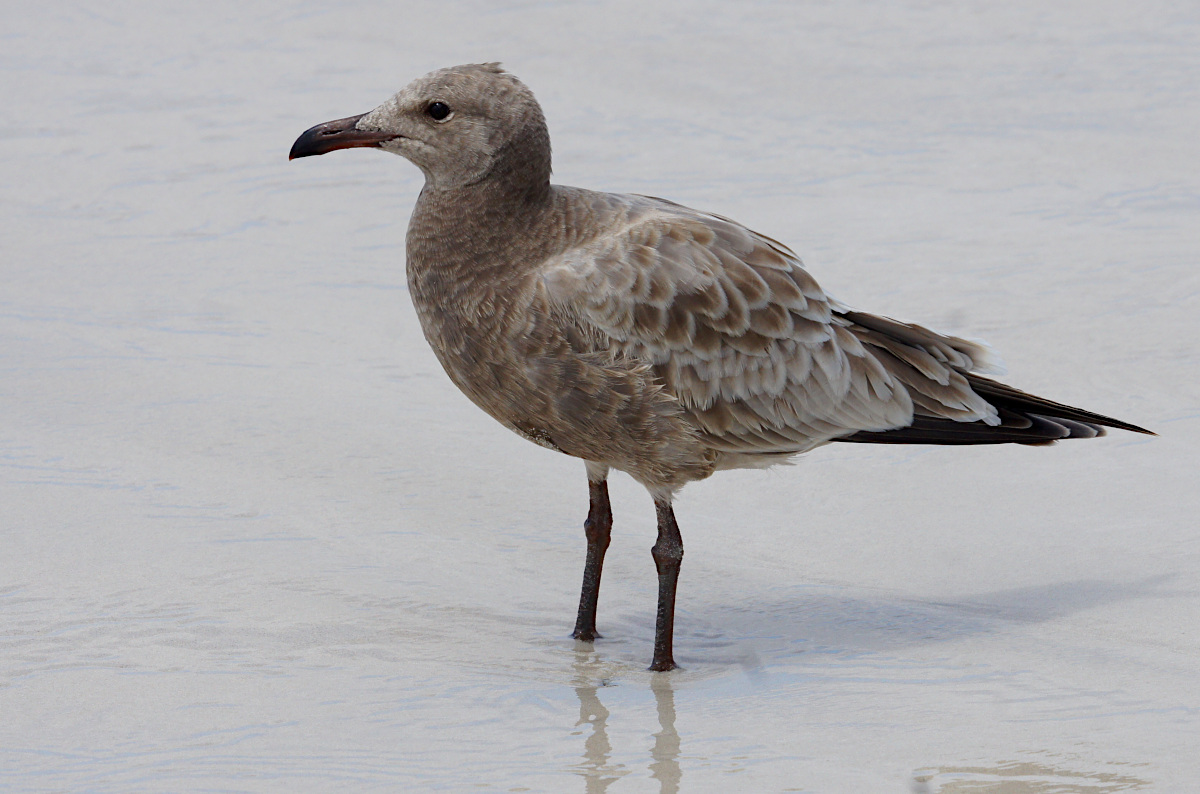 Sanderling
The sanderling bird spends the summer months beachside, along the shores of the Galapagos, after arriving from colder Arctic waters. Feeding and nesting within a stone's throw of the sea, this small brown and white bird forages for mole crabs and invertebrates, before heading further south in August each year.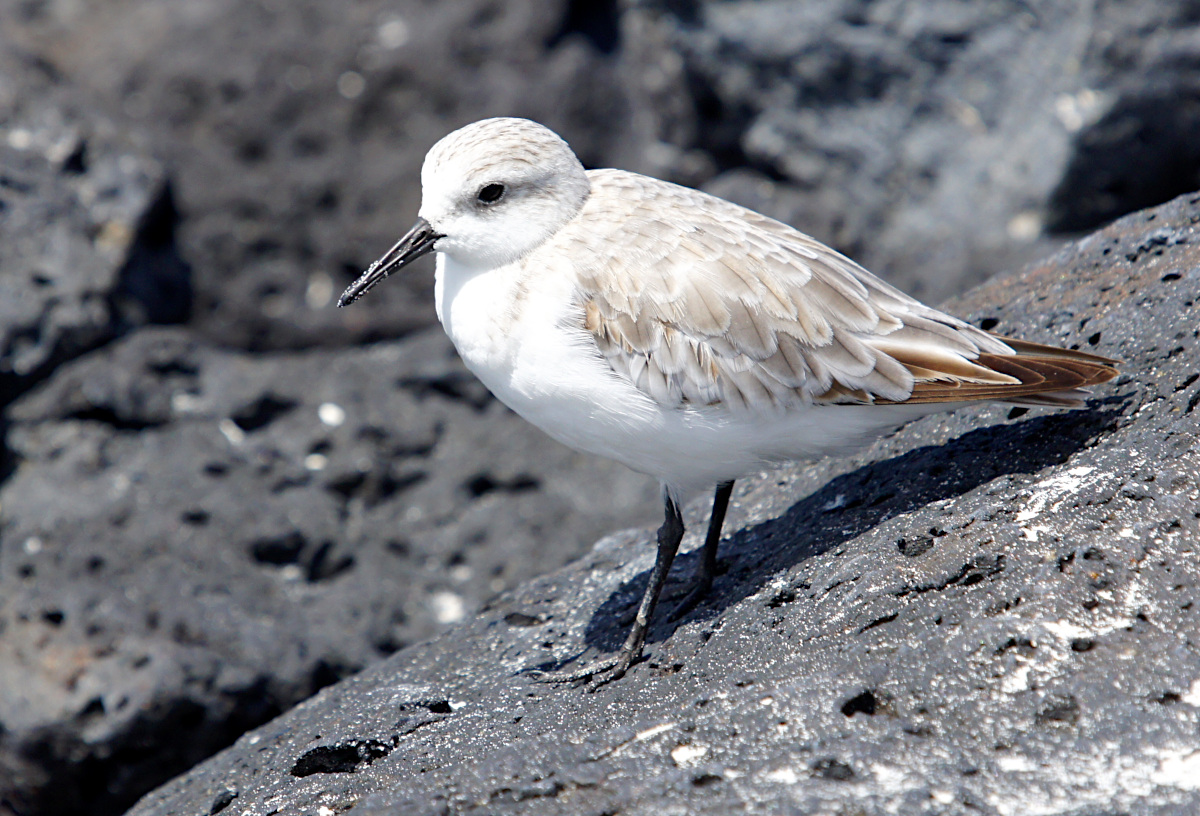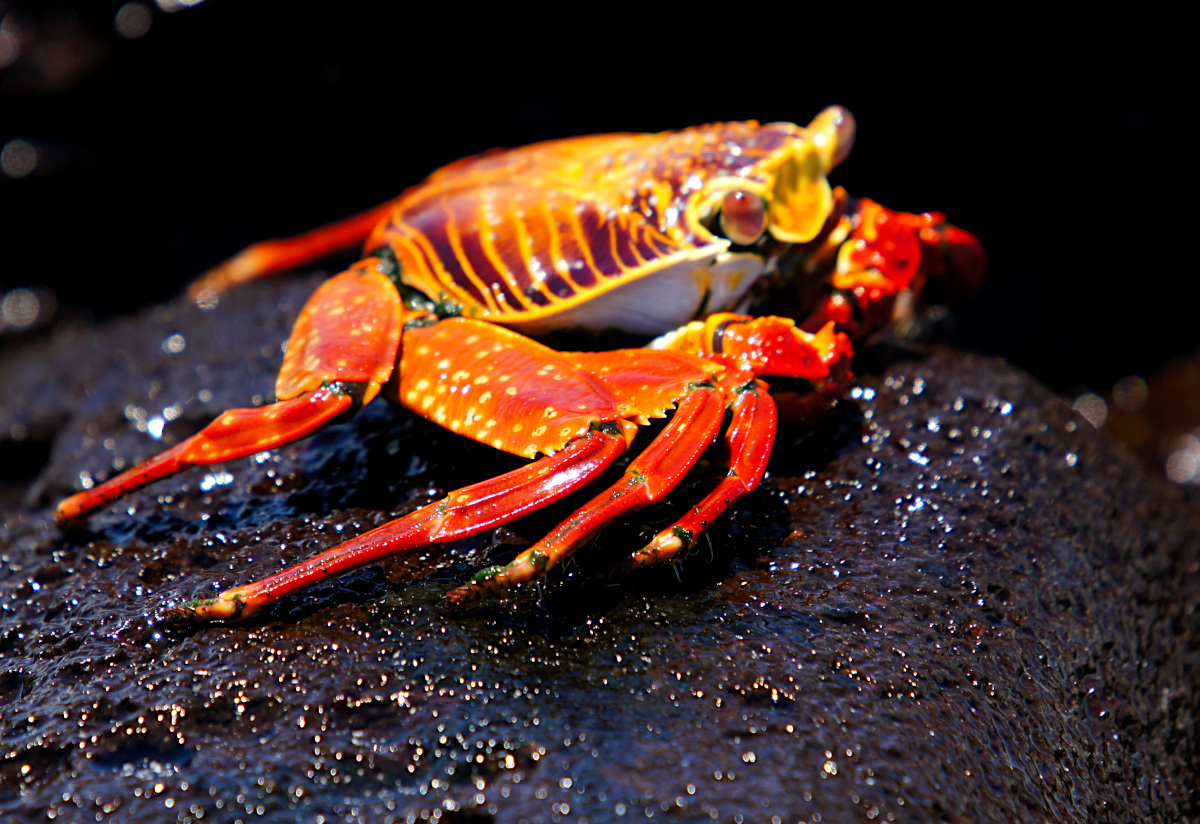 The brightly-coloured Sally Lightfoot crab / Grapsus Grapsus
The Sally Lightfoot Crab is an unmistakably vibrant Galapagos character. Their striking colors make them extremely photogenic against the black lava rocks they call home, and popular with visitors. Sally Lightfoot crabs boast a wonderful ability to walk on water – with just a quick hop, skip and jump to escape from danger. They are also one of the most frequently spotted creatures on Galapagos shores.
Adult Sally Lightfoot crabs have a very distinctive appearance. They are brightly colored with red/orange shells, a sky blue belly, yellow face and pink eyes. In terms of size a Galapagos sally lightfoot crab can grow to between 8 and 12cm, which is slightly larger than their continental counterparts.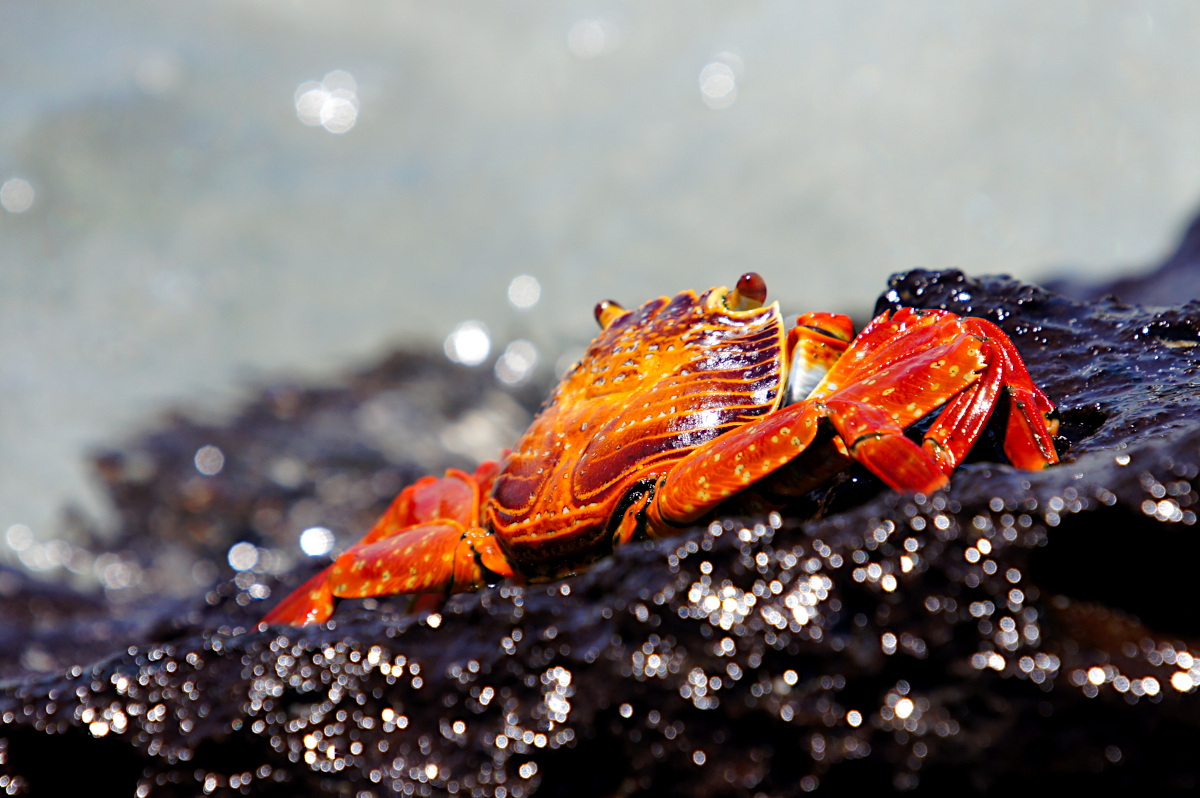 The brightly-coloured Sally Lightfoot crab / Grapsus Grapsus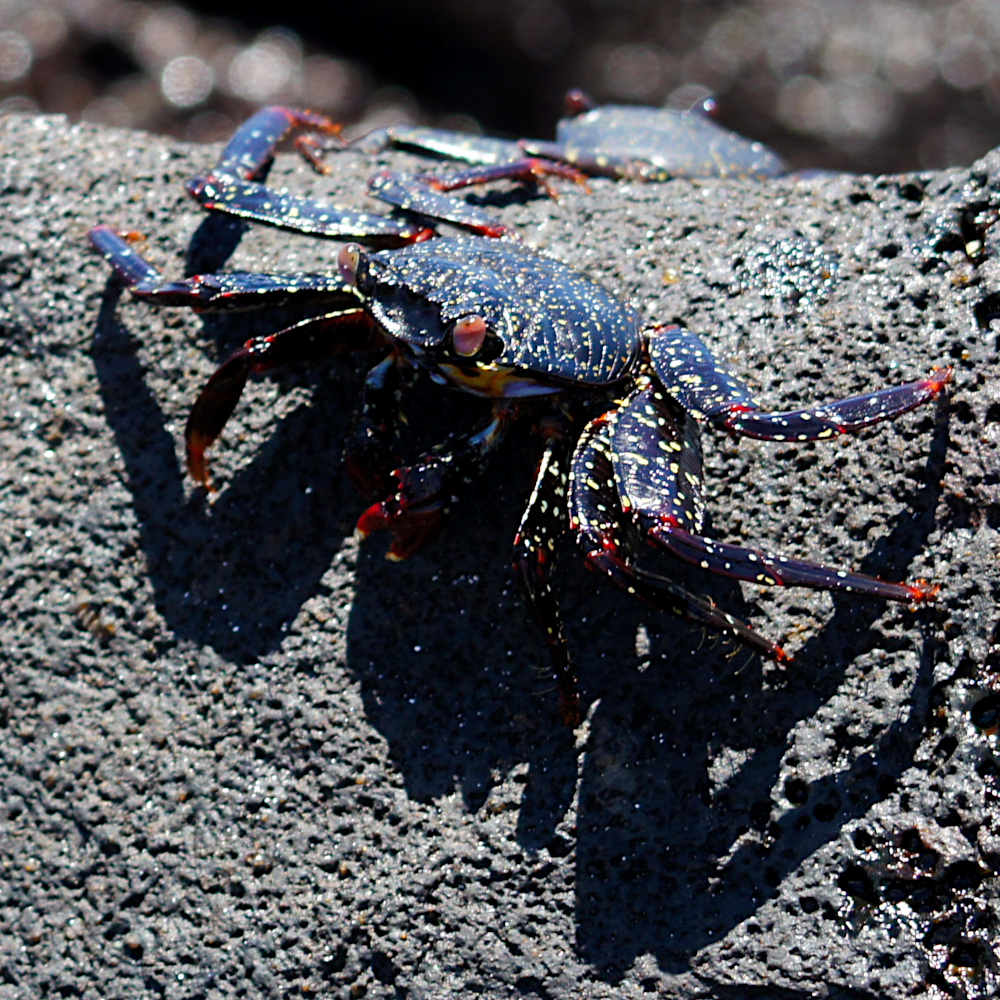 A young Sally Lightfoot crab (or with its funny Latin name "Grapsus Grapsus") are blue in colour. Young Sally lightfoot crabs have a much darker colouration providing a higher degree of camouflage against black lava. Young crabs have a long list of Galapagos predators so effective camouflage is essential for their survival. Each time an adolescent sally lightfoot moults his shell, their red spots become gradually larger until they obtain full adult red colourings. Why do adult sally lightfoot crabs no longer require such camouflage? Firstly, they are no longer such easy prey as their shells have become much harder. Secondly, adult crabs need their bright colors to successfully attract a mate. Where do Sally Lightfoot crabs live? Their range covers western coastlines of south and central america, and of course the Galapagos islands. TYoung crabs are easier prey with their soft shells, while adults have a harder shell for protection. Adult crabs are particularly impossible to catch, as many tourists can attest to. Sally lightfoot crabs breed all year round. Females carry eggs on their stomachs until they are ready to hatch in the water. The small larvae swim to deep waters in large groups, surviving on phytoplankton. They moult various times before transforming into baby crabs and swimming back ashore. The Sally Lightfoot crab diet consists mostly of green and red algae and seaweed from lava rocks. They are also opportunistic predators, which means they eat just about anything else that they find. This can include other crabs, barnacles, dead fish, eggs, bird droppings, baby sea turtles, and much more besides. They are beach scavengers, and play an important role in the Galapagos coastal ecosystem, keeping beaches clean of organic matter. Fun Sally Lightfoot Crab Facts • Unusually for crustaceans, the Sally Lightfoot crab can run in all four directions as well as climb up vertical slopes. This extreme agility, as well as their ability to hide in tight cracks in the lava, is vital for their survival. • When on land, Sally lightfoot crabs hold water in their shell in order to breathe, releasing drops onto their gills whenever required. The same water can also be used in defence, to be squirted at enemies if under threat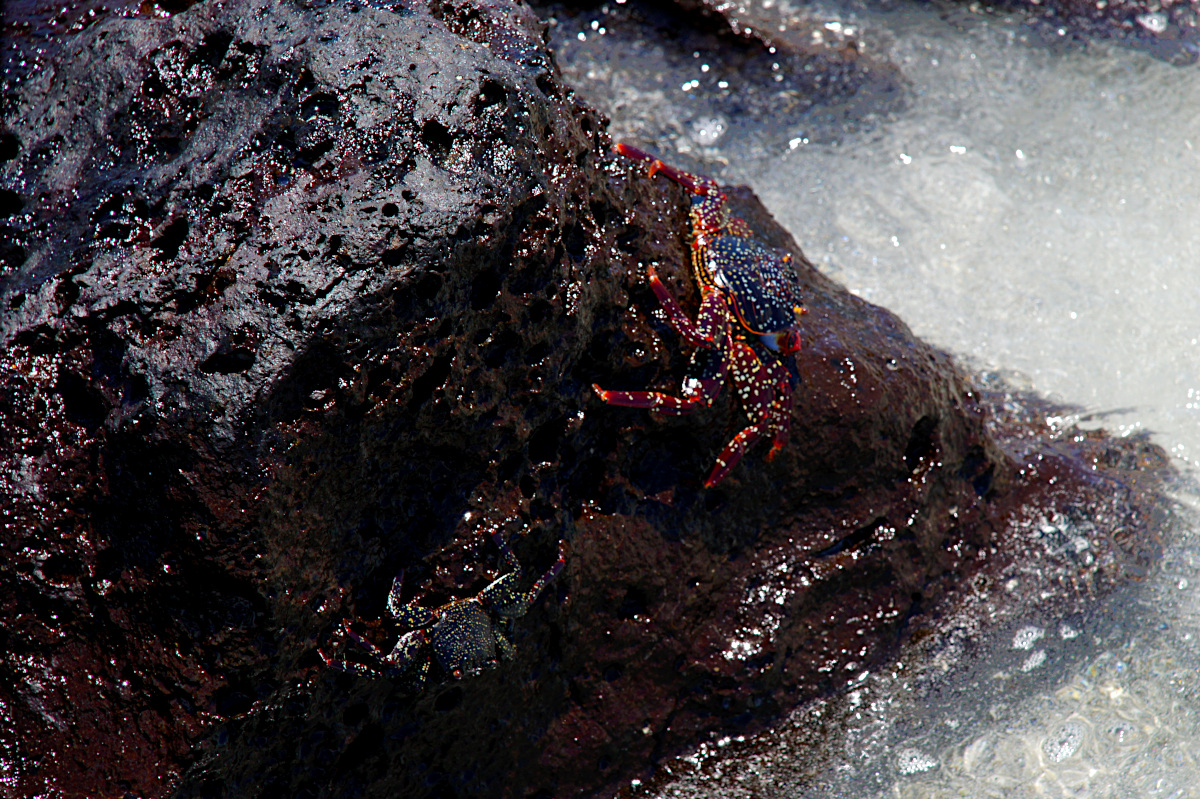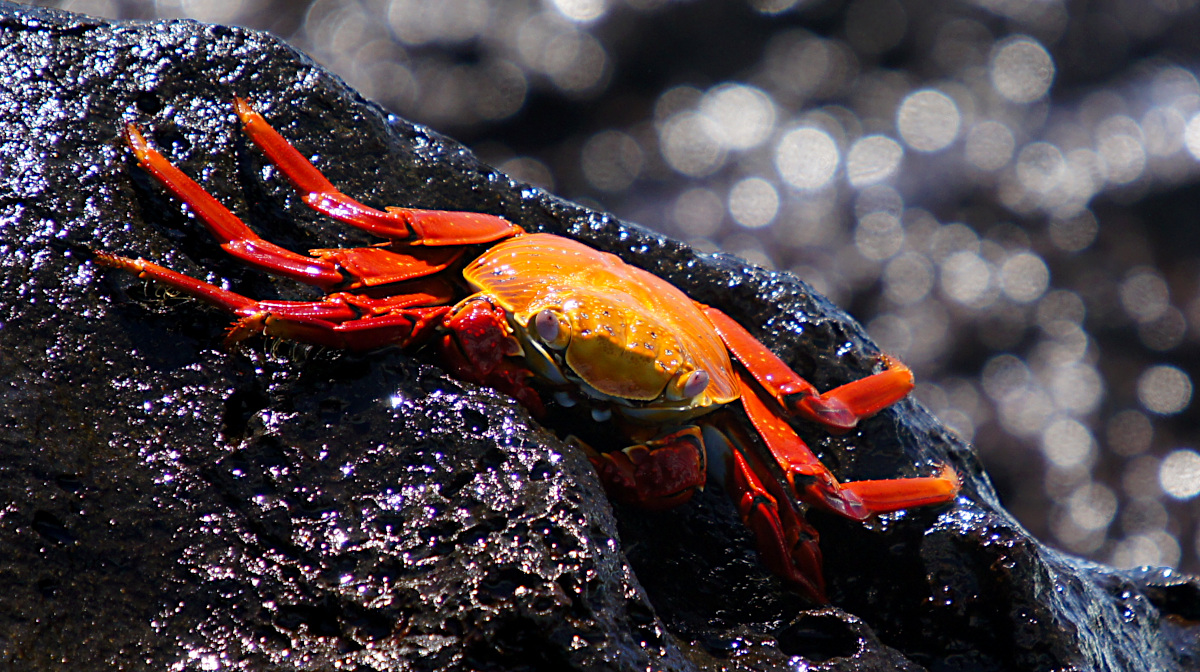 Sally lightfoot crabs are land dwellers, spending their time on dark lava rocks of intertidal zones. Their strong claws help them to cling to rocks when waves hit, allowing them to inhabit this zone where other animals find life more challenging. Sally Lightfoot Crabs enjoy a special symbiotic relationship with Marine Iguanas. These two species are often to be seen together at Galapagos, with crabs eating parasites and ticks from the skin of iguanas. The crab gets an easy meal, while the iguana has these pests removed for free.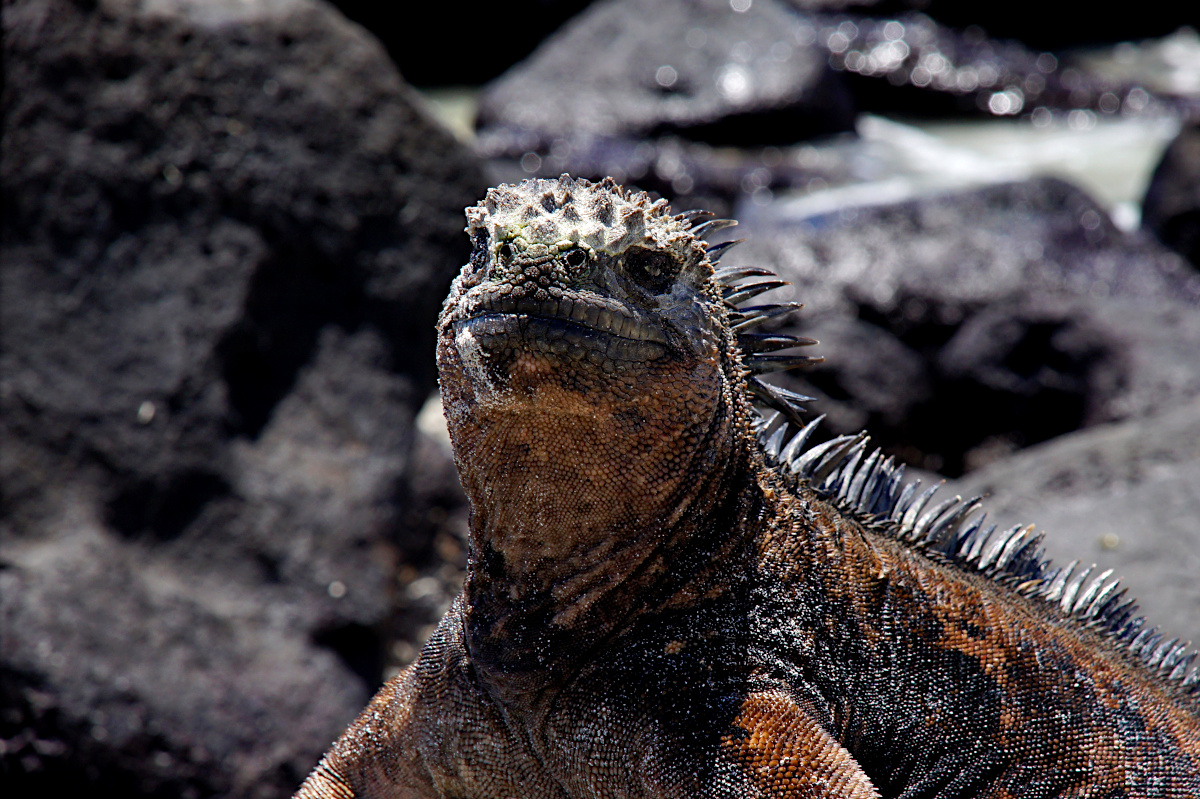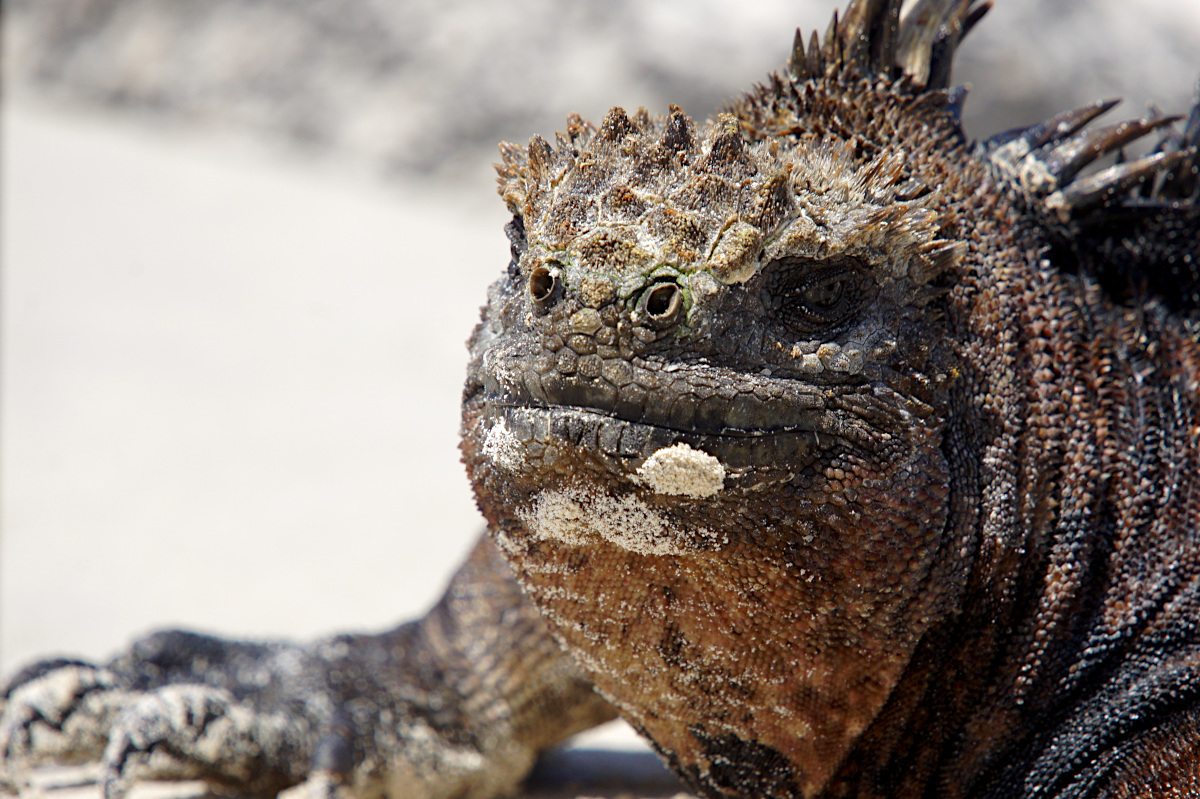 The marine iguana is the only lizard in the world with the ability to live and forage at sea and is endemic to the Galapagos Archipelago. There are six very similar subspecies, each from different islands, with those from Isabela and Fernandina being the largest. The adults are black for most of the year, however the males change colour during the mating season – with different subspecies adopting different colourations. Near Española and Floreana they are most colourful – turning bright green and red; on Santa Cruz they are red and black; and on Fernandina they become dull green and brick red. The juveniles are generally black, with a lighter dorsal stripe than the adults. Marine iguanas are not a very agile species on land, but they are excellent swimmers – moving easily through the water as they feed on algae. Larger individuals go further out to sea and use their powerful claws to grip on to rocks in strong currents to feed, whilst the smaller ones stay inshore near rock pools, feeding on algae exposed at low tide. Due to the high concentration of salt in their diet, marine iguanas filter their blood at the nose and sneeze out the excess salt, often forming salt crystals on the snout. Despite not being truly social, iguanas are highly gregarious – especially on cold nights when they tend to group together to conserve heat. In the morning, they bask in the sun, absorbing heat with their black scales until they have enough energy to swim out to sea to forage. Upon entering the water, their heartbeat slows to half its normal pace in order to conserve energy and allow them to feed for as long as possible. Where to see them: They can be seen in coastal regions on the islands of Isabela, Fernandina, Española, Floreana, Santa Cruz and other islets around them. When to see them: They live on the islands all year round, with the mating season occurring between January and March. They are active during the day and spend a lot of time on rocks basking in the sun. Threats: The introduction of cats and dogs by humans has greatly affected the numbers of marine iguanas as they predate upon the juveniles, which are poorly adapted to defending themselves against large land predators. El Niño periodically decreases the iguana population (by up to 85%), as it cuts short their food supplies. Oil spills may also have similarly dramatic effects on the population. They could also be threatened by marine plastic pollution – specifically microplastics.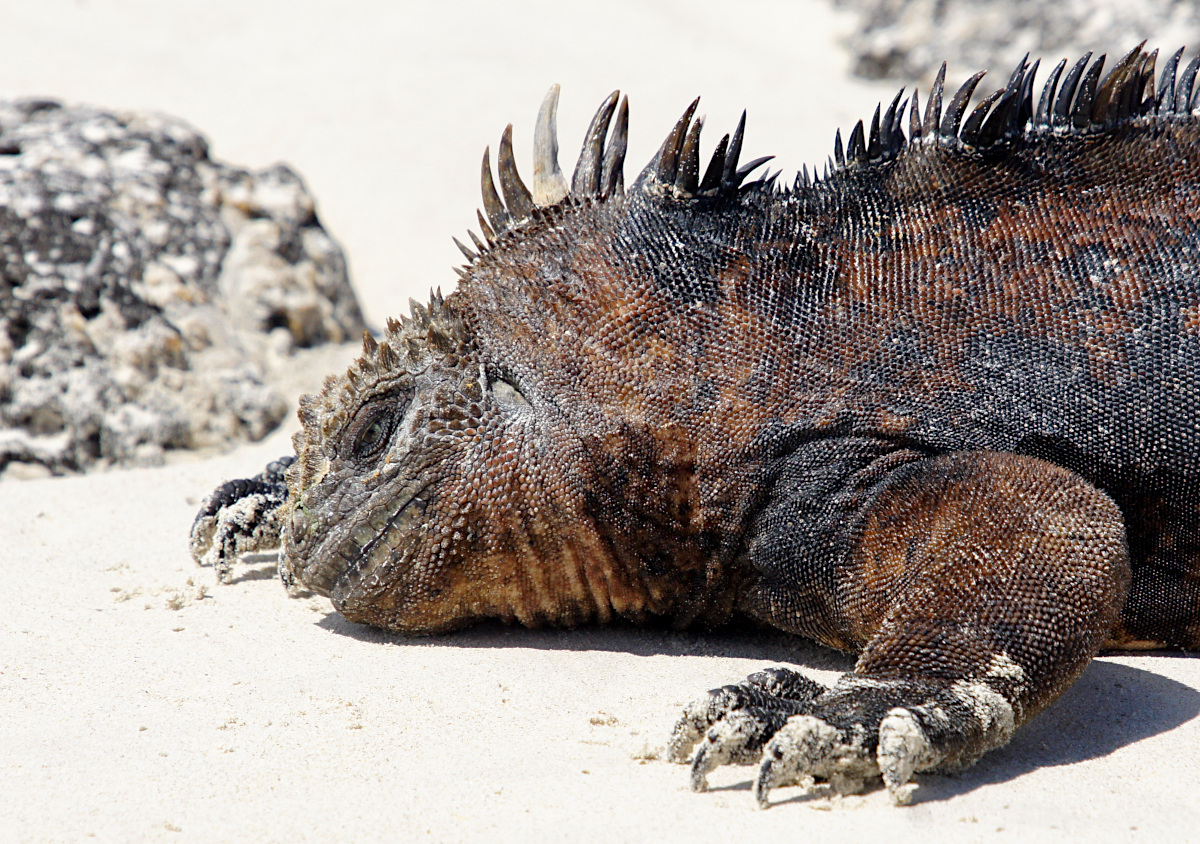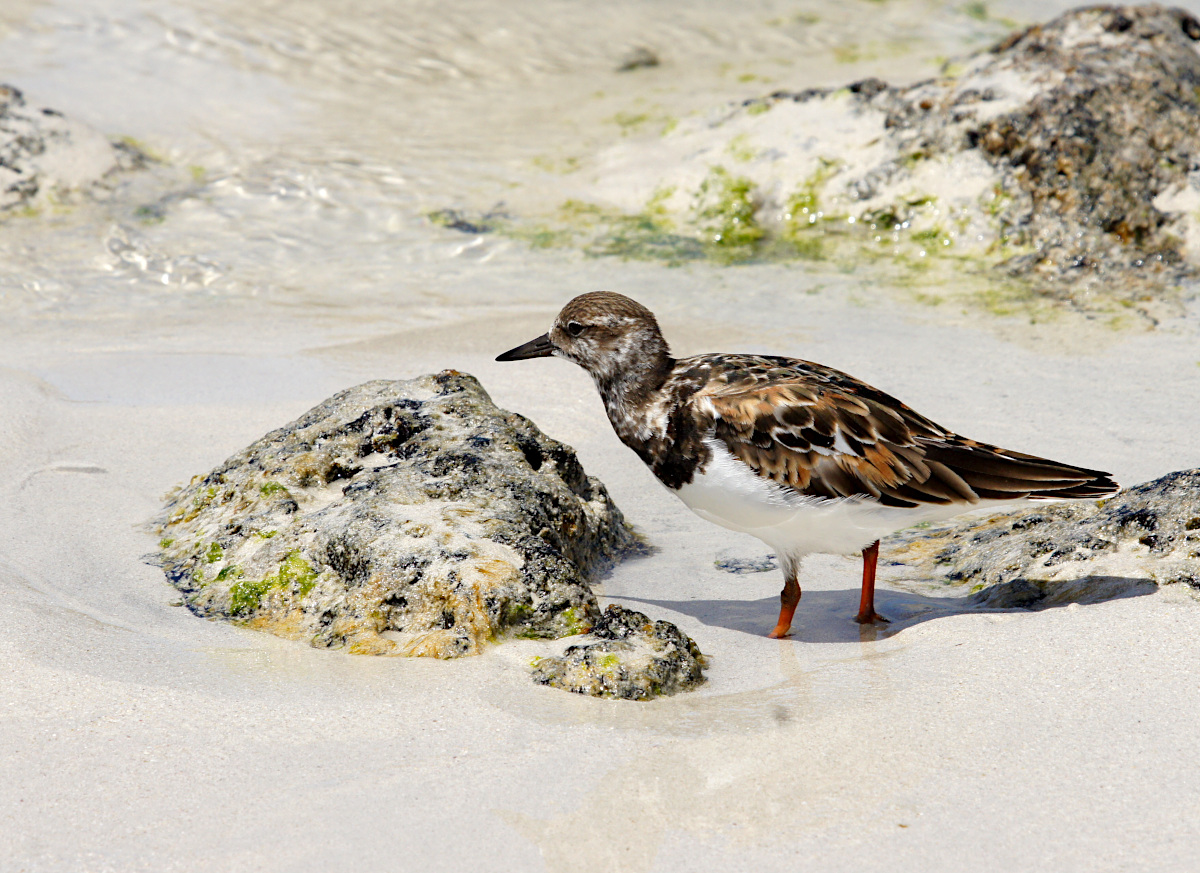 Ruddy Turnstone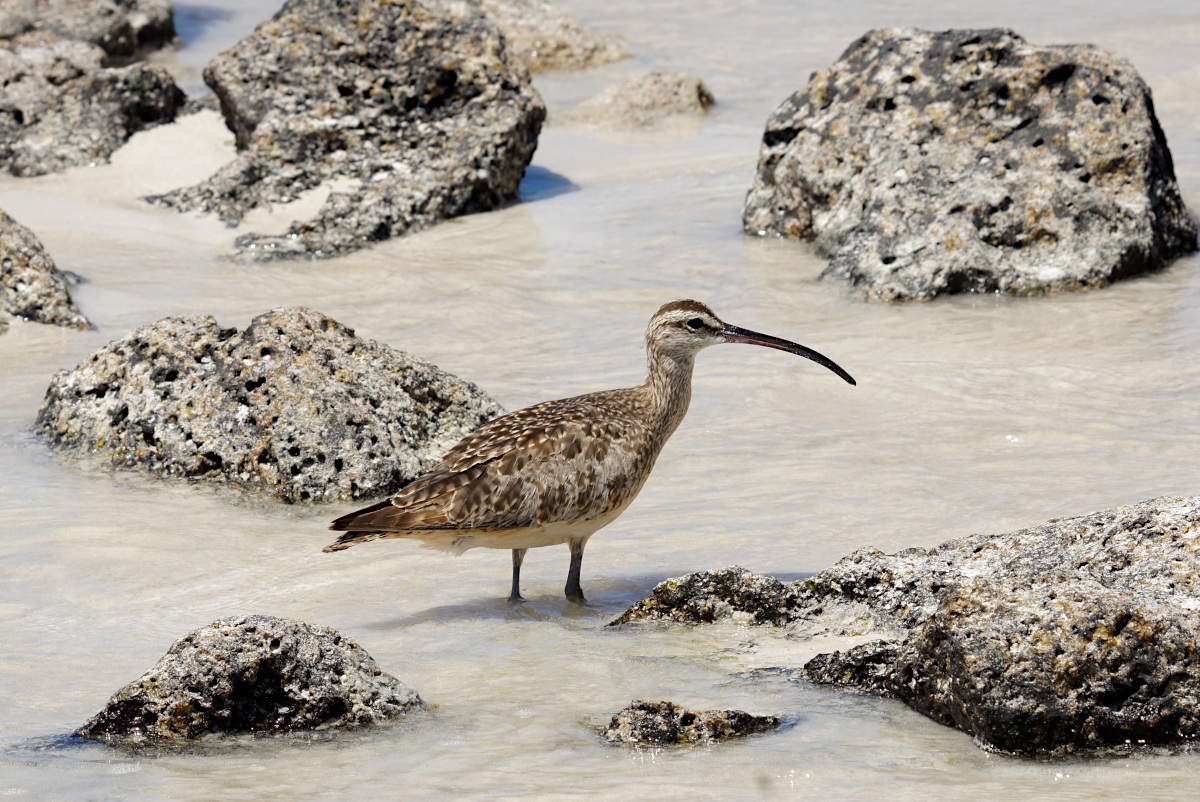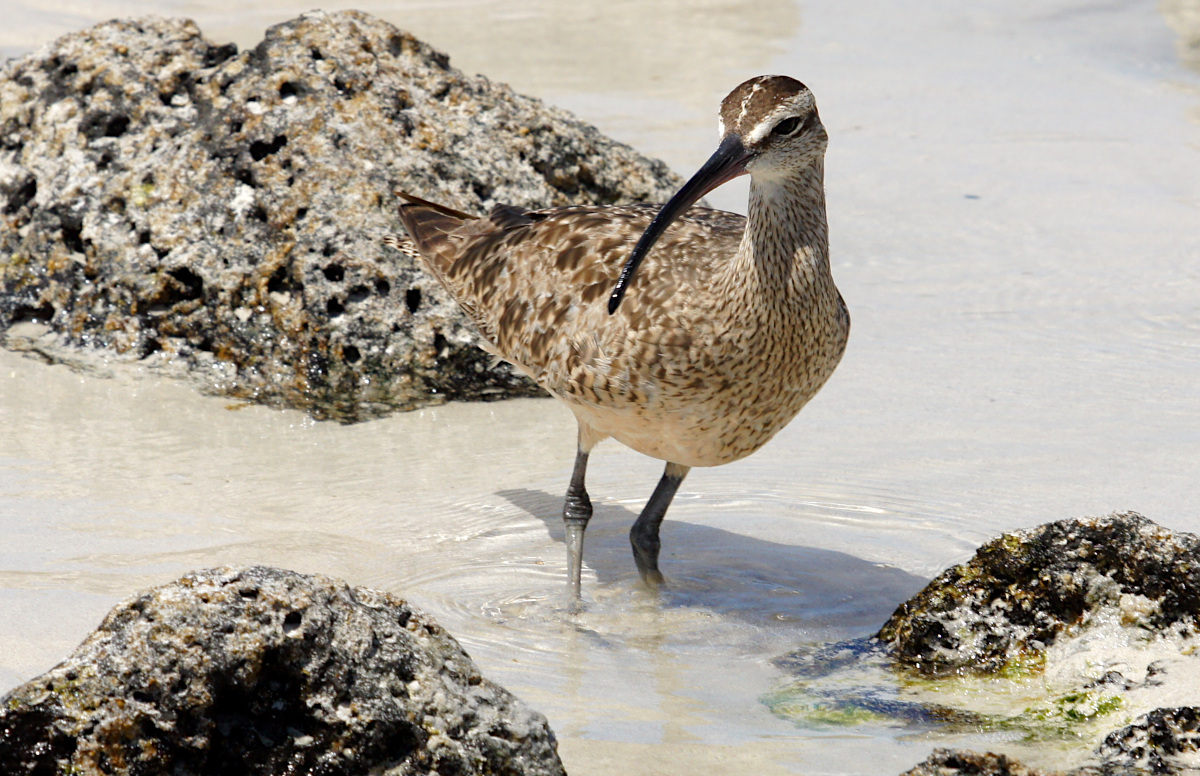 The elegant Whimbrel has intricate plumage, alternating brown and white with a chain mail pattern across the chest. They are waders, found in the shallow waters and tidal pools along the coast and around the lakes, ponds, and marshlands of the highlands. Found all over the archipelago, they feed on small fish, crabs, and insects.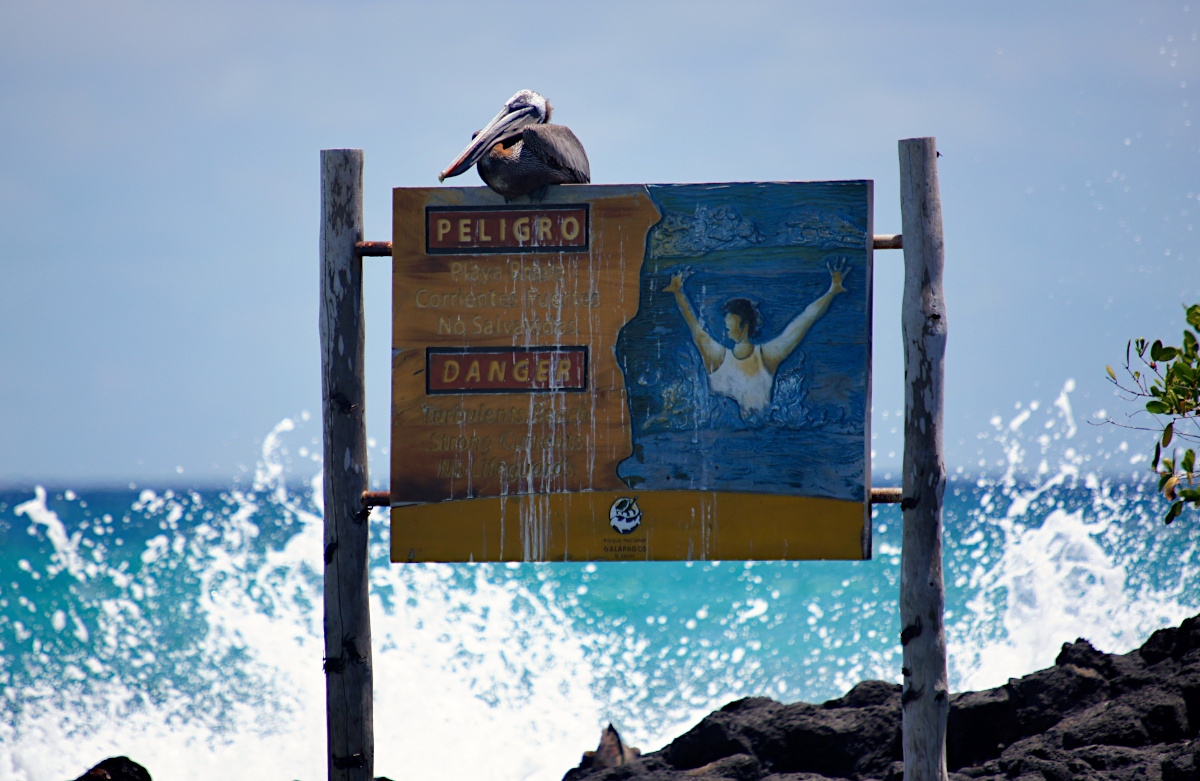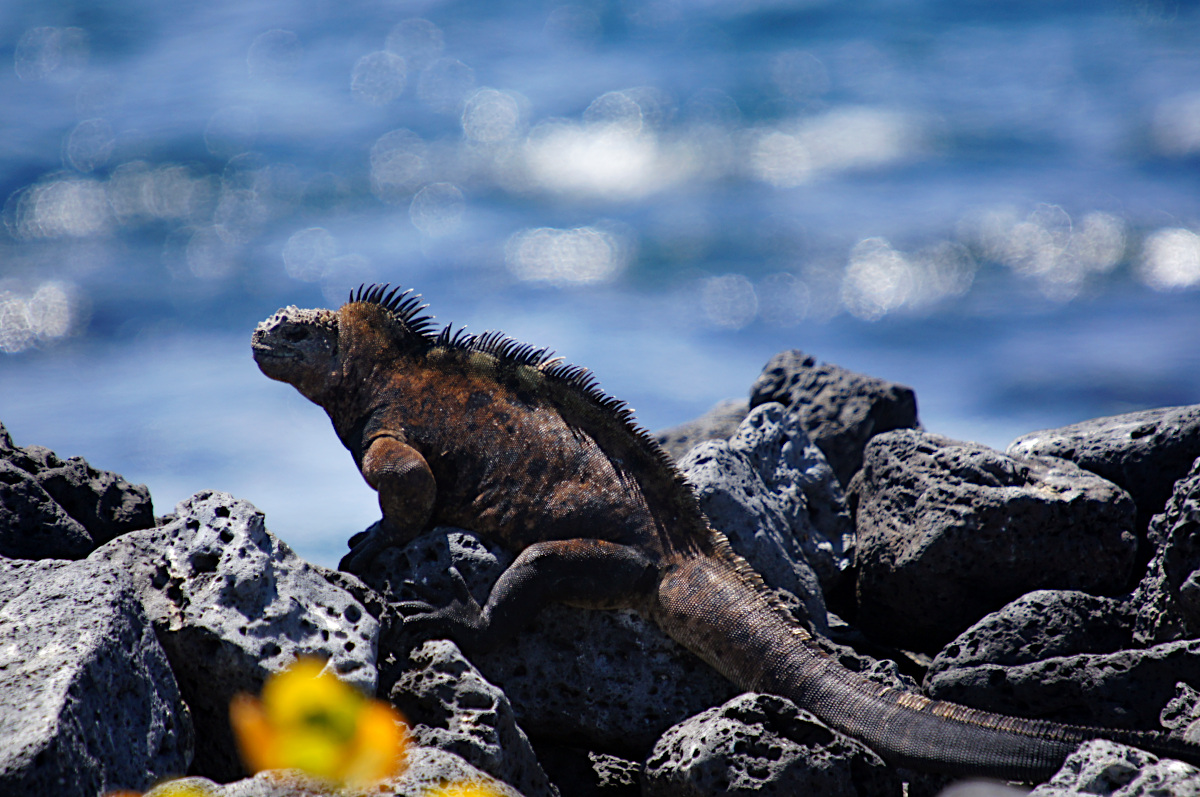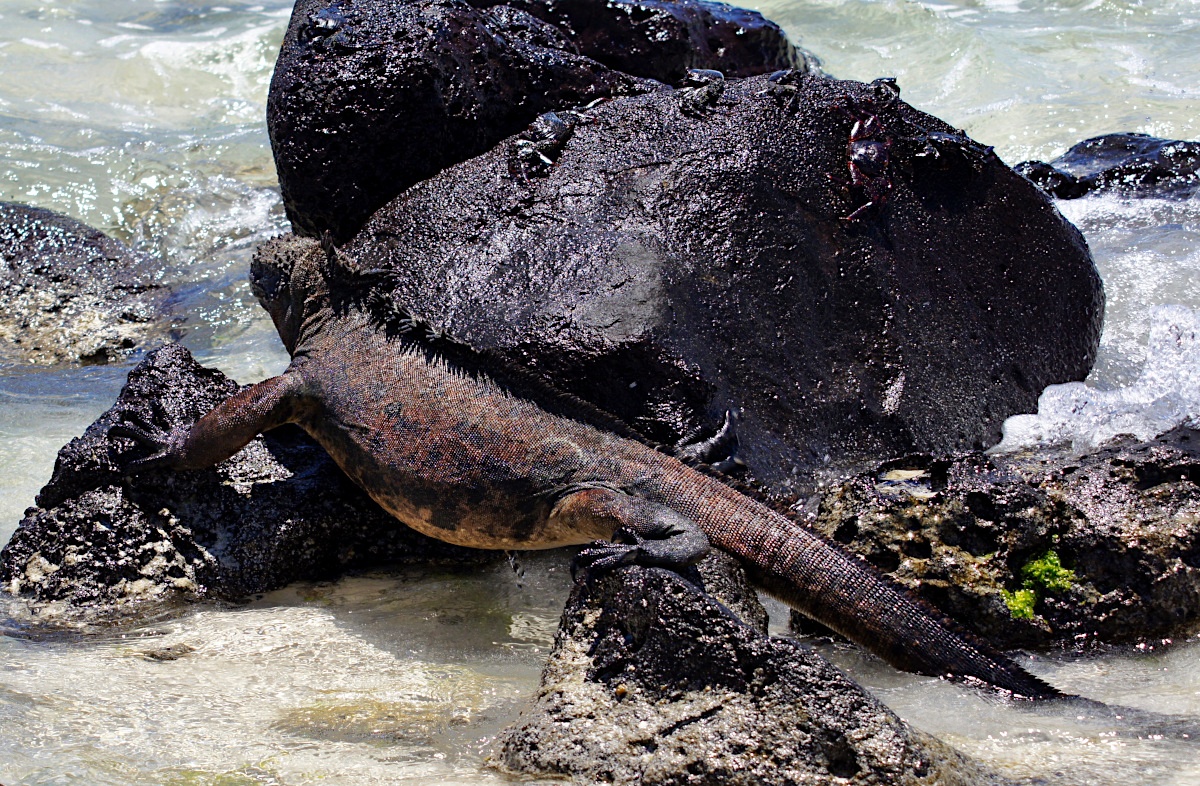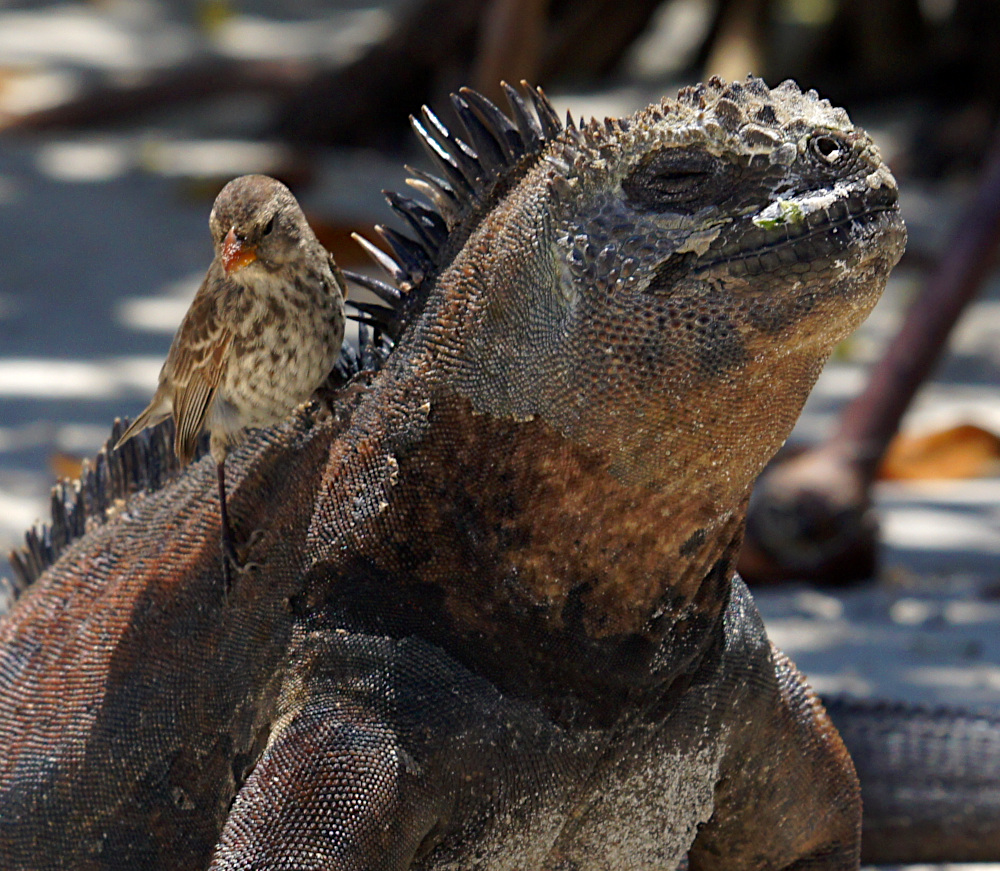 Scientists figure that land-dwelling iguanas from South America must have drifted out to sea millions of years ago on logs or other debris, eventually landing on the Galápagos. From that species emerged marine iguanas, which spread to nearly all the islands of the archipelago. Each island hosts marine iguanas of unique size, shape and color. They look fierce, but are actually gentle herbivores, surviving exclusively on underwater algae and seaweed. Their short, blunt snouts and small, razor-sharp teeth help them scrape the algae off rocks, and their laterally flattened tails let them move crocodile-like through the water. Their claws are long and sharp for clinging to rocks on shore or underwater in heavy currents. They have dark gray coloring to better absorb sunlight after their forays into the frigid Galápagos waters. And they even have special glands that clean their blood of extra salt, which they ingest while feeding. The marine iguana was described by Charles Darwin as as "hideous-looking" and "most disgusting, clumsy lizards," on his trips to the Galapagos. Their long body is colored grey and patterned with green or red. The patterning and the colors which make it up is highly variable depending on the island which they call home. Their color comes from pigments in the seaweed they eat. Often their skin has salt encrusted on to it. They have a blunt snout. Running down the back is a crest of spikes. They have long, hooked claws which help them to grab on to rocks. Their feet are partially webbed to help them when swimming. The body ends with a long, oar-like tail which is flattened laterally and helps to push them through the water. An adult marine iguana will measure between 50 and 100cm (20 and 40in) long. Their weight varies between 1 and 11kg (2.25-24lbs). Males can be up to twice as large as the females. The weight of individuals is also variable between islands. Marine iguanas are herbivores which feed in the sea. Here they will dive for algae and seaweed. They have hard, horny lips which are used to scrape the algae off rocks. Some populations supplement their diet with plants which have a high salt content. Due to the toughness of seaweed they have a bulbous fermentation chamber where gut bacteria breaks it down. This is the reason they have such a round body. They are highly dependent on algae. During extreme El Niño events the algae will deplete and this can cause their populations to reduce. Marine iguanas are seen sneezing regularly which expels salt from the glands near their nose. They start their day by basking in the sun where they warm up their body. As an ectotherm their body temperature is affected by the outside environment. While in the water their body temperature can drop as much as 10°C. Their dark coloration is an adaptation which allows them to warm up faster. Once they warm up they dive in to the water to feed. Their claws help them to hold on to rocks in strong currents while they feed. They can remain underwater for up to an hour but most marine iguanas only dive for 10 minutes.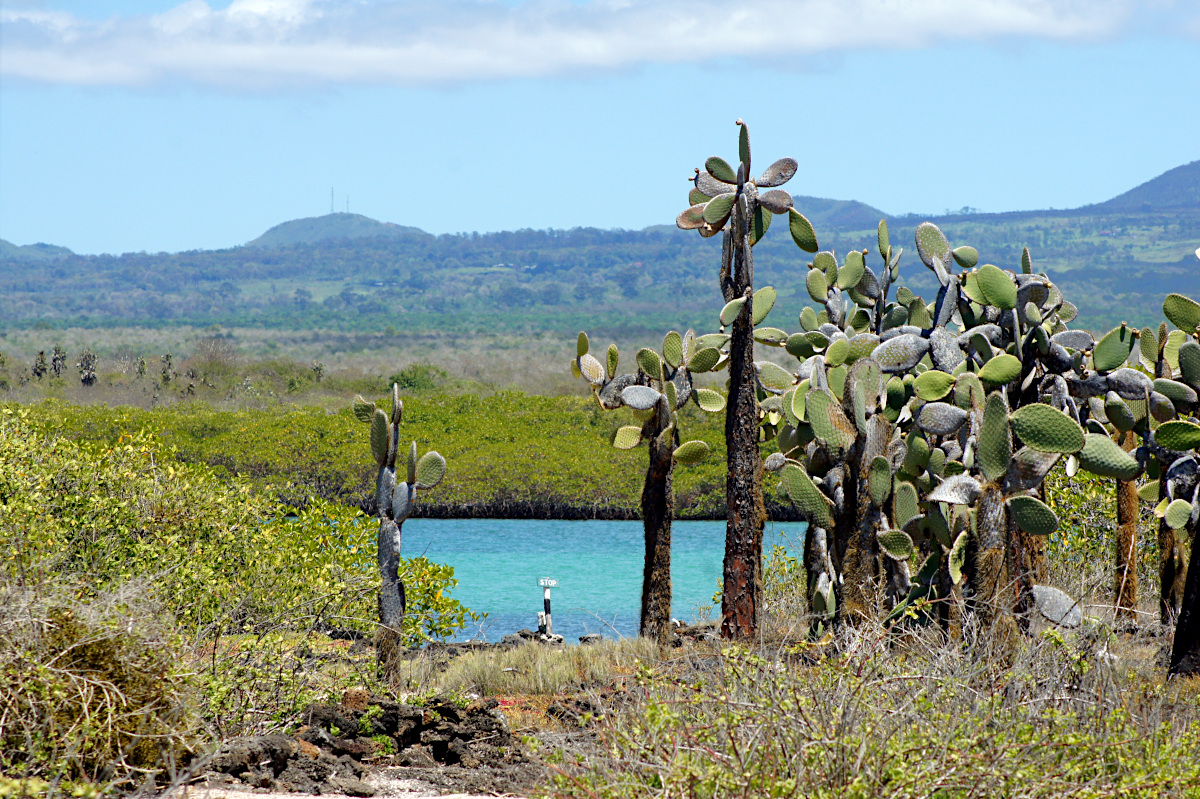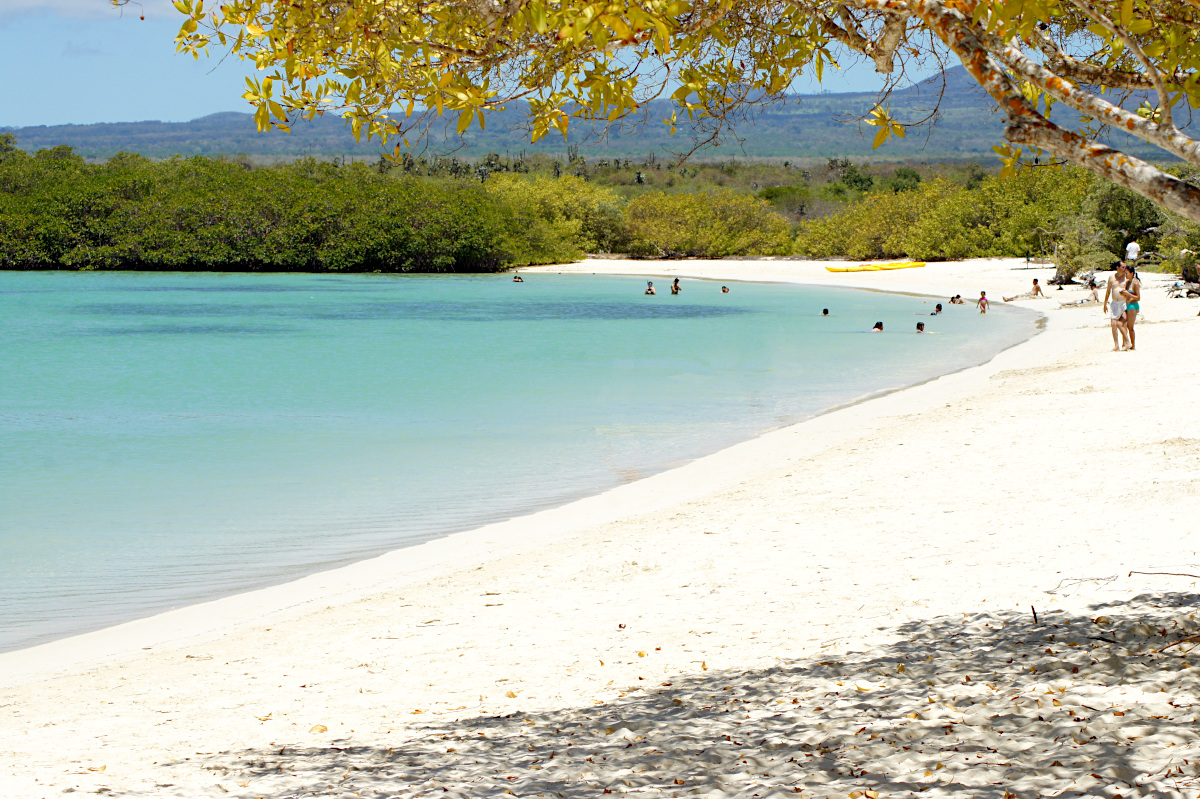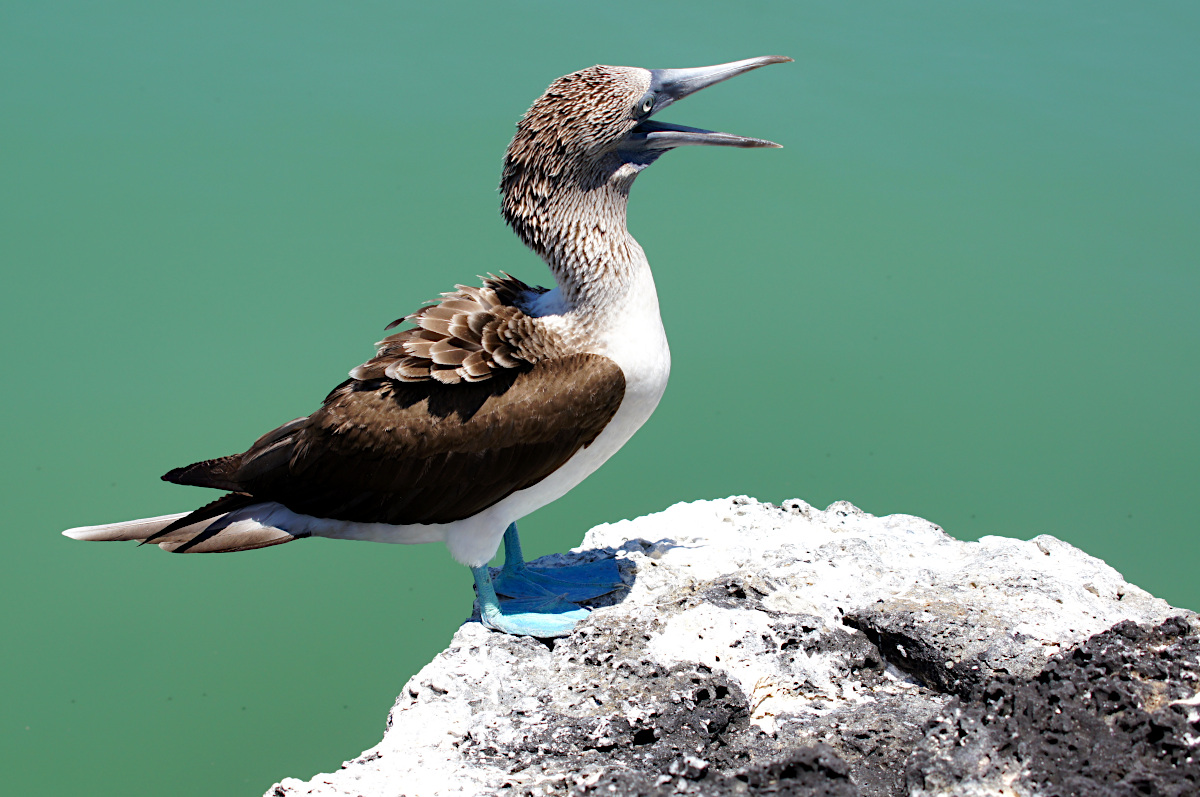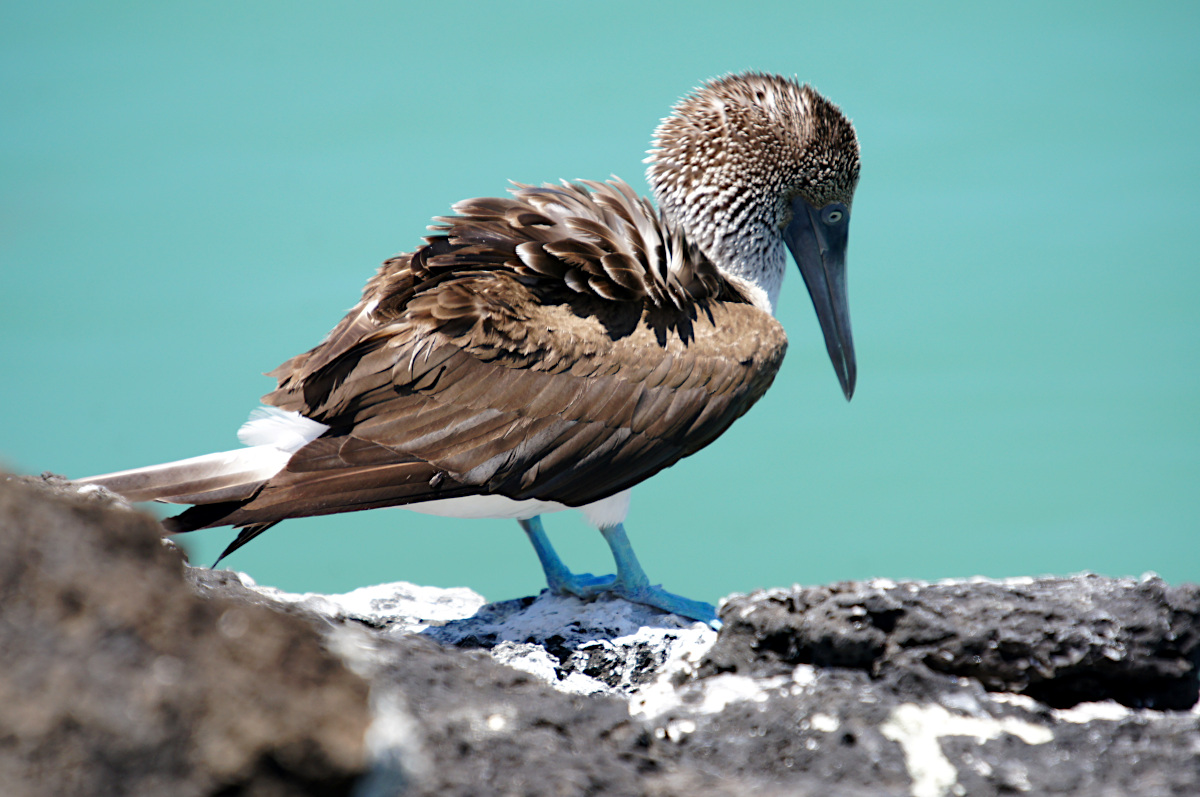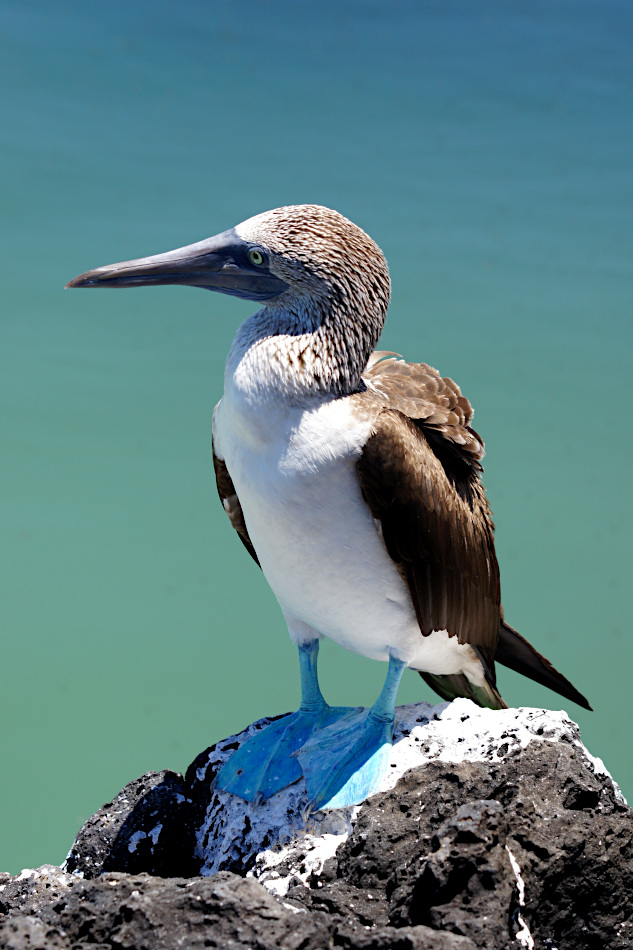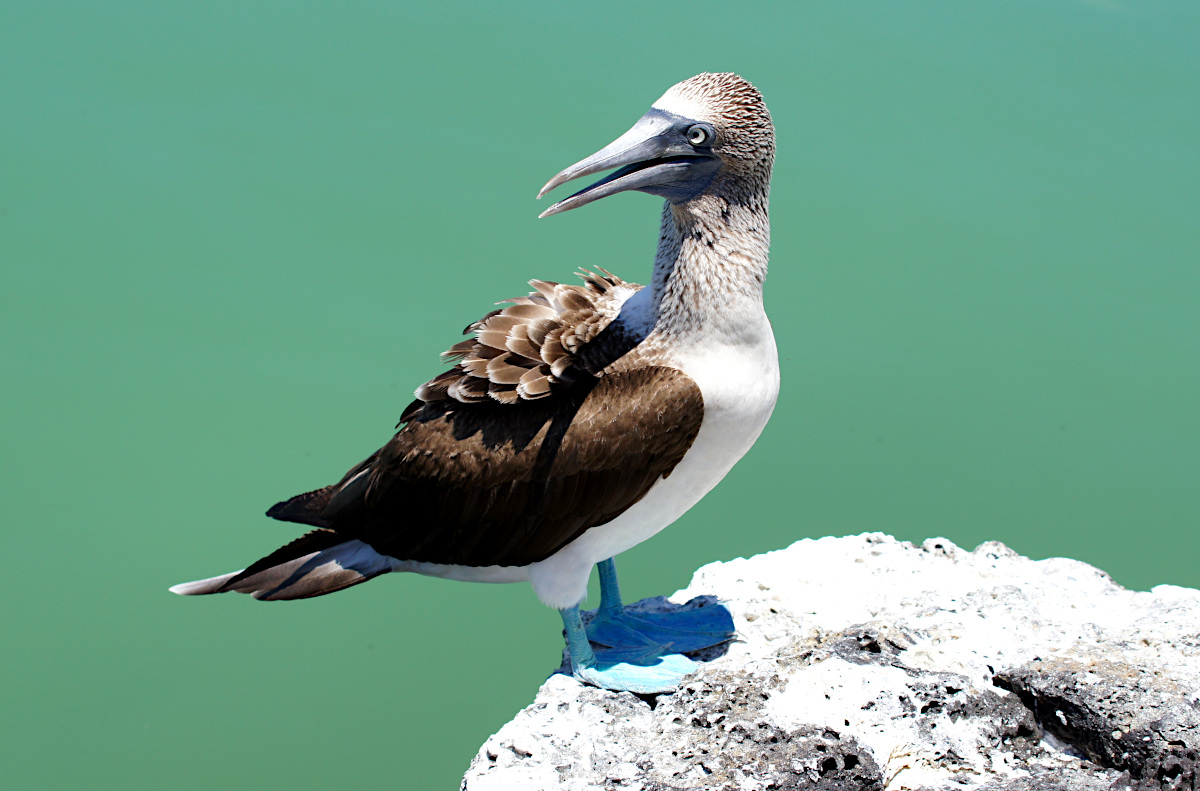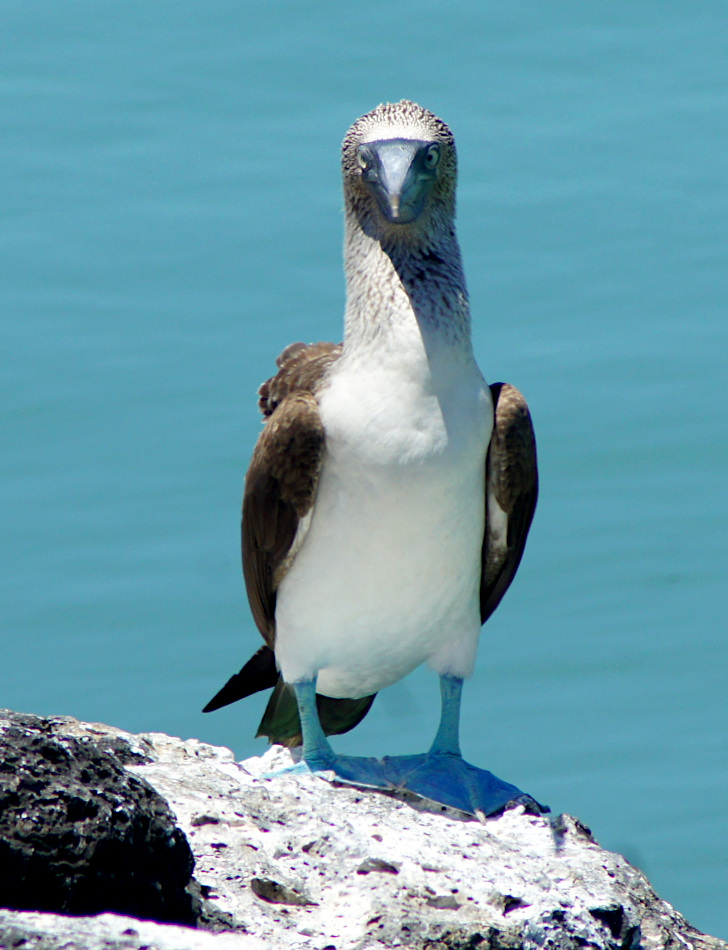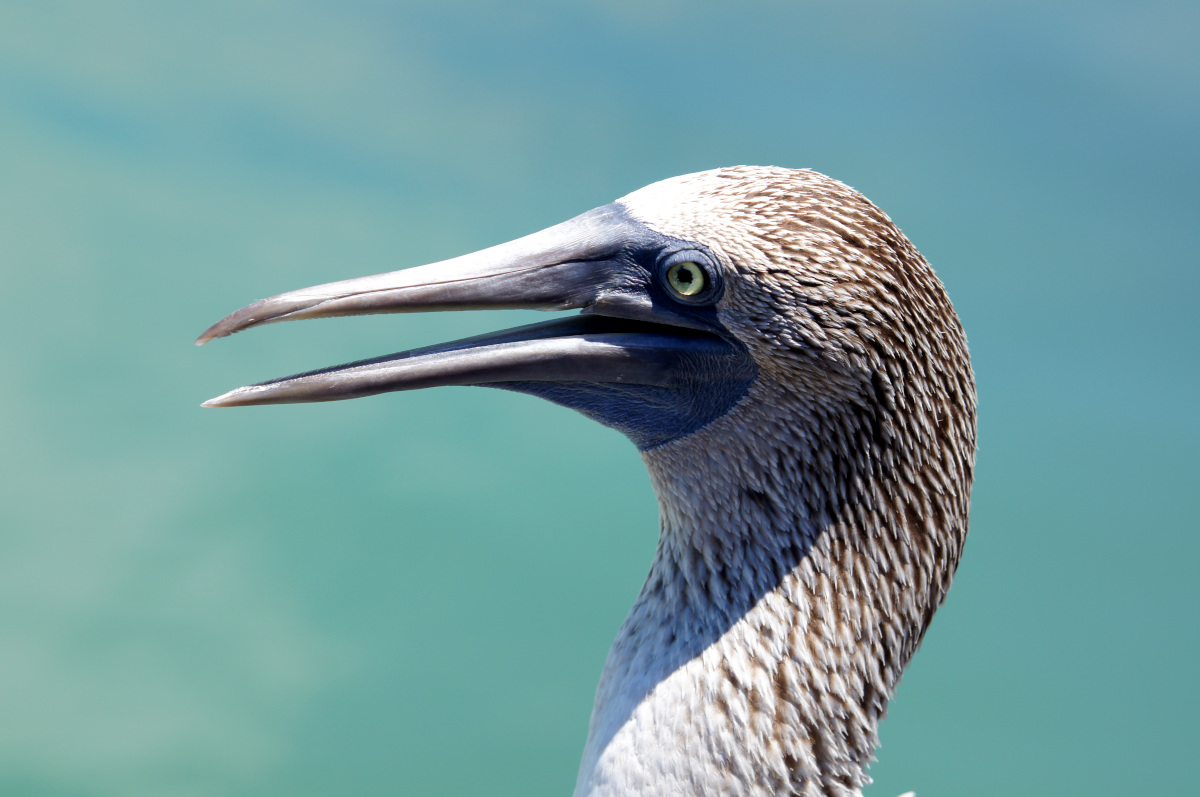 I just couldn't believe my luck when we spotted the Blue Footed Booby!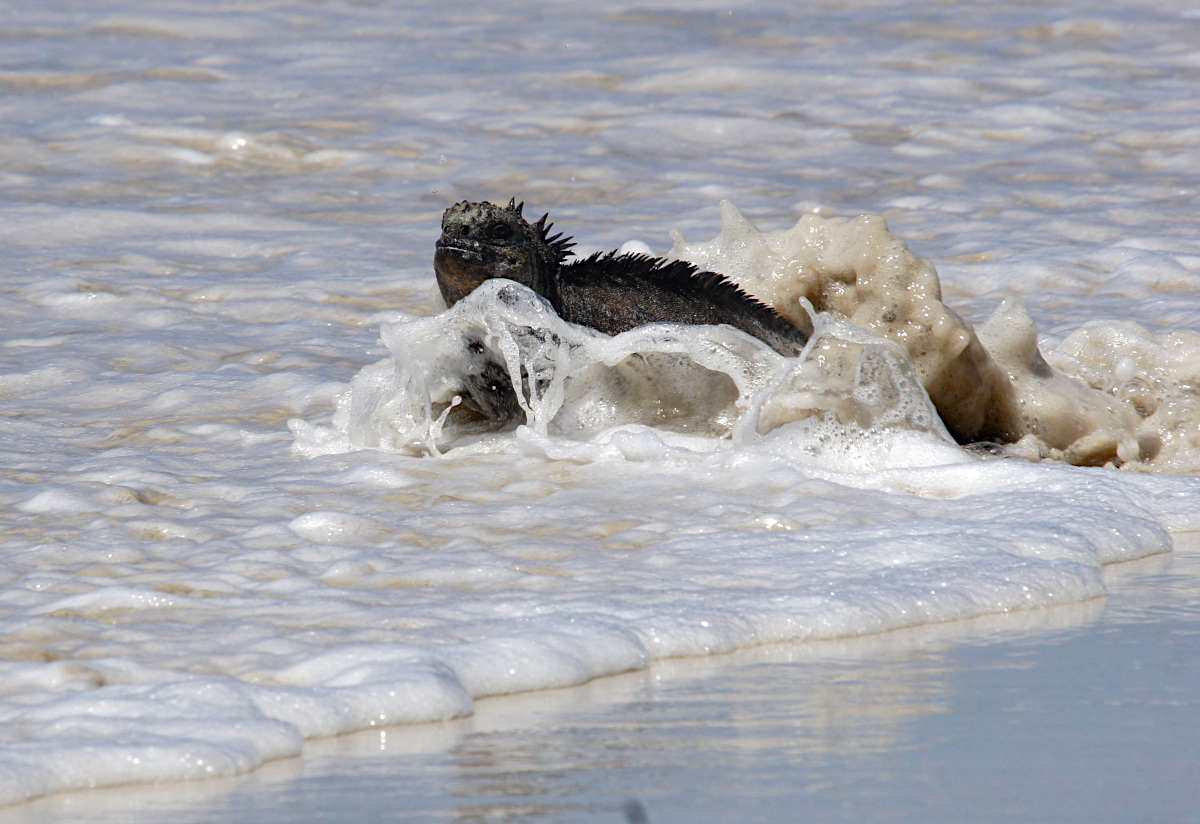 xx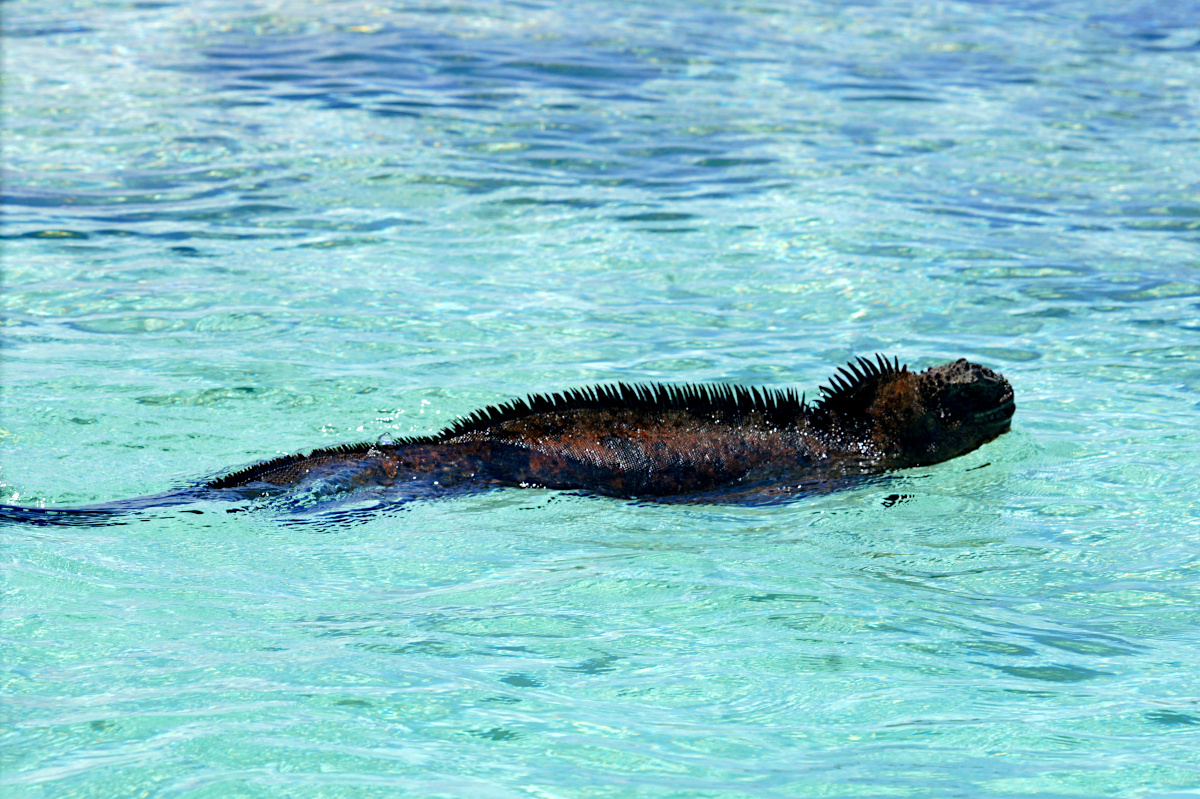 xx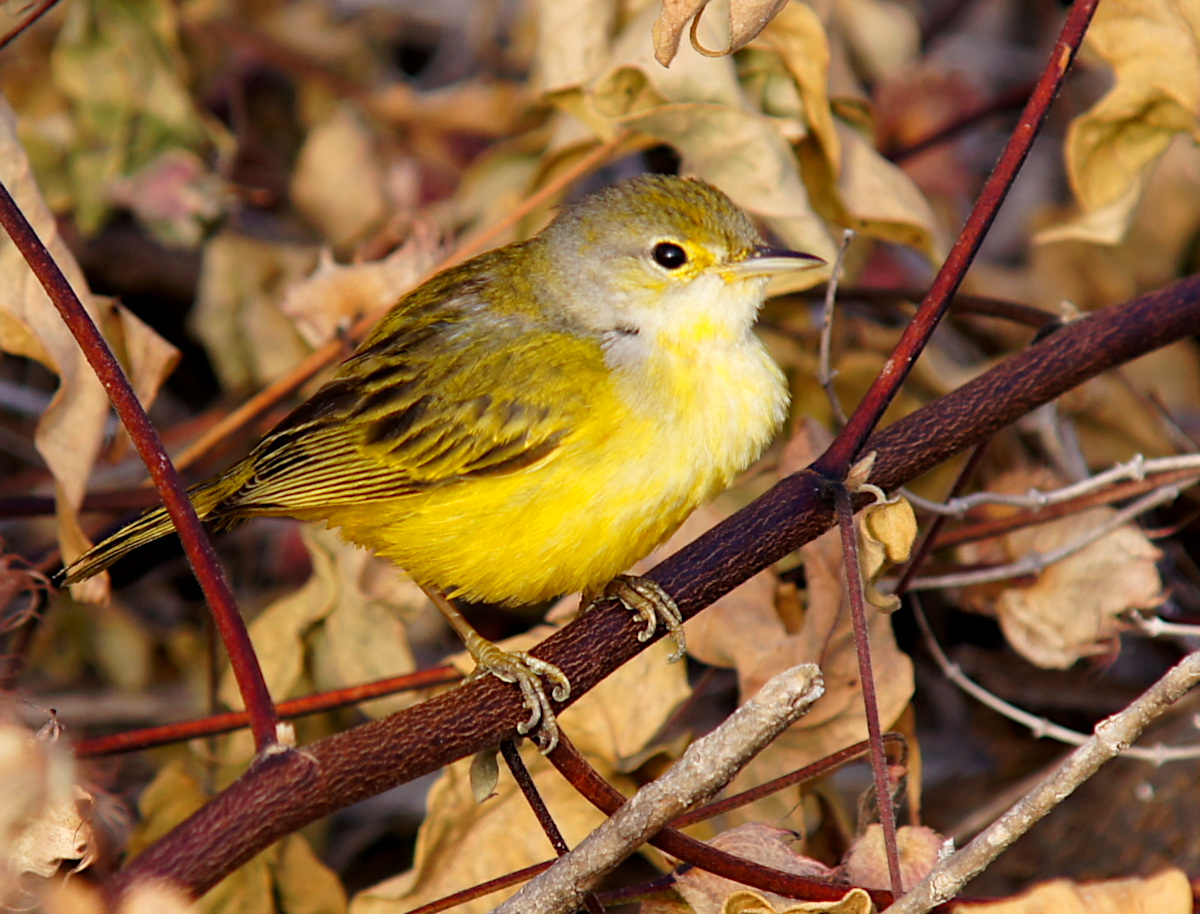 Yellow Warbler / Setophaga petechia aureola