Roundtrip Borneo, June 2004
Sukau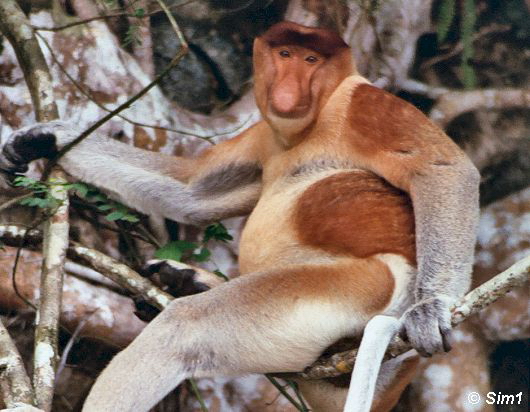 Nose Monkey
Welcome to Sukau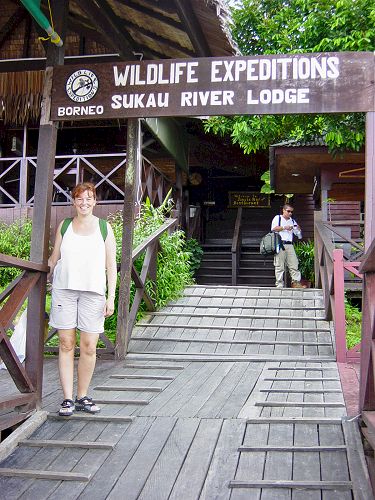 Welcome to Sukau
After a long day driving from Mount Kinabalu, we finally arrived in Sukau. The moment I got here it took my breath away. This is going to be great I though!
The next two days we are going to be on the river, watching the wildlife, spotting birds, hike in the rainforest, hahaha, and even being eaten by leeches. But even that is worth it! Wow, what a wonderful place this is!
Where is Sukau?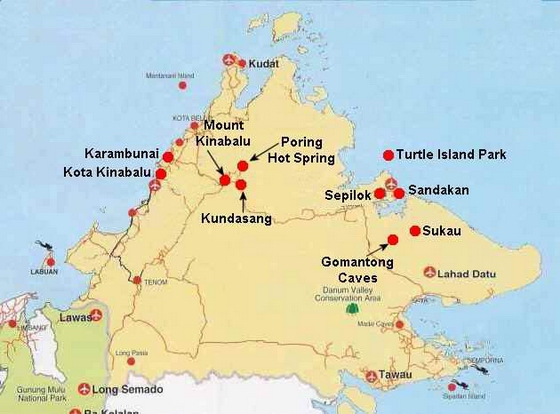 Map Sabah
Sukau is on the east coast of Borneo, just south of Sandakan. The way I got here was by car. The last bit of that trip is over a long dusty sand road, with lots and lots of bumps in it. I think it is about 30 kilometres on this road, and by the time you get to Sukau you probably feel a little bit like a milkshake ;-))
Sukau is located on the Kinabatangan River, the largest river of Borneo.
Sukau River Lodge

And this is where we are going to stay for the next two days: The Sukau River Lodge. The accommodation is 'relatively' primitive. But it does have some great luxuries like air-conditioning and a private shower with hot water! So I felt like a happy camper here :-)
The lodge is located on a crossing of two rivers: the huge Kinabatangan river and much smaller Menanggol river. The only way to get here is by boat. The area was surrounding by rainforest making you feel like staying on the edge of the jungle. The perfect spot to be for the next two days.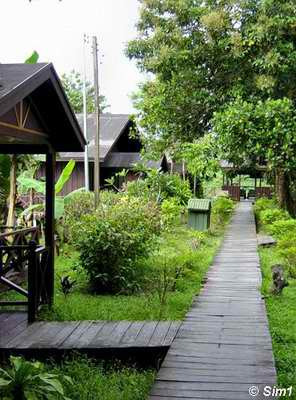 Sukau River Lodge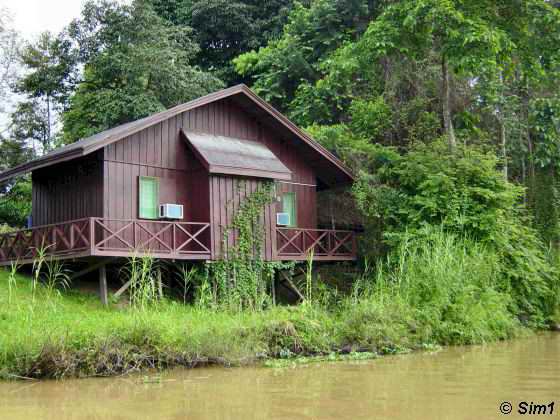 The lodge seen from the river
After quickly checking into the lodge, freshen up, we were off again. It is getting late afternoon, a good time to go out on the river in search for nose-monkeys and other wildlife.
Today's trip will be on the smaller Menanggol River.
Our first excursion on the river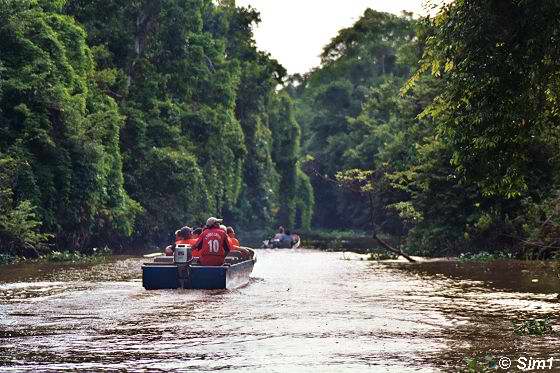 Our first excursion on the river
Don't expect to have this river for yourself this time of day. There are several other small boats here, all in search to get a glimpse of the nose-monkeys.
We actually had one of the slower boats, but also the most quiet one. And that suited me just fine. It was so relaxing to sit in the boat in the afternoon sun, while my eyes were searching the dense forest, trying to spot wildlife. We moved along so quietly and peacefully, it felt like the more natural thing to do here in the rainforest. No roaring motors chasing away the wildlife and disturbing the peace.
"One"

This is our guide Redzuan or better said "One", which everyone seemed to call him. He is a great guide, full of knowledge about the nature surrounding us, full of enthusiasm and love for nature. And it was great to have him with us.
It felt more like having a knowledgeable friend with us than a real guide. What more could we ask for! :-)) So I just want to say: Thanks One, for making our roundtrip on Borneo extra special :-)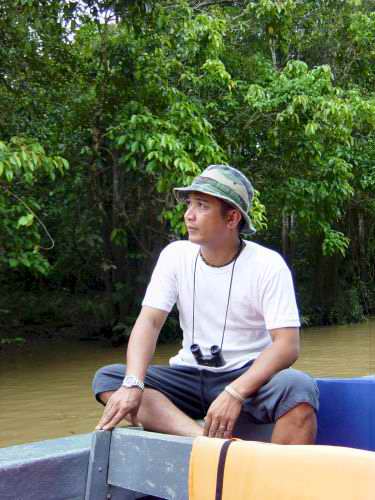 "One"
The banks of the river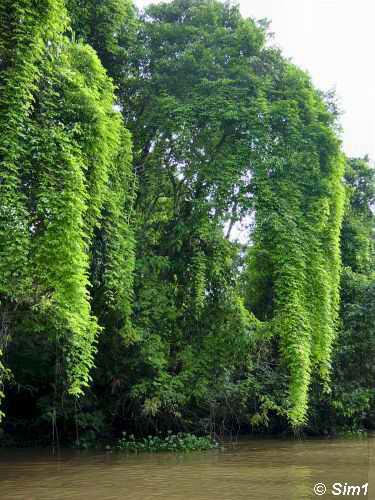 The banks of the river
The river Menanggol isn't that wide and we slowly move along the thick vegetation of the river banks. Our eyes are wide open, searching for wildlife, birds, snakes, or anything else that might move in these trees and bushes.
But of course the inevitable happened: we got distracted by the landscape. The trees and hanging plants over the river just look beautiful. Even without seeing any animals it is beautiful here.
Fallen tree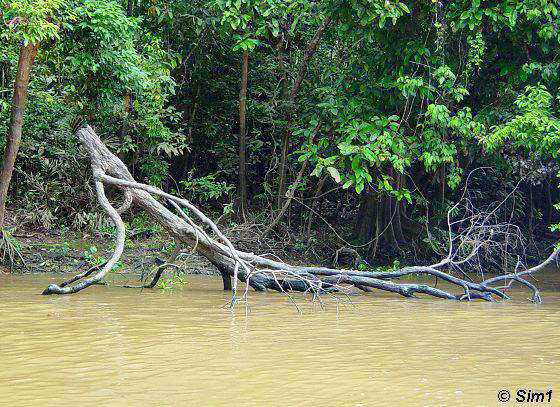 Fallen tree
Nature here is like nature should be, left alone, created by itself. This fallen tree in the river is left alone, its branches trying to hold on to the riverbed.
How long will it be able to stay here, before the river gets grip on it and takes it downstream? Maybe it is meant to be here for the rest of its life, slowly rotting away and giving way to new life while doing so.
Sukau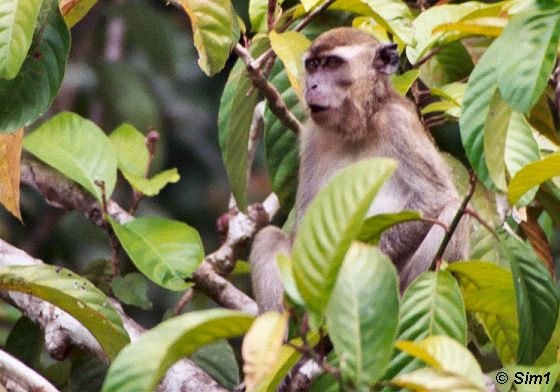 Macaque
But even if we got distracted by the surrounding landscape, our guide and the boatman kept their eyes wide open. "There! On the left! Macaques!!" Whispered the boatman enthusiastically.
He slowly manoeuvred the boat to the riverbank so we could as close as possible to the Macaques. Wow, my first monkeys I've ever seen in the wild!!! I was so amazed, impressed, excited.... hahaha, not really sure how to call this feeling. These were my first macaques, but certainly not the last I would see on this trip!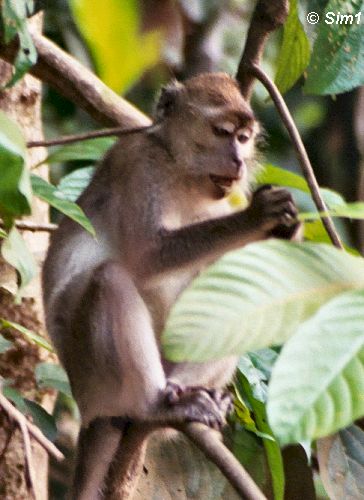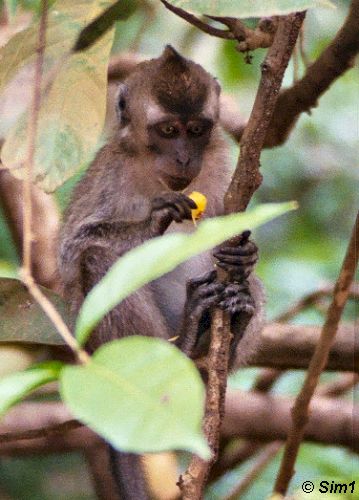 Climbing like little acrobats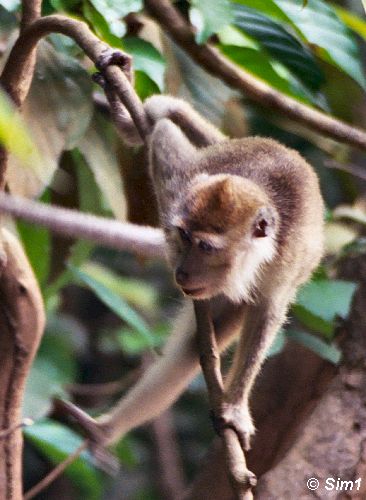 Macaque
The boat stopped as close as we could to the river bank and we all looked up in the tree tops. A real "ooooh" and "aaaah" moment for me, and of course I went 'click' 'click' 'click' with the camera! :-)) This was something I wanted to capture on film! So amazing to see! Well... remember, this was my first time I saw monkeys in the wild! That's something special! Hahaha, I think so anyway :-)
The macaque is not a shy species, they didn't seem to be that much impressed by our presence. They went on with their daily business, climbing in the trees, like little acrobats, or just lazily sitting and looking around.
So cute

Okay, one more of those macaques, just because this one is so cute! :-)) It looked so small and cute and funny!
But I have to admit that in reality these macaques aren't so cute at all. They are a real group and when one of them gets angry at you and wants to attack, the other macaques are not far behind. So it is wise to keep a safe distance to these creatures even if they look cute.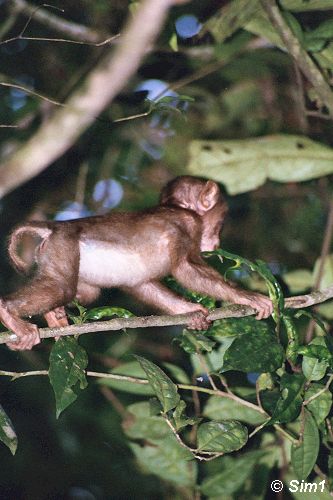 So cute
Huge trees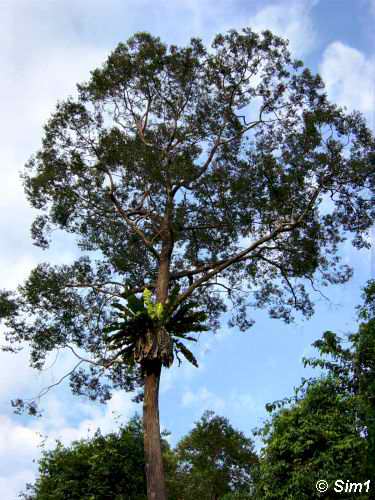 Huge trees
Okay, back to the surroundings again. The forest is quite dense on the river banks, but when you look up you might spot some almost lonely looking huge trees.
But what is that growing just below the tree top? That's not part of the tree itself is it? It seems like the tree has some sort of guest living there......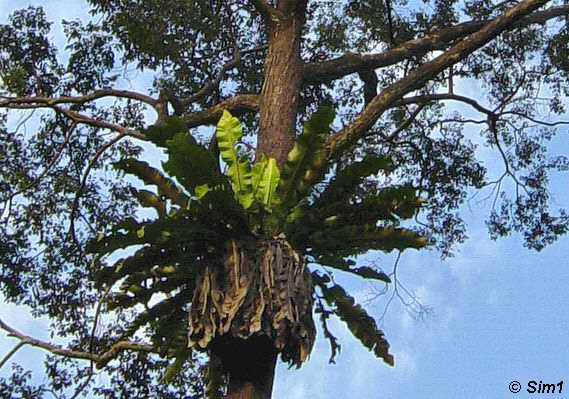 Birds Nest Fern
High up in the tree is a birds nest fern. I really love this fern and I spotted it quite often in the treetops here in Borneo. These ferns can be huge, like this one, and if you look at them they do have a bit of a shape of a birds nest.
Snakebird

Going from a birds nest to a bird is not such a big step to make. And in this case it is a snakebird. I spotted this type of bird quite often in the area around Sukau, and without a doubt you will see it for yourself when you visit this area.
The snakebird is quite a large bird, mostly black in colour. But the mean characteristics of this bird is its long snake-like neck, hence the name snakebird.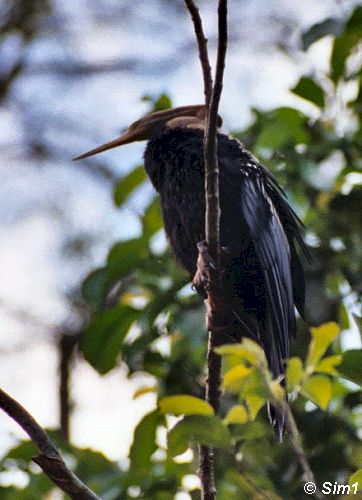 Snakebird
Snake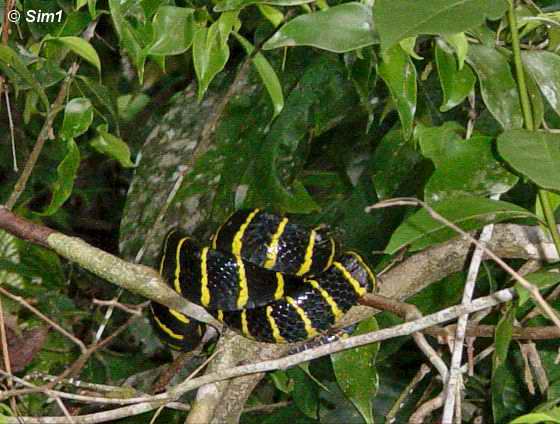 Snake
You get what you order on this trip, and I asked for snakes.... hahaha, so I got to see plenty of those! So why do I want to see snakes you probably ask yourself?
I was making fun with some friends in Sweden about all kinds of creepy things I would encounter on Borneo. They all thought they could scare me with the idea of snakes. Well, that was not working! Hahaha, so instead I promised them to bring home at least one snake picture. And here is one! Hahaha, one of the many snake pictures I made actually ;-))
If you are not really 'into' snakes, just don't mention them to your guide. They are hard to spot, so if you are not looking for them, you probably will never notice them ;-)
Monitor Lizard bathing in the sun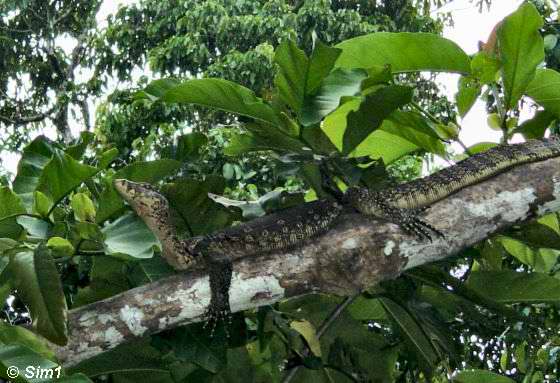 Monitor Lizard
Like the snake, most people probably won't get too excited by seeing a monitor lizard. Hahaha, but I do. Yeah, yeah, you can call me weird getting all enthusiastic about snakes and lizards, but for me it is all new. And as long as they keep a safe distance from me, I just think it is great.
This monitor lizard was laying lazily in the sun on a branch overhanging the river.
Sukau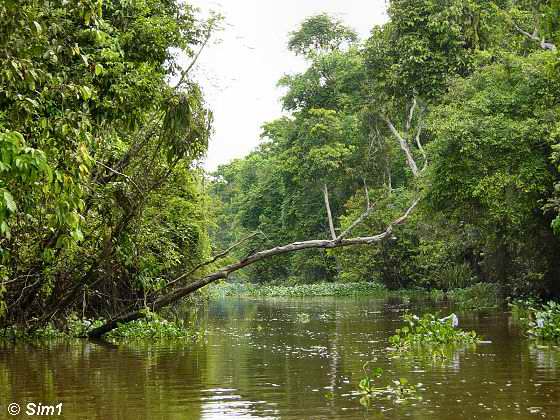 The river
The day is almost over, and the light is starting to fade away. It is time to turn the boat around and begin our journey back to the lodge. So far this river trip has been wonderful, I enjoyed every minute of it. But the trip is not over yet!
The 'real' highlight of the day should now start to arrive in the treetops along the river. It is time for the nose-monkeys to appear....... So keep your eyes and ears open.... we might see and here some of them......
Nose monkeys in love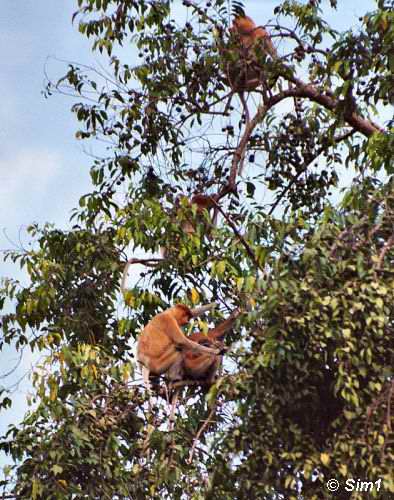 Nose monkeys
Nose monkeys!!!! Wow, there they are! A big group appeared high in the tree tops not so very far from our lodge. When the evening falls they all come to the bank of the river to stay overnight in the tree tops here. Wow, an amazing sight to see! Such wonderful animals!
But.... but.... what are those two doing there in the treetops!??? Hmmmm...... when you look at the picture you almost would think they are.... uuuh, well, I wonder if they would censure the picture if I told you what they were doing, LOL, so you better guess it for yourself :-)))
I am the boss!

A fantastic moment. A huge male nose-monkey stands up on his hind legs, making him even bigger and more impressive than he already is. All of a sudden he starts to produce a huge amount of noise. He clearly does not agree with something that goes on above him in the trees and he is showing he is the boss. And yes, he is the BOSS!
It quiets down again in the trees. The moment is over. It seemed like a unique moment, and it was fantastic to have been a witness to it.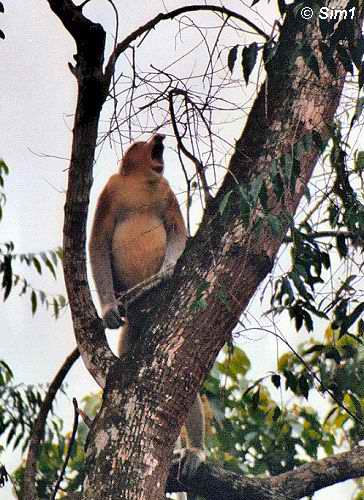 I am the boss!
Night life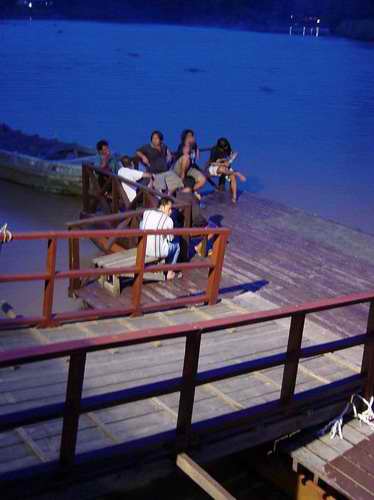 The guides
The evening falls, it gets dark very quickly. But it is still so nice and warm outside. It is great to sit in one of the lazy chairs overlooking the river, reflecting back to the wonderful day we had. Bats, monkeys, snakes, cockroaches, birds, you name it, we saw and did it. Hahaha, well, that's how it feels like it anyway.
Down below us on the pier all the local guides gather together for a chat and a drink. That's all the nightlife you will find here. But it feels good. It is all the nightlife I needed that night. Quietly enjoying, thinking, reliving the day. A wonderful day.
Our little friend the filmstar :-)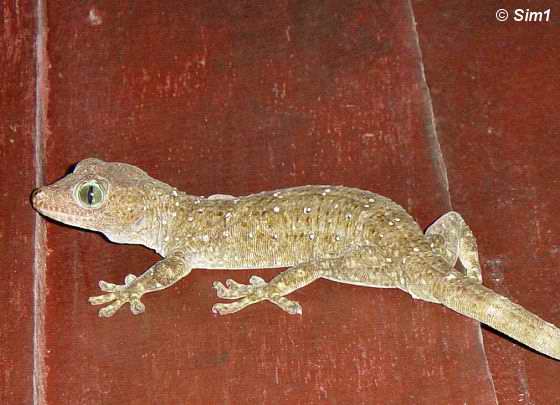 Gecko
I shouldn't forget to mention our little friend the film star! This little gecko was clinging to the wall of our outside dining room, making noise to catch some attention. "Hi my little gecko, you look cute!" "Do you want your picture taken?" Of course it does, hahaha, or that's the way I interpreted it ;-) But oops.... it was quite dark of course where the little gecko was sitting and I couldn't really see him through my camera lens. There was only one option..... point the camera, zoom in and just lets hope I am aiming right..... the flash goes, yep, I've got him..... but uhhhhh, only parts of it. Not the best of pictures when the head is missing.... hmmmmm......
The gecko doesn't seem impressed, almost seems like it is smiling at us.... try again, if you dare! It seemed to be saying...... Oh well, you're right, lets try it again! :-))..... and again.... and again....
After about a dozen attempts we finally had the gecko full size in our picture frame. The gecko wasn't impressed at all. I think he would do marvellous in Hollywood..... a real movie star :-))
Good morning monkeys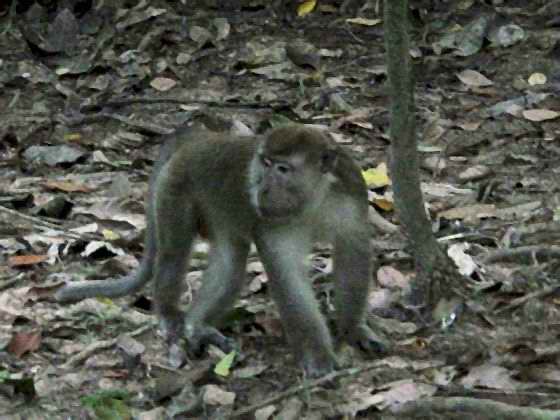 Macacque
Good morning!!! Arghhh... early, early morning! Hahaha, it was so early, I can't even remember the time we got up :-)) But what a surprise I got when I got out of our lodge! Still feeling like a zombie, eyes hardly opened, I got the surprise of my life. At the end of the walkway, close to our lodge, there was a group of Macaque monkeys trying to eat some fruit.
It was so much fun to watch this group of Macaque , see them sitting in the trees, racing around over the ground, and try to eat the large piece of fruit laying on the ground. I was so taken by all this that I forgot my breakfast..... oooopsssss........
With only a few minutes to spare, I managed to get some food in my stomach and hurry to the boat. Today we are having an real early start to the day! But I don't mind. After seeing those macaques so early in the morning, I had a feeling this was going to be the perfect day! Early morning is the best time to see wildlife, so off we go...... so come on and hop on in the boat, and lets see if we can find something! :-)
A day on the river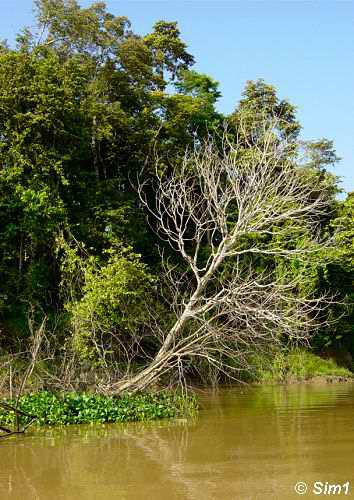 A day on the river
The sun comes up quickly, making everything look so bright and cheerful. Today's trip is going to start on the big river, the Kinabatangan. The atmosphere of this river is so different than the small river we were on yesterday afternoon. It is wide, huge, with impressive vegetation on either side. This river is a perfect place to do bird watching.
Camera ready?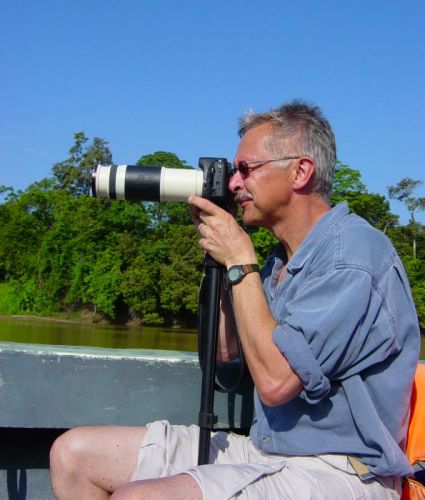 Åke
Camera ready! Let the show begin! :-)) It's wonderful to see the nature of Sabah, here along the Lower Kinabatangan river. Birdlife is the most you will see and if you want to take pictures of it, a good long lens is advisable.
This is a 400mm lens and that is already pushing it if you are thinking of taking some descent pictures. Most birdlife can be spotted high up in the trees or on the river banks. The main problem is when you get close with the boat, the birds will fly away. Of course this gives some opportunities to get some great action shots, but it doesn't make life easier ;-)
Sukau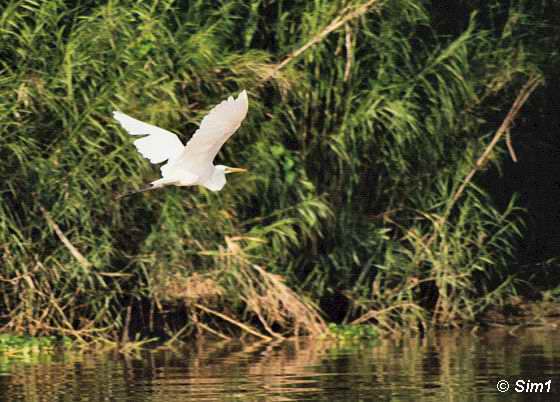 White Egret
The first one on the list to show you is the White Egret. This bird isn't originally from Sabah, but it seems to love it here, and that's why you can spot them in an abundance. I think it is a beautiful gracious bird, really striking with its bright white colour.
Pied Hornbill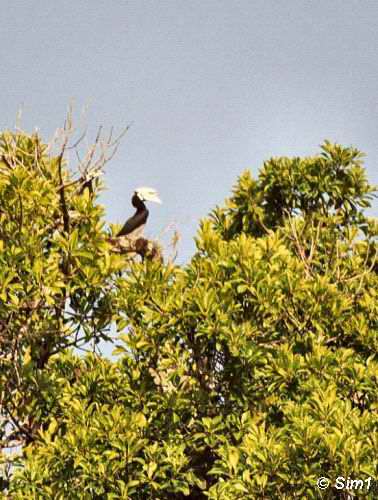 Pied Hornbill
I was so happy to spot this bird, the Pied Hornbill. I actually saw quite a few of them and they are beautiful! The striking part of this bird is its amazing beak. The picture isn't so clear as the bird was sitting high up in the treetops. But I find the bird special enough to give it a little spot on this travel page :-)
High up in a tree

Another high up in the treetop pictures. On the top branch you can see a white egret and on the lower branch a snakebird. They didn't see to mind each other so much sitting so nicely together in the tree.
These two birds are the two varieties I saw most here along the Kinabatangan River, and these were certainly the two type of birds that were easiest to photograph.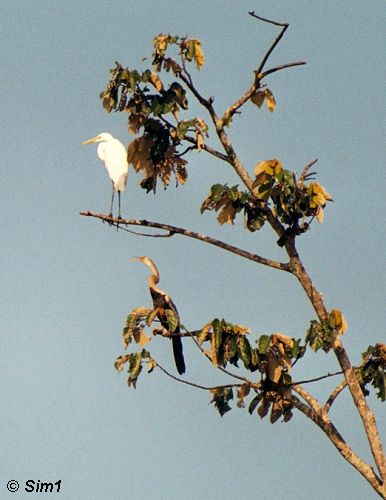 High up in a tree
"One" explaining what we spotted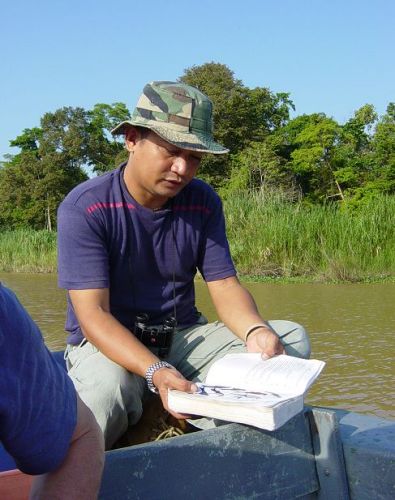 Our guide "One"
By now you are probably sooo impressed by my bird watching skills and knowing all the names of the birds we spotted. But ehmmmmm..... I have to confess I couldn't have done it without the help of 'One', the guide.
We saw so many more types of birds during our trip, but of course I forgot all about their names. I just remember it was great to watch them.
White Bellied Fish Eagle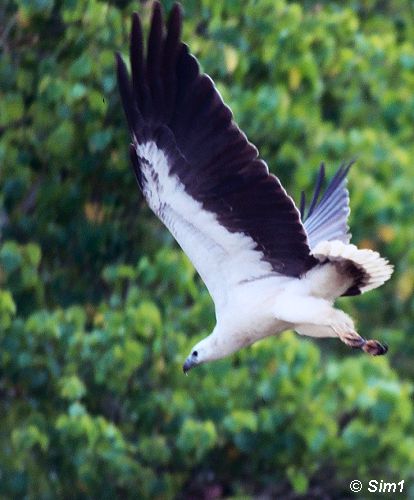 White Bellied Fish Eagle
We had an absolute stroke of luck when this White Bellied Fish Eagle passed us. It was sitting in the treetops, but probably got disturbed by our boat heading its way. So it flew up, but it passed almost directly over us, giving us a great opportunity to watch the bird from close by. Wow, so impressive!
Crocodile!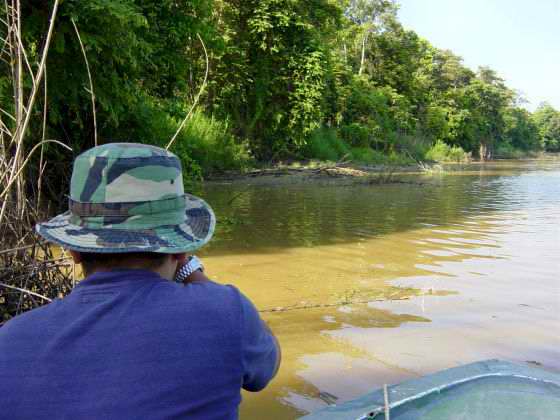 Crocodile!
Crocodile!!! The boatman suddenly shouted! There! To the left!!! Where? where? I don't see anything, I answered almost desperately. Aiks, I was too late....
All I could see were some bubbles of air on the spot where the crocodile went under water. Looking over the shoulder of 'One' we tried to spot it again as it might have surfaced again on another spot. But in vane..... that's all I would see of that crocodile.... blub, blub, blub, bubbles of air :-)
Sunbathing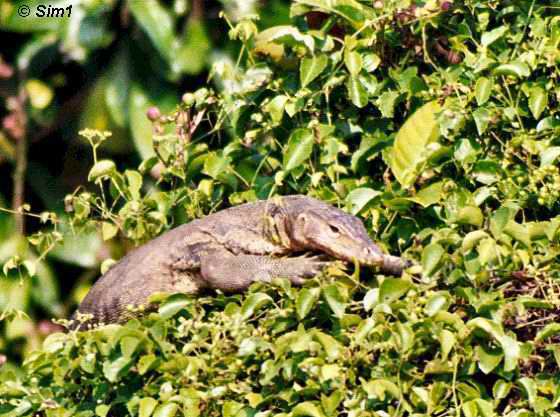 Monitor Lizard
No crocodiles unfortunately, but instead another animal I am not used to: a Monitor Lizard. Hahaha, and with a little bit of fantasy it looks a little bit like a crocodile ;-))
This Monitor Lizard was enjoying the great sunny weather to the fullest as you can see :-) This lizard was quite large, at least over a metre long.
Time to Relax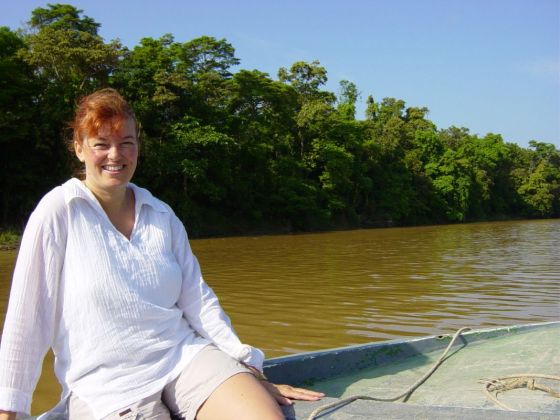 Simone being lazy
I wonder if I was inspired by that lazy lizard, hahaha, anyway, I thought it was a great idea to do some relaxing sitting in the sun myself. We left the banks of the river and started heading to our next destination: the Oxbow Lakes.
Be warned though if you are thinking of going sunbathing here. The sun is really strong and you'll burn before you know it. So don't forget to put on some suntan lotion to protect you from the sun. I can say I was really glad wearing this thin long-sleeved shirt, giving me some more protection against the sun.
Sukau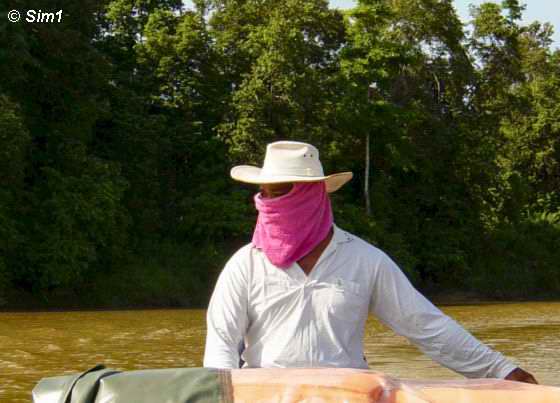 Our boatman
I guess the boatman agreed with my tip about protecting against the bright sunshine. Hahaha, but why he chose this bright PINK towel to protect his face from the sun will always remain a question to me, LOL :-))
He had real sharp eyes though and in the two days we were with him in the boat, he totally amazed me with what he spotted in wildlife. The most invisible creatures were not safe for his eyes. Simply amazing.
The river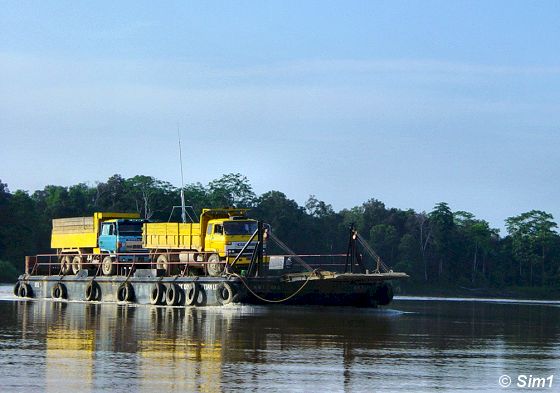 Transportation on the river
This Kinabatangan River is wide and it is the Sabah's longest river. It runs 560km from the mountains of south-western Sabah to the Sulu Sea.
No wonder it is used not as a way of transportation. But despite knowing that, I still found these bright yellow trucks quite in contrast with the surroundings. It was so quiet and peaceful here and it felt so far away from everyday life.
Canal to Oxbow Lake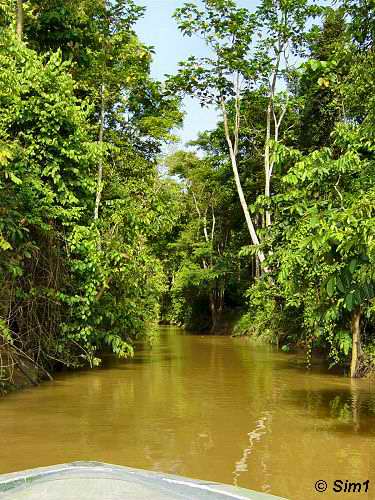 Canal to Oxbow Lake
It is time to leave the big river and take this tiny canal towards Oxbow Lakes. This tiny canal is the only way to get to the Oxbow Lakes by boat. And it looked like were the only ones knowing about it, because no one else was thinking of going into this direction and it didn't look so heavily used either.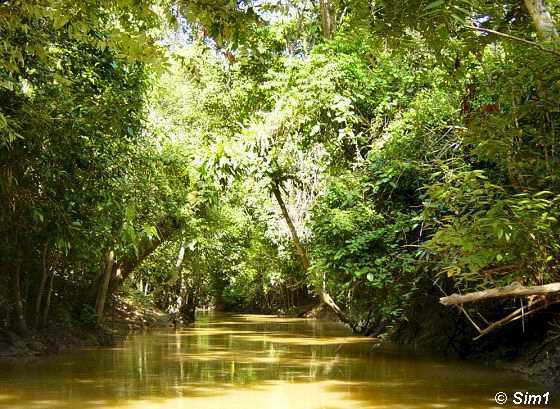 Canal to Oxbow Lake
This little canal was great and the rainforest seemed to get closer and closer to us while the canal narrowed the whole time. The smells and sounds of the rainforest, the birds, the cicadas, the soft noise of the water ripple against the boat, the sunlight filtered through the trees surrounding us. A simple moment, but a moment which I'll always remember.
Entering Oxbow Lake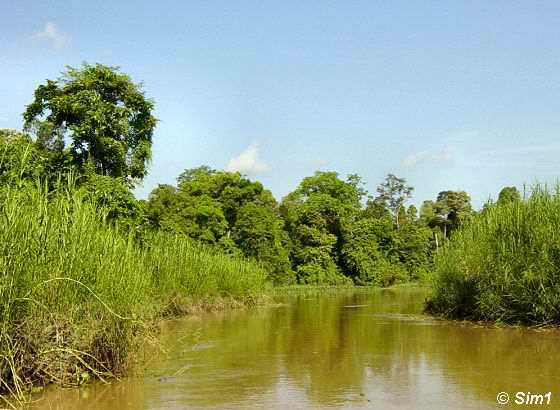 Entering Oxbow Lake
The canal opens up again and we have arrived at Oxbow Lakes. This is not only the name of this lake, but also the name for the phenomena of these type of lakes.
The so called 'Oxbow Lakes' have a distinctive curved shape and you can find them anywhere. They are the result when a meander from a stream or a river is cut off to form a lake, giving them their special, almost U-shaped form.
Snake Bird at Oxbow Lake

Oxbow Lake is a very quiet lake, nothing more than a curve in the river. It felt very secluded and from the rest of the world. There was no one else there but us, surrounded by beautiful nature.
The lake didn't seem very deep, especially on the sides, where it was almost more like a marsh. And that is where I saw this snake bird sitting on a branch that was sticking out of the water.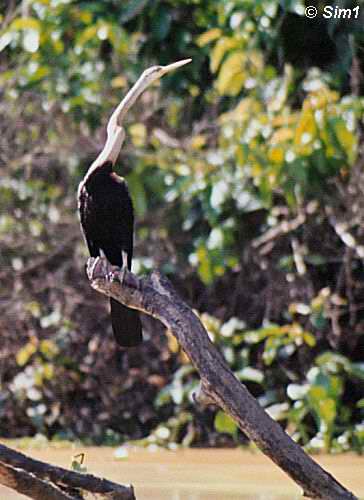 Snake Bird at Oxbow Lake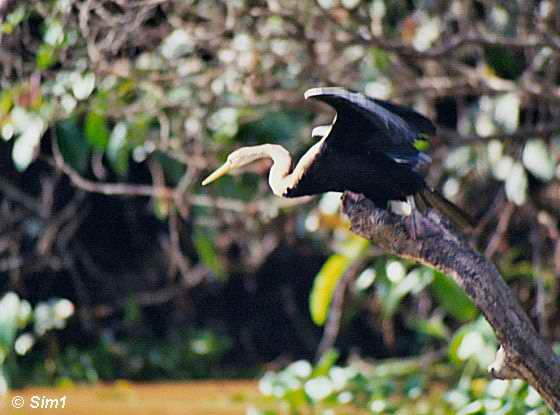 Snake Bird
As you could clearly see in the previous picture, the snake bird got its name from its long snake-like neck. Another name for this bird is Oriental Darter. It was just great to watch it here on the branch, stare at the water, dive in, totally disappear for quite a while and come up again.
Last I saw of it was when it was drying its wings in the sun. I could have observed it for much longer, such fascinating birds, but it was time for us to move on. Next stop: hiking around Oxbow Lake!
Water Hyacinth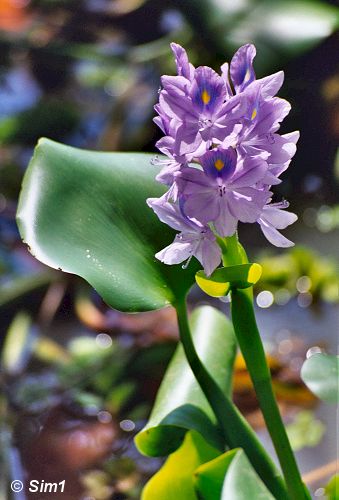 Water Hyacinth
But before we could get to the bank of the river, we first had to 'plough' our way through a carpet of Water Hyacinth. I know this flower very well, as I tried to grow it in my pond in The Netherlands. Hahaha, not with much luck though, because it is a bit too cold for it over there. But wow, seeing such a amazing amount of Water Hyacinth together, with its beautiful flowers was amazing!
You don't have to look far to see these flowers in this part of Borneo, because you can spot them everywhere on the rivers and lakes.
Sukau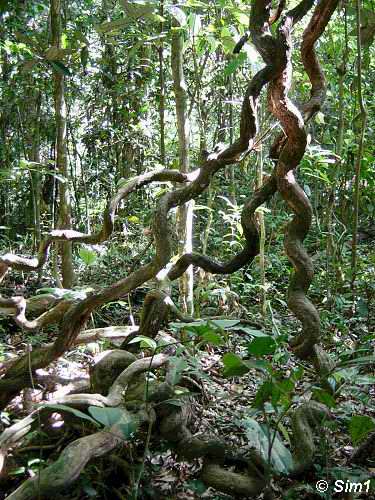 Hiking at Oxbow Lake
We are on land and will be hiking around Oxbow lake for the next hour or two. The rainforest is dense, and this is the kind of landscape we are going to hike through, trees, branches, liana, muddy tracks, not an easy trail to do.
I can't really call it a trail we are going to take because it is nothing more than an animal track we are taking. The heat is intense, the humidity is almost killing, and the nervousness is rising. I've never done this before! I wonder what we will encounter on our way.....
Leeches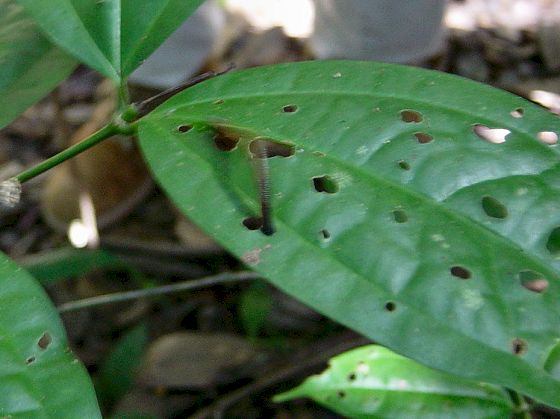 Tiger Leech on a leaf
The main 'danger' on this trip through the rain forest were these Tiger Leeches. You can see one on the leaf in this picture. You can just see it moving, sticking up its body, moving around towards the smell of warmth and blood.... eeks..... that must be my BLOOD it is after!!! eeeeks! Sooooo disgusting!!
I just kept my eyes open all the time, seeing them by the dozens, moving and wiggling around with their bodies, looking for humans or animals to feed on. And as I saw no animals, we seemed to be the perfect target for them. Hmmm, lunch they were thinking, yummie! ;-)
If they get on your clothes or body, they are easily to be rolled off, so no real worry. They often don't 'bite' at once, but wiggle around until they find a nice soft spot on your body before they start to feed. So you do have some time to remove them before they cause trouble.
Maybe no worries if you know all that, hahaha, but I got half in panic anyway. But after a few I got 'almost' used to them, LOL, not freaking me out so much as in the beginning. I can even call me the proud winner in the 'leech' competition, catching the most of them on my body from our group, LOL.
No need to say that if you plan to go hike in the rainforest like this, it is best to be well-dressed. Long sleeves and trousers are a must, with your trousers nicely secured in your socks to give them no opportunity to crawl up your legs. The less skin you expose, the more secure you are.
Strangler Liana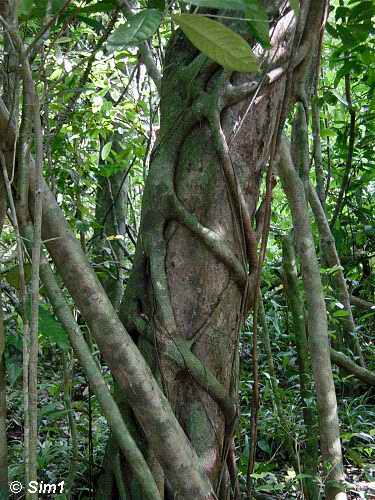 Strangler Liana
Trying to forget my disgust about the Tiger Leeches, hahaha, which was rather hard to do actually, I tried to concentrate me on the surrounding nature while we made our way through the rainforest.
It was so humid here and so warm, hearing birds sing and the noise of the insects all around me, it was an unforgettable experience. I never made a hike like this before in my life! Watch your step, mud pool ahead! Climb carefully over this branch, bend you head down, overhanging liana.... hahaha, slowly we made our way forward.
Our guide pointed out several plants and trees while we were hiking and this 'Strangler Liana' was one of them. When you look at the picture you probably get the idea why it is called this way.
The tree has died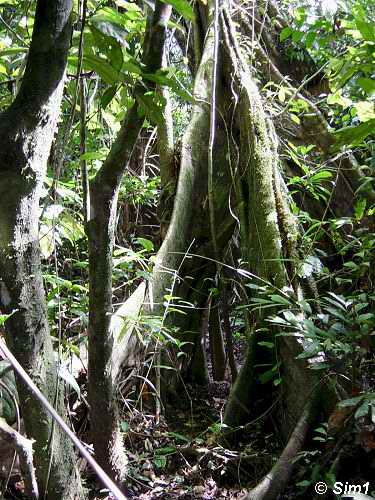 The tree has died
The end result of when the strangler liana has just its job. The liana has gotten huge, and the tree has died. Sad for the tree, but also for the liana. It need to find a new host tree as soon as it can, to support itself. Life in the rainforest is hard!
So did we see any animals?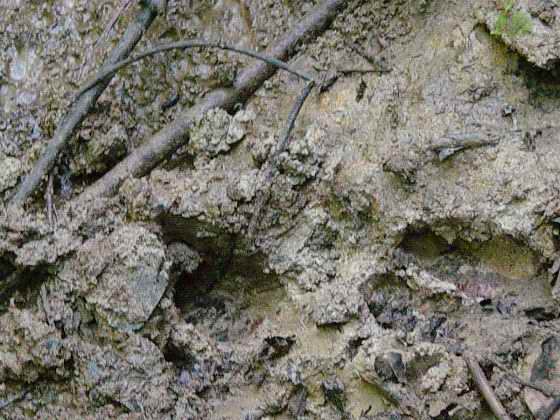 Boar tracks
So did we see any animals? Well besides the already well-known leeches, I saw spiders, caterpillars and some beautiful butterflies. We did 'sense' some more spectacular animals though. Here you can see the footprints of wild boar. There was quite a chance we would see them, but unfortunately we didn't. We could still smell them though, they had been in the area a very short ago.
Another animal we 'almost' saw is the elephant. I had no clue there were elephants in the wild, but they are. The only thing we saw from them was what they left behind, elephant poop, hahaha, not sure if that was a good thing LOL :-))
The last of the leeches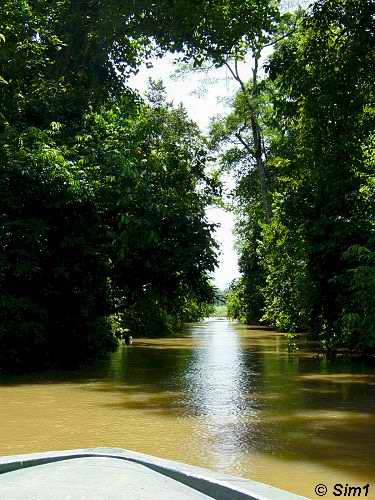 Going back to the lodge
Back on the boat again, time to head back for the lodge. And time to get rid of some of those extra layers of clothes that were so necessary during our hike. I was wearing some of those super-handy 'zip-off trousers' so I could easily take of the bottom part of them and turn them into shorts. But I have to tell you something before I do that.
All the way during our hike I had this 'uncomfortable' and 'uneasy' feeling on my legs. Well, nothing you can do about that when walking in the rainforest. so I decided it was just imagination. But when I was on the boat, taking off the bottom part of those trousers, I realized it wasn't imagination.... eeeeekssssss, a leech!!! Oh yeah, and that leech was having fun on my leg!!!
Hahaha, no need to say I did shriek a tiny little bit, LOL, but luckily Åke came the rescue :-)) Within seconds the leech was removed and the panic was over. The leech must have gotten on my leg by the little opening at the zipper of my zip-off trousers. That learns me for next time not to put on those fancy handy ones, but put on some sturdy trousers next time I go hiking in the rainforest, LOL :-))
But oops.... I had another one in the back of my neck as well! Good they didn't say that to me until it was removed.... arghhhh! Luckily that was the last of the leeches :-))) No more of those creepy things for the rest of the trip :-)))
Back home, feet up :-)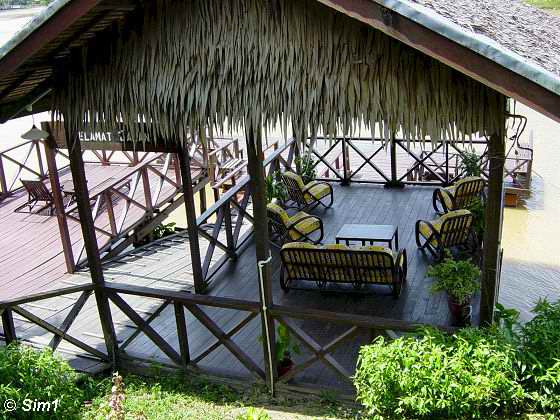 At the lodge
Back home at the lodge, time to put our feet up and relax. It is only around 1o'clock in the afternoon, but it feels like we already have had a whole day behind us.
So nice to be lazy for a couple of hours, escape the worst heat of the day and start dreaming about our upcoming excursion later in the afternoon :-)
Sukau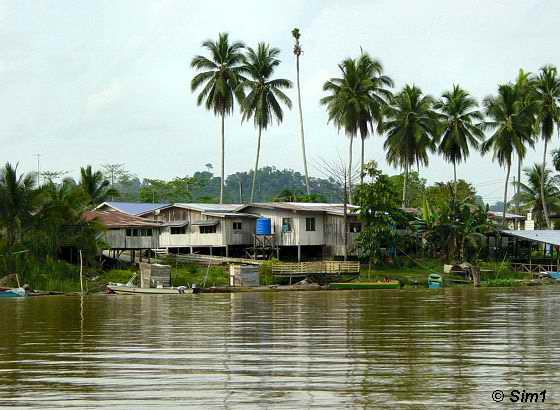 The village of Sukau
It is 3:30 in the afternoon, time to get on the river again. The heat of the day has calmed down a bit by now and I am eager to go out again. This time we our going to explore a bit more of the Kinabatangan River again, but now we are heading downstream instead of upstream. The first thing we pass is the village of Sukau.
So friendly! :-)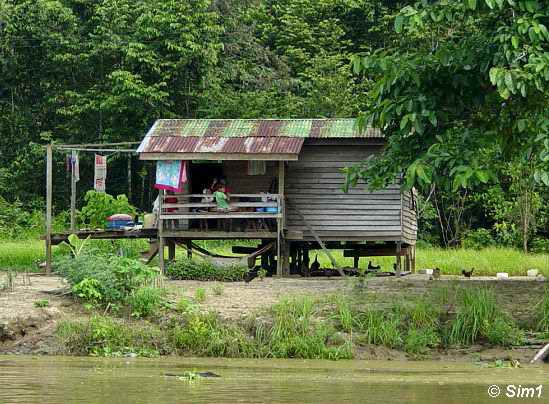 Around Sukau
After the village we saw some more houses, rather spread out, along the river bank. The people here seem so friendly. At every house there seemed to be some kids that were waving at us, and all of them were friendly smiling. Makes you feel good to see that :-))
There are those monkeys again!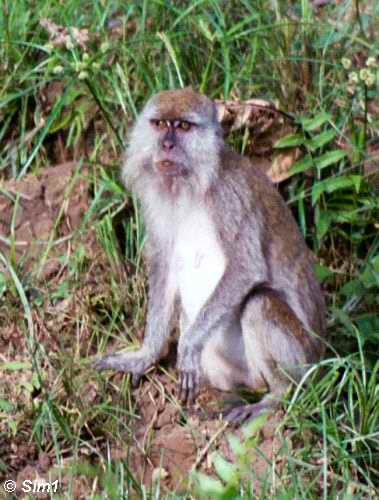 Macaque
Oops, there are those macaques again! It seemed where ever we went, there were macaques. This group we spotted on the river bank was rather shy. Except for this one, which gladly posed for the picture :-)
The cave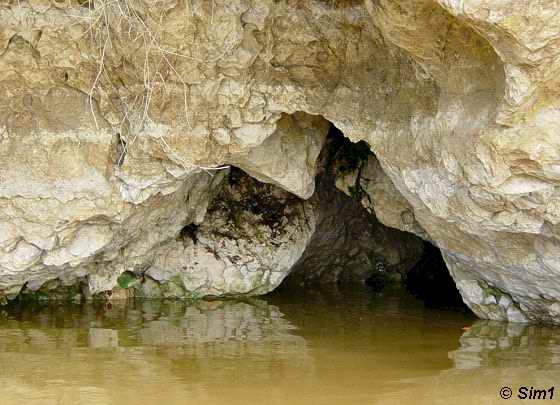 The cave
After a while we saw some huge cliffs sticking up high out of the water. These limestone rocks were huge, so huge that I didn't see this little cave at first. But it is not just a cave, this is the home of the glossy swiftlet and the pacific swallow. And besides that it is a bat cave as well.
Swiftlet nests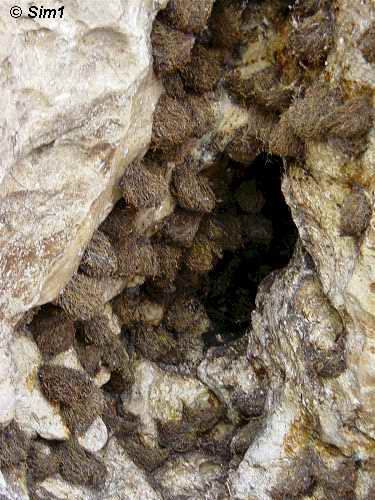 Swiftlet nests
When we got close to the cave we could see a huge amounts of nests clinging to the wall of the cave entrance. These are the nests of the glossy swiftlet. These birds make their nests of saliva and plant material.
Different types of nests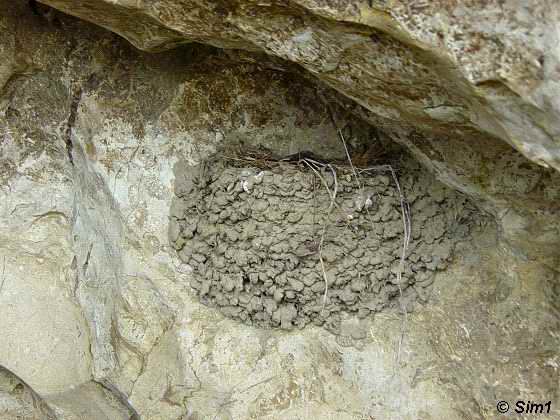 Pacific Swallow nest
But the glossy swiftlet nests were not the only ones present in this cave. We also saw these totally different looking nests of the pacific swallow. I contrary to the glossy swiftlet nests, these are made of mud and plant material.
A swiftlet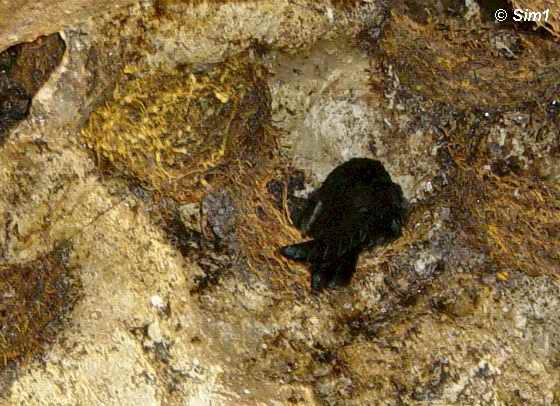 A swiftlet
This is not the best of pictures, but it is to give you some idea what we saw. Most of the nests were empty, but not all of them! So from really up close we could see the swiftlets sitting on their nests, so cute! :-)
Sukau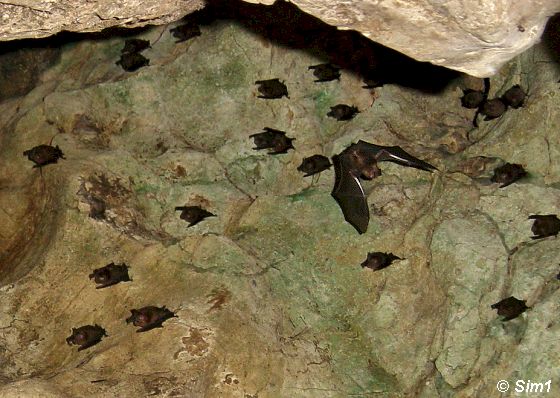 The batcave
But the most sensational about this cave were the bats! From the cave entrance there was an opening to the right, and in that area it was full with bats! So cool! But not all of them were sleeping though, some of them flew in and out of the cave. When you click on the picture you can see clearly that one of the bats is flying directly towards us.
It was such a weird sensation to feel the bats fly past my ear when flying out of the cave. There was only a small opening left, as we were blocking most of the cave, but they knew exactly how to find it.
The legend of the Rock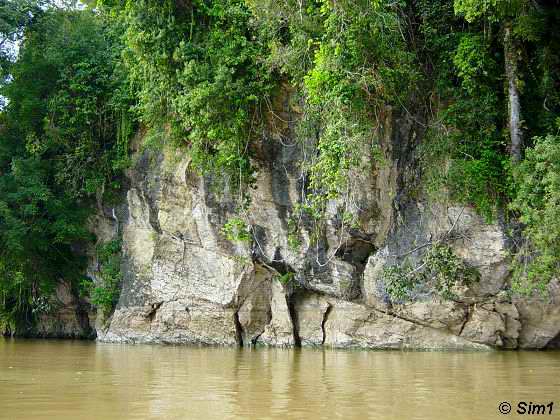 'Big Tumangon' Rock
This cave is a little part of a huge limestone rock called 'Big Tumangon'. And this is not just a rock, but a rock with a legend. Our guide 'One' told us about the legend of the rock. It's a long story, but it was great and heart warming to hear. In short it ends with: everyone that passes the rock can make a wish, and it will come true.
Sounds probably unlikely to most of you. But I sensed something special about this place, it captured my heart. So I made a wish, and it came true, within an hour from wishing it. For me 'Tumangon' is a special place. And if you go here, don't forget to make a special wish.
Nose Monkey drinking water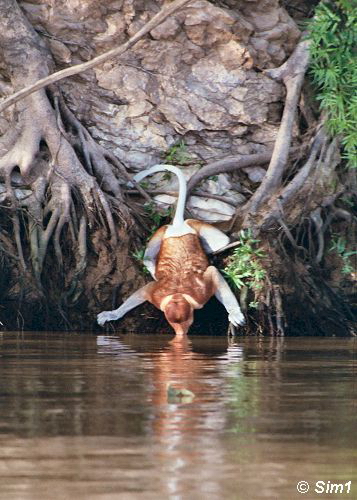 Nose Monkey drinking water
When we turned back on our trip and passed this limestone rock again, I all of a sudden saw something moving on the water edge. First I was in doubt, is that a nose-monkey?? Nooo, that can't be. It must be a fisherman.... or....... ?
But my doubts remained, so I said to everyone, with a big question mark.... is that a nose-monkey over there??? The guide, the boatman, everyone got into immediate action! "Wowww, a nose-monkey drinking water from the river!!!" "This is special!!!!" So slowly, not to disturb the nose monkey, but also as quickly as we could, the boatman manoeuvred the boat to the shore.
Wowww, a huge male nose-monkey was sitting there, upside down, clinging to the rocks, drinking water from the river.... fantastic!
I am the boss!!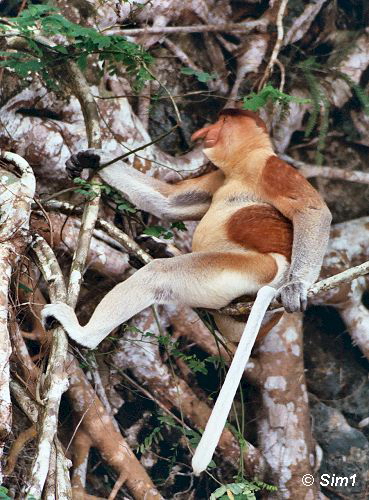 Nose Monkey
The big male nose monkey was along the riverbank with his whole family. But as soon as we approached the whole group, that was sitting in the trees, climbed up the trees to the top of the rocks, out of our sight.
This male nose monkey on the other hand, wanted to show he was brave, so he made himself big and impressive, saying "I am the boss and "I am not going anywhere else because you guys are here!"
Wow, and that made this a unique opportunity for us to watch the nose-monkey from up close. What an amazing creature, fantastic to see it sitting here in the tree, watching us from a safe distance, but still being so close by.
I have to write about this fun fact :-)). Did you know that the nose monkeys are also "Monyet Belanda"? Hahaha, which means the "Dutchman Monkey"! :-)) As a joke on European traders and colonials they named this monkey after the Dutch. Both were hairy, had big red noses and big bellies! Oopsss.....
Hahaha, am I glad that I am not a 'real' Dutchman anymore, but now partly Swede ;-))
Amazing to watch the nose monkeys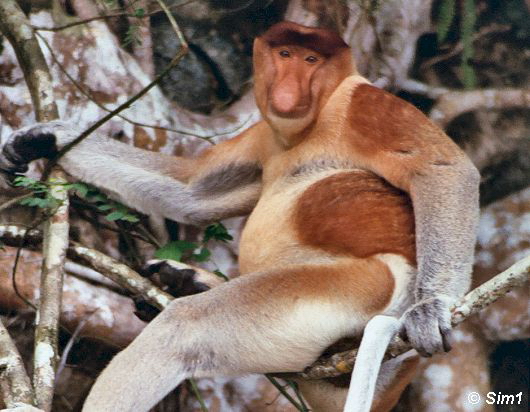 Nose Monkey
The nose monkey or Probioscis Monkey is a fascinating animal to see. The big nose looks absolutely funny of course (did you know that its nose keeps growing during its whole life?!). But besides its so characteristic nose it is just an impressive monkey species to see.
They are so wonderfully colourful with their warm red-brown coats, their cream coloured chest, their arms and legs going from red-brown into grey at the bottom. And not visible in this picture, but you can see it in the previous, they have this amazing long white tail.
I think I could write on about this monkey for days, hahaha, and show you just as many pictures. But I better not. For me seeing this nose monkey on the water side and in this tree, was the highlight of my trip to Borneo. Amazing, amazing, amazing!
Life along the river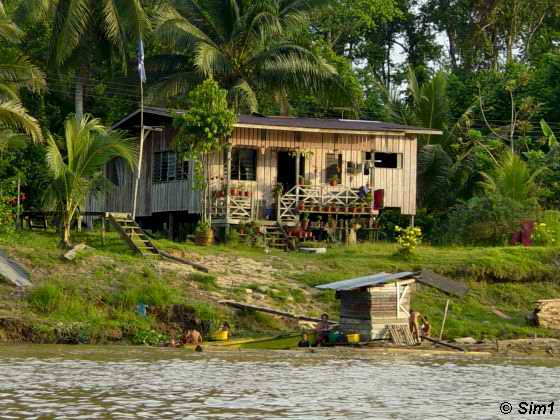 Life along the river
We are on our way back to the lodge, but I didn't mind. Wow, what a day, wow, what we had seen! This has been an amazing day, on an amazing trip. It was time for me to calm down now, just sit down and relax in the boat, looking at the surroundings.
When we got closer to our lodge, we got into the more populated area again. This little house surrounded by palm trees looked so picturesque. It looked very well kept and was surrounded by flower pots, giving it a cheerful look. The whole family seemed to have decided to go for a swim in the river and having great fun.
Sukau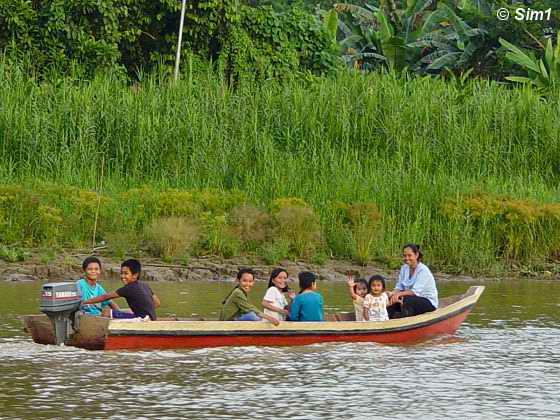 Friendly people
It was time for me to say goodbye to the river and goodbye to its people. Look at those big smiles and the little kids waving in the boat. They all looked so happy. They were looking so happy as I was feeling inside myself. I'll never forget Sukau, what a place, what an experience. I know I will always smile when thinking back to this day.
But at the same time I had a mixed feeling. I felt so very happy to have been here, but at the same time so sad to leave it. Will I be back? Maybe. Will I forget this place. Never!
"Rain"-forest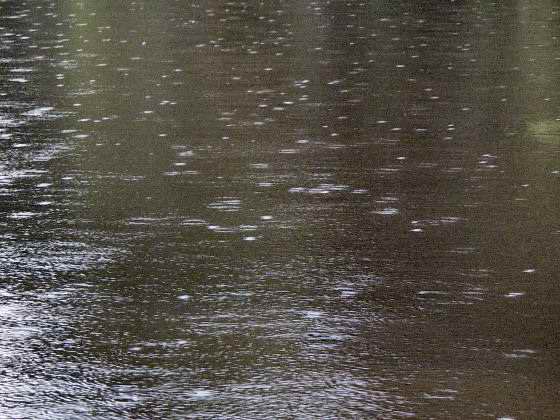 Watch out for the rain
We have been in the rainforest for quite a long time now, first around Mount Kinabalu and now at Sukau. You would think it would rain lots here! But no, I was in luck!
This was the first day we felt some drops of rain on our head in the late afternoon. So I guess a wise advise would be to be prepared for some serious downpours. I just had the luck not to have to use them :-)
Liquorice animals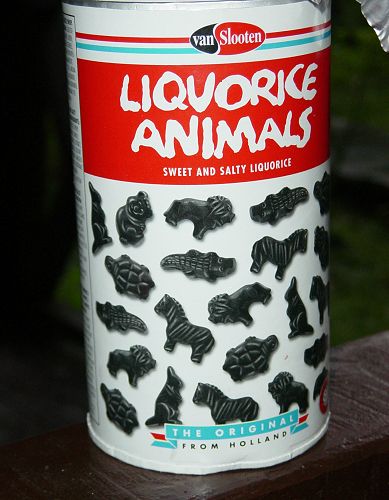 Liquorice animals
Okay, I have to admit it, I am a real sweet-tooth. So with me to Sabah, I brought this big can of "Liquorice Animals". They tasted great, hahaha, and I was amazed that I was able I hadn't all of them by now. But this afternoon, getting back to the lodge, I felt I just HAD to have a "Liquorice Animal".
I remember clearly from that morning that I had one precious candy left in the can. Yummy! That last "Liquorice Animal" was going to taste sooo good! So without looking (as I always do) I put my had in the can..... But oops...... what is that????........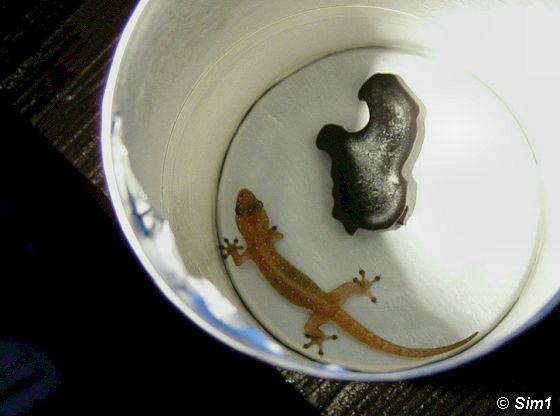 Liquorice animals
In the corner of my eye I saw there were TWO objects in the can, and in a reflex I removed my hand again. That's not right! I was sure I had only one animal candy left!!!!
I bend over to look in the can to take a better look at what I saw. Hahaha, and started to laugh without end! :-))) Oh yes, there were two animals in the can, but only one of them was Liquorice! LOL :-))
This little lizard was looking up at me. Hahaha, I think both of us were glad that I noticed him just in time, LOL.
Night walk in the jungle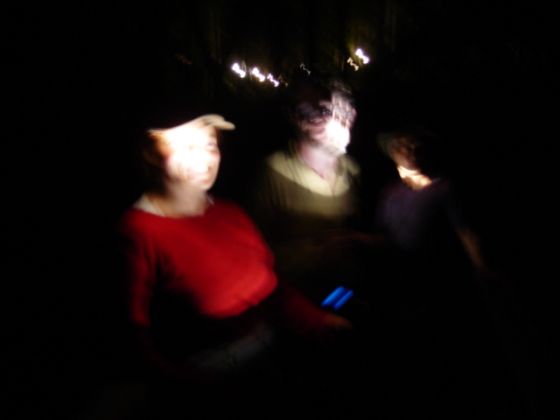 Night walk in the jungle
A thunderstorm is rumbling in the distance, but luckily it is still far away. For tonight we are going to do a night walk in the jungle. Because of the thunderstorm it is only going to be a hike of an hour, not leaving our camp too far behind us. If the rain starts to pour down it is best that we can get back as quickly as possible.
The night is pitch-black. I don't think I have stood in such total darkness before. But it is not quiet! The sound of the rainforest at night is still overwhelming. Rather scared in these dark conditions I cling on to my torch. That is my only light source, and I sure don't want to be without it down here!
Night walk in the jungle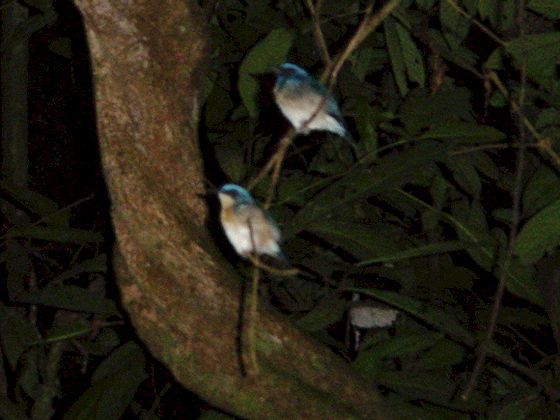 Night walk in the jungle
I slowly start to relax while walking in the dark. We follow our guide closely, making our way through the dense forest. With our torches we start to light up the trees in search of some life. And yes, there is life out there in the dark!
As you can guess it is near to impossible to take pictures in these pitch-dark conditions. But we did somehow manage to capture these birds with our camera.
Walking in the rainforest at night is an amazing experience. Maybe during the day you feel small in the huge rainforest, but at night, you feel totally overpowered. You are a mere guest, the forest rules.
With this almost humbling experience our trip to Sukau has come to an end. As you could read on this page, a trip I won't easily forget. A place where I would love to return to. I just hope it will stay the way it is now, quiet, and not overrun by tourists.
The trip continues....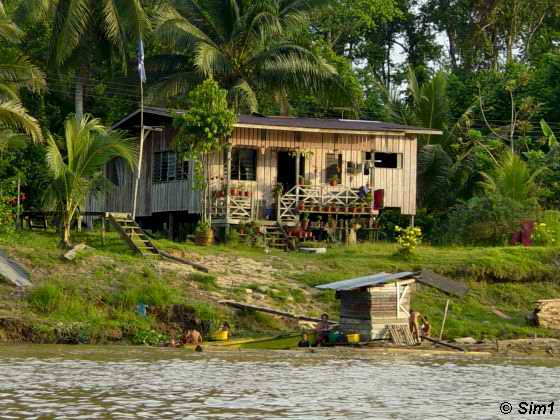 Libaran Island
My two days on the river has come to an end. Two amazing days. From wildlife to creepy crawlers, I saw and experienced it all here. A fantastic journey, and I hope you enjoyed travelling virtually with me to this amazing place on Borneo.
The previous leg of my journey was a travelling long day and you can read all about that on my 'Going to Sukau' page. It was great to see a bit of the country, learn about the palm oil plantation and visit the Gomantong caves.
My next page will be about Libaran Island. An island in the Sulu Sea, a place to relax, learn more about the local life of the people on the island and a great location for exploring the mangrove forest.
I hope you will join me on this virtual trip and enjoy reading my travel stories and see the pictures. For me it has been fantastic to write about my journey because it has made me relive the trip once again :-)