Roundtrip Borneo, June 2004
Karambunai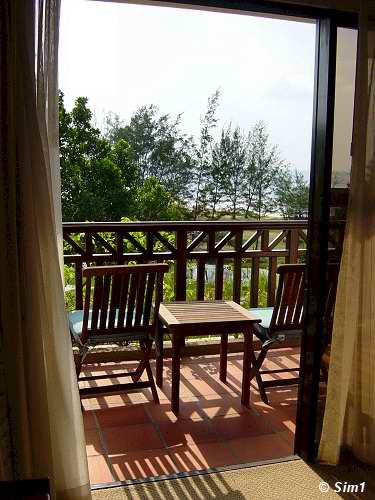 Lazy on the balcony
Good morning everyone! I think this is going to be one of the most LAZZZZZY pages here on my website. Hahaha, or at least I will give that a try :-))) Why? Well, that is all what this resort is about, Luxury, LAZZZZZY and being away from it all :-)
So please join me on the balcony, have a nice cup of tea, relax and lets wake up slooooowly, hahaha, no hurry today! We got the whole PAGE long to do nothing :-)))
Mmmm, so good to make such a LAZZZZZY start to the day ;-)
Where is Karambunai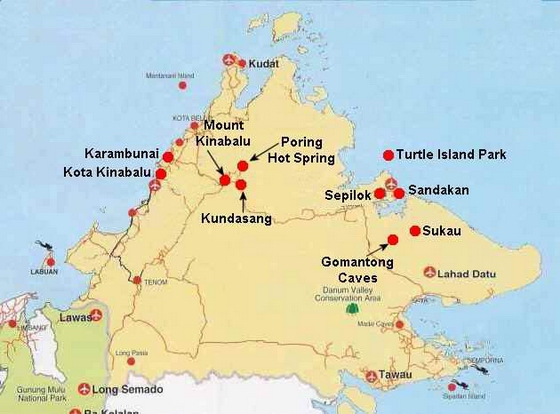 Map Sabah
But before we are going to do anything, let me show you where Karambunai is on the map.
Karambunai is located on the west side of the State of Sabah (Borneo, Malaysia). Nexus Resort at Karambunai is not that far from the city of Kota Kinabalu; the capital of Sabah. It only takes a LAZZZZY drive of 30 kilometres from Kota Kinabalu to the North East to get to Karambunai.
Breakfast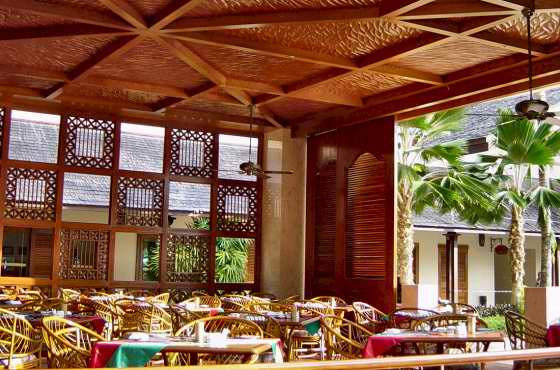 Time for breakfast
Okay, we can't be LAZZZZZY all the time, I think it is time to get some breakfast. Nooo, take it easy! We are not THAT much in a hurry! The breakfast buffet is open until 10:30 in the morning, so we've still got plenty of time to get some food :-)
There are two places where you can get breakfast: the 'Penyu' and the 'Kingfisher'. The choice of restaurant isn't so difficult. It is more the location that you prefer than anything else, as the buffet is exactly the same at both places. You can get anything you like here, plenty of choices! Coffee, tea, juices, fresh fruits, breakfast serials, eggs in all kinds of ways, toast, rice dishes, meats and fish, and so on, and so on.
The buffet opens I think at 6:30, hahaha, for the 'non-LAZZZZZY- ones' among us. Hmmm, that sounds impossible here! Aaah, of course, it must be for the ones that need to get up that early to catch the plane home. Vacations can't last forever!
The hotel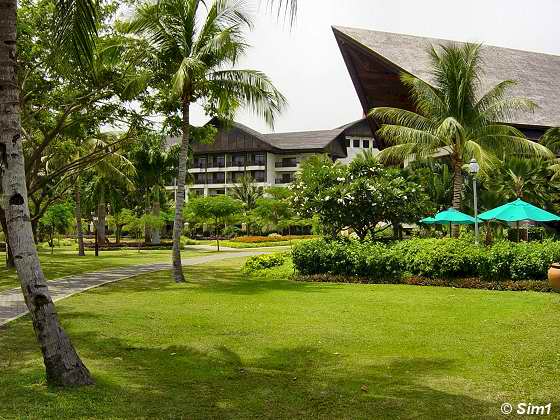 Nexus Resort Karambunai
So while we LAZZZZZILY enjoy our breakfast, let me tell you a bit more about this place.
Nexus Resort Karambunai is a huge 5-star resort located quite isolated along the coast on the Karambunai Peninsula, 30 kilometres northeast of Kota Kinabalu. The Resort is 3,335 acres big, edged on the one side with a 6 kilometre long beach and on the other side with a lagoon. The hotel has everything you can think of and more. For golf enthusiasts the 18 hole championship golf course might be the main attraction. But maybe some of you rather like to relax in the luxurious spa. I would have loved to play a round of golf here, hahaha, but I guess I was just too LAZZZZZY to do that while I was here ;-)
Our room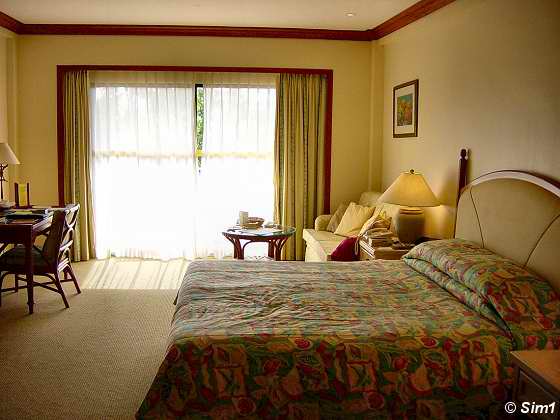 Nexus Resort Karambunai
And here is the room. Nice and big, plenty of space, nothing to complain about! In the room there was a little sitting area with a nice LAZZZZY sofa and table, a desk to sit at.... uhhh, make that two desks, LOL, one to write at and another one where you can just look into a big mirror and pretend you look beautiful ;-) There was lots of space to hang up your clothing, a television, mini-fridge, and a nice big modern luxury bathroom. Room service came around twice a day to make sure the room is in tip-top order and if you need, give you more towels.
View from the room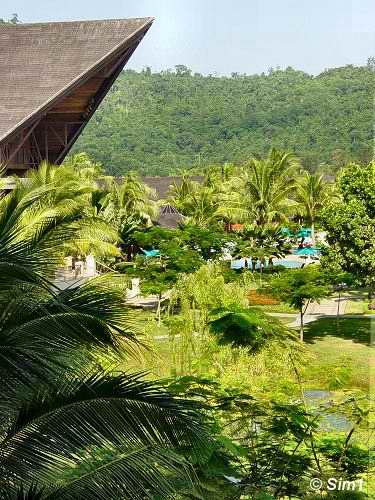 View from the room
The room was great, but the best thing for me was the nice little balcony. I just loved hanging LAZZZZZZILY over the railing and enjoying the views... or, of course, sit on one of the chairs, have a nice drink beside me, have my feet up against the railing and doing nothing besides listening to the sound of the sea, the wind waving thought the trees and the never ending noises of the cicadas. Life can be sooooo good :-))
In the picture you can see the view from the room towards the pool area. And straight in front of me I could see the sea, the beach and part of the hotel garden.
So why am I here? Honeymoon!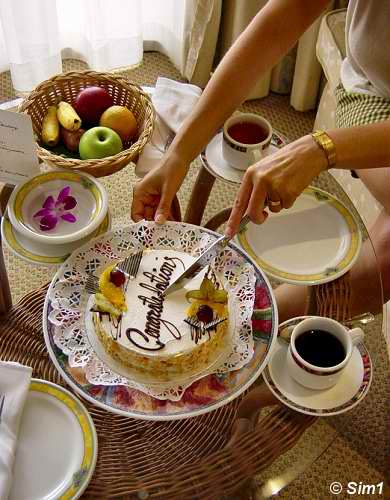 Congratulations cake
So why am I here? I am on honeymoon! After a wonderful roundtrip on Sabah it was great to have some LAZZZZY days at the Nexus Resort. And... they had a nice surprise for us! When we entered the room this delicious 'congratulations' cake was waiting for us :-)) Yummie! Hahaha, but how did they know I loooooove cake??? LOL ;-)
Beautiful weather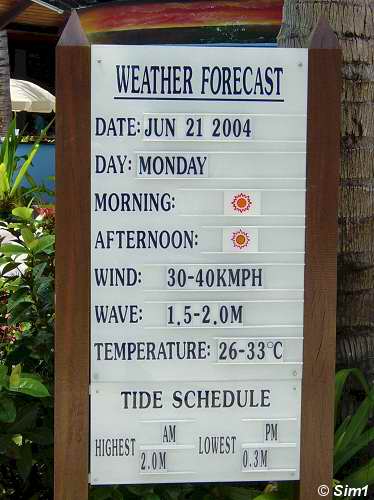 Weather forecast
It is beautiful weather outside,
sun is shining,
26 to 33 degrees,
not too high waves in the sea......
Okay.... no time to be LAZZZZY.....
It is time for the beach!!!
Karambunai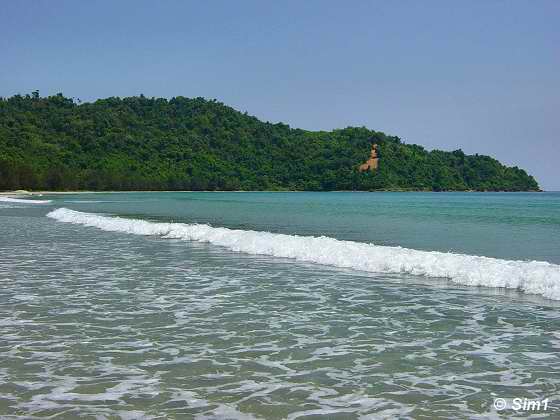 Sea and sunshine
The hotel is located at the beach, so it is only a LAZZZZZY walk to get there. The sea is beautiful, crystal clear and blue. Together with the beautiful blue sunny sky above is this THE place to be for a couple of hours.
The main obstacle :-)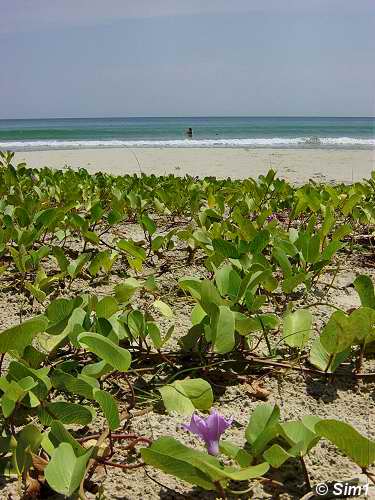 The main obstacle :-)
The main obstacle before getting to the beach are these 'Morning Glory' flowers. Oh well, I guess I have to be a little less LAZZZZZY and lift up my feet a few centimetres more ;-))
Wonderful warm water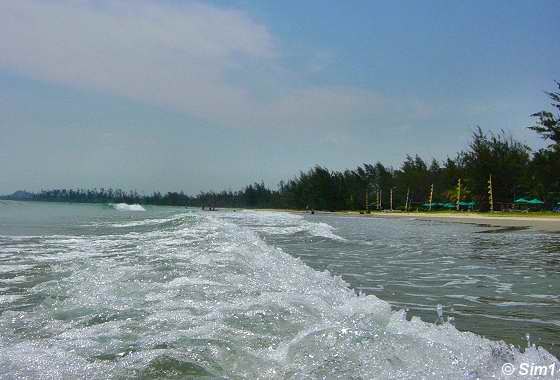 Wonderful warm water
This is the perfect place to go for a swim. The beach slopes LAZZZZZILY down into the sea, making it nice and easy for a swim or just to splash around in the water. The sea is crystal clear, the water is lovely and warm, and the bottom is nice and sandy. There are no creepy sea creatures here either; not even other hotel guests that were taking a dip in the sea ;-)
Fun in the sea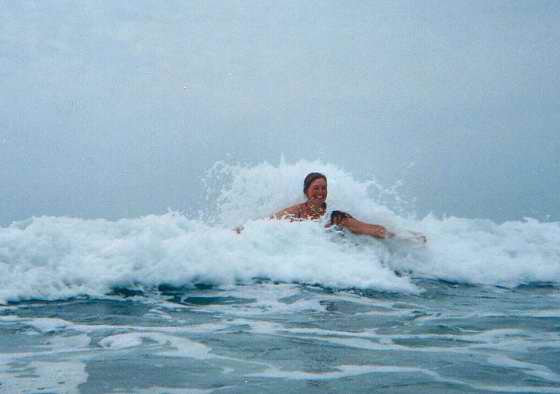 Fun in the sea
When you go a little further into the sea you will hit the waves, and they can at times be quite high, hahaha, really fun to play with. Especially the last day we had quite some high waves. No time to be LAZZZZY here, you have to pay attention all the time. I forgot a few times and got a full load of water in my face.... oops.... so lots of laughing because of that and waiting for the next wave to arrive ;-))
A long walk on the beach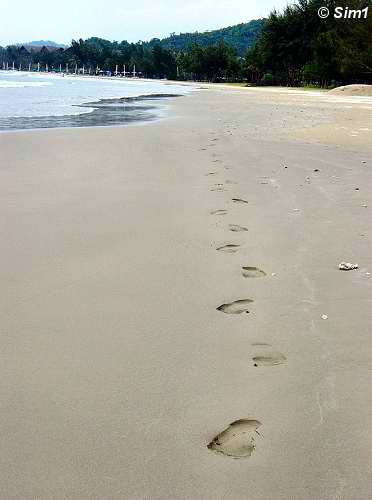 A long walk on the beach
The beach is beautiful, a stretch of 6 kilometres with sand, sand and more lovely sand. So what better to do here than to take a long LAZZZZY walk on the beach. It wasn't crowded at all, in fact I was alone on most parts of the beach. Wonderful to have the place to myself, dip my feet in the sea and feel the sand under my feet. Yes, I do love those long walks on the waters edge :-)
Crab art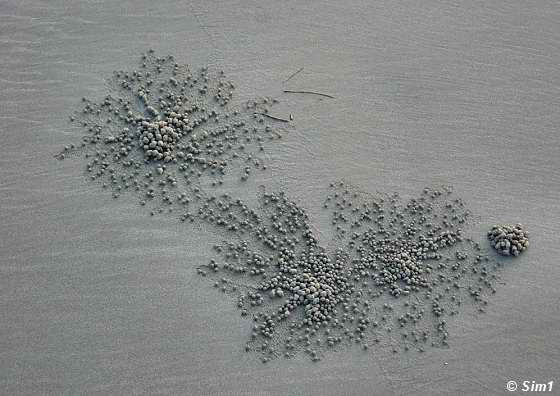 Crab art
One thing you should never do is leave me alone on a huge empty beach with only a digital camera in my hand. Why? Well, I have one problem..... I am not used to this LAZZZZZY-concept thingy. When I travel I mostly do a lot, and being LAZZZZZY is not one of them. I REALLY tried to be LAZZZZZY at the resort.... but.... but....
Okay I admit it, I couldn't 'just' walk on the beach. While walking I started to 'invent' things to do, and what better to take all kinds of crazy pictures. Hahaha, I won't show all of them, because that would drive you crazy. But I couldn't resist showing you this little 'crab-art' picture. These little creatures aren't LAZZZZZY at all! They made these little works of art all over the beach :-)
Take nothing but photos....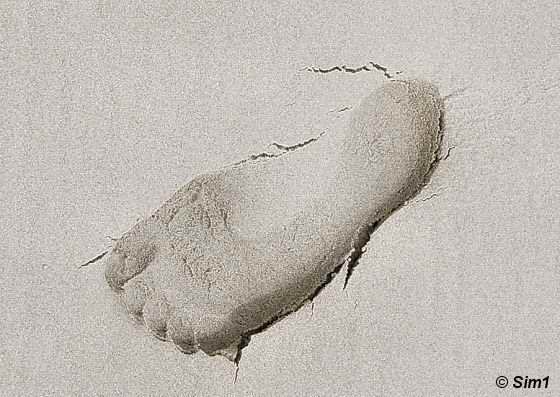 Take nothing but photos
Take nothing but photos, leave nothing but footprints....
Well, I guess I took that expression at heart! Here is one LAZZZZZY footstep :-))
Snack time!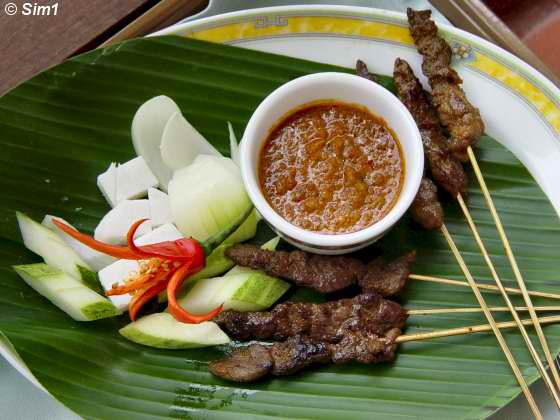 Satay
Time to get a nice afternoon snack after all this walking and having fun in the sea. Let's be really LAZZZZZY and order some room service!
The room service was really perfect. It is not cheap, but than again it was only a little more than the restaurant prices, so not that bad either. And mmmmmm, who can't resist some delicious satay! Together with some bread and salad it was a perfect afternoon snack.
Keropok and beer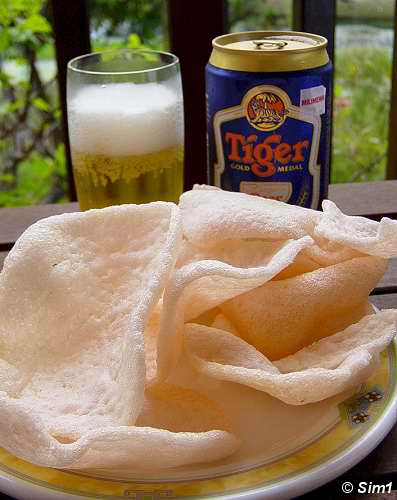 Keropok and beer
Everything at the resort is rather expensive. We thought it was similar to Swedish prices, so the same as home, but much much more expensive than anywhere else on Sabah. So a great thing to do is to shop outside the resort and have some snacks waiting for you in the room.
Just imagine this..... sitting LAZZZZZY on the balcony, sipping on a beer and having some delicious keropok to snack..... hahaha, this makes me wish to be there again right now ;-)
Keropok is a crispy snack that I know from Holland, only there we call it kroepoek. I haven't had it for years, so it was great to see it here, and of course eat lots of it :-)
Karambunai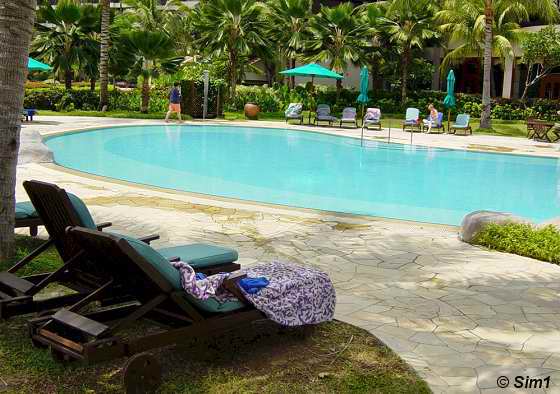 The pool area
So what shall we do this afternoon..... mmm, let me think..... how about some LAZZZZY time at the pool? Yep, that sounds good to me!
There are lots of LAZZZZY chairs at the pool area, which was perfect, and there is a counter where you can pick up free towels. There are several pools, so you can choose. And of course one of them has a pool-bar :-) None of the pools are very deep though, so the real swimmers are better of in the sea.
Happy Hour!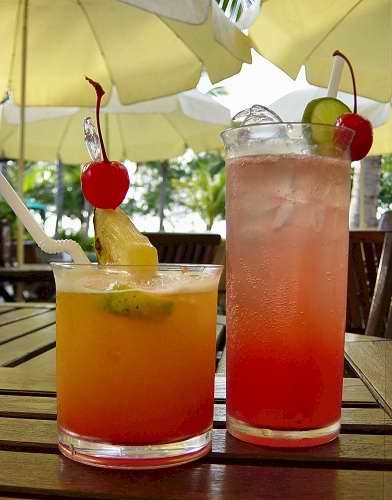 Happy Hour!
Happy Hour! Two drinks for the price of one! :-))
I was feeling so LAZZZZY and relaxed, it was the end of a wonderful day, sipping on a nice Singapore Sling at the pool area, the sun in my face. Mmmmm, it can't get any better... and more LAZZZZY, LOL..... than this :-)
The gardens and the beautiful flowers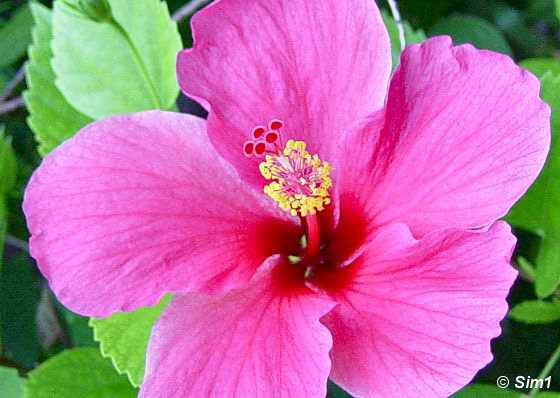 Beautiful hibiscus
The day is coming to an end, it is getting a bit cooler outside, and so the perfect time to go for a LAZZZY stroll through the gardens. It is amazing to see some of the flowers, so beautiful! This one I know, hahaha, but only in a much smaller version though and only as an indoor plant.
A round of golf maybe?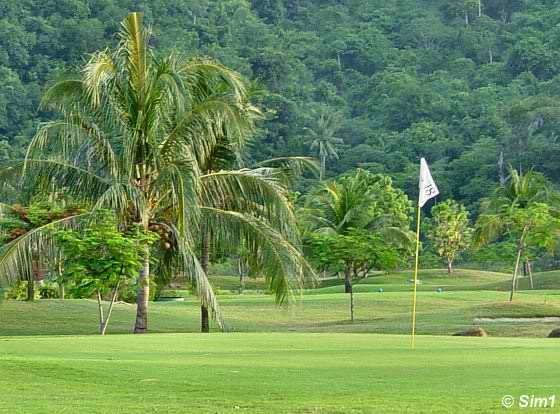 A round of golf maybe?
Something I really wanted to do, but never got to do, as I was tooo busy being LAZZZZZY, was playing a round of golf. I did take a quick look at the golf course though and it looked great. Now I am home I regret not haven given it a try. Oh well, maybe a next time :-))
A round of golf (18 holes) will cost you 300RM, which is about 65 euro or 80 USD. To play you need to have your official handicap card with you. Men must have handicap 24 or lower, woman 36 or lower.
Only allowed with golf buggy!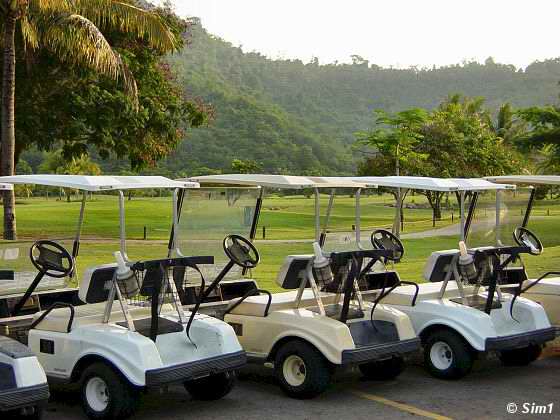 Golf buggy
Worried that your being-LAZZZZY image might be damaged by playing golf? Well, don't worry too much. You can always explain to everyone that you raced around the golf course in a golf buggy. So the real 'physical' element of walking around several kilometres has been cut down to a minimum. Hahaha, so, that makes it a rather LAZZZZY sport; doesn't it? ;-))
Well, I have to admit, having a golf buggy is maybe not a bad idea in this tropical heat :-)) But I always prefer to walk on the golf course. For me making a nice long walk like that is part of the fun. Hmmmm.... I have to watch what I say, hahaha, I think I just ruined my LAZZZZY image ;-))
Ducks have the right of way :-))


Ducks have the right of way :-))
Just a funny picture here :-) I had to laugh so much when we walked around at the golf course. This group of ducks clearly decided that THEY had the right of way, hahaha, and they made a lot of noise to make clear that WE had to wait... kwak, kwaak, kwak, kwaaak :-)
So we waited, patiently and with a big smile, while they LAZZZZILY crossed the street to reach one of the many ponds in the golf course.
Not always THAT good weather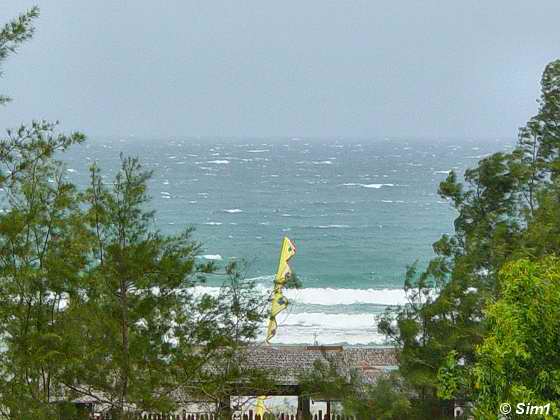 Stormy weather
Karambunai looks so idyllic, but it is not always so. The weather can change quickly here, and that is something you have to keep in mind. So when you are sitting LAZZZZZZILY on the beach and you see that beautiful blue sky turn into dark blue on the other side of the mountain, you know bad weather is on its way! And soon! So take your towel and make a run for it! :-)
We had quite a storm on the late afternoon and I was really happy that we left the beach on time so we could see the storm from our balcony instead of being blown away of the beach ;-)
A relaxing afternoon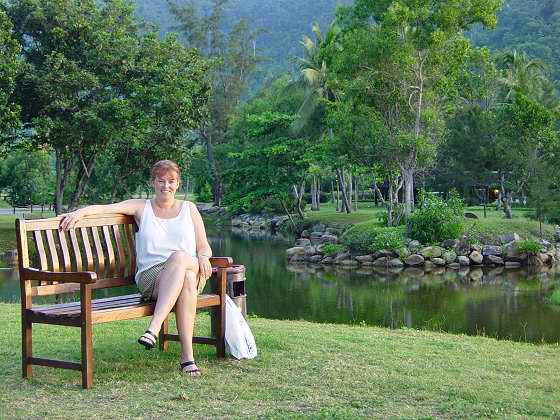 A relaxing afternoon
But it doesn't always have to be stormy weather in the afternoon, it can be beautiful and calm too, like I had on this day. It is wonderful to just walk around and find the perfect bench close to the beach and see the sun LAZZZZILY go down.... it won't be long before the sun will set.
The sunset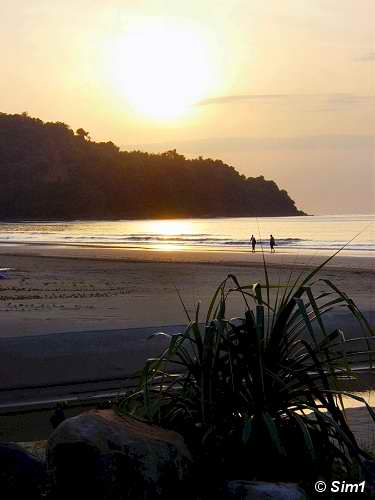 The sunset
I was so happy to see the sunset. Many of you might know that the sunset is my favourite moment of the day and I love to take photos of it. But on this trip I was a bit out of luck and this was my first chance to enjoy the sunset. And what a wonderful place to do so! Sitting quiet and LAZZZZY on the beach, just waiting for the sky to turn in all kinds of wonderful colours.
Karambunai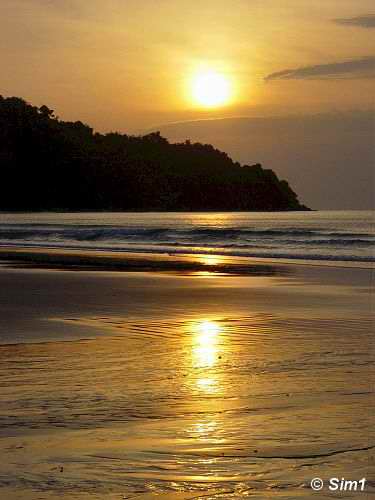 The sunset
The sky turns orange, my camera clicks, a sigh, life is wonderful. Amazingly there is hardly anyone on the beach (just like during the day actually). Just wonderful. Listening to the waves, sand creeping between my tows while I LAZZZZILY stroll around, the wonderful colours of the sky..... do I need to say more? No, I don't think so... just look at the photo and imagine to be here.... mmmmmmm
It never gets dark at Nexus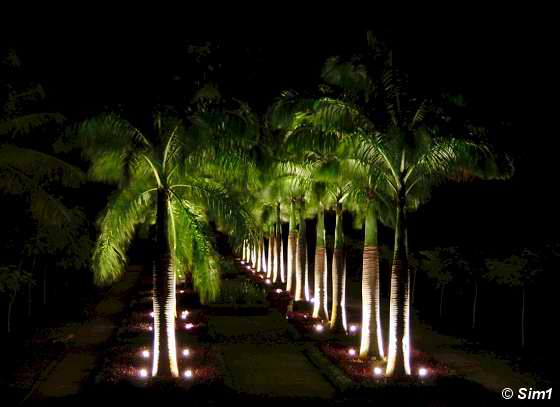 It never gets dark at Nexus
The day never ends at Nexus. The sun might have gone done, but there is light everywhere. Even the palm trees get an extra bit of attention. So forget about being LAZZZZY in your room, it is time to see the resort in a total 'new' sort of light :-)
The pool at night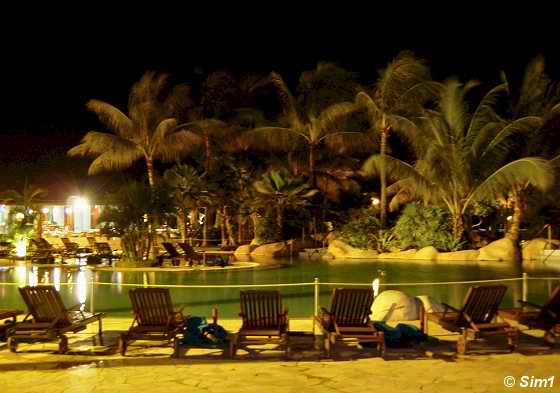 The pool area in the evening
The swimming pool area is beautifully lit up. No one is swimming though, hahaha, LAZZZY people ;-)
It is nice to walk around the resort in the evening though. I especially enjoyed it after dinner. Stretching my legs a bit, strolling around in the wonderful tropical warmth and enjoying how picturesque everything looks in the 'evening light'.
Italian restaurant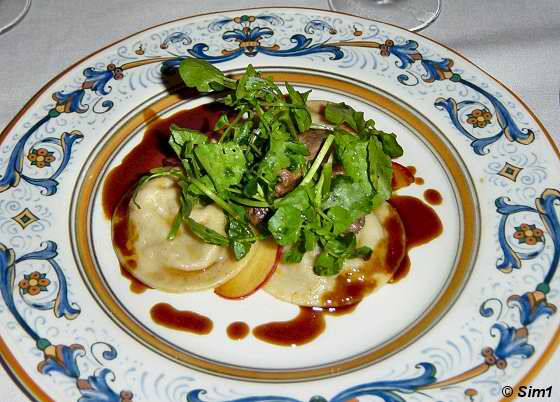 Italian restaurant
Time for dinner! There are several restaurants at the resorts that you can choose from, so plenty of choices of what and where to eat. The LAZZZZY people might not want to walk that far and take the first restaurant they meet: The Italian restaurant.
And well, that is not a bad choice at all! For me it has been the best one I tried on the resort. I love Italian food, hahaha, so I might be a little bit biased. The interior is nice and tranquil and the chef, who is from Switzerland, does know how to cook! Delicious! It might not be the best choice for your wallet as it isn't the cheapest place, but the food is absolutely worth it!
Having a wonderful dinner together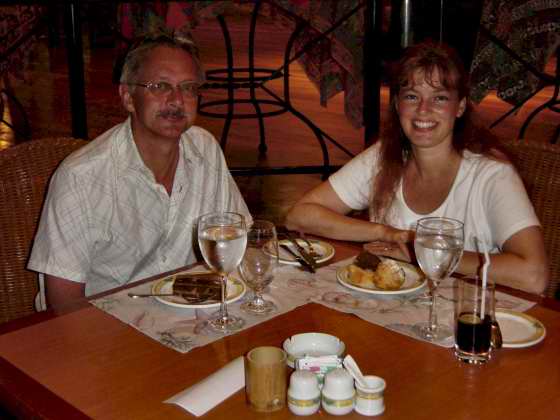 Åke and Simone
Another evening, another restaurant. After another of those LAZZZZZY days we had a wonderful dinner. I think my smile says it all, we had a wonderful time :-)
Playing our song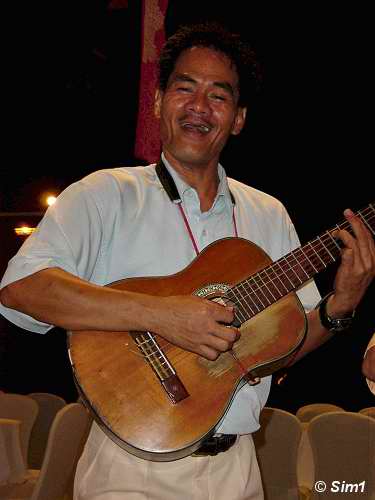 Playing our song
LAZZZZZY and relaxed after dinner, the band came to our table to play our song...... Such a romantic moment......
Dessert monster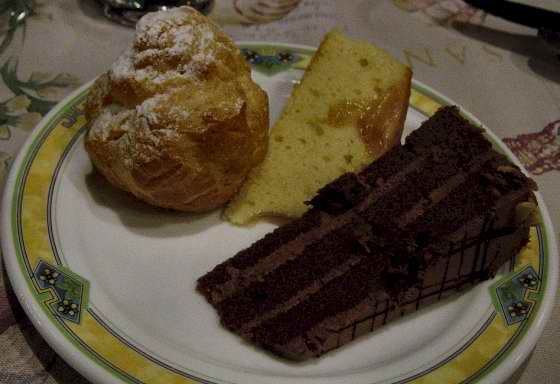 dessert, dessert and more dessert...
Okay..... back to reality.... confession time. Yes, you read the title right.... it's me.... I am a dessert monster! :-)) Hahaha, I just loooove desserts! And they had a really good dessert buffet here. This is not the place for LAZZZZY dessert people, only for the real dessert fans, hahaha, like me :-)
So no need to say that I had to give lots of it a try. It was way too much for me, but it was great to take a little taste of everything. Yummie!
A nice drink to top off the evening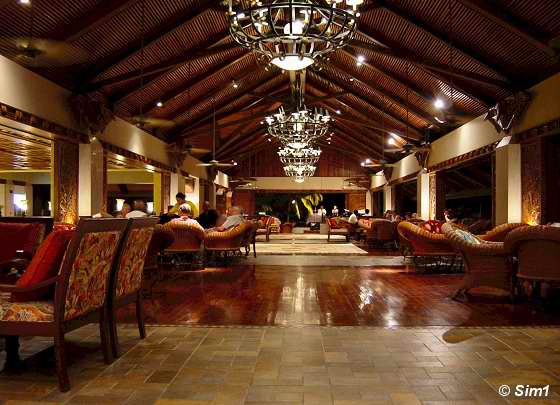 Lobby Lounge "The Horizon"
How about an after dinner drink? After such a LAZZZZY day and LAZZZZY evening, I think we should end it in a appropriate way. In the lobby lounge 'The Horizon' they have a nice seating area, with lots of LAZZZZY chairs where you can sit down and relax. Just order a drink and listen to the life band. The band called Take 3' plays on most evenings and is really good. Sigh... a perfect end to a perfect LAZZZZZY day :-)
Days out?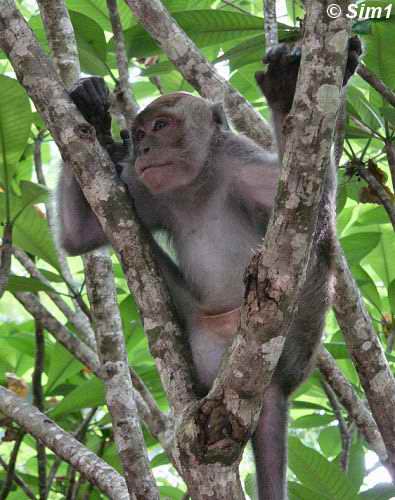 Monkey on Sapi Island
If you want to escape the LAZZZZINES of the resort, you can make a choice of lots of excursions. There is a little shop where you can book all kinds of daytrips, two-days, a week, or whatever you feel like. There are unlimited possibilities. So you don't need to worry that you are 'locked up' in the resort if that is not your kind of thing. To give an idea of the possibilities you can take a look at all my pages about Sabah, all these trips are possible to book from the resort.
I booked a little daytrip to the islands of Sapi and Gaya. It is all very well organised, nothing you need to worry about yourself. Hahaha, remember.... you are at the LAZZZZY place, they arrange everything for you ;-) There is also a bus going to Kota Kinabalu from the resort about every two hours. If I remember well a return ticket costs 20RM per person.
There are several tour-operators you can choose from to book your trips.
The trip continues....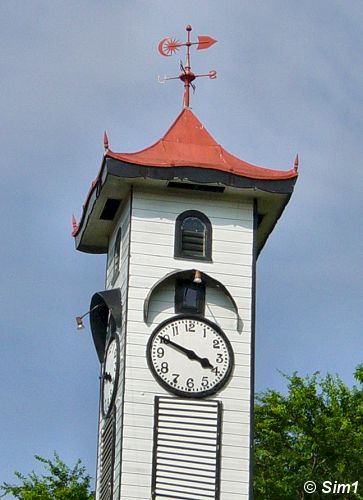 Kota Kinabalu
So off we are to our next destination.... The trip continues.... I can't be LAZZZZZY all the time :-))
Well I guess this has been a very LAZZZZY page, hahaha, I wonder how many times I have written this word down. But I think I most have broken some kind of record, LOL :-)) If anyone has counted them, please let me know, hahaha, I am toooo LAZZZZY to do that ;-))
I hope you will join me on this virtual trip and enjoy reading my travel stories and see the pictures. For me it has been fantastic to write about my journey because it has made me relive the trip once again :-)