Brunei, June 2004
Bandar Seri Begawan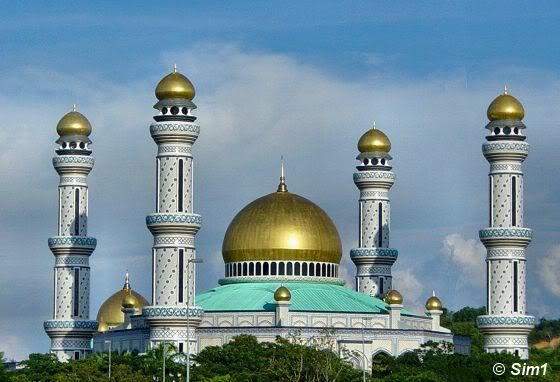 The Jame' Asr Hassanil Bolkiah Mosque
Going to Brunei


At the airport
10 o'clock in the morning and I am on the flight from Bangkok to Brunei. Nothing indicating that I will really 'visit' this little Sultanate. I was expecting to only have a quick stop-over in Brunei on my way to Sabah (Malaysia). But how quickly a day can change and instead of being on the next flight out, I was walking around in Brunei instead. How? And why? Well, that's long story :-)))) But I'll try to tell you about it in short.....
No tickets, no travel.....


Transfer desk at Brunei Airport
Upon arrival in Brunei we went straight to the transfer desk, as we were told to do by our travel agent. Here we would receive our tickets for our final part of the journey from Brunei to Kota Kinabalu (Malaysia). But noooo, that didn't happen! "No tickets, no travel" said the man behind the transfer desk... eeeeeks, is he serious???! Well, it looked like that! He didn't know anything about tickets, so we had a BIG problem...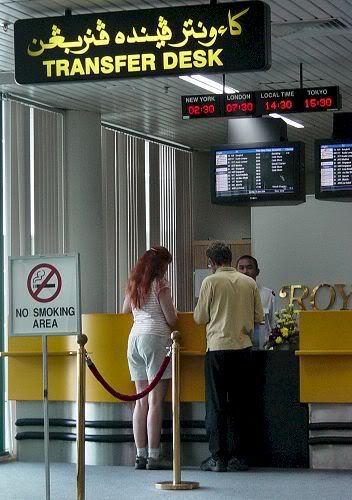 Transfer desk at Brunei Airport
After a lot of confusion, making phone calls and the kind help of the man behind the desk, we finally found out how to get the flight tickets. Phew, what a relief! There was one bad thing though, we had a 6 hour stop-over in Brunei. Ouch, what a long time! I thought we were supposed to have a quick stop here and than be off to Kota Kinabalu (Malaysia). But unfortunately this wasn't the case; we had to wait until early evening before we could leave the Sultanate.
But rescue was at hand! We found the ones that should have given us the tickets, Danny and Danny, our guide and our chauffeur for the day. They were patiently waiting outside the airport upon our arrival with the tickets in their hands. I was really happy to see them, and they had some good news! Instead of waiting in the o-so-boring airport, we got a complimentary tour of Brunei! An unsuspected surprise! Not a bad ending at all to this little inconvenience during our trip :-)))
All aboard in the minibus!


All aboard in the minibus!
All aboard in the minibus! It's time to explore Brunei! The capital city 'Bandar Seri Begawan' is close to the airport and easy to reach by car. Perfectly located for a quick visit when you have a few hours at Brunei airport.
Map of Brunei


Map of Brunei
Before I start telling about my trip I want to tell you a bit about Brunei first. The official name of the country is Negara Brunei Darussalam. It is only a small country, located on the island of Borneo in South-East Asia. It is bounded on the North by the South China Sea (with a coastline of about 161 km long) and on all the other sides it is bounded by the Malaysian State of Sarawak. The capital city is Bandar Seri Begawan and that is the only part of the Sultanate that I've visited.
Flower of Brunei


Flower of Brunei
Brunei is a tiny oil-rich Islamic Sultanate which has only around 300.000 inhabitants. I think the country is best known for the enormous wealth of the Sultan. But the population get their share of the wealth too, having one of the highest incomes per capita in the world. There is a price they pay for that though as the country is not a democracy, ie they have no freedom of speech; the Sultan is the absolute ruler of the country.
In the picture you can see the 'Simpor', the flower of Brunei. If you don't get the chance to see this flower for real in Brunei, you can always take a look at the front side of the Brunei one-dollar note, where you will find a picture of the Simpor flower :-)
Money.... oops.... do I need that here??


Money, money, money
Now that you know a little bit more about this tiny Sultanate, lets get back to my travel story.....
In all the confusion at the airport we never thought of that we might need some Brunei Dollars during the day. Oops.....
We were all quite hungry so we decided to search for an ATM machine. After some running up and down the shopping mall we found one. And yep, there they were, some precious Brunei Dollars :-) The magical machine in the wall produced the banknotes without any problems again, even in Brunei ;-))
Lunch time!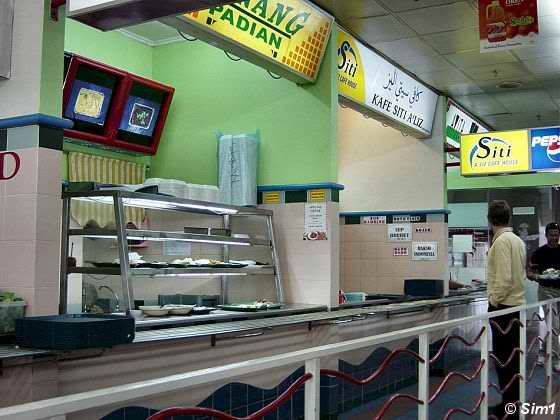 Lunch time!
We were dropped off at a big modern shopping mall by the two Danny's and got an hour time to have a quick thing to eat. In the shopping mall we found lots of typical American-style fast-food restaurants like KFC. But none of us (Åke, me and Olle, another Swede doing the same travel) felt like having any of that. We rather wanted to try out some more 'local' food.
On the top floor of the shopping centre we found the 'Brunei-fast-food-corner'. One big restaurant, but with lots of mini-kitchens where you could choose from all kinds of dishes. We just picked one of those little food-stalls, having no clue which one would be best. We were pleasantly surprised by the food and enjoyed our noodle dish a lot :-) Full of new energy we were ready to explore Brunei!
Shopping in Brunei


Shopping in Brunei
Not knowing much about the country I was quite surprised with what I saw. Western influence was quite clear, especially in the shopping mall. There were many big shops which names I recognized, with the same products, only now advertised in a different and strange language to me.