Northern Sweden
Hoiganvaggi Hiking Tour 2019

I love the very north of Sweden. This is the mountain area called "Fjällen" and home to some of Swedens most amazing National Parks (Abisko, Padjelanta, Sarek and Stora Sjöfallet). Endless areas of wilderness, perfect for making multi-day hikes.
We love to go to this area and hike, all from a week up to two week-long hiking trips. On average you can find us in the very north of Sweden each other year putting on our hiking shoes and strapping on our backpacks ready to absorb the vast landscape. This is our 8th trip to the Fjällen and this time we are aiming for the very very north, right at the border with Norway, in a place called "Katterjåkk". And our hiking route will go through the Hoiganvaggi valley (no trails here) and finally brings us back along a stretch of the Kungsliden Hiking Trail to Abisko. This is an absolute off the beaten path stretch of hiking (with exception of the last stretch).
All the photos in the collage below are clickable, so you can view the larger photo.
The 3 Chapters of the hike
click on the photo or titel to go to the pages
In this page I will give an overview of the total hike I made through the Hoiganvaggi in Northern Sweden. This will be a bit more of a practical overview, like the route, camping spots, condition of the trail. I will be writing 3 chapters with my impressions and travel stories of each part of the trip on the following pages:
Hoiganvaggi Hiking Tour 2019
Practical overview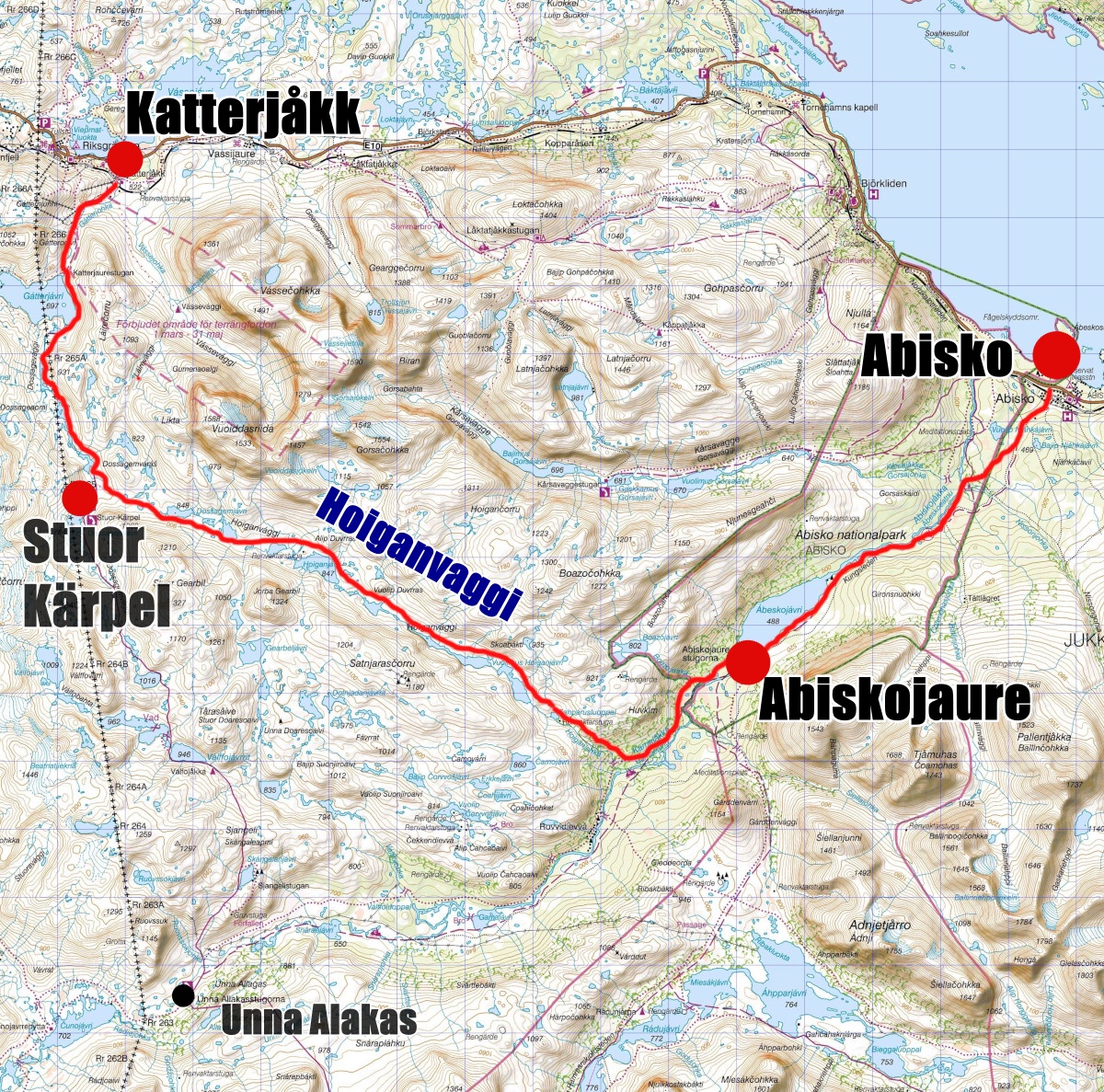 Our hike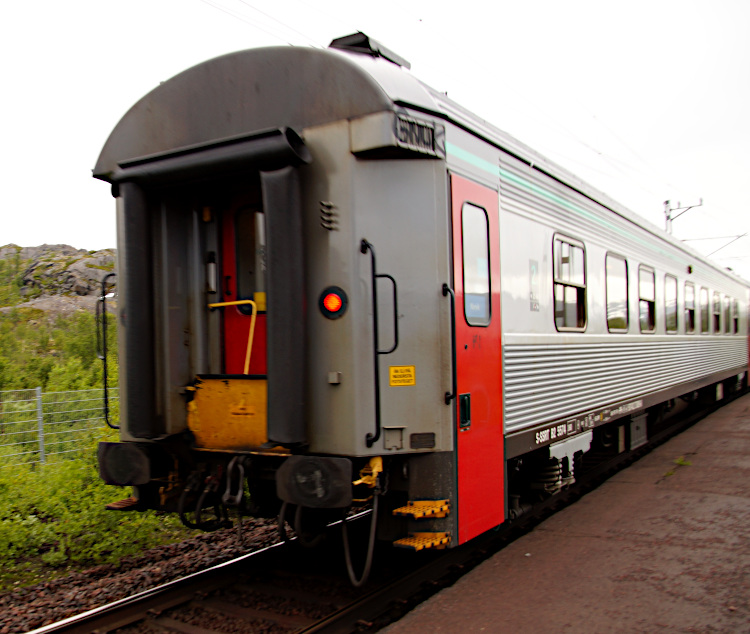 We get off the train at Katterjåkk station. It's quiet here, very quiet, and we seem to be the only hikers getting off at this station. And don't imagine that we are getting off the train in the center of some small village or town. Katterjåkk is nothing like that att all. The train stops here at an empty platform, in the middle of nowhere, nothing more than the starting point of the hiking trail towards Unna Allakas. There are no shops, there are no people, only a few building scattered around, but not many. And today it is cold, brrr. Only about 8 degrees Celcius with low hanging clouds and a touch of rain in the air.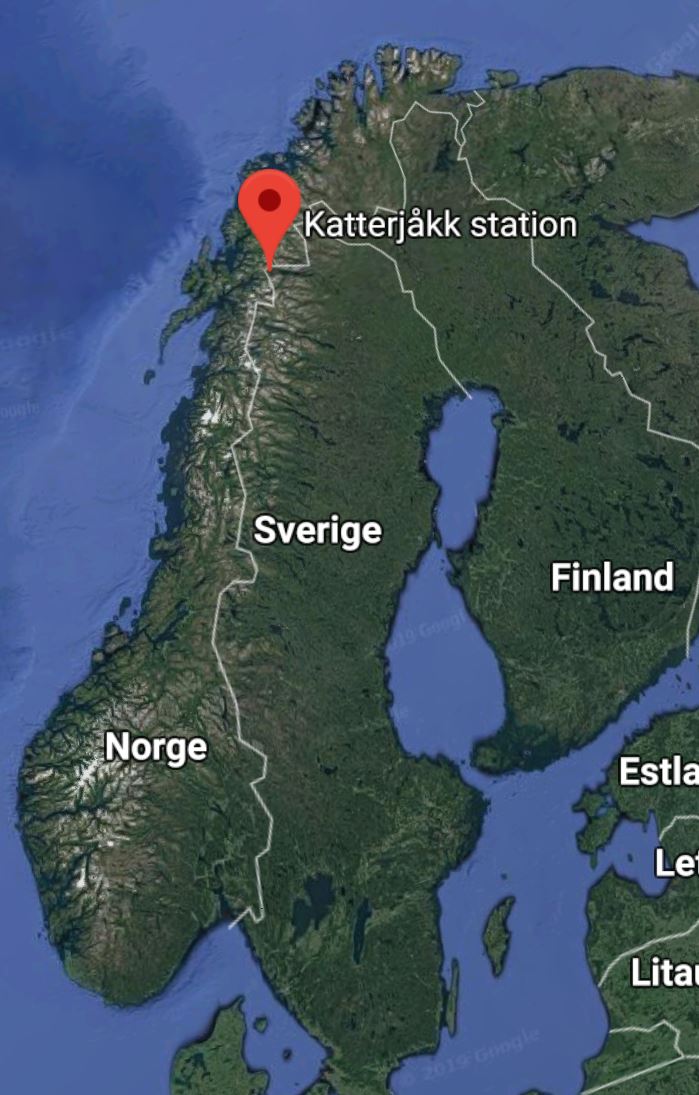 We often take the night train up north for our hiking vacations. It is a practical way of transport when having backpacks and hiking poles with us. And we even have a chance to get some sleep during the train journey. And a long journey it is, about 1400 km's, and by train 24 hours in total from our home to Katterjåkk. And well, not so surprising, the train is as usual delayed. Luckily we anticipated that, and left some room between connecting trains so we wouldn't miss the night train. Another train delay follows and in the end we arrive in Katterjåkk around 6 o'clock in the evening.
The conditions of the trail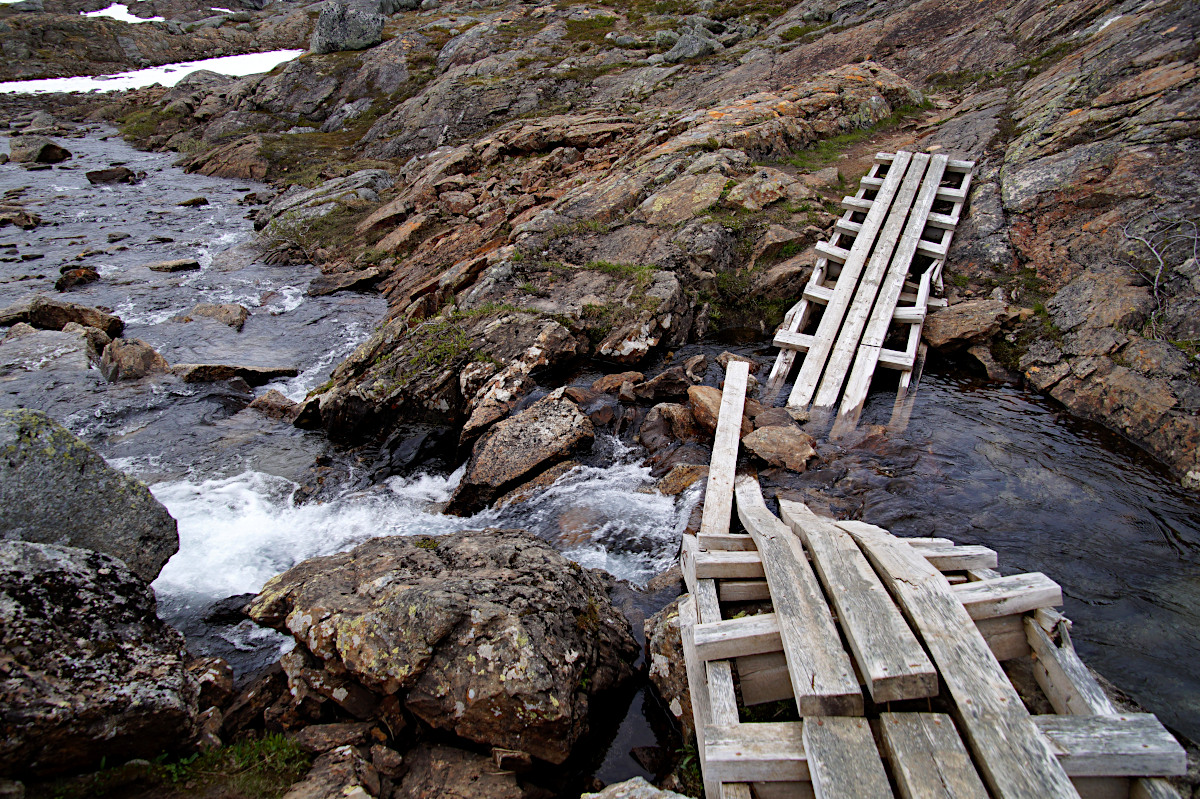 A broken bridge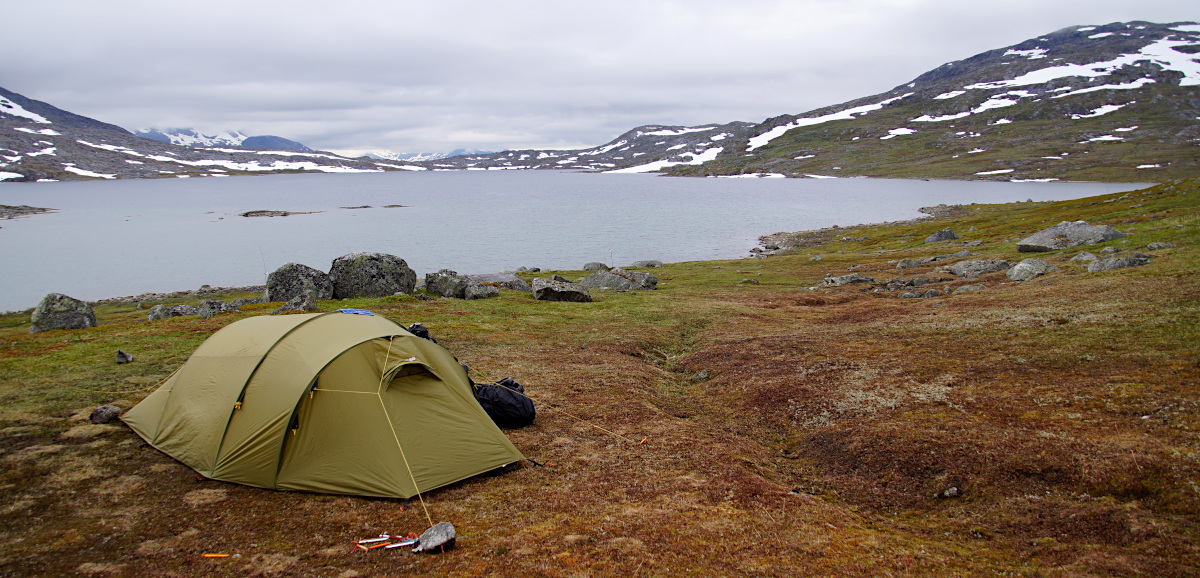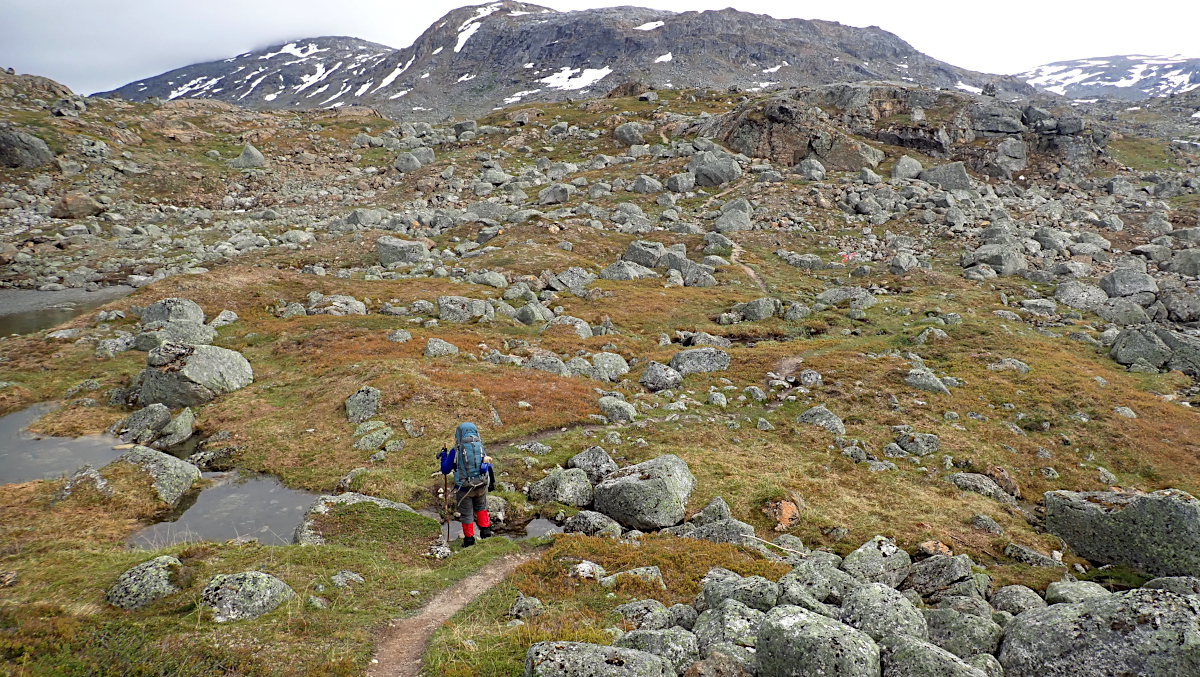 A harsh landscape between Katterjåkk and Stuor-Kärpel

So many reindeer!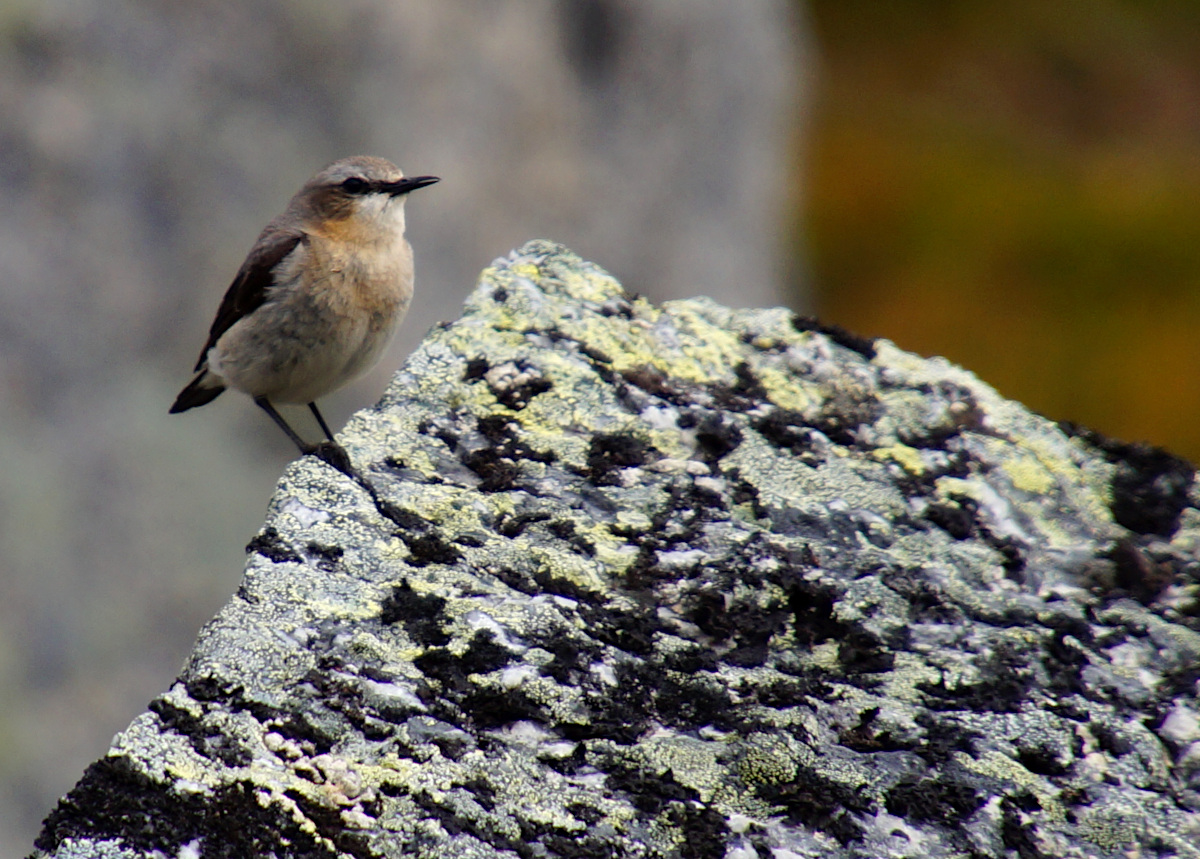 Not that many birds around
Simone & Åke, Hoiganvaggi, Sweden, July 2019
List of Swedish National Parks

I do love visiting National Parks, and I've visited quite a few of them so far in Sweden. Hopefully some day I will have been to all of them! Below you can find an overview of all the Swedish National Parks:
Click on the names in the map below
to go to their destination pages.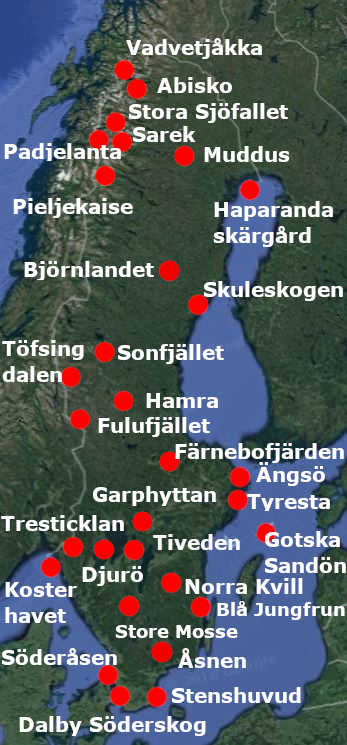 Abisko, (2005, 2009, 2019)
Björnlandet
Blå Jungfrun
Dalby Söderskog
Djurö
Fulufjället, (2003)
Färnebofjärden, (2006)
Garphyttan, (2015)
Gotska Sandön, (2009)
Hamra, (2016)
Haparanda skärgård
Kosterhavet, (2021)
Muddus
Norra Kvill
Padjelanta, (2006, 2017)
Pieljekaise
Sarek, (2008)
Skuleskogen, (2020)
Sonfjället, (2016)
Stenshuvud
Stora Sjöfallet, (2006, 2017)
Store Mosse
Söderåsen
Tiveden, (2004, 2008 ,2018)
Tresticklan, (2021)
Tyresta, (2004, 2020)
Töfsingdalen
Vadvetjåkka
Åsnen
Ängsö, (2006)
---
It would be great to hear from you!
So please leave a comment or a question.
:-) Simone
---