National Parks of Sweden
Tyresta National Park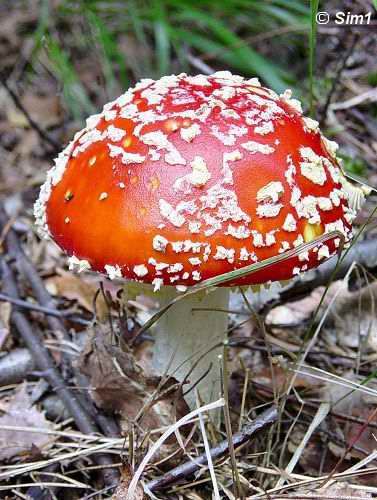 Rood met witte stippen...
I know not many of you can read the title to this picture "rood met witte stippen...." So I'll better give a little bit of an explanation :-))
For me this photo reminds me of a children's song I used to sing. It is about a little dwarf that sits on top of a red mushroom with white dots. Well, here is your mushroom, hahaha, only the little dwarf is missing :-))
I love this photo though, it really symbolises the beginning of autumn.
Fornborg

Fornborg
When you walk around in Tyresta and take the Fornborgsslingan hiking trail, you are going to bump into some history as well. Because on your way you will pass a Fornborg.
Fornborg are settlements that were made from 500 BC until 1050 AC, but the most of them are from around 500 AC. There are around 1000 of these Fornborg in Sweden, and here in Tyresta is one of them. Most of these early settlements were on top of a hill and had a stone wall around it to protect them. From the drawing you get a little idea how these Fornborg used to look like.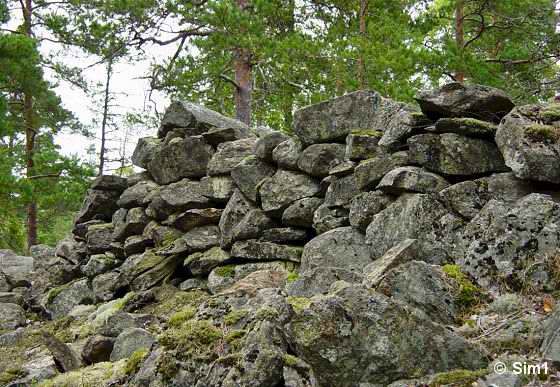 Walls of the Fornborg
But don't get your hopes up too high to see something spectacular. There is not so much to see besides the remains of a bit of wall of this Fornborg. But I find it always interesting to get in touch with a bit of history during my trips. I've seen quite a few of these Fornborgs because there are lots of thme in the area where I live (around Lake Mälaren). Some are better than other, but they all have these piles of rocks as a remainder of the old walls in common.
Walking around the lake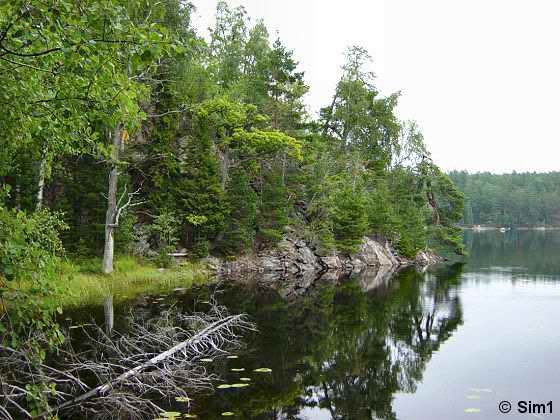 Lake "Stensjön"
We walked from the Fornborg down to the waters edge of the lake. The hike continues now for a while following the lakes edge. I didn't mind that at all, the views were just wonderful! For me the views over the lake "Stensjön" were the highlight of this hike.
Calm waters


Calm waters
Such a calm day, the water is so smooth and quiet. It is almost unrealistic. But don't be surprised to see this more often in Sweden as the weather is often this calm. Perfect conditions to make some reflection shots, hahaha, which I have to confess I didn't really do this day. Instead this almost unreal photo of a fallen down tree laying in the dark blue-grey waters. It is so peaceful, quiet.
Lake view

Lake view
Okay, one more lake photo and that's it. Hahaha, I just couldn't resist clicking the camera. Some of the views are so wonderful, like this one. It's hard to find words to describe this landscape, so I do hope my photos speak for themselves :-))
The hike is almost to an end....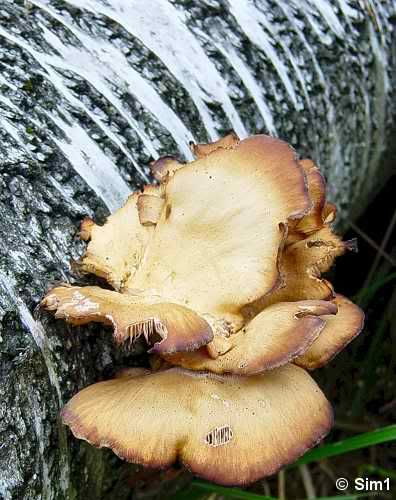 Tyresta National Park
The hike is almost to an end, time to summarize my day in Tyresta. Tyresta is a beautiful place, with lots of beautiful nature. The proximity to a big city like Stockholm has it clear advantages and disadvantages and makes it unique at the same time. Amazing to have this 'green beauty' at the outskirts of a city. It can be (too) busy here with people as it is so easy to reach. But being easy to reach might just be THE reason for you to visit it!
In my opinion this is not one of the best national parks in Sweden. I've been to Tiveden and Fulufjället National Park and both those parks totally knocked me off my feet, they are so amazingly beautiful. Tyresta is undoubtedly a beautiful place, but for me just missed this little bit extra to make it exceptional.
But would I go here again? Oh yes! It's a beautiful place in its own right.
Would I advice you to visit? Oh yes! It's a great opportunity to get a feel of Swedish nature while visiting a beautiful city like Stockholm.
Tumbled down trees


Tumbled down trees
The last little bit back went through the burnt down area again. This second time around I was prepared what to find here and not feeling so shocked. These tumbles down trees reminded me a bit of the game 'micado' :-))
There are lots of hiking trails in Tyresta National Park and nature reserve, 55 kilometres in total. There is lots to choose from, from long and more difficult hikes to short and really easy to do. So something for everyone! The trails are often connected with each other so you can 'design' your own hiking trail if you like. Go to the visitor centre if you want more info about those specific hikes or take a look at this website for more info (sorry it's only in Swedish): http://tyresta.se/vandringsleder.shtml
Exhibition at Parkernas Hus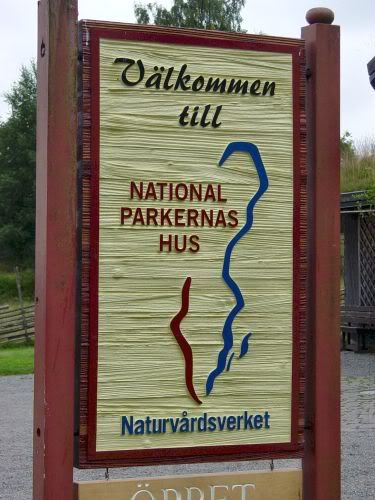 Parkernas Hus
At the end of my day at Tyresta I went to the main entrance of the park to visit the exhibition at Parkernas Hus. It isn't a huge exhibition and to be honest, it disappointed me a little bit. At Parkernas Hus they give you an overview of all the Swedish National Parks, by using photos, displays and a bit of info about every park. But when you've read the book about the Swedish National Parks, all these photos might seem very familiar, as they are the same as in the book. So nothing new for me. PS: it is a wonderful book!
I hope you enjoyed my virtual impression of Tyresta! And I do hope I made you a bit enthusiastic in visiting Tyresta or maybe one of the other Swedish National Parks. There is one last thing I want to say: Sweden is beautiful!!! So come and visit, and enjoy the beautiful nature :-))