National Parks of Sweden
Tyresta National Park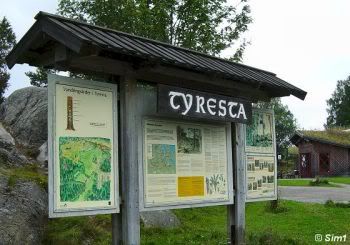 Tyresta National Park
Welcome to Tyresta National Park! One of the beautiful National Parks in Sweden. In total there are 28 National Parks in Sweden, all beautiful and all different.
It is the dream of Åke and me to visit all of Sweden's National Parks. It's going to be hard to do, but more than worth it! The nature of Sweden is fantastic! If you have written something about a National Park in Sweden, please let me know. I would love to read about it!
On this page I want to give you a personal impression of my visit to and hike in Tyresta National Park, as well as some general info of how to get here. I hope you enjoy reading it! I certainly enjoyed being here!
Going to Tyresta National Park

Map of Swedens National Parks
Tyresta National Park is located only 20 kilometres south east of Stockholm. Many visitors to Sweden visit the capital Stockholm, so this is probably the easiest opportunity to visit one of the National Parks in Sweden. The park is 2,000 hectares big and was established in 1993.
The main entrance to the national park is located near the village of Tyresta, which can be easily reached by bus or private car.
By car: From Stockholm go south on road 73. Between Stockholm and Nynäshamn you take the exit to Brandbergen. Follow the signs "Nationalpark". Just follow that route and you'll end up at the main entrance of the park and Tyresta village.
By Bus: You can get to the park with the bus. The best way to find out when and how the busses go use the travelplanner you find on this page: http://tyresta.se/english.shtml
By foot: For the ones that have enough energy, it is also possible to hike to the park from Stockholm. A hiking trail "Sörmlandsleden" takes you from Björkhagen T-station to Tyresta. The trail is approximately 25 km long.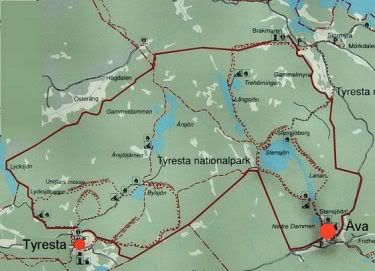 Park entrances at Tyresta and Åva
I actually didn't go the main entrance of the park, but chose another hiking trail that started close to Åva. This entrance to Tyresta is on the south east side of the park. On the map you can see two red dots. The left one is the main entrance and the one to the right is at Åva (Stensjödal)
By car: Take road 73 south again from Stockholm towards Nynäshamn. Don't take the exit to Brandbergen this time, but continue a little bit further. Instead take the exit to Dalarö. Follow this road a little bit and than take the exit to the left to Åva. (watch it though, the sign is not that clear and you might pass it without knowing it). At Stensjödal is a parking spot and entrance to the National Park.
I don't think it is possible to reach this entrance of the National Park by public transport.
Fornborgsslingan

Fornborgsslingan
Okay, I've arrived at Tyresta National Park and parked the car at the Stensjödal. Time to put on those hiking shoes and get on moving! :-))
The hiking trail I choose was the Fornborsslingan. This is a 6 kilometres long hiking trail and mainly goes around "Stensjön" which is a beautiful lake. The trail is rated average to difficult to hike, but I actually thought it wasn't so hard to do, so don't let this frighten you off.
When you walk from the parking lot you might wonder for a little while if you are going the right way. There are no signs around at all! Very confusing. But after about 5 minutes you'll see this sign and you know you are on the right way. After that there are many signs and it isn't hard to find the right trail.
Take a breath of fresh air...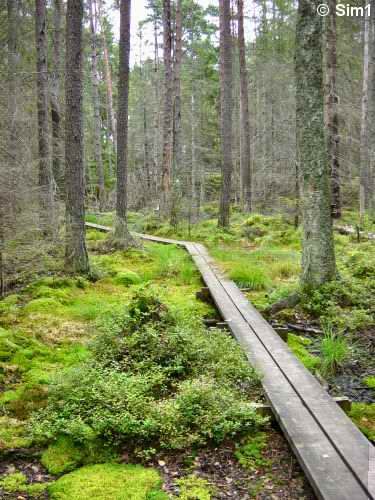 Footbridge
Mmmm, so nice to breathe in the fresh air of the forest. It is so different from being in the city. It is so silent here, no cars you can here, just some birds singing their pretty songs. Hmmm, taking another breath of that fresh air. It is always so wonderful to be in the forest.
In the picture you can see a footbridge which is rather typical for the park. There are many of them around. They are not only there to make your life easier, but also to protect the surrounding nature. Now the area around it won't be trampled upon. Seems like the perfect solution :-))
Typical landscape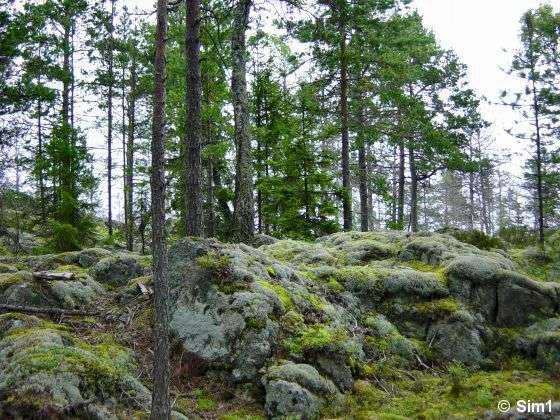 Typical landscape at Tyresta National Park
While hiking in Tyresta this is a typical landscape you can see. Pine trees and rocky areas covered in mosses and lichens. The landscape is hilly but the trail doesn't make to many climbs on the way. Just a few, which is good, because those bring you to some wonderful viewing points.
Blueberries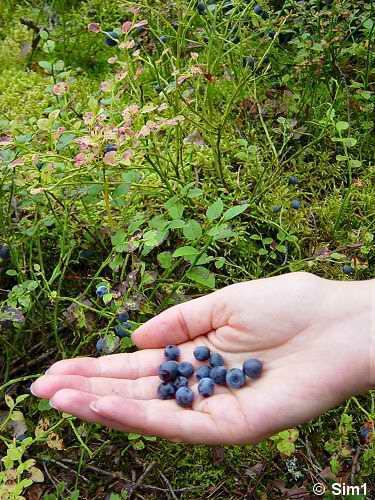 Blueberries
Hiking in August and September in Tyresta means blueberries! And plenty of them! Nature is protected in the national park, but you are allowed to pick berries and mushrooms. So if you are a fan of blueberries, don't hesitate to go for a hike in Sweden. In many places you'll find these blueberries in the wild. Delicious! :-)
Lingon


Lingon
Another berry you can find here in the park is the 'lingon', or also called the cowberry. This is a small evergreen shrub that you can see on several places in the wild in Sweden. And I found quite a few of them here in Tyresta National Park. The berries are edible, but before you pick them a word of warning! Hahaha, they are edible, they look lovely and red..... but they are not that good to eat just like that. The berries are quite hard and sour to taste. The Swedes love the lingonberries and eat lots of it! But only in the form of a jam :-))
I better not give this one a try...

Am I edible?
Sweden is a country that has lots of fungus and mushrooms. When you walk in the forests in the autumn you are bound to see lots of different varieties. As I know nothing about mushrooms I have no clue if they are eatable or not. Hahaha, so I don't think I should give this one a try :-) I just love to see them; that's good enough for me :-)