Northern Sweden
Hiking from Alesjaure to Unna Allakas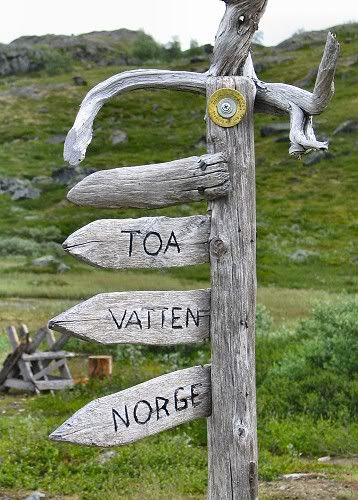 Important directions?
If you look at the sign you can see three words: toa, vatten, Norge, giving you the directions to all three of these important places:
Toa = toilet
Vatten = water
Norge = Norway
Just a very funny combination I thought :-))
If things go wrong....


"A bouquet of wildflowers"
It is quite busy at the mountain hut: although what is busy? There are still quite a few empty beds available and there is plenty of space for everyone. 3 French guys arrived during the day and decided to stay. And there is also a German guy who sprained his ankle. I feel so sorry for him. It is going to be hard to hike the 35 kilometres back to Abisko with a swollen ankle like that.
It does make you think how easy it is to get in a bad situation here in the Fjällen. And it makes me wonder why people do hikes in remote areas like this all by themselves? When hiking with at least two there is always someone that can come to the rescue, but when alone, well, you are really alone! And on these not so busy hiking trails it could mean that no one is going to find you maybe for a whole day or more. The 'stugvärd' was his rescue though, helping him out by collecting his backpack that he had to leave behind at the side of the trail because of his injured ankle.
In the photo you can see some of the nice flowers growing in this area.
A place to remember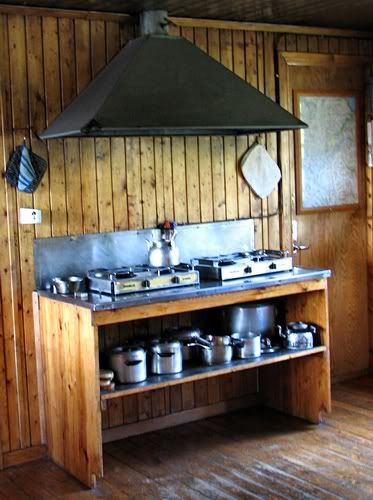 Kitchen area
As you gathered by now the 'stugvärd' of Unna Allakas is a very friendly man. He is a pensioner and now working here for about 8 years. A calm type, taking everything easy. We asked him if he sold tea in his little shop as I almost run out of my supply of tea --> reason to almost panic, hahaha, as I can't live without my daily cuppa tea! But bad luck for me, he didn't have any.
The store is very tiny and only sells some essentials, well, not even that! All he has are some supplies that might be handy for hikers; like mashed potatoes in a package and similar type of supplies. But my disappointment only lasted for a second. He didn't drink tea often and he had some supply of tea at his house that I could have instead. So nice and friendly of him! So about an hour later I was the proud owner of 10 teabags :-)) I thanked him with a very big smile. The lodge isn't new, the comfort is basic, but it feels so cosy and with personal touch like that, it is a place for me to remember.
The visiting Fox


Fox
Just after dinner there was a fox outside the window. It's a half-tame one as it is regular customer looking for food around the Mountain Hut. As soon as I spotted it I tossed on my sandals and ran outside to try and take a photo. As it such a tame fox, it was walking towards me instead of running away. I felt sorry for the poor fellow though, it was so skinny. Life must be hard for it here in the Fjällen.
Looking out of the window


Looking out of the window
My fondest memory of Unna Allakas is probably the moment when looking out of the window. The beautiful rough landscape of the fjällen is so calming and beautiful. A feeling impossible to capture in pictures, but it will always be in my heart.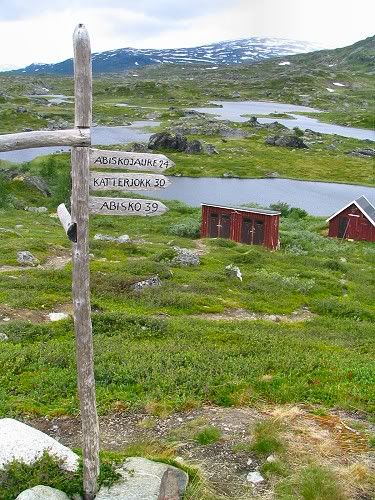 Unna Allakas
Worrying about tomorrow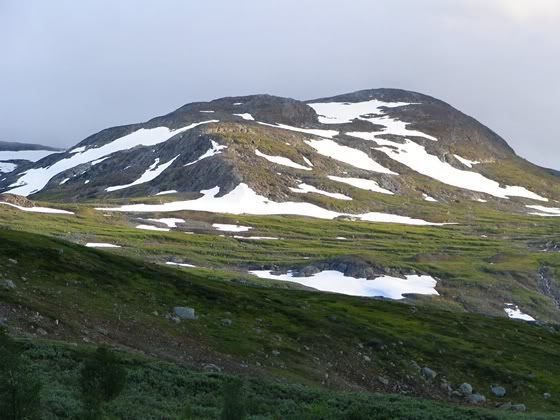 Unna Allakas
Staring out of that window and enjoying the landscape I am worrying about the day to come. Tomorrow we are going to hike towards Abiskojaure, a very long hike. But it is not the distance I worry about. Partly the weather makes me nervous, it might rain and storm again But most of all I worry about the 'vad'. This wad will be crossing a river about 500 metres from the lodge and everyone is talking about this 'vad' and saying it is difficult. It makes me nervous. Will I be able to cross it without falling down?
I worry and I do hope that I can sleep. I wish it was done and behind me or that I could avoid it somehow. I guess it will come back to stubbornness again: Don't think and just do! Or as the 'stugvärd' said: "Everyone seems to have made it so far....." followed by a silence..... Mmmm, yes, hahaha, but he is not really telling how they got out on the other side, lol. But I guess he is right, I will make it too. And most likely I will feel very proud afterwards..... sigh, let's wait and see what tomorrow brings.....