Around Lake Mälaren, Sweden
Örebro


Wadköping in Örebro
When you are in Örebro you have to go to Wadköping. It's a great place to discover. It's called the open air museum, and it sometimes also called the 'old village'. I think these names may give the impression of a boring area with 'just' lots of old buildings. But Wadköping is so much more than that. This 'open air museum' is not just a museum, it's actually part of the city. It feels alive and is very picturesque.
During the period from May to August there are many kinds of arrangements: musical entertainment each Wednesday and Saturday, theatres and exhibitions of artistic handicraft etc.
Totally surprising to me is the entrance fee to Wadköping.... it's for free! You'll notice this more often when you are in Sweden that some sites have free entrance. Hahaha, I am totally not used to that, every crazy little thing you would like to see mostly has an entrance fee. But not so in Sweden!
Map of Wadköping


Map of Wadköping
This is a map of Wadköping that you can see at the entrance of the open air museum. On it you can see the location of the houses in the museum and a short description of them.
Wadköping is situated on the banks of the River Svartån. It's not that hard to find, although it is somewhat outside of the city centre. But there are lots of signs pointing you in the right direction to find Wadköping easily.
Old wooden houses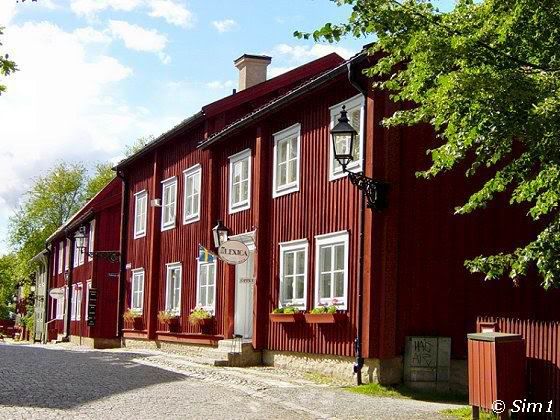 Wadköping in Örebro
Wadköping is quite new, and at the same time very old. The open air museum of Wadköping exists since 1965, but the buildings are much older. In the village of Wadköping you can see a collection of ancient buildings from Örebro and the surrounding countryside. There are many 18th-century wooden houses in the traditional red colour, which you can still see a lot around in Sweden. Besides the red houses there are also lovely bright 19th-century wooden houses. They all have been moved to this site in the City Park, together with two museum buildings - the King's House (16th century) and Cajsa Warg's House (17th century).
Wadköping: Cajsa Wargs Hus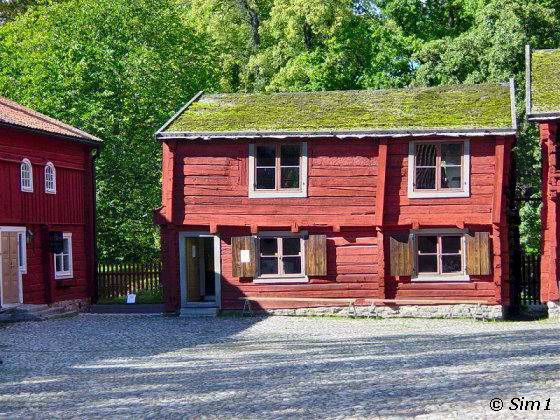 Kajsa Wargs Hus
One of the most well known houses in Wadköping is Cajsa Wargs Hus. This house is from the late 1600's and previously stood as Kyrkogatan 4, but was moved in 1910. Around 1800 it was owned by the County Treasurer, Anders Warg, father to the cookery book authoress Cajsa Warg.
One thing I love about this house is the grass covered roof. This is a feature you can spot so now and then when you travel through Sweden. I think it makes the houses look so picturesque.
Kungsstugan


Kungsstugan
Another must see house in Wadköping is the Kungsstugan. This is originally a farm on Järntorget. The name of the farm has its origin in the fact that Duke Carl, later King Carl IX stayed there on visits to Örebro. (Kung=King, Stugan = cottage). The Kungsstugan is one of Sweden's most interesting buildings because of the mural paintings from the late 16th and early 17th centuries.
Why did they move these houses?

This is a close up picture of the Cajsa Warg Hus. When you take a closer look like this you can see how crooked it is. I love that though, it looks so picturesque!
When I visited Wadköping the thing that questioned me most was why they moved all these houses to this area. But moving houses is nothing new. Old timbered houses have been moved ever since the middle Ages, but a project as big as Wadköping was something new.
In a part of Örebro there was an almost untouched timber quarter with narrow streets and twisting alleys. But the houses fell in decay over time and had little or no sanitation. They area was not very attractive to live in, and with the need of Örebro to have new housing and shopping areas, they decided that everything old was to be knocked down. Luckily a campaign was started by the County Antiquarian, Bertil Waldén, to save at least some of the better old buildings. And that is how Waldköping started, a small quarter behind the city park on the banks of the River Svartån.
Detail of the Cajsa Warg Hus
Wadköping


Wadköping
The name "Wadköping" was given to this "new" part of the city because of the author Hjalmar Bergman. Hjalmar Bergman is one of the greatest Swedish authors. He was born and raised in Örebro, and a great part of his writing are from experiences in his childhood and youth. Wadköping was the name the author gave to his childhood surroundings, the townships of Örebro and Västerås. And that's how they came up with the name for "Wadköping".
Rikstelefon


Rikstelefon
I already showed you quite a few photos of Wadköping, but lets walk back again to the entrance. This old phone booth is close to the entrance of Wadköping. I have no clue though if it still works, but I thought it just looked lovely and had to take a picture of it.