Regions of Sweden
Around the Great Lakes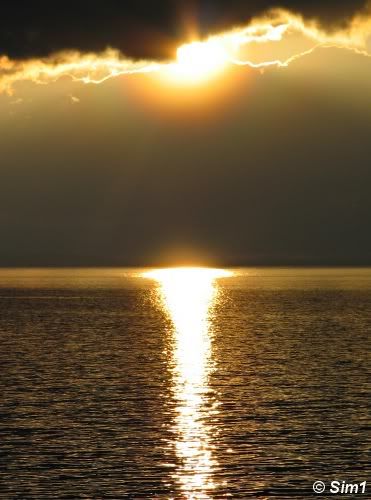 Sunset over Lake Vättern, May 2005
Early evening
Feeling tired
Been hiking all day
And wondering....
Will we see a sunset tonight?
mmm... I don't think so
or?
Chilly outside
But I want to be there
Staring at the sky
Dark clouds of rain
But oooh there it is
The sun
It's hypnotising
A shiver
Not because I am cold
Just because
It is so beautiful
by Sim1travels, 2005
Brahehus, a quick stop along the way


Brahehus
Brahehus ruins are perfect for, a quick stop along the way. The ruins are located right beside highway E4. close to the village of Gränna. It even has got an own exit off the highway! The exit leads to a gasstation, restaurant and parkinglot, but from there is a little road and tunnel underneath the highway that leads to the ruins of Brahehus. I didn't think that the ruins are thats spectacular to see, but it does make a great stop on a long drive. What I did enjoy a lot was the view. From the ruins of Brahehus you have a wonderful view over Lake Vättern, the little village of Gränna and the island of Visingsö. Brahehus is located on a ridge towering high above lake Vättern, making these beautiful views possible.
Brahehus was build in 1640 by Per Brahe junior. Unfortunately a fire destroyed the castle completely in 1708.
Gränna: Polkagris heaven! :-)


Polkagris shop in Gränna
Gränna is known for its red and white candy canes, also known as "peppermint rocks" or by the Swedish name "Polkagris". This is the place for a real sweet tooth, there are candy shops by the dozens in Gränna! Almost unbelievable that a little town like this can have so many candy shops side by side! And they are all filled with peppermint rocks in any thinkable taste and variety! The traditional one is striped red and white and tastes like peppermint, but nowadays you can choose out of many colours and flavours.
In many of the candy shops you can see the actual making process of the "Polkagris". It is quite fun actually seeing how a some boiling hot liquid (a mixture of water and vinegar) is transformed after lots of pulling, kneading and twisting in a delicious looking candy cane. And I can promise you, hahaha, you won't leave town without at least taking a few of these candy canes with you. Even I fell for the temptation ;-)
The tradition of making "Polkagris" in Gränna started in 1859 by the widow Amalia Eriksson. Now Gränna is famous in whole Sweden for the Polkagris and has become a major tourist attraction in the region.
You can read all about this little village on my Gränna page
On the water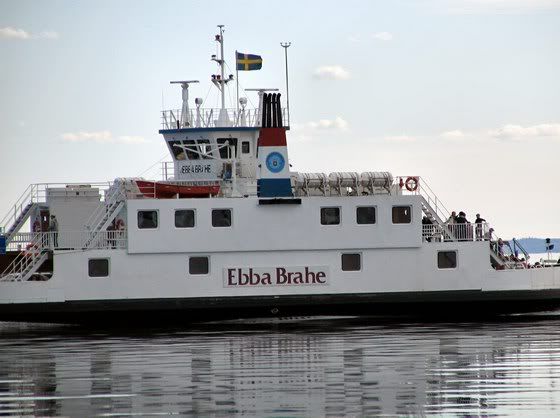 Ferry to Visingsö
You can't visit Lake Vättern without being on the water and my way of doing so was by taking the ferry from Gränna to the island of Visingsö. It is a short enjoyable ride over the lake to the island. It is a car ferry, so you can even take your car with you if you want to explore the island a bit further.
During our trip the waters of Lake Vättern were amazingly calm, with a nice evening sun. The distance between the village of Gränna and the island of Visingsö isn't so big, so you can already see where you are going as soon as the boat leaves. We used it both as an excuse to have a little boat tour on the lake and also to make a quick trip to the island of Visingsö possible.
You can find a lot more information about ferry times and prices on this website: http://www.visingso.net/visingsotrafiken/