Regions of Sweden
Around the Great Lakes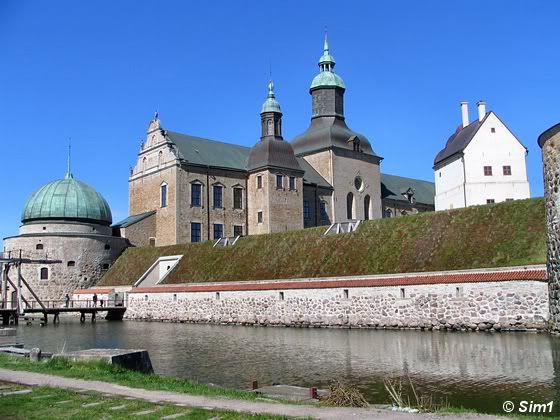 Vadstena Slott

A total surprise for me during my visit to Vadstena was the Vadstena Slott (slott = castle). Maybe I should confess that I didn't know there was a castle in Vadstena in the first place and seeing this huge castle came almost as a shock. But a good one! It was great to take a nice stroll around the castle, looking at this rather unusual building with its thick walls and picturesque moat.
The castle was build by King Gustav Vasa in 1545 as a defence again the Danish. It didn't take long though before it was remodelled (in 1555) and made into a residence for the king's son. In 1716 the castle ceased to be a royal palace and got many other uses. It even has been a storhouse for grain! The castle now is partly in use by the provincial records office and parts of it is open to the public. I didn't go in, so I can't tell you how the interior is, but I got the impression that it is rather bare.
Opening hours:
2/5 - 31/5: daily 10.00 - 15.00
1/6 - 30/6: daily 10.00 - 18.00
1/7 - 31/7 daily 10.00 - 19.00
1/8 - 13/8: daily 10.00 - 18.00
14/8 - 31/8: daily 10.00 - 18.00
1/9 - 30/9: daily 10.00 - 15.00
1/10 - 30/4: daily 10.00 - 14.00
Entrance fee:
50 SEK (around 5,40 euro / 6,65 USD)
7-15 years 10 SEK
Tåkern, ideal for birdwatching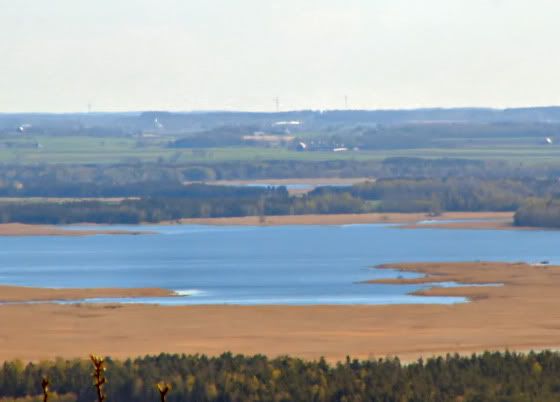 Lake Tåkern
After lots of culture it is time for some more nature! And where better to find that then at Lake Tåkern! A bird watchers paradise! Lake Tåkern is a nature reserve and about 5400 hectares big. About half of it is open water and the rest is devided by woodlands, meadows and reedbeds. The aim of the reserve is to protect nature and preserve it for the future, as it is one of the most important nesting and resting places for wetland birds in the country. The area is rather easy to reach with two visiting areas in the south (Glänås and Dagsmosse) and two to the north-eastern part of the lake (Svällinge and Hov). As this a bird protecting area the area is closed during the from 1 April until 30 June, with the exception of specifically marked roads, visiting areas and footpaths.
In the photo you can see a nicerview over Lake Tåkern, taken from the viewpoint at Omberg.
Some of the best times to visit Lake Tåkern would be May/June and September/October. These are the seasons when you can see all the migrating birds passing through this area on their way from and to the warm south. During the autumn passage about 2000 Mute Swans and several thousands of Greylag Geese, Canada Geese, Pochards and Coot collect on the lake. The Bean Gees population will build up to an amazing of 20,000 by the mid-October. This must be an amazing site to see. Unfortunately I only visited here during the very early spring, but even this time of year it was full of bird-life.
During the year about 270 species of bird visit Lake Tåkern and about a 100 species breed here. There are so many species to see that there is no use in naming them. So I like to refer you to this website instead: Lake Tåkern. I also can recommend you to look at this page (birding in south of Sweden). This is a beautiful website (PDF.file) about birdwatching in the south of Sweden in general.
Rök, Swedens most famous Rune Stone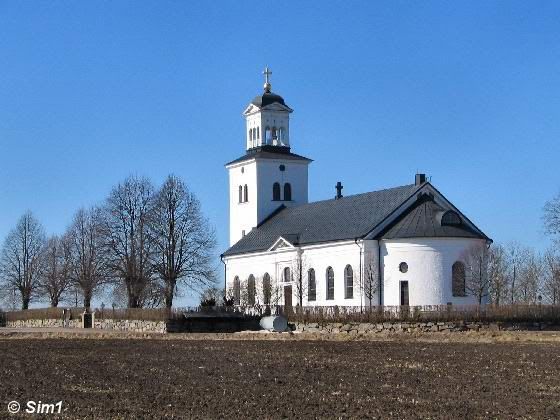 The little church of Rök
Rök is just a tiny dot on the map in the middle of nowhere. A tiny little curvy road brings you to the village. You'll drive through nice open landscape and in the distance you can see a lovely white church. But there is more to Rök than only that. Maybe it is hard to believe, but this little place is famous! Why? It is the village where you can find the most famous of rune stones. The rune stone is called the Rök Stone or in Swedish Rökstenen. It has the longest known runic inscription in stone and it is also considered to be the most beautiful of rune stones.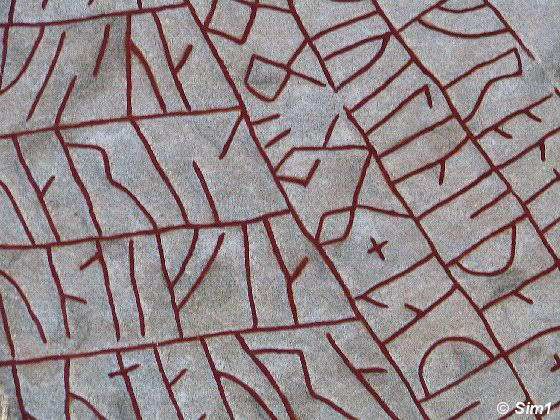 Rune Stone at Rök
Rune stones are standing stones with runic inscriptions on them dating from the Iron Age (Viking Age) and early Middle Ages found in most parts of Scandinavia. Most stones are put up as memorials for a dead person, like this one at Rök as well. On the stones you can find writing in runic, a distinctive sort of alphabet.
The rune stone at Rök is extra special because of its inscriptions. No less than 7 different rune types have been used on this stone, which makes it very difficult to decipher. The stone is unique in that it contains a fragment of what is believed to be a lost piece of Norse mythology. It also makes a historical reference to Ostrogothic king Theodoric the Great.
If you are interested in Vikings, history or Rune Stones, this is a place you might love to visit!
You can read more about the rune stone on my Rök page
From the old to the new times.....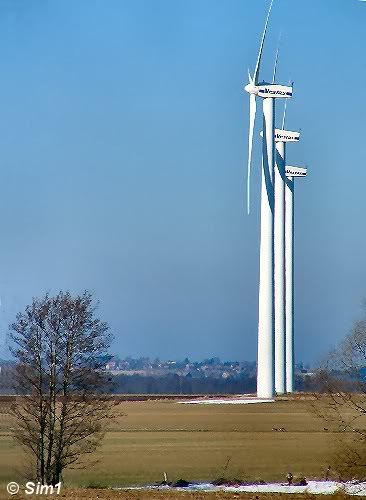 Old and new times go side by side in Rök and for that matter in whole Östergötlands Län. In the field next to the church and the rune stone, stand these modern type wind mills. It is such a sharp contrast with the rune stone.
From the outside the church looks a bit boring, but maybe that is also due to the large trees that surround the church and hiding it rather well. But the inside is well worth the look. The whole feel of the church is that it is light and big and there are lots of nice sculptures and art treasures, for example the Saint Birgitta altarlocker and one of Sweden's most beautiful triumphal crucifixes. One of the things that cought my eye and that I loved is this glass stained window depicting St.Birgitta.
These days you see more and more of these wind turbines in Sweden. Although often I can't appreciate the view of them in the open landscapes, I do have to admit that they do have something special at times. They can in a way be rather beautiful against the clear blue sky, like here in the picture.
Time for some sleep :-)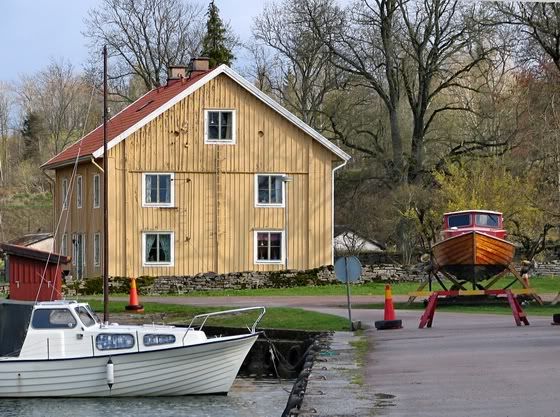 Hostel at Borghamn
The Youth hostel (STF) Omberg / Stocklycke is located south of Omberg at Borghamn and that is where I stayed during my trip to this part of Sweden. This is a tiny village located on the shore of Lake Vättern. Although it might seem a bit out of the way, it is a great location when visiting the east shores of Lake Vättern. Places like Omberg, Vadstena Alvastra Kloster are all close by. And even travelling a bit more south to the neighbouring county of Jönköpings Län and the southern part of Lake Vättern isn't a problem. The extra bonus of the hostel that the price is good too! The hostel system in Sweden is really good and you get good quality for a relatively cheap price. (accommodation in Sweden is generally very expensive).
In the photos you can get a bit of an impression of the hostel and its surrounding area. The double room we booked was perfect, quite a lot of space and clean. Ít still is a hostel, so don't expect a tv in your room, but with the views over Lake Vättern, who needs a tv?? Another advantage of a hostel is that you can make your own breakfast, lunch and dinner if you like. The kitchen is a shared kitchen, but it never felt crowded in there. It is rather spacious and it had all we wished for and even a large dining room.
http://www.stocklyckevandrarhem.se/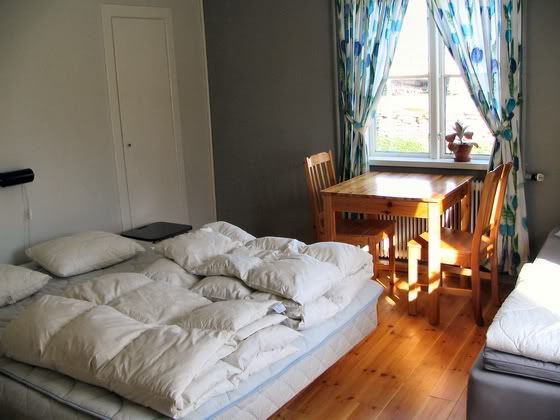 Hostel at Borghamn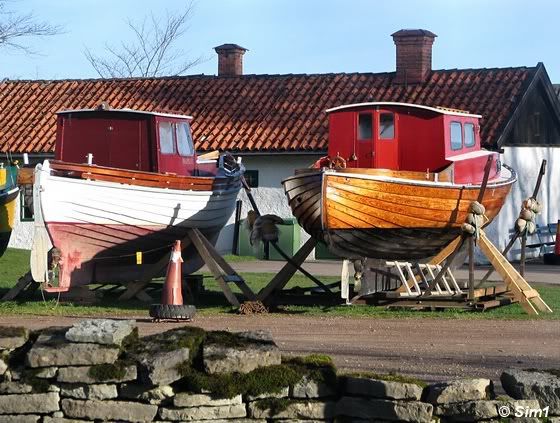 Hostel at Borghamn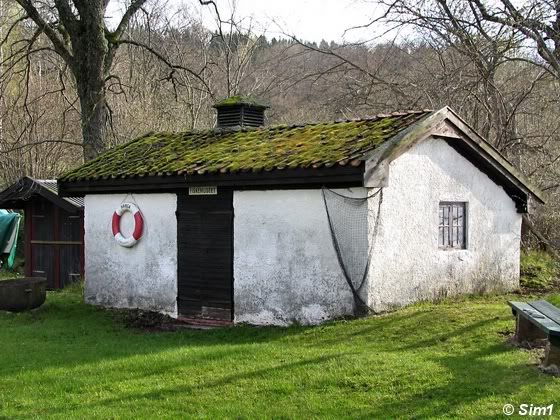 The tiny fishing museum at the hostel