Regions of Sweden
Around the Great Lakes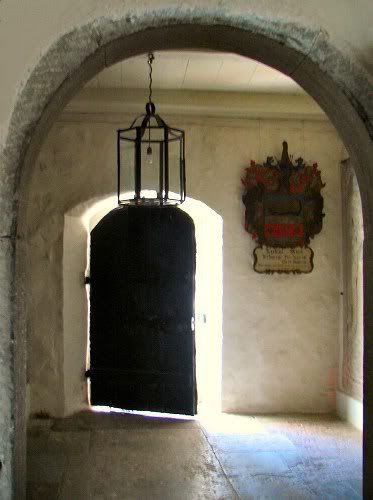 Kaga

Light creeping in around the door
Kaga church
No one there
Just me and Åke
And those beautiful frescos inside
I look back towards the entrance
A beautiful sunny day
Light creeping in around the door
Magical
Impressions of Kaga Church, by Sim1travels, 2005
Views over lake Vättern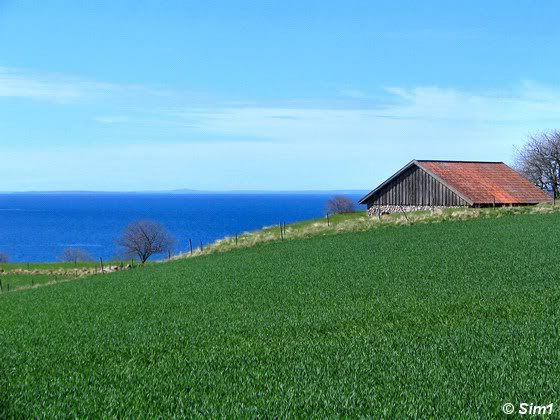 A view from Omberg
It is time to drive towards the west and visit the shores of Lake Vättern. And Lake Vättern is not 'just a lake' it is the second largest lake in Sweden and Europe's fifth largest lake and it is a lovely place to visit.
The name Vättern means simply water, and a lot of water it is! But what I found most striking was its colour. It is not often you see a wonderful blue lake like this one. Admitted, I was in luck with the weather, the conditions were just right to bring out the blue colour at its best.
Some facts about Lake Vättern:
Surface area: 1.912 km2
Length: 135 km
Width: 31 km
Greatest depth: 128 m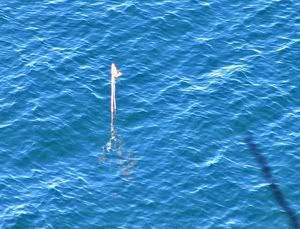 Omberg, nature area


Vitsippa at Omberg
It is early May 2005 and the feeling of spring is in the air and what better to do during the early spring then to see nature slowly waking up. Especially after a long Swedish winter! A visit to Omberg sounded like a great plan! I was looking forward in going on a stroll in the woods, see the spring flowers and the gorgeous views over lake Vättern. But maybe, looking back on my trip, I was a bit too enthousiastic. Yes, I got all what I wanted, a stroll in the woods, gorgeous views over lake Vättern and even some spring flowers. But... but..... it didn't live up to my expectations. Nature was still very sleepy and only the 'vistippa' (see photo) had woken up after the long winter and I had hoped for so much more. Something to blame on myself as maybe early May is a bit too early for such a visit. And maybe there was something else that caused my disappointment as well..... or maybe my expectations were just a bit too high.
Let me say first of all that Omberg IS a beautiful nature area! And it IS a wonderful place to go for a nice stroll in the woods! And it is not surprising that it is so well known and a popular for this very reason. And maybe when planning my own trip I should have thought of this. Popular means people, and I was looking for a nice and quiet stroll in the forest, surrounded by nature and not so much by people. So is Omberg worth a visit? Oh yes! But keep in my that it can get relatively crowded here on nice sunny days.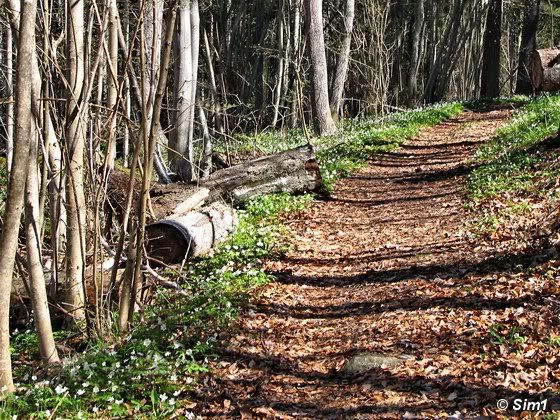 Omberg
So what is there to see and do at Omberg? First of all let me mention the views! On a clear day you can see for miles and miles from the top of Mount Omberg, called 'Hjässan' over the surrounding landscape. They even have a little watchtower here to make the view even better. To the west is Lake Vättern and to the east you can see the plains of the plains of Östergötland including Lake Täkern.
So what made Omberg to what it is? Omberg is a horst that slopes steeply into Lake Vättern and dominates the plains. Omberg consists of granite and porphyry bedrock, which solidified 1.7 billion years ago. On this website you can find the geological story of this area: The natural history of Mount Omberg
Hjässan
The highest point on Omberg, 264 metres above sea level, with great views over the surrounding area.
Ombergs Naturum
The Naturum is an information centre, often attached to national parks and nature reserves in Sweden. Here you can see a nice exhibition about the nature at Omberg. It is also a good starting points to many hiking trails in the area.
Ellen Keys Strand
A well-preserved house from author Ellen Key beautifully located at the shore of Lake Vättern
Västra väggar
Lookout with beautiful views over Lake Vättern.
You can read all about this place on my Omberg page
Alvastra Kloster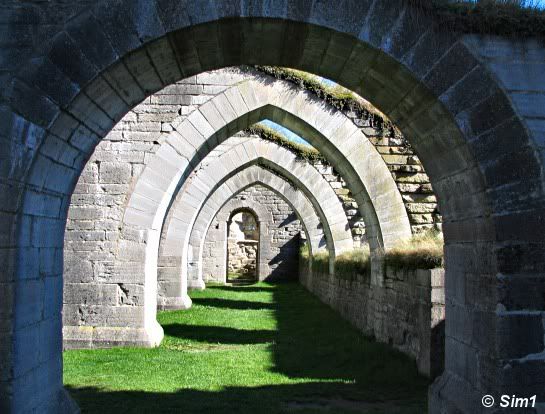 Alvastra Kloster
Just a few steps away from Omberg you can visit the ruins of the Alvastra Kloster (Kloster means "monastery"). And it really is a few steps! So close really that you combine a walk at Omberg with a little detour-walk and visit the ruins at Alvastra at the same time, just like I did. The entrance is for free, so don't miss out on these beautiful ruins.
Alvastra was Sweden's largest monastery and it dates back to 1143. The monastery was founded by the the influential Cistercian order and it flourished for almost 400 years. After its decay the construction materials were used in the making of Vadstena Castle and Per Brahe's buildings along Lake Vättern. But luckily some of Alvastra Monastery survived and the ruins have been restored and preserved. I found it a fascinating place to explore and I can recommend a visit if you are in the area. You can walk around freely here, having a good look at the architecture of the ruins. There is some information about the ruins available at the site, like for instance a little model showing how the monastery used to look like.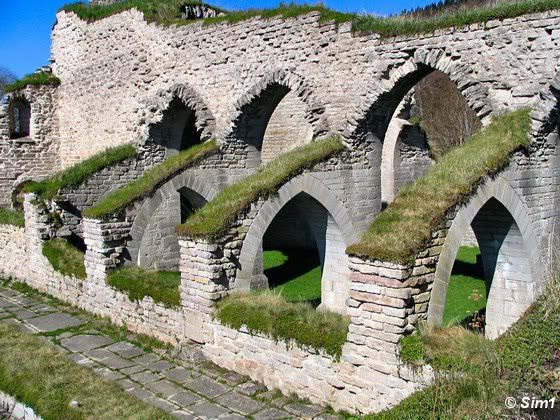 Alvastra Kloster
The monastery was founded by French monks of the influential Cistercian order in 1143. These monks came all the way from Clairvaux in France, bringing modern methods of administration, technology and archaeology to this part of Sweden.
This part of Sweden played an important role in the development of the Swedish Kingdom during the Middle Ages. This was the home of the powerful Sverker dynasty. Sverker the Older for example has was seen as the ruler of the Swedes at those times. The story goes that the Sverker dynasty bought the land and gave it to the monks to build this very monastery.
The building material of the monastary is limestone from Omberg, and its architecture is simple, as still clearly can be seen. This simplicity makes sense as it is in accordance with the order's decree against extravagancies. French masters, with the assistance of people from nearby, build the monastery.
Alvastra kloster is located close to the shore of Lake Vättern, about 10 kilometres north of Ödeshög along road 50 (from Vadstena till Ödeshög).
You can read all about this place on my Omberg page
Rogslösa: All about a "door"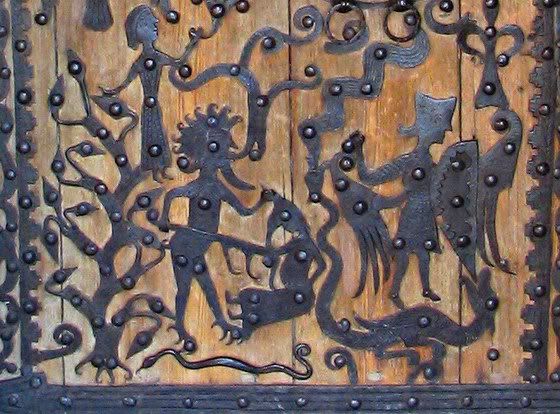 The beautiful door of Rogslösa Church
Rogslösa: this place is all about a "door". A door? you will probably ask me...... Yes a door! But an amazing door! The village of Rogslösa is tiny, very tiny, nothing more then a few houses and a church. And this church has this door that is worth while visiting. And if you don't believe me, you really have to go and take a look for yourself.
The church of Rogslösa dates back the the early 12th century and unfortunately was closed when I visited. But even if it is closed, you can still see 'the door'. This door also dates back to the 12th century and it is richly decorated with wrought iron. The door is decorated with biblical subjects and jingling rings. I've added some photos to this tip to give you an impression of the door and as you can see it is rather amazing. As Rogslösa is so close to the main road, it is certainly worth the detour, even if it is for just a 'door'.
To get to Rogslösa: follow highway 50 between Ödeshög and Vadstena. About 2 kilometers norh of Omberg you'll se the sign towards Rogslösa.