Roundtrip Borneo, June 2004
Sukau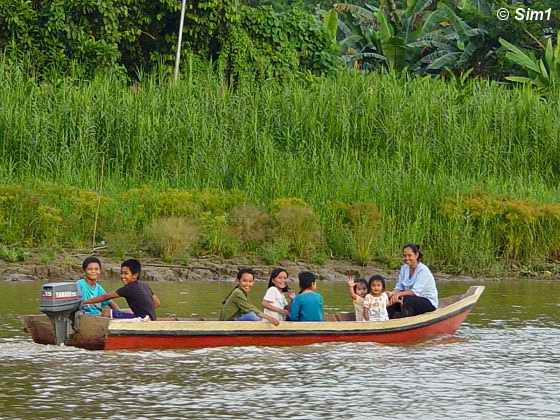 Friendly people
It was time for me to say goodbye to the river and goodbye to its people. Look at those big smiles and the little kids waving in the boat. They all looked so happy. They were looking so happy as I was feeling inside myself. I'll never forget Sukau, what a place, what an experience. I know I will always smile when thinking back to this day.
But at the same time I had a mixed feeling. I felt so very happy to have been here, but at the same time so sad to leave it. Will I be back? Maybe. Will I forget this place. Never!
"Rain"-forest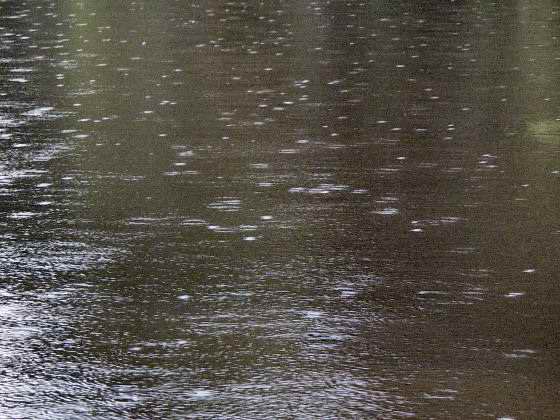 Watch out for the rain
We have been in the rainforest for quite a long time now, first around Mount Kinabalu and now at Sukau. You would think it would rain lots here! But no, I was in luck!
This was the first day we felt some drops of rain on our head in the late afternoon. So I guess a wise advise would be to be prepared for some serious downpours. I just had the luck not to have to use them :-)
Liquorice animals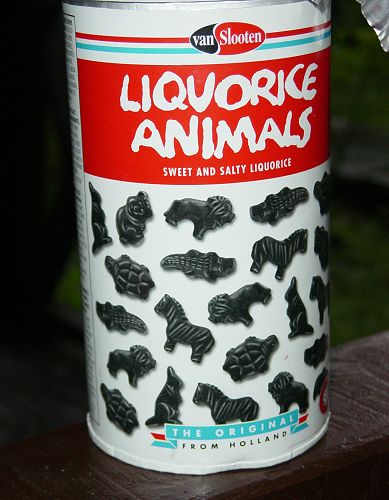 Liquorice animals
Okay, I have to admit it, I am a real sweet-tooth. So with me to Sabah, I brought this big can of "Liquorice Animals". They tasted great, hahaha, and I was amazed that I was able I hadn't all of them by now. But this afternoon, getting back to the lodge, I felt I just HAD to have a "Liquorice Animal".
I remember clearly from that morning that I had one precious candy left in the can. Yummy! That last "Liquorice Animal" was going to taste sooo good! So without looking (as I always do) I put my had in the can..... But oops...... what is that????........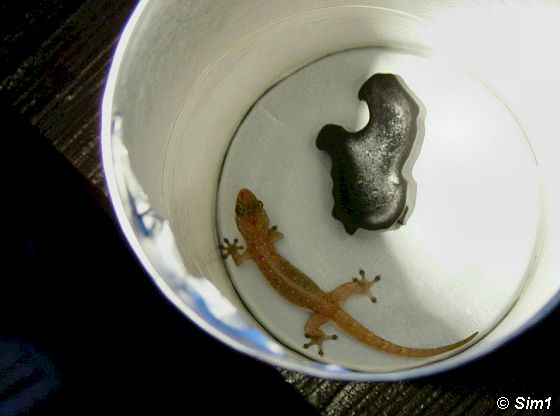 Liquorice animals
In the corner of my eye I saw there were TWO objects in the can, and in a reflex I removed my hand again. That's not right! I was sure I had only one animal candy left!!!!
I bend over to look in the can to take a better look at what I saw. Hahaha, and started to laugh without end! :-))) Oh yes, there were two animals in the can, but only one of them was Liquorice! LOL :-))
This little lizard was looking up at me. Hahaha, I think both of us were glad that I noticed him just in time, LOL.
Night walk in the jungle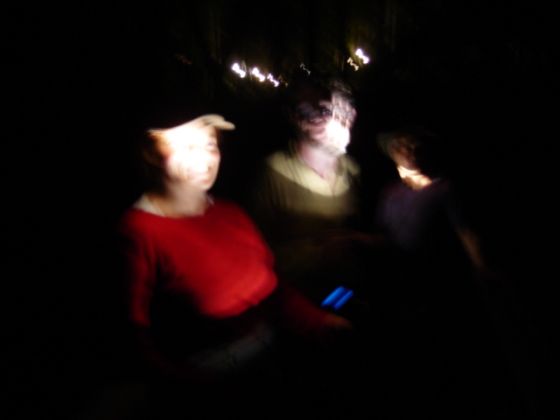 Night walk in the jungle
A thunderstorm is rumbling in the distance, but luckily it is still far away. For tonight we are going to do a night walk in the jungle. Because of the thunderstorm it is only going to be a hike of an hour, not leaving our camp too far behind us. If the rain starts to pour down it is best that we can get back as quickly as possible.
The night is pitch-black. I don't think I have stood in such total darkness before. But it is not quiet! The sound of the rainforest at night is still overwhelming. Rather scared in these dark conditions I cling on to my torch. That is my only light source, and I sure don't want to be without it down here!
Night walk in the jungle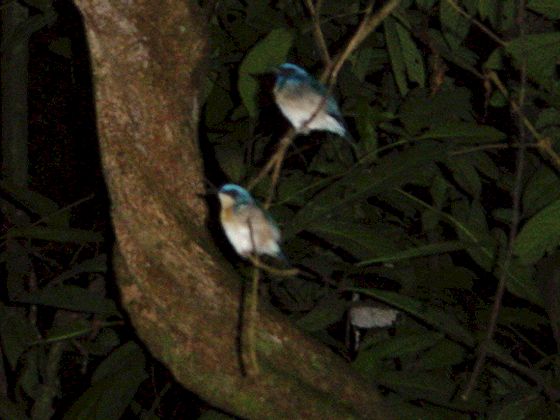 Night walk in the jungle
I slowly start to relax while walking in the dark. We follow our guide closely, making our way through the dense forest. With our torches we start to light up the trees in search of some life. And yes, there is life out there in the dark!
As you can guess it is near to impossible to take pictures in these pitch-dark conditions. But we did somehow manage to capture these birds with our camera.
Walking in the rainforest at night is an amazing experience. Maybe during the day you feel small in the huge rainforest, but at night, you feel totally overpowered. You are a mere guest, the forest rules.
With this almost humbling experience our trip to Sukau has come to an end. As you could read on this page, a trip I won't easily forget. A place where I would love to return to. I just hope it will stay the way it is now, quiet, and not overrun by tourists.
The trip continues....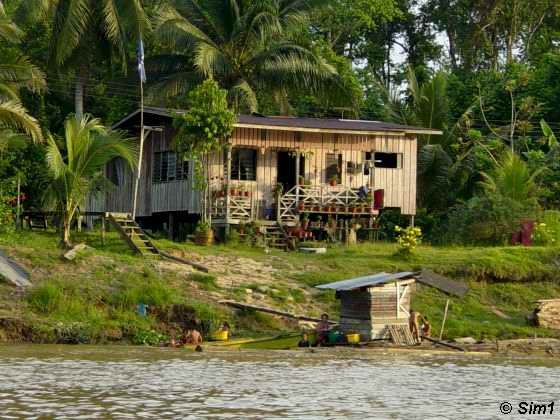 Libaran Island
My two days on the river has come to an end. Two amazing days. From wildlife to creepy crawlers, I saw and experienced it all here. A fantastic journey, and I hope you enjoyed travelling virtually with me to this amazing place on Borneo.
The previous leg of my journey was a travelling long day and you can read all about that on my 'Going to Sukau' page. It was great to see a bit of the country, learn about the palm oil plantation and visit the Gomantong caves.
My next page will be about Libaran Island. An island in the Sulu Sea, a place to relax, learn more about the local life of the people on the island and a great location for exploring the mangrove forest.
I hope you will join me on this virtual trip and enjoy reading my travel stories and see the pictures. For me it has been fantastic to write about my journey because it has made me relive the trip once again :-)