Roundtrip Borneo, June 2004
Sukau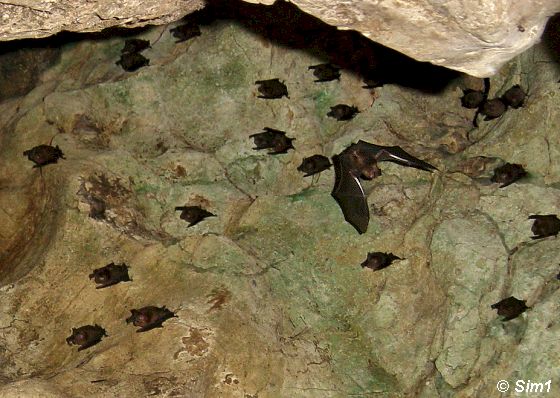 The batcave
But the most sensational about this cave were the bats! From the cave entrance there was an opening to the right, and in that area it was full with bats! So cool! But not all of them were sleeping though, some of them flew in and out of the cave. When you click on the picture you can see clearly that one of the bats is flying directly towards us.
It was such a weird sensation to feel the bats fly past my ear when flying out of the cave. There was only a small opening left, as we were blocking most of the cave, but they knew exactly how to find it.
The legend of the Rock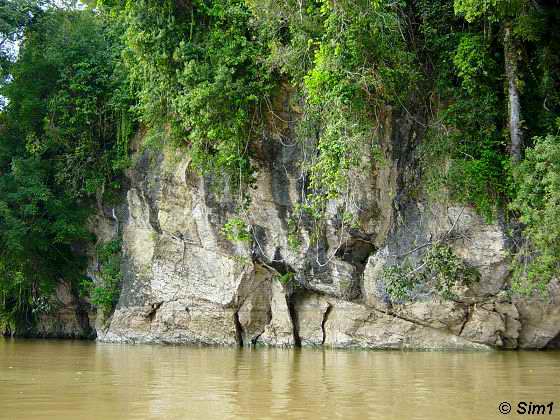 'Big Tumangon' Rock
This cave is a little part of a huge limestone rock called 'Big Tumangon'. And this is not just a rock, but a rock with a legend. Our guide 'One' told us about the legend of the rock. It's a long story, but it was great and heart warming to hear. In short it ends with: everyone that passes the rock can make a wish, and it will come true.
Sounds probably unlikely to most of you. But I sensed something special about this place, it captured my heart. So I made a wish, and it came true, within an hour from wishing it. For me 'Tumangon' is a special place. And if you go here, don't forget to make a special wish.
Nose Monkey drinking water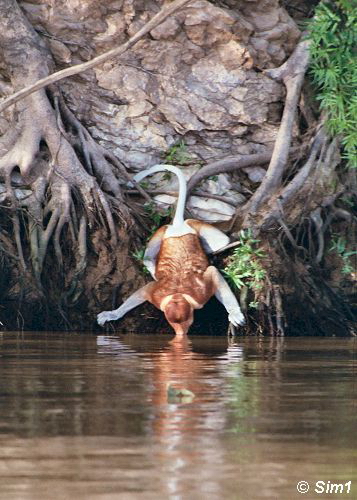 Nose Monkey drinking water
When we turned back on our trip and passed this limestone rock again, I all of a sudden saw something moving on the water edge. First I was in doubt, is that a nose-monkey?? Nooo, that can't be. It must be a fisherman.... or....... ?
But my doubts remained, so I said to everyone, with a big question mark.... is that a nose-monkey over there??? The guide, the boatman, everyone got into immediate action! "Wowww, a nose-monkey drinking water from the river!!!" "This is special!!!!" So slowly, not to disturb the nose monkey, but also as quickly as we could, the boatman manoeuvred the boat to the shore.
Wowww, a huge male nose-monkey was sitting there, upside down, clinging to the rocks, drinking water from the river.... fantastic!
I am the boss!!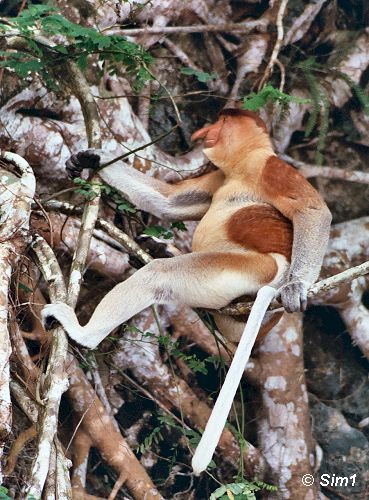 Nose Monkey
The big male nose monkey was along the riverbank with his whole family. But as soon as we approached the whole group, that was sitting in the trees, climbed up the trees to the top of the rocks, out of our sight.
This male nose monkey on the other hand, wanted to show he was brave, so he made himself big and impressive, saying "I am the boss and "I am not going anywhere else because you guys are here!"
Wow, and that made this a unique opportunity for us to watch the nose-monkey from up close. What an amazing creature, fantastic to see it sitting here in the tree, watching us from a safe distance, but still being so close by.
I have to write about this fun fact :-)). Did you know that the nose monkeys are also "Monyet Belanda"? Hahaha, which means the "Dutchman Monkey"! :-)) As a joke on European traders and colonials they named this monkey after the Dutch. Both were hairy, had big red noses and big bellies! Oopsss.....
Hahaha, am I glad that I am not a 'real' Dutchman anymore, but now partly Swede ;-))
Amazing to watch the nose monkeys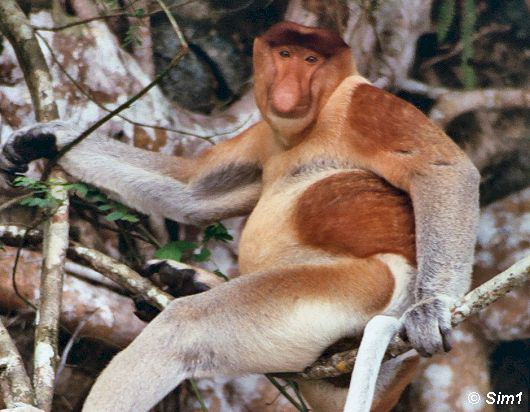 Nose Monkey
The nose monkey or Probioscis Monkey is a fascinating animal to see. The big nose looks absolutely funny of course (did you know that its nose keeps growing during its whole life?!). But besides its so characteristic nose it is just an impressive monkey species to see.
They are so wonderfully colourful with their warm red-brown coats, their cream coloured chest, their arms and legs going from red-brown into grey at the bottom. And not visible in this picture, but you can see it in the previous, they have this amazing long white tail.
I think I could write on about this monkey for days, hahaha, and show you just as many pictures. But I better not. For me seeing this nose monkey on the water side and in this tree, was the highlight of my trip to Borneo. Amazing, amazing, amazing!
Life along the river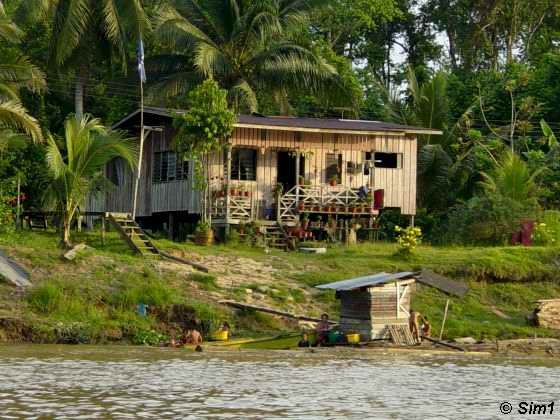 Life along the river
We are on our way back to the lodge, but I didn't mind. Wow, what a day, wow, what we had seen! This has been an amazing day, on an amazing trip. It was time for me to calm down now, just sit down and relax in the boat, looking at the surroundings.
When we got closer to our lodge, we got into the more populated area again. This little house surrounded by palm trees looked so picturesque. It looked very well kept and was surrounded by flower pots, giving it a cheerful look. The whole family seemed to have decided to go for a swim in the river and having great fun.