Roundtrip Borneo, June 2004
Sukau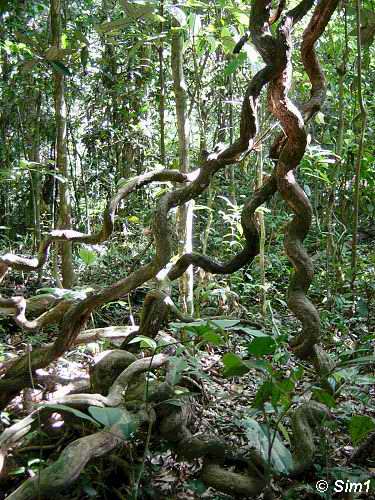 Hiking at Oxbow Lake
We are on land and will be hiking around Oxbow lake for the next hour or two. The rainforest is dense, and this is the kind of landscape we are going to hike through, trees, branches, liana, muddy tracks, not an easy trail to do.
I can't really call it a trail we are going to take because it is nothing more than an animal track we are taking. The heat is intense, the humidity is almost killing, and the nervousness is rising. I've never done this before! I wonder what we will encounter on our way.....
Leeches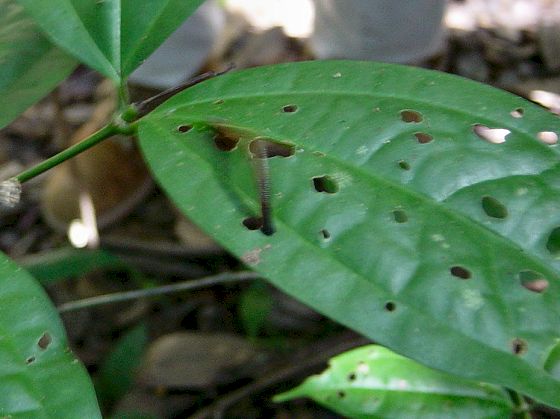 Tiger Leech on a leaf
The main 'danger' on this trip through the rain forest were these Tiger Leeches. You can see one on the leaf in this picture. You can just see it moving, sticking up its body, moving around towards the smell of warmth and blood.... eeks..... that must be my BLOOD it is after!!! eeeeks! Sooooo disgusting!!
I just kept my eyes open all the time, seeing them by the dozens, moving and wiggling around with their bodies, looking for humans or animals to feed on. And as I saw no animals, we seemed to be the perfect target for them. Hmmm, lunch they were thinking, yummie! ;-)
If they get on your clothes or body, they are easily to be rolled off, so no real worry. They often don't 'bite' at once, but wiggle around until they find a nice soft spot on your body before they start to feed. So you do have some time to remove them before they cause trouble.
Maybe no worries if you know all that, hahaha, but I got half in panic anyway. But after a few I got 'almost' used to them, LOL, not freaking me out so much as in the beginning. I can even call me the proud winner in the 'leech' competition, catching the most of them on my body from our group, LOL.
No need to say that if you plan to go hike in the rainforest like this, it is best to be well-dressed. Long sleeves and trousers are a must, with your trousers nicely secured in your socks to give them no opportunity to crawl up your legs. The less skin you expose, the more secure you are.
Strangler Liana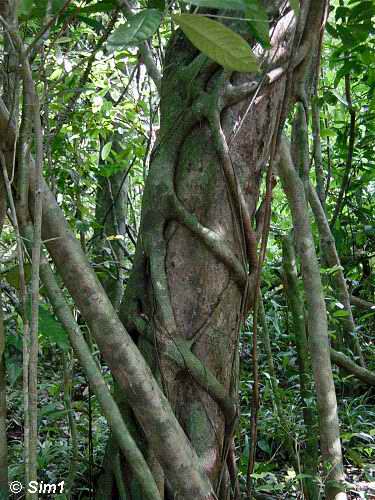 Strangler Liana
Trying to forget my disgust about the Tiger Leeches, hahaha, which was rather hard to do actually, I tried to concentrate me on the surrounding nature while we made our way through the rainforest.
It was so humid here and so warm, hearing birds sing and the noise of the insects all around me, it was an unforgettable experience. I never made a hike like this before in my life! Watch your step, mud pool ahead! Climb carefully over this branch, bend you head down, overhanging liana.... hahaha, slowly we made our way forward.
Our guide pointed out several plants and trees while we were hiking and this 'Strangler Liana' was one of them. When you look at the picture you probably get the idea why it is called this way.
The tree has died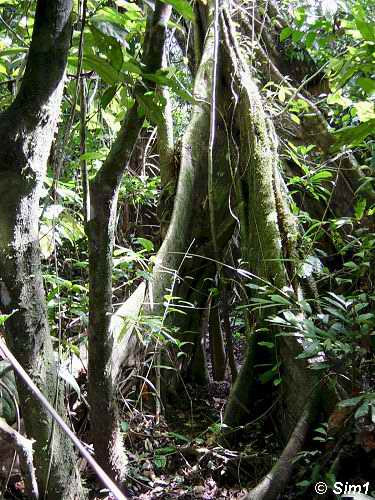 The tree has died
The end result of when the strangler liana has just its job. The liana has gotten huge, and the tree has died. Sad for the tree, but also for the liana. It need to find a new host tree as soon as it can, to support itself. Life in the rainforest is hard!
So did we see any animals?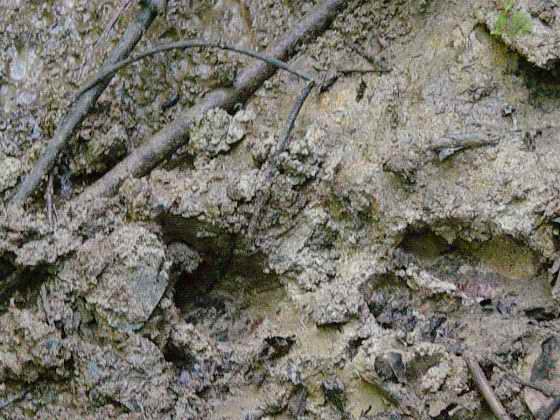 Boar tracks
So did we see any animals? Well besides the already well-known leeches, I saw spiders, caterpillars and some beautiful butterflies. We did 'sense' some more spectacular animals though. Here you can see the footprints of wild boar. There was quite a chance we would see them, but unfortunately we didn't. We could still smell them though, they had been in the area a very short ago.
Another animal we 'almost' saw is the elephant. I had no clue there were elephants in the wild, but they are. The only thing we saw from them was what they left behind, elephant poop, hahaha, not sure if that was a good thing LOL :-))
The last of the leeches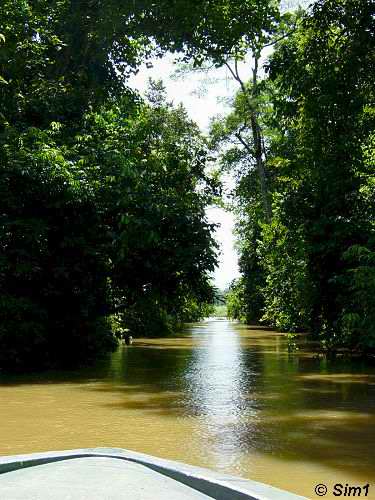 Going back to the lodge
Back on the boat again, time to head back for the lodge. And time to get rid of some of those extra layers of clothes that were so necessary during our hike. I was wearing some of those super-handy 'zip-off trousers' so I could easily take of the bottom part of them and turn them into shorts. But I have to tell you something before I do that.
All the way during our hike I had this 'uncomfortable' and 'uneasy' feeling on my legs. Well, nothing you can do about that when walking in the rainforest. so I decided it was just imagination. But when I was on the boat, taking off the bottom part of those trousers, I realized it wasn't imagination.... eeeeekssssss, a leech!!! Oh yeah, and that leech was having fun on my leg!!!
Hahaha, no need to say I did shriek a tiny little bit, LOL, but luckily Åke came the rescue :-)) Within seconds the leech was removed and the panic was over. The leech must have gotten on my leg by the little opening at the zipper of my zip-off trousers. That learns me for next time not to put on those fancy handy ones, but put on some sturdy trousers next time I go hiking in the rainforest, LOL :-))
But oops.... I had another one in the back of my neck as well! Good they didn't say that to me until it was removed.... arghhhh! Luckily that was the last of the leeches :-))) No more of those creepy things for the rest of the trip :-)))
Back home, feet up :-)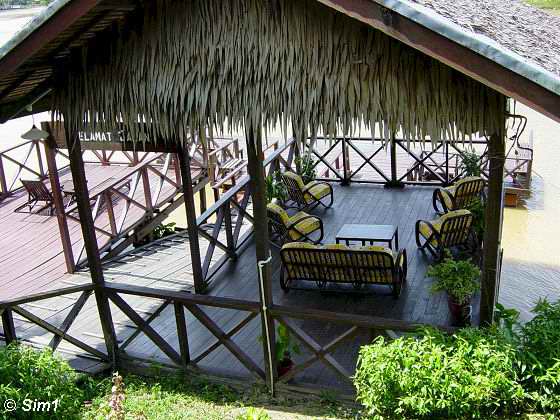 At the lodge
Back home at the lodge, time to put our feet up and relax. It is only around 1o'clock in the afternoon, but it feels like we already have had a whole day behind us.
So nice to be lazy for a couple of hours, escape the worst heat of the day and start dreaming about our upcoming excursion later in the afternoon :-)