Roundtrip Borneo, June 2004
Sukau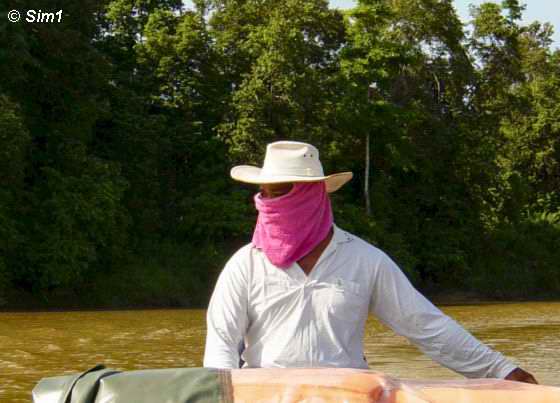 Our boatman
I guess the boatman agreed with my tip about protecting against the bright sunshine. Hahaha, but why he chose this bright PINK towel to protect his face from the sun will always remain a question to me, LOL :-))
He had real sharp eyes though and in the two days we were with him in the boat, he totally amazed me with what he spotted in wildlife. The most invisible creatures were not safe for his eyes. Simply amazing.
The river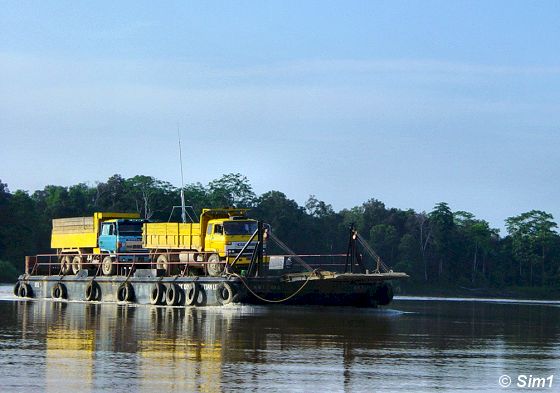 Transportation on the river
This Kinabatangan River is wide and it is the Sabah's longest river. It runs 560km from the mountains of south-western Sabah to the Sulu Sea.
No wonder it is used not as a way of transportation. But despite knowing that, I still found these bright yellow trucks quite in contrast with the surroundings. It was so quiet and peaceful here and it felt so far away from everyday life.
Canal to Oxbow Lake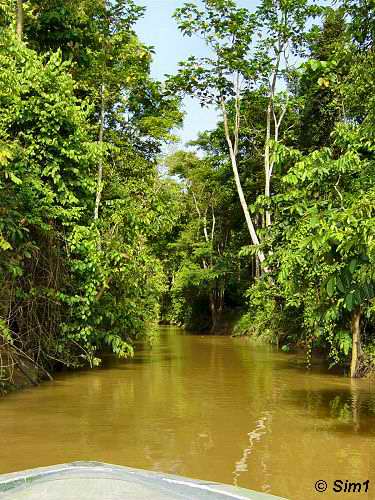 Canal to Oxbow Lake
It is time to leave the big river and take this tiny canal towards Oxbow Lakes. This tiny canal is the only way to get to the Oxbow Lakes by boat. And it looked like were the only ones knowing about it, because no one else was thinking of going into this direction and it didn't look so heavily used either.

Canal to Oxbow Lake
This little canal was great and the rainforest seemed to get closer and closer to us while the canal narrowed the whole time. The smells and sounds of the rainforest, the birds, the cicadas, the soft noise of the water ripple against the boat, the sunlight filtered through the trees surrounding us. A simple moment, but a moment which I'll always remember.
Entering Oxbow Lake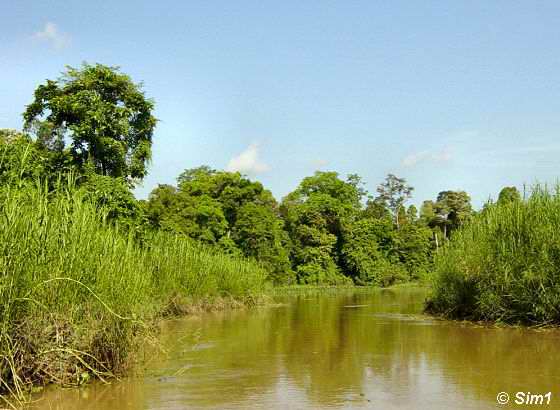 Entering Oxbow Lake
The canal opens up again and we have arrived at Oxbow Lakes. This is not only the name of this lake, but also the name for the phenomena of these type of lakes.
The so called 'Oxbow Lakes' have a distinctive curved shape and you can find them anywhere. They are the result when a meander from a stream or a river is cut off to form a lake, giving them their special, almost U-shaped form.
Snake Bird at Oxbow Lake

Oxbow Lake is a very quiet lake, nothing more than a curve in the river. It felt very secluded and from the rest of the world. There was no one else there but us, surrounded by beautiful nature.
The lake didn't seem very deep, especially on the sides, where it was almost more like a marsh. And that is where I saw this snake bird sitting on a branch that was sticking out of the water.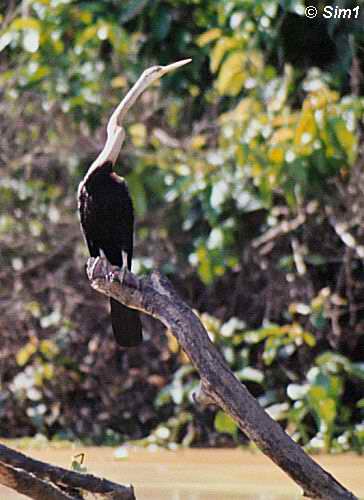 Snake Bird at Oxbow Lake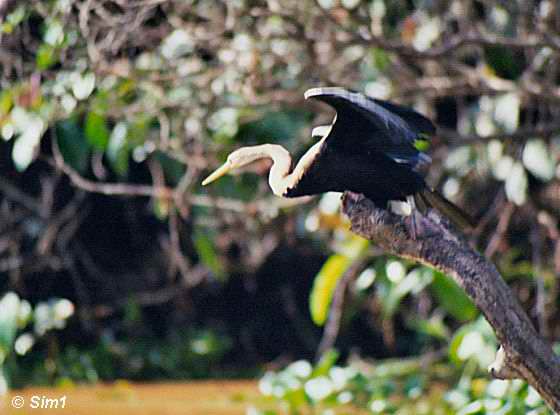 Snake Bird
As you could clearly see in the previous picture, the snake bird got its name from its long snake-like neck. Another name for this bird is Oriental Darter. It was just great to watch it here on the branch, stare at the water, dive in, totally disappear for quite a while and come up again.
Last I saw of it was when it was drying its wings in the sun. I could have observed it for much longer, such fascinating birds, but it was time for us to move on. Next stop: hiking around Oxbow Lake!
Water Hyacinth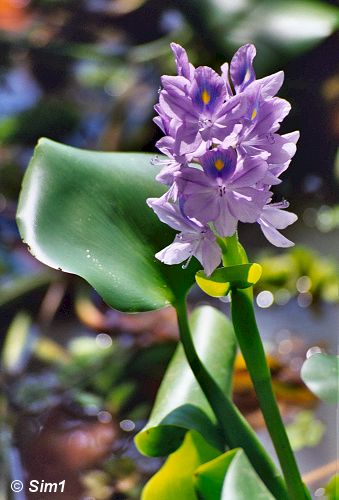 Water Hyacinth
But before we could get to the bank of the river, we first had to 'plough' our way through a carpet of Water Hyacinth. I know this flower very well, as I tried to grow it in my pond in The Netherlands. Hahaha, not with much luck though, because it is a bit too cold for it over there. But wow, seeing such a amazing amount of Water Hyacinth together, with its beautiful flowers was amazing!
You don't have to look far to see these flowers in this part of Borneo, because you can spot them everywhere on the rivers and lakes.