Roundtrip Borneo, June 2004
Sukau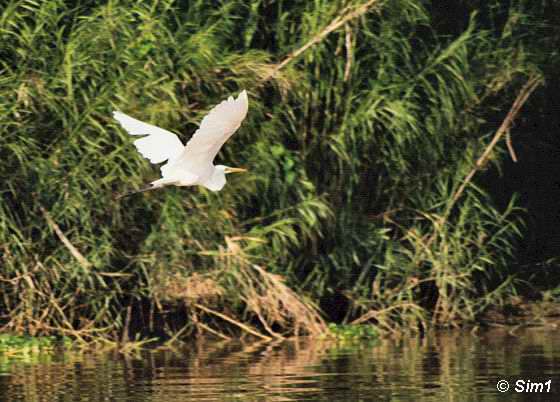 White Egret
The first one on the list to show you is the White Egret. This bird isn't originally from Sabah, but it seems to love it here, and that's why you can spot them in an abundance. I think it is a beautiful gracious bird, really striking with its bright white colour.
Pied Hornbill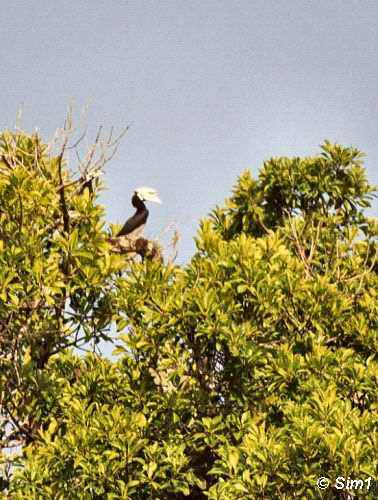 Pied Hornbill
I was so happy to spot this bird, the Pied Hornbill. I actually saw quite a few of them and they are beautiful! The striking part of this bird is its amazing beak. The picture isn't so clear as the bird was sitting high up in the treetops. But I find the bird special enough to give it a little spot on this travel page :-)
High up in a tree

Another high up in the treetop pictures. On the top branch you can see a white egret and on the lower branch a snakebird. They didn't see to mind each other so much sitting so nicely together in the tree.
These two birds are the two varieties I saw most here along the Kinabatangan River, and these were certainly the two type of birds that were easiest to photograph.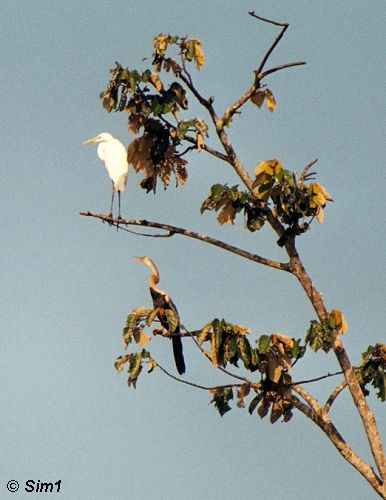 High up in a tree
"One" explaining what we spotted


Our guide "One"
By now you are probably sooo impressed by my bird watching skills and knowing all the names of the birds we spotted. But ehmmmmm..... I have to confess I couldn't have done it without the help of 'One', the guide.
We saw so many more types of birds during our trip, but of course I forgot all about their names. I just remember it was great to watch them.
White Bellied Fish Eagle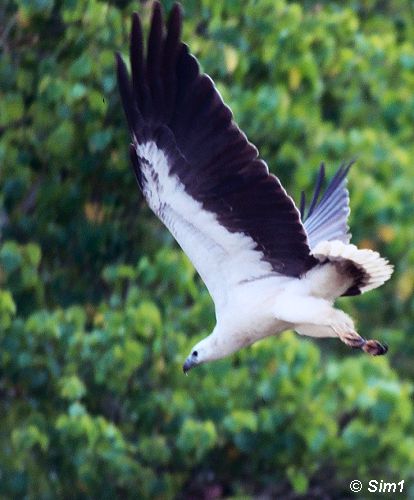 White Bellied Fish Eagle
We had an absolute stroke of luck when this White Bellied Fish Eagle passed us. It was sitting in the treetops, but probably got disturbed by our boat heading its way. So it flew up, but it passed almost directly over us, giving us a great opportunity to watch the bird from close by. Wow, so impressive!
Crocodile!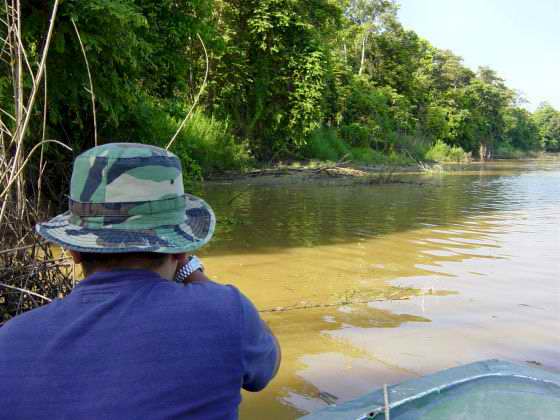 Crocodile!
Crocodile!!! The boatman suddenly shouted! There! To the left!!! Where? where? I don't see anything, I answered almost desperately. Aiks, I was too late....
All I could see were some bubbles of air on the spot where the crocodile went under water. Looking over the shoulder of 'One' we tried to spot it again as it might have surfaced again on another spot. But in vane..... that's all I would see of that crocodile.... blub, blub, blub, bubbles of air :-)
Sunbathing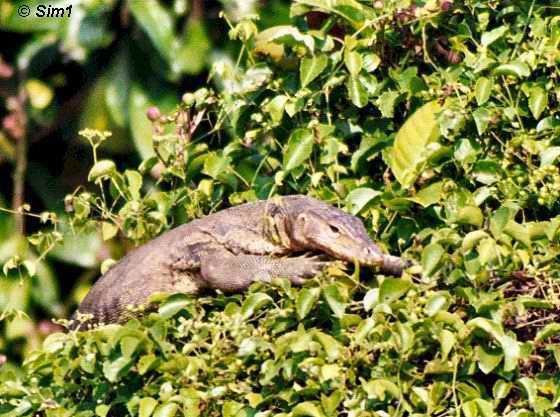 Monitor Lizard
No crocodiles unfortunately, but instead another animal I am not used to: a Monitor Lizard. Hahaha, and with a little bit of fantasy it looks a little bit like a crocodile ;-))
This Monitor Lizard was enjoying the great sunny weather to the fullest as you can see :-) This lizard was quite large, at least over a metre long.
Time to Relax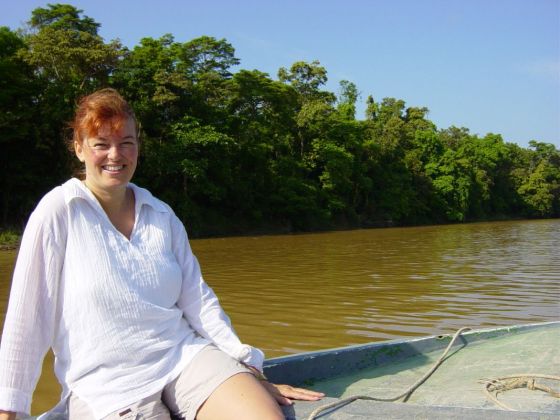 Simone being lazy
I wonder if I was inspired by that lazy lizard, hahaha, anyway, I thought it was a great idea to do some relaxing sitting in the sun myself. We left the banks of the river and started heading to our next destination: the Oxbow Lakes.
Be warned though if you are thinking of going sunbathing here. The sun is really strong and you'll burn before you know it. So don't forget to put on some suntan lotion to protect you from the sun. I can say I was really glad wearing this thin long-sleeved shirt, giving me some more protection against the sun.