Roundtrip Borneo, June 2004
Sukau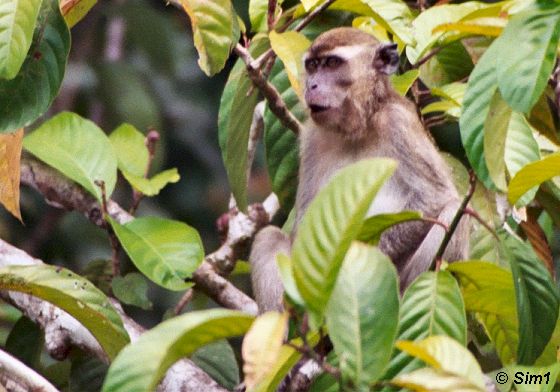 Macaque
But even if we got distracted by the surrounding landscape, our guide and the boatman kept their eyes wide open. "There! On the left! Macaques!!" Whispered the boatman enthusiastically.
He slowly manoeuvred the boat to the riverbank so we could as close as possible to the Macaques. Wow, my first monkeys I've ever seen in the wild!!! I was so amazed, impressed, excited.... hahaha, not really sure how to call this feeling. These were my first macaques, but certainly not the last I would see on this trip!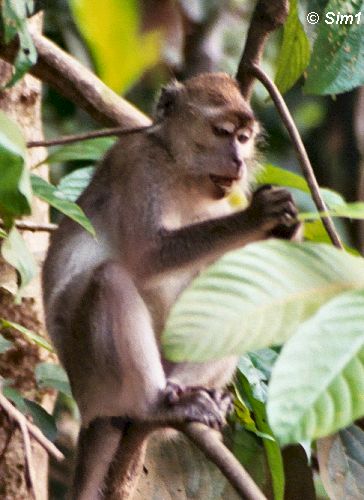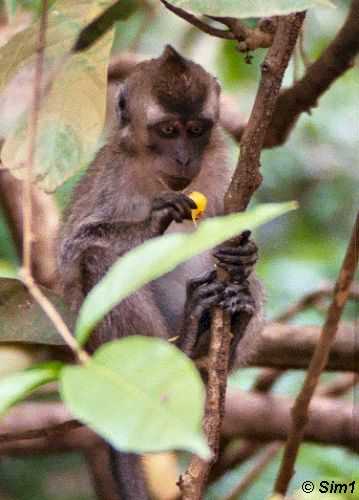 Climbing like little acrobats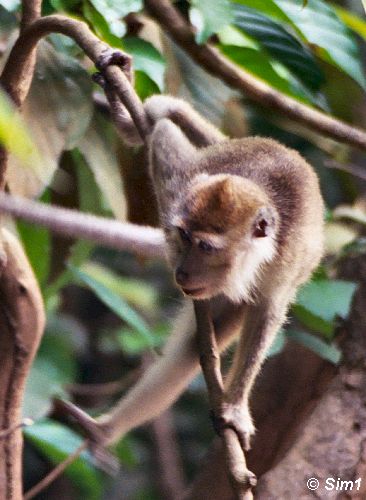 Macaque
The boat stopped as close as we could to the river bank and we all looked up in the tree tops. A real "ooooh" and "aaaah" moment for me, and of course I went 'click' 'click' 'click' with the camera! :-)) This was something I wanted to capture on film! So amazing to see! Well... remember, this was my first time I saw monkeys in the wild! That's something special! Hahaha, I think so anyway :-)
The macaque is not a shy species, they didn't seem to be that much impressed by our presence. They went on with their daily business, climbing in the trees, like little acrobats, or just lazily sitting and looking around.
So cute

Okay, one more of those macaques, just because this one is so cute! :-)) It looked so small and cute and funny!
But I have to admit that in reality these macaques aren't so cute at all. They are a real group and when one of them gets angry at you and wants to attack, the other macaques are not far behind. So it is wise to keep a safe distance to these creatures even if they look cute.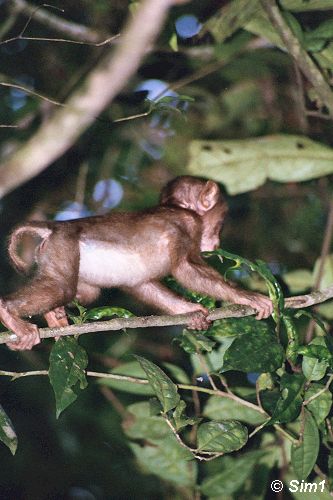 So cute
Huge trees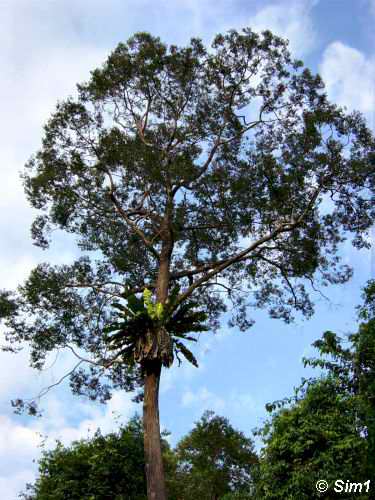 Huge trees
Okay, back to the surroundings again. The forest is quite dense on the river banks, but when you look up you might spot some almost lonely looking huge trees.
But what is that growing just below the tree top? That's not part of the tree itself is it? It seems like the tree has some sort of guest living there......

Birds Nest Fern
High up in the tree is a birds nest fern. I really love this fern and I spotted it quite often in the treetops here in Borneo. These ferns can be huge, like this one, and if you look at them they do have a bit of a shape of a birds nest.
Snakebird

Going from a birds nest to a bird is not such a big step to make. And in this case it is a snakebird. I spotted this type of bird quite often in the area around Sukau, and without a doubt you will see it for yourself when you visit this area.
The snakebird is quite a large bird, mostly black in colour. But the mean characteristics of this bird is its long snake-like neck, hence the name snakebird.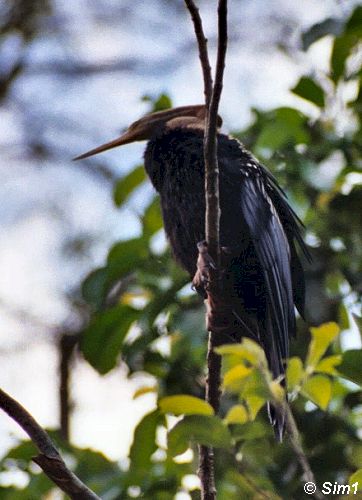 Snakebird
Snake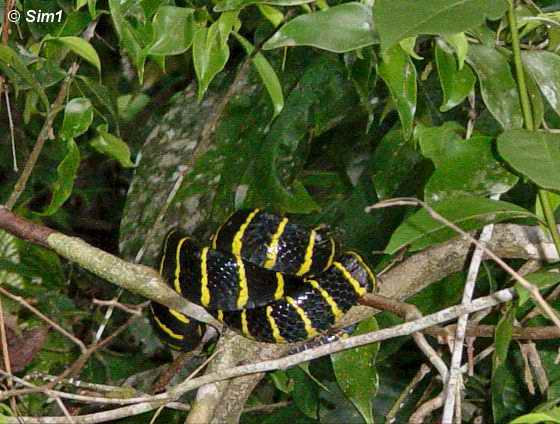 Snake
You get what you order on this trip, and I asked for snakes.... hahaha, so I got to see plenty of those! So why do I want to see snakes you probably ask yourself?
I was making fun with some friends in Sweden about all kinds of creepy things I would encounter on Borneo. They all thought they could scare me with the idea of snakes. Well, that was not working! Hahaha, so instead I promised them to bring home at least one snake picture. And here is one! Hahaha, one of the many snake pictures I made actually ;-))
If you are not really 'into' snakes, just don't mention them to your guide. They are hard to spot, so if you are not looking for them, you probably will never notice them ;-)
Monitor Lizard bathing in the sun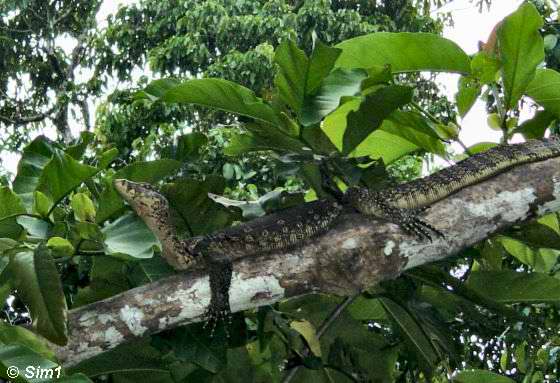 Monitor Lizard
Like the snake, most people probably won't get too excited by seeing a monitor lizard. Hahaha, but I do, LOL. Yeah, yeah, you can call me weird getting all enthusiastic about snakes and lizards, but for me it is all new. And as long as they keep a safe distance from me, I just think it is great.
This monitor lizard was laying lazily in the sun on a branch overhanging the river.