Roundtrip Borneo, June 2004
Poring Hot Spring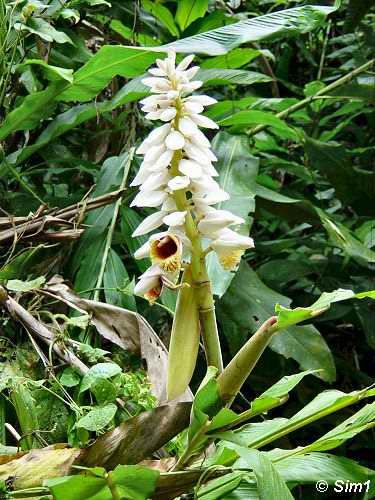 Beautiful flowers
Of course I can't walk in a place like this without taking at least one photo of a flower. And if I am right this is the flower of a ginger plant. It was fantastic to see all these 'unusual to me' plants and flowers.
Lunch at the waterfall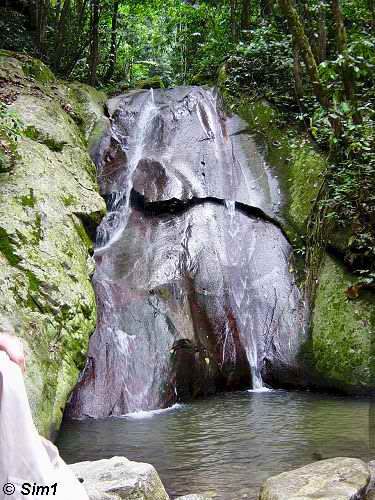 Lunch at the waterfall
Next stop was the waterfall. I was really feeling hungry and happy it was only a short walk from the hot springs to the falls. It took us about 10 minutes to get there on an easy hiking trail. We had the place to ourselves which was great.
If you want, you can take a little swim at the waterfall. But be warned though! The temperature of the water was really 'Swedish' (= cold). It can't have been over 20 Celsius. That's even too cold for us Swedes!
Poring Butterfly Farm

Besides the Canopy Walkway, the waterfall, and the hot springs (I am going to tell you about those next!), you can also visit the butterfly farm. As we were not really attracted to the hot springs, we decided to give the butterfly farm a try. Getting there they told us that there weren't many butterflies around. So we hesitated. That didn't sound good! So they offered half price... oops, they sounded desperate.... not good! So we decided to skip the plan all together. So all I can tell you that there is a butterfly farm, but unfortunately not what it is like.
On the sign in the picture you can see the opening times and prices for the butterfly farm.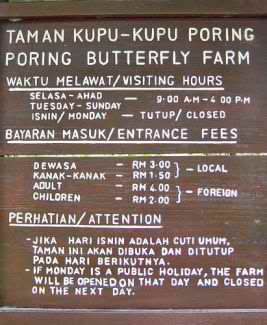 Sign at the Poring Butterfly Farm
The Hot Spring


The Hot Spring
The major attraction at Poring Hot Springs are without a doubt the hot springs themselves. It looks quite nice in this picture, but I have to admit it wasn't something for me. So we decided not to give it a try. When we were here it wasn't too busy, so I guess we were lucky. But at times it can be quite crowded here at the hot springs.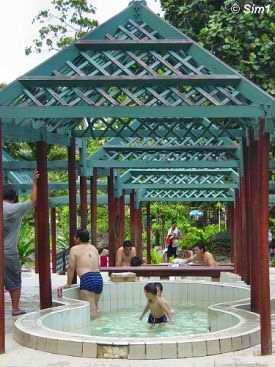 The Hot Spring
The hot springs were developed by the Japanese during World War II and are now quite a popular tourist attraction. The baths are in the open air, and the water is hot and rich of sulphur. If you want to give them a try all you need to do is put on your bathing gear and turn on the tap.
We decided to leave Poring Hot Springs and call it a day. But oops... we were too early and the driver wasn't to be found. So what to do instead?....
Lantern Bug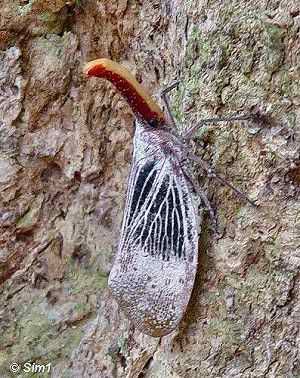 Lantern Bug
So what to do? Go bug hunting! Hahaha, yeah, I know that sounds crazy, but it was really fun to do. There are so many different animals and insects here, that I was fascinated by their weird shapes, sizes and habits. Like this lantern bug for instance, doesn't it look weird, but fun :-)))
Maybe going bug hunting is not the most female thing to do, hahaha, but I love nature, and insects are a part of it. To me they are fascinating to see.
Where is the butterfly??


Where is the butterfly??
There were several big butterflies flying around us, and they were beautiful. They are attracted by the sulphur in the water around here, making it easy to see quite a few of them flying around.
That inspired Åke to go on a butterfly hunt. And this amazing picture was the result of his 'job'. Hahaha, my 'lawyer' taps me on the shoulder right now and advices me to have 'no further comment'. Hahaha, as I might get into trouble at home if I do, LOL. So take a look at the 'moving' picture yourself to see the result :-)))
Dragonfly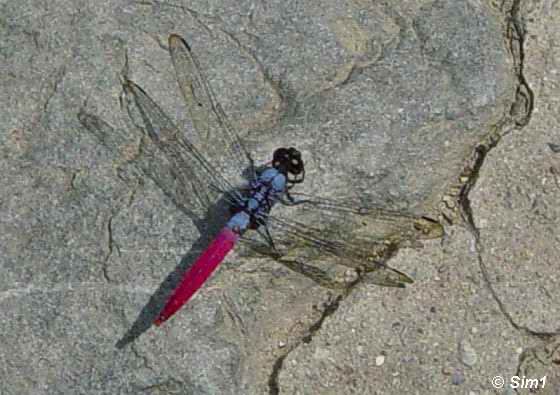 Dragonfly
The dragonfly is a more usual insect for me, but this was a beautiful one. And as it posed so nicely for me, I couldn't resist taken a photo of it. There were quite a few of them flying around at Poring Hot Springs, quite big ones as well.
Orchid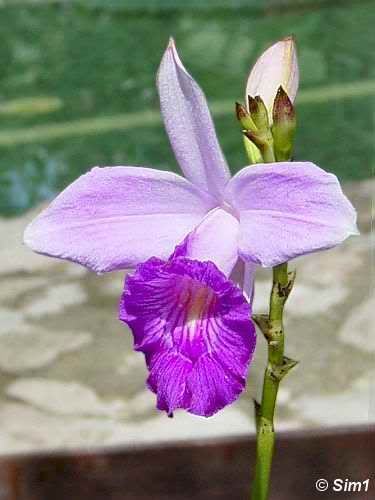 Orchid
Sabah is a great place to see orchids. I saw so many different varieties at Mount Kinabalu Park, it was overwhelming. But even here in Poring Hot Springs they were growing all over the place. I just loved this beautiful pink one. If you want to see more pictures of orchids, please take a look at my Mount Kinabalu page. I have a whole selection of orchid pictures there.
Market at Ranau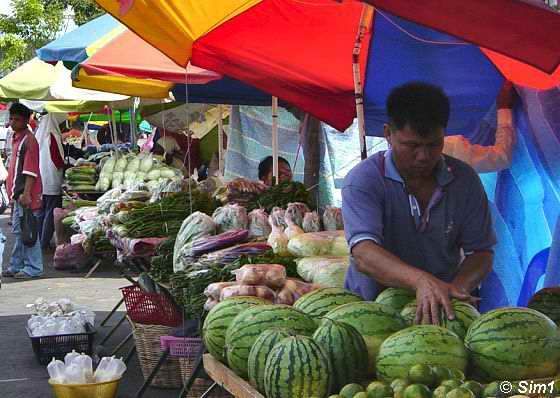 Market at Ranau
Our driver showed up, and we were all ready to go. We were feeling warm and sweaty of walking around all day, first at Kundasang and now at Poring Hot Spring, that we all were more than ready to leave. But the nice cool air of the air-conditioning in the bus made us feel better in a matter of minutes.
So instead of driving directly back to our lodge in Mount Kinabalu, we made a quick stop at Ranau. We visited the small market here and did shop shopping for batteries, film etc. Ranau is quite a big place, so a good place to stop if you need to buy something.
Fresh Fruit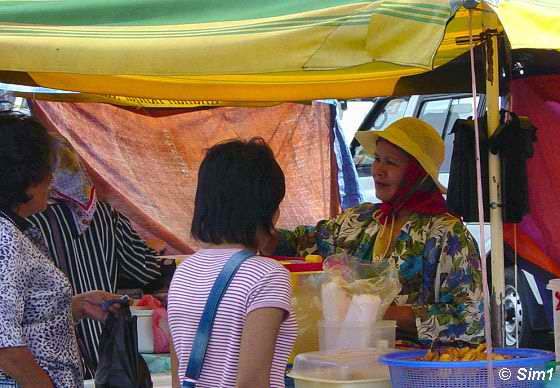 Fresh Fruit
The market at Ranau was small but colourful and a great place to buy some fruity snacks. So we walked around a bit and bought some bananas, pineapple and grapes. Yummy! In a hot climate like this nothing seems to taste better than some fresh fruit! :-)
The day has come to an end. And even if Poring Hot Springs was too touristy, I have to admit I still had a great day.
The trip continues.....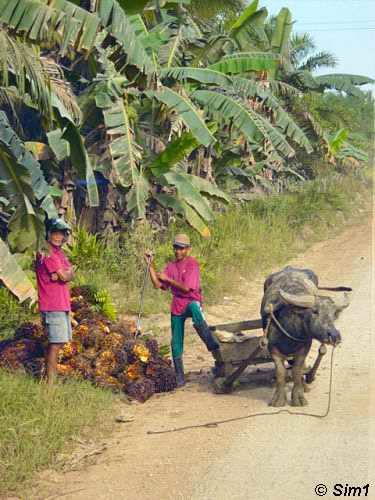 Dusty road towards Sukau
My visit to Poring Hot Springs has come to an end, but my Borneo adventures continue!
The previous leg of my journey was a visit to Kundasang, with its lively local market, its war memorial and wonderful views over Mount Kinabalu.
Tomorrow we will be on our way to our next destination. It will be a travel day, but still with quite a few things to see while we travel. I'll be walking on another hanging bridge, visit a huge cave and learn all about the palm oil plantations. You can read all about that in my next chapter on my 'Going to Sukau' page.
I hope you will join me on this virtual trip and enjoy reading my travel stories and see the pictures. For me it has been fantastic to write about my journey because it has made me relive the trip once again :-)