Roundtrip Borneo, June 2004
Libaran Island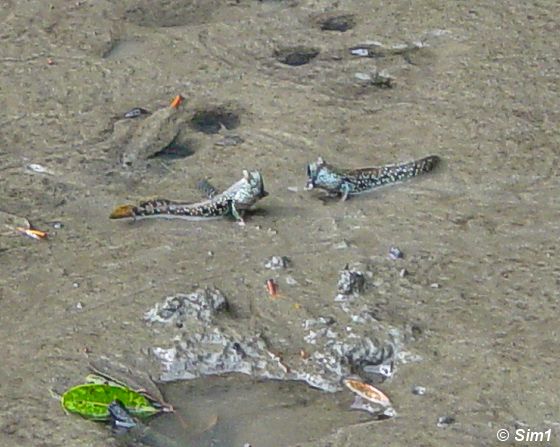 Mudskipper
Mudskippers are so fun! You can see these fighting fish in this mangrove landscape. Amazingly enough, these 'fish' spend most of their time out of the water. And they can move faster on land than in the water! These fish are not that big, they get about 15-30cm long.
These two fish were fighting with each other. They seem to try and make themselves bigger to impress the opponent. All in all a fun thing to watch as it wasn't only these two I saw, but quite a large group of them. So keep a look out for these Mudskippers when you visit the mangrove!
Monitor Lizard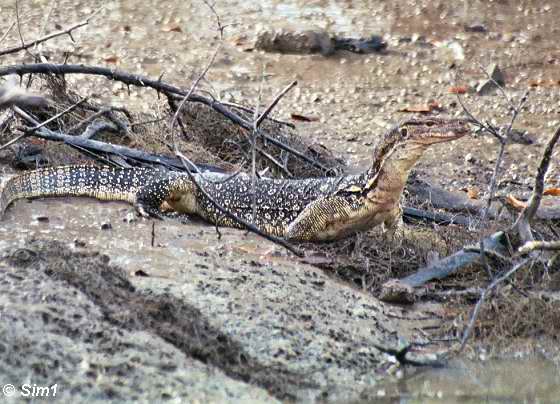 Monitor Lizard
I saw a few of these Monitor Lizards already during this Asia trip, but they keep surprising me, hahaha, and as you can see take pictures of. My first ever Monitor Lizard was in the klongs in Bangkok. After that I saw quite a few while staying at Sukau, here on Borneo. Hahaha, I even had one sneaking around my lodge, but racing off as soon as it spotted me.
This one was very close to a village, next to a couple of fishing boats.
Fishermen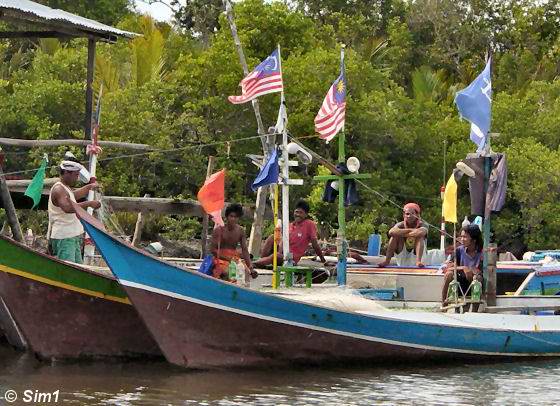 Fishermen
These fishermen were waiting to go on the Sulu Sea to go fishing. I loved their colourful boats and flags, their smiles, hahaha, and the enthusiasm with which they greeted us.Hahaha, although their enthusiasm started just after this picture was taken, LOL
Untangling the fishing nets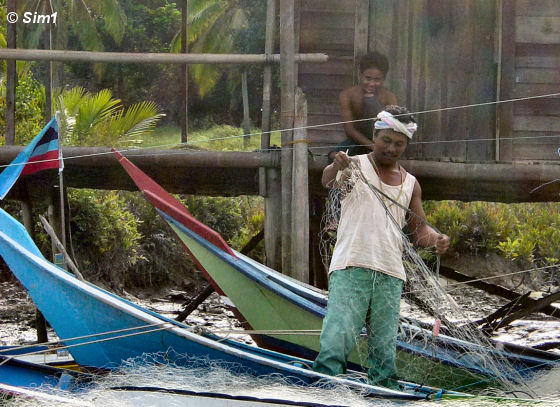 Untangling the fishing nets
One of the fishermen at work, untangling his fishing nets, hahaha or at least that is what it looks like. It is so wonderful to get a glimpse of the local life of people during this boat trip. Our boat continues slowly through the winding canal, passing a little village with houses on both sides of the canal.
Fisherman at Lalasun Village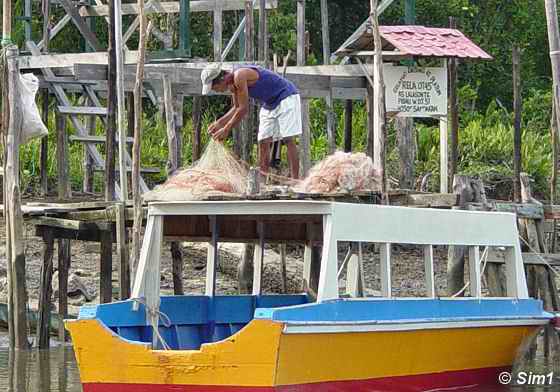 Fisherman at Lalasun Village
A little further along in the village I saw this fisherman standing on the jetty, working again... as everyone seems to do here..... on his fishing nets. The village I am at is called Lalasun Village. A name you might as well forget right away as it is so small; you probably would have a hard time finding it on any map ;-)
Waving goodbye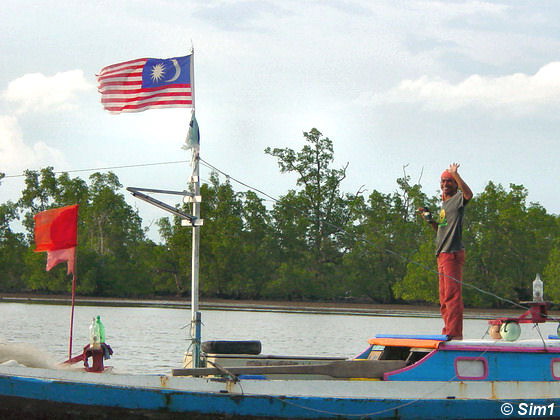 Waving goodbye
It is time to turn around our boat and head back to Libaran Island. But we don't leave without a proper goodbye from the fishermen. This is one of the fishermen we saw earlier this afternoon. They are now out a little bit further in the bay, waiting to go out to sea. They send us on our way with a greeting smile and wave goodbye!
Silence before the storm?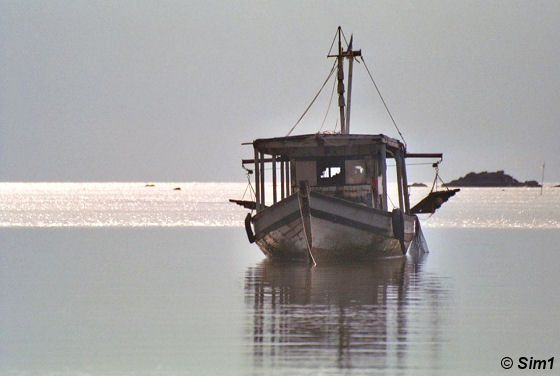 Silence before the storm?
The bay is amazingly calm. The water is so quiet you can see the reflections of the boat in it. The only little sign of waves is further on in open sea. The light is weird, but amazing at the same time. A spooky effect, but so beautiful. Is this the so called 'silence before the storm'?