Roundtrip Borneo, June 2004
Libaran Island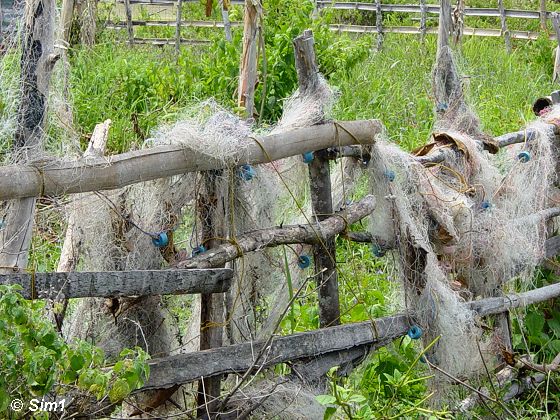 Fishing nets on a fence
Not all fishing nets seemed to be cared for just as much. I saw this bundle of nets hanging over and wrapped around this fence. I have to admit I don't know that much about fishing, but it looked like a bit of a mess. Hahaha, a picturesque mess though :-)
Lazy dogs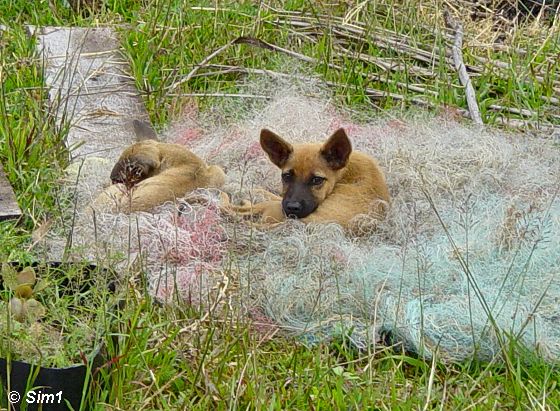 Lazy dogs
In the same garden I saw these fishing nets, or should I call them doggie nets, LOL :-) They seemed totally unsuitable for fishing, but the dog seemed very happy with them. Libaran is a lazy place and these dogs knew just how to be that in the best possible way :-) Sorry I disturbed guys.... I'll walk on again ;-)
Lazy cats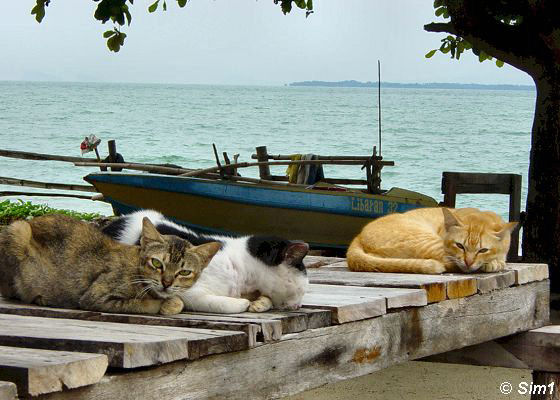 Lazy cats
This lazy thingy seems to be spread around quickly! You would think that the cats would be on alert until the fish arrives. But instead these cats preferred to be lazy and sleepy. They were close to the sea though at the spot where the fishing boats arrive, so maybe they weren't so dumb after all. The perfect way to be lazy and on the lookout at the same time :-)
Fisherman on the beach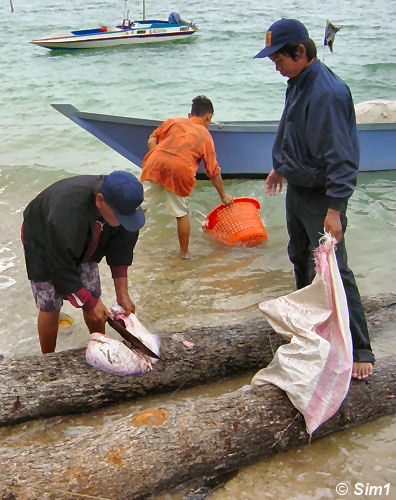 Fisherman on the beach
Just before going out on our trip to the Mangrove Forest, these fishermen came home with their catch. It was interesting to watch what kind of fish they caught and see them clean the fish right on the spot. I wonder if I would eat any of these fish tonight :-))
Fishing boys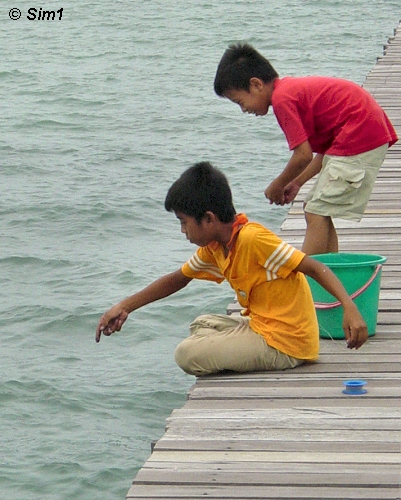 Fishing boys
Young or old, it doesn't matter. They all seem to be fishing, all on their own way. These two boys were so busy with their fishing activities that they didn't even notice us.
While waiting for the boat at the end of the jetty, I watched these boys fishing. They seemed to have a lot of fun doing so. Happy faces when they caught a fish :-)
Mangrove forest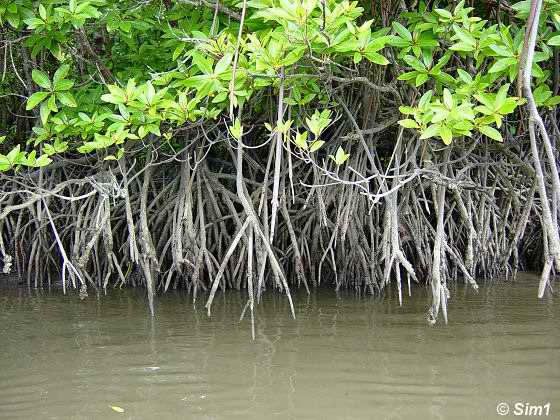 Mangrove forest
The boat brings us back to the mainland to visit a Mangrove Forest. Here we tour around in some of the canals to this special type of forest, which is fascinating to see.
The trees that grow here are mangrove trees. There are about 34 different species of trees that are together called mangroves. They share their name because of their same ability to withstand the tough conditions in these shore areas. They can grow in salt water and root in these muddy surfaces. It is not easy for a tree to stay up straight in such a muddy soil, often covered in a thin layer of water (as in the picture). To be able to do that, they have a complicated root system, so typical for a mangrove forest.
The 'Monkey Spear'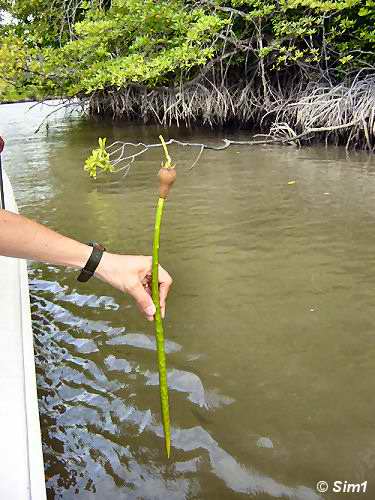 The 'Monkey Spear'
In the picture you can see what our guide called the 'Monkey Spear'. Hahaha, just love that name as I can just imagine monkeys throwing these around like spears, LOL :-)
This 'Monkey Spear' is a way that the Mangrove tree is nothing less than a seed, and a way to survive for the mangrove tree. The seed grows on the parent tree for about 1 or 2 years, until they are about 1/2 metre long. After that the seed will drop off, and when lucky it does so while it is low tide. If so, the seed (Monkey Spear) will stab directly into the muddy soil and will grow into a new tree, next to its parent tree. If it is high tide, the seed is not so lucky. But it still has chances to survive and root up on another place.