Roundtrip Borneo, June 2004
Kundasang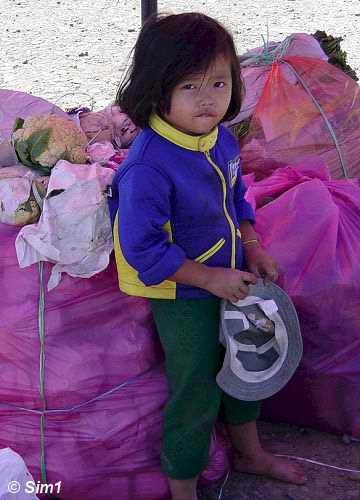 Shy little girl
I love to walk around in places like this and just take in the atmosphere. It's great to see all the different things they are selling, to watch the people and the difference in cultures.
Under a colourful umbrella, protected from the burning sun, I saw this shy little girl. She looked so cute! I just had to take a photo of her :-)).
'Strange' fruits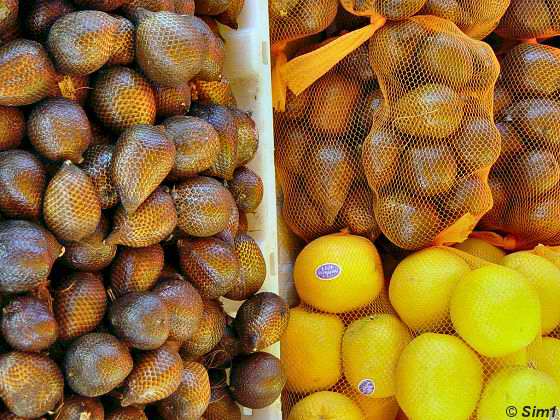 Snake fruit
One of the strange and 'unknown to me' fruits I saw here on the market was the snakefruit. The snake fruit grows in clusters at the base of the palm. And why it is called this way.... well, that's no surprise. The skin of the fruit is very thin and reminds a lot of the skin of a snake.
Of course I had to try a snakefruit! And it tastes delicious! :-)) It had a nice 'tropical' taste to it. Peeling the fruit is a bit tricky though. But luckily we had our guide 'One' around to help us out and tell us how to do it. When you have peeled the fruit, you'll notice a thin little skin still surrounding the fruit. Just rub that off with your finger and the snakefruit is ready to eat. Watch out for the seeds! You can't eat those.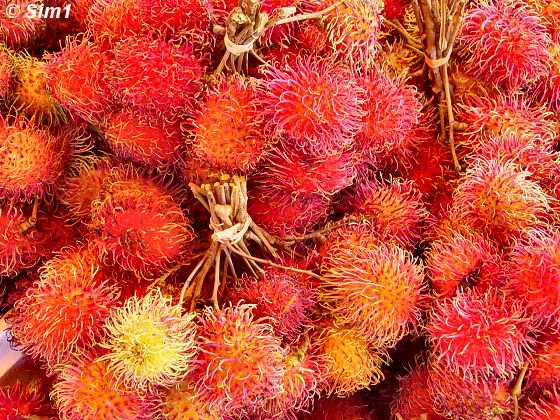 Rambutan fruit
This fruit caught my attention because of its wonderful colour and prickly shape. These are rambutan (nephelium lappaceum). They don't taste bad, they reminded me of lychees. Hahaha, but I found them more fun to watch than to eat :-))

Jack fruit
Okay, one more 'strange' fruit, hahaha, for me anyway. This is the jackfruit, and it is huge! I think it is the largest fruit you can find. I have no clue how it tastes though, or how you can eat it. But 'different' it is for sure. Besides that I saw lots of other fruits, vegetables and spices.
One fruit I didn't try was the durian. I had read so much about this fruit, that of course I had to try it. But... but... somehow I never got round in doing so. I guess I have to wait for a next trip Asia :-))
Local life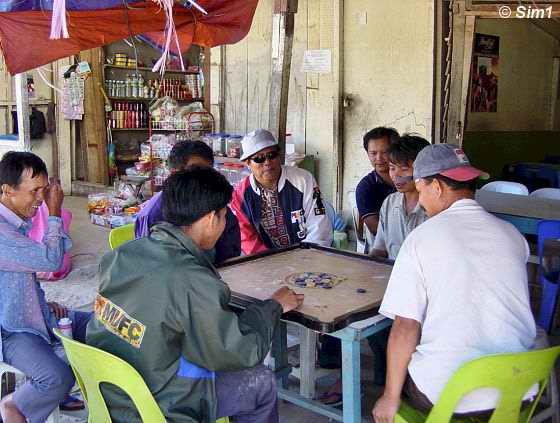 Playing a board game
At the end of the street I saw this group of men playing some sort of board game. They seemed to have a lot of fun playing it. They didn't mind us watching them for a while and me taking a photo. Hahaha, I guess they were too much caught up in the game to really notice it anyway ;-)
Streets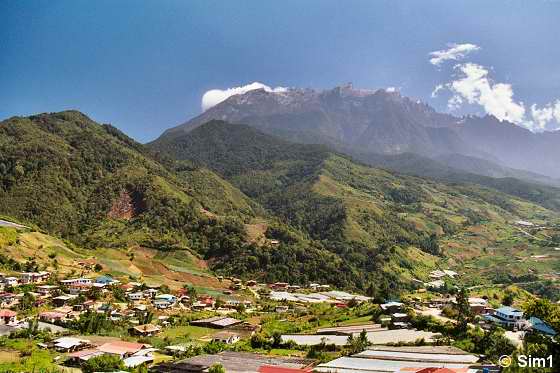 A street in Kundasang
The streets in Kundasang were not that impressive. At least in the part where I was. This is still the market area, but away from the 'main street'. The road is bumpy and on either side you can see the little shacks of the market. Quite a few pick-up trucks were driving around here, full with local produce or with some people in the back of the truck.