Roundtrip Borneo, June 2004
Mount Kinabalu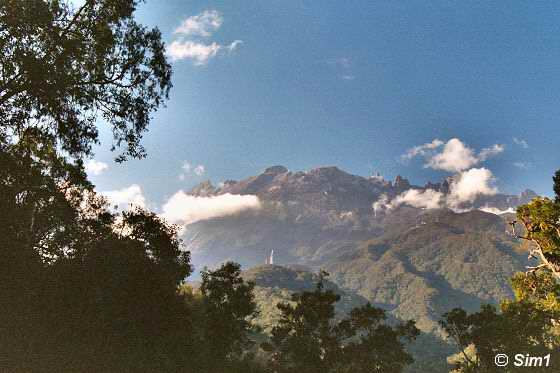 Mount Kinabalu
We walked a bit further up and all of a sudden, there it was.... Mount Kinabalu! Through an open spot in the trees I could see the impressive mountain.I stood there in awe and looked at the mountain. It is so impressive!
I felt so lucky to be able to see the peaks of Mount Kinabalu! I heard that there are often clouds surrounding it, making it impossible to see. But luck was with me and all the time I was at Mount Kinabalu I had clear skies and wonderful views over this impressive mountain.
The top of Mount Kinabalu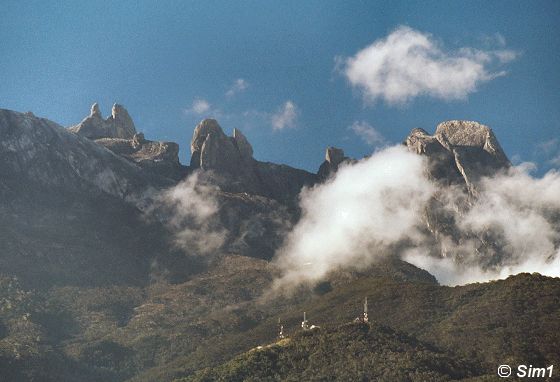 Mount Kinabalu
Mount Kinabalu is not just a mountain, it is the highest mountain in South East Asia. The peak of the mountain is 4101 metres high.
And it is not only the highest mountain between Himalayas and New Guinea, it is also a Unesco World Heritage Site. The reason for that is because it has a very wide range of habitats. You can find anything here from rich tropical lowland, hill rainforest, tropical mountain forest, sub-alpine forest and scrub on the higher elevations. You can find examples of flora here from the Himalayas, China, Australia, Malaysia, as well as pan-tropical flora. What more can I say.... it is beautiful here!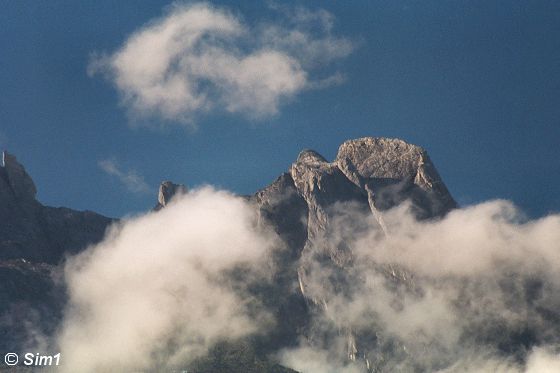 Mount Kinabalu
As you can see in this photo and the previous, I loved trying out my zoomlens here. The mountain peaks were so fascinating. It was great to look through the lens to have a closer look at those mountain peaks.
Soooo beautiful!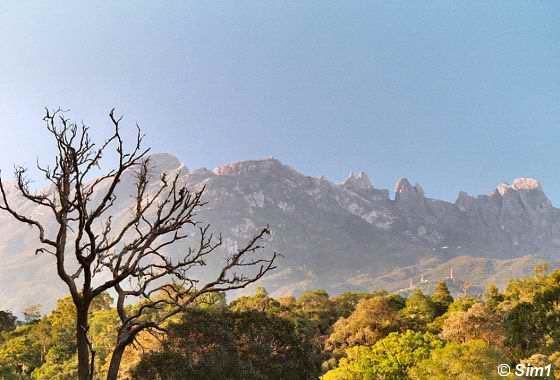 Mount Kinabalu
We continued our hike. But I couldn't keep my eyes off Mount Kinabalu. It is so amazing how walking for a little bit can totally change the view over the mountain. Another view, another click with the camera another deep sigh and me mumbling again.. Soooo beautiful!
Phew, time for a rest!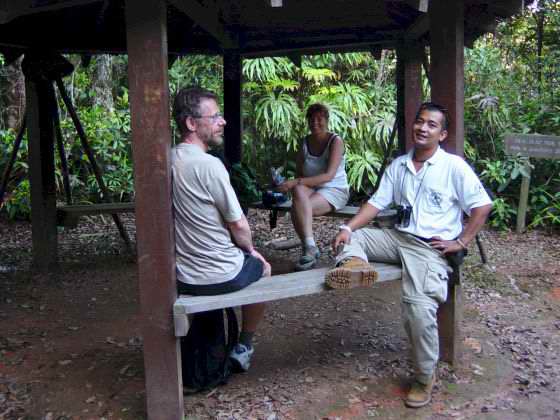 Phew, time for a rest!
Here I was thinking we were almost back at the parks office. But oooops.... how wrong I was! Instead of taking a trail down back to the parks office, we made a steep climb higher up the mountain instead. Puffing behind the guys I tried to work my way up the hill. Hahaha, so nice of our guide 'One' to suggest a little rest for the group pretending he was a bit tired. Hahaha, I can't say how grateful I was for this little break on our walk :-))
One more look at Mount Kinabalu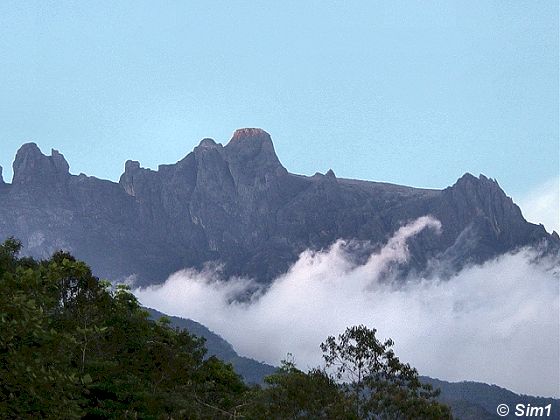 Mount Kinabalu
From now it was only downhill on our way back. The evening clouds were coming in and it was getting rather dark in the forest. So no chances anymore to take any photos. At the end of the hike I took one last look back at Mount Kinabalu. The clouds were starting to surround the peak of the mountain, soon the view would be gone.
Evening clouds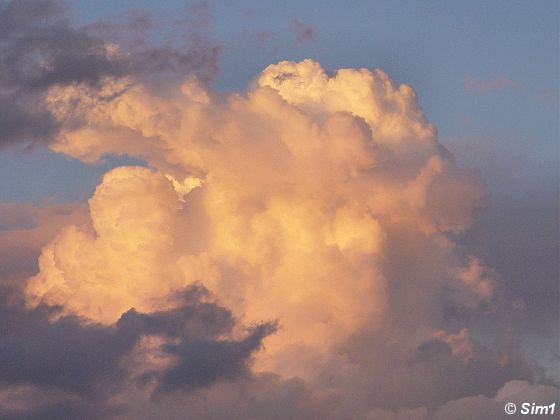 Evening clouds
We are back at our lodge and it is time to relax a little bit. Sitting on the deck we enjoyed some beautiful views over the surrounding area and Mount Kinabalu. The sun was setting, but unfortunately not visible from where we were. I could see the orange coloured sky reflecting in some of the clouds though, giving the sky this warm and wonderful glow. The night will fall soon now and quick. The sun seems to go down here so much faster here than in Sweden.
Jungle cocktail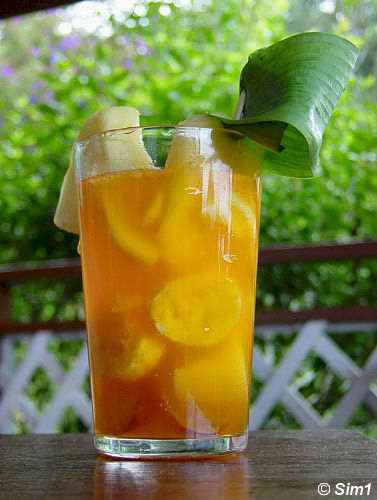 Jungle cocktail
The only nightlife at Mount Kinabalu are the cicada. The noise they make is amazing! In the total silence surrounding you, you can here their 'songs'. We had fun sitting on the deck identifying different species. They all sounded different, but wow, with a lot of volume! One of them sounded like a 'guitar' while another one sounded more like the generator, LOL, as you can imagine, not one of the most 'poetic' sounds around ;-)
The drink we invented was the 'jungle cocktail'. There is not much you can buy here, so don't forget to bring a supply of drinks with you. We mixed up what we had on stock, orange juice, a splash of rum, and lots of different fresh pieces of fruit. All garnished charmingly with a creative leaf :-)) And yep, it tasted great!!! :-))
The trip continues....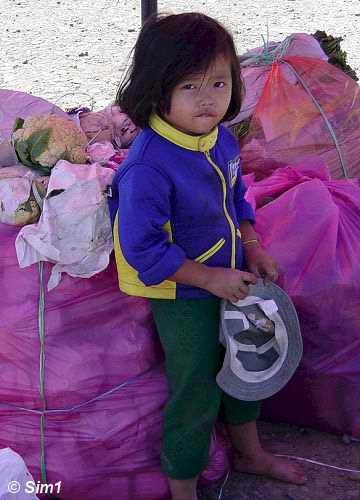 Little girl at the fruit market in Kundasang
My trip to Mount Kinabalu has come to an end, but my Borneo adventures continue!
The previous leg of my journey was a visit to Brunei.
From Mount Kinabalu I am heading to Kundasang where I visited a fruit market and a war memorial. From Kundasang I also had some wonderful views over Mount Kinabalu.
I hope you will join me on this virtual trip and enjoy reading my travel stories and see the pictures. For me it has been fantastic to write about my journey because it has made me relive the trip once again :-)