Roundtrip Borneo, June 2004
Mount Kinabalu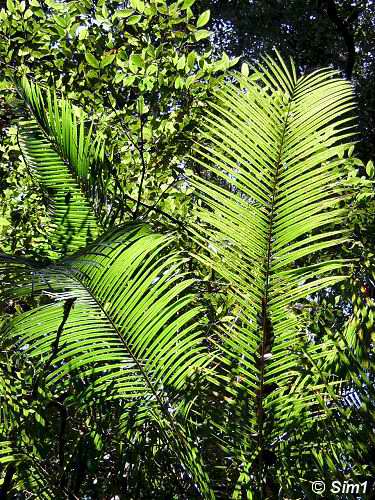 Bright sunlight, green leaves
Green, green, so much green! Everywhere I looked there were trees, plants, ferns all growing into each other. They were all fighting for a little bit of space and catching some sunlight. I loved these huge fern leaves with the sunlight filtering through it. I guess they weren't complaining about the amount of sunlight they got. It gave them something special though. The bright sun just lit them up, giving that special glow and vibrant green colour.
A splash of colour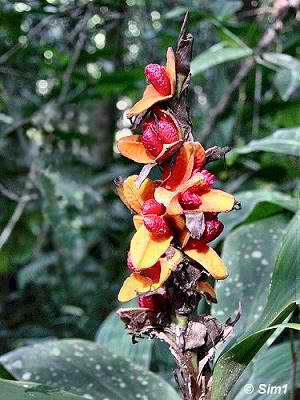 Ginger
The main colour to be seen in this forest is just green, green and endless green. In a 1000 different tones of green though, hahaha, but still all green. The one plant that did give a splash of colour in this sea of green was the ginger plant.
Another plant that actually gave more than just a 'splash' of colour was this one. It is called Medinilla Speciosa (Melastomataceae) and it looked so bright and colourful in this sea of green This is a little tree or shrub with several of these bright pink-coloured flowers on them. I found the flowers themselves strangely formed but fun to see. It is almost like it is made of a lot of little berries instead of being a flower.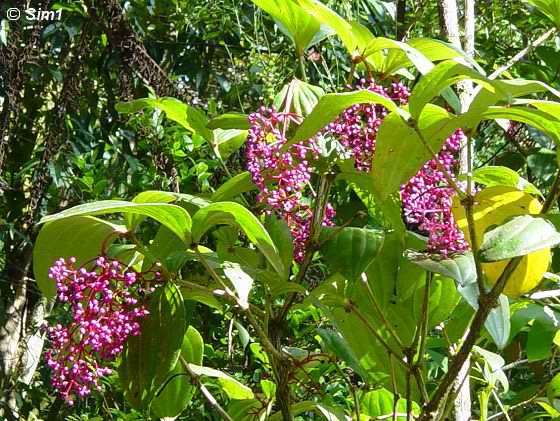 Melastomataceae (Medinilla Speciosa)
Orchids, orchids and orchids!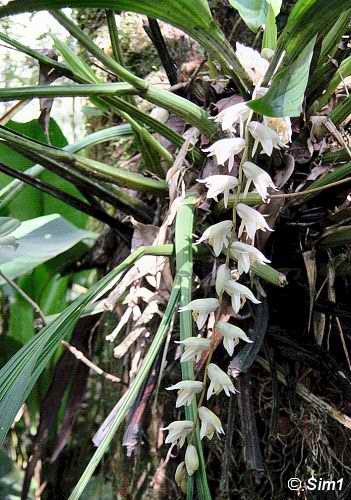 Coelogyne rhabdobulbon
Orchids, orchids and orchids! If you love them, this is the place to be! The mountain garden at Mount Kinabalu National Park. The garden is located not that far from the Parks office and won't be hard to find. Here they take care of so many different species of orchids, from big to small, from colourful to almost invisible, all you can think of. I have never been so crazy about orchids, but this place got me enthusiastic! I was so amazed by all these different varieties! A real pleasure to walk around here and spot all the different types.
If I am right is this the Coelogyne rhabdobulbon.
Miniature orchid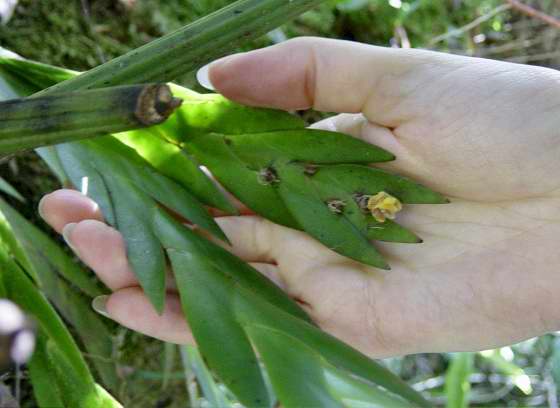 Miniature orchid
The orchids ranged from big to small, and this is one of the miniature ones. Hahaha, but don't think this is the smallest one around! It was huge compared to the 'real' miniature one!
To see the flower I had to used my binoculars, but hold them the other way round, so they work as magnifying glasses. A flower not bigger than the head of a needle was amazingly beautiful and complicated. It was a real orchid and had a wonderful pinkish colour. What probably amazed me the most that even if it was so absolutely tiny in shape, colour and details it was one of the most beautiful orchids I have seen.
The mountain garden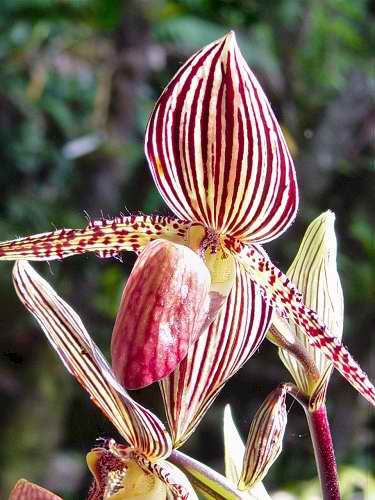 Orchids at the mountain garden
These are some of the beautiful orchids at the Mountain Garden. That they chose this location for the garden is not by accident. There are about 700 species of orchids found on this mountain making it quite an unique place. I have no clue how many species of orchids were brought together in the mountain garden, but there were more than enough to keep you busy for a while.
A visit to the mountain garden will cost you 5 RM (Foreign tourists) or 4 RM if you are local (prices summer 2004)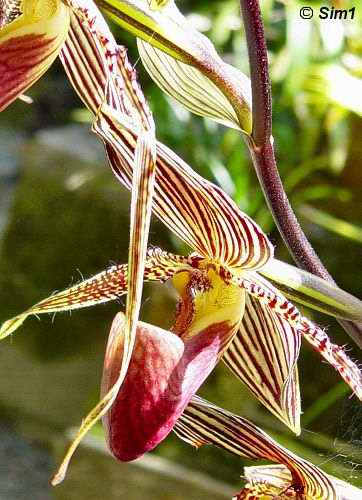 Orchids at the mountain garden
Slipper orchid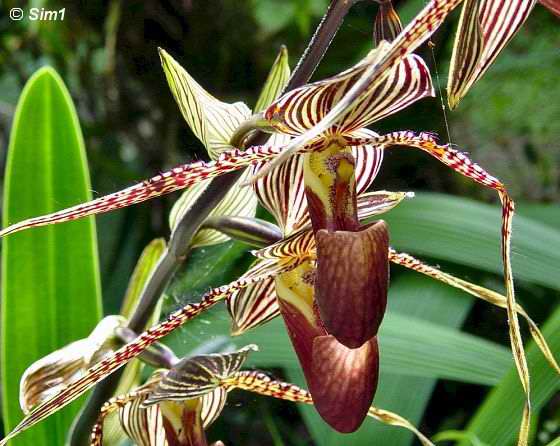 Slipper orchid
This is one of those very unique and rare orchids. It is endemic to Kinabalu and it called the 'Slipper Orchid' (Paphiopedilum rothschildianum). Unfortunately it is so rare that it is worth a lot of money on the black market. Unlike all the other orchids that were growing freely in the garden, this one was put behind bars for its own safety. Sad to know people try to steal orchids like this out of nature. It is already endangered, why can't we respect nature and help it, instead of destroying it even more?
Santa Orchid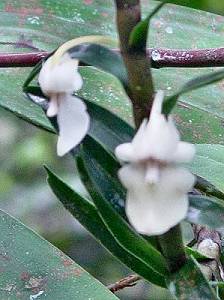 Santa Orchid
I know, I know, bad photo. Hahaha, but the nickname of this orchid was soooo funny, I couldn't resist publishing it. This is what they call the 'Santa Orchid' :-)) Hahaha, and standing their in this tropical heat, in this far away garden on Borneo, worlds removed from a feeling of Christmas, I looked at this flower, and I COULD see Santa in it! Hahahaha, I laughed so much! Such a cool and funny name for a beautiful orchid :-)))