Roundtrip Borneo, June 2004
Mount Kinabalu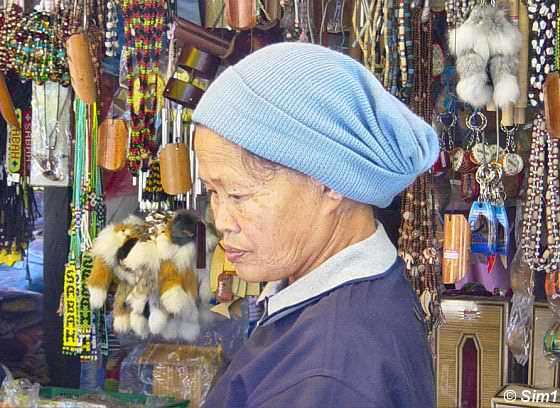 Mount Kinabalu
I am always a bit shy of taking photos of people, but sometimes I do give it a try. Here is a picture of one of the ladies that was selling souvenirs. In a moment that she wasn't looking I took my camera, zoomed in and quickly took this picture. I am happy that I did that, because for me looking at this photo is a little bit like being on that market again.
Wildlife Mountain Lodge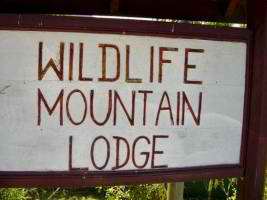 Wildlife Mountain Lodge
No time to waste anymore, it is time to hop on the minibus again, and get to Mount Kinabalu. The last bit of the trip wasn't so far and we arrived well before lunch at that 'Wildlife Mountain Lodge'. Our home for the next two nights.
My roundtrip was arranged by 'Wildlife Expeditions' and when you travel with them to Mount Kinabalu you'll most likely end up in this accommodation.

Wildlife Mountain Lodge
When I booked this trip I was told to expect primitive accommodations. So I expected it to be 'really' primitive. Hahaha, but lucky me, it wasn't so bad! It might not be your luxury place, but I wasn't complaining! We had our own bathroom, hot shower, living room and even two bedrooms! Not that we needed those, LOL, but it was fun to have lots of space anyway.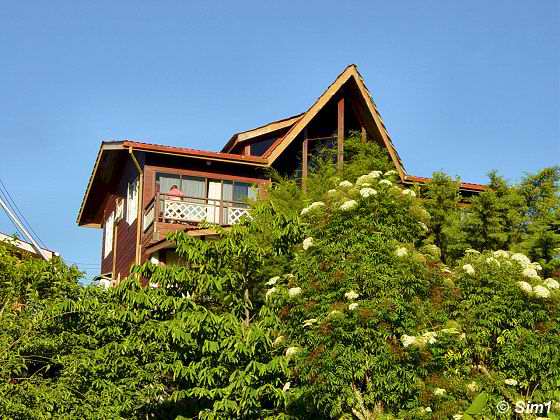 Wildlife Mountain Lodge
The lodge is situated on a nice location just outside the Mount Kinabalu National Park. And as you can see it is build high up on the side of the mountain. A perfect spot to relax after a long day and do nothing besides enjoying the view over Mount Kinabalu and surrounding areas.
View from the balcony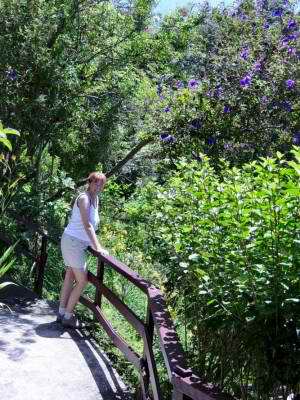 View from the balcony
One of my best memories is this balcony. I loved hanging over the railing and enjoy the wonderful view over Mount Kinabalu (I'll put some photos of that view later on this travel page). In the evenings it was pitch dark and most often there was a bit of lightning in the far distance. The sound of the cicadas was overwhelming, but it was nice and warm still outside. Although I did need a sweater so now and than because it cools off quickly during the evenings so high up in the mountain.
But it was so relaxing! Having a drink together with Åke and Olle on the deck, waiting for dinner to start, or having an after dinner drink here. Hahaha, we had many laughs here. I guess it was these wonderful surroundings that made us all relax and enjoy the evenings so much, even if we were dead tired of walking around all day long :-)
Kinabalu Park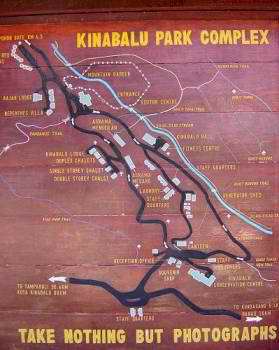 Map Kinabalu Park Complex
Kinabalu Park, in the State of Sabah on the northern end of the island of Borneo, is dominated by Mount Kinabalu (4,095 m), the highest mountain between the Himalayas and New Guinea. It has a very wide range of habitats, from rich tropical lowland and hill rainforest to tropical mountain forest, sub-alpine forest and scrub on the higher elevations. It has been designated as a Centre of Plant Diversity for Southeast Asia and is exceptionally rich in species with examples of flora from the Himalayas, China, Australia, Malaysia, as well as pan-tropical flora.
Kiau View Trail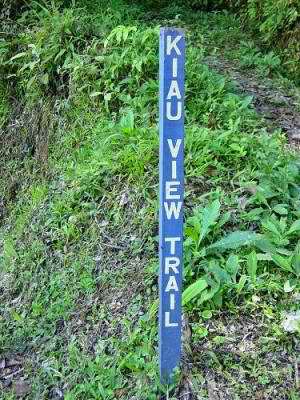 Kiau View Trail
We started our walk with part of the Kiau View Trail which starts very close to the parks office. It was great to have Redzuan with us as a guide as he knows the area well. So he planned a tour around the area using different connecting hiking trails which made us able to see different parts and habitats of this wonderful area.
Climbing up....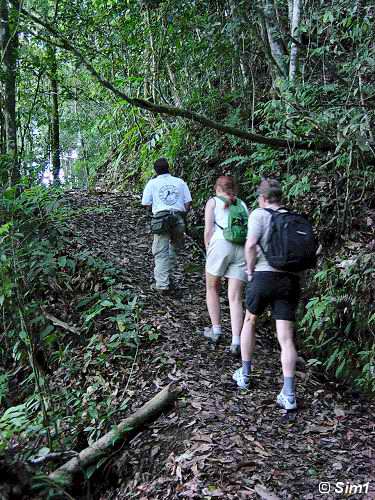 Climbing up....
I didn't climb up all the way to the top of the Mount Kinabalu, but that didn't mean we had no climbing at all to do! Some parts of the trails had quite steep stretches in them, and phew, that wasn't so easy.
Having just arrived in Malaysia it was rather an exhausting thing to do. A hike that I normally would laugh about in Sweden, was a totally different story here at Mount Kinabalu. Being on this high altitude (1500 metres high) and the tropical moist heat of the rainforest drained a lot of my energy. I certainly needed a bit of time to get used to these circumstances! But with some sweating and persistence I did make it! But it was more than worth it; I loved walking around here.
From trail to trail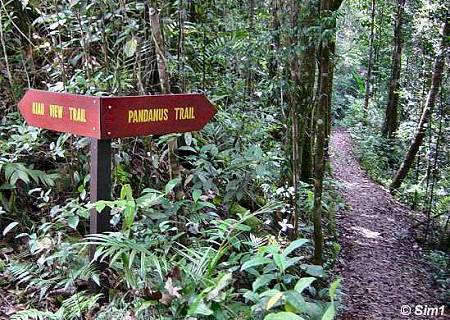 From trail to trail
We didn't stay on the one trail, but switched to connecting trails several times. Our next trail was the Panadus Trail. All trails seemed to be very good marked, so no problems at all finding your way around. I wouldn't go here without a good map though, or of course with a guide that knows his way around well :-)
Huge trees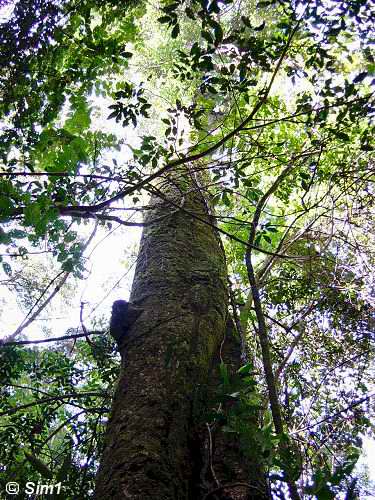 Huge trees
Some trees at Mount Kinabalu were huge! So high that I could hardly see the top of the tree. Some parts of the forests are so dense that this is the only way to get some of that precious sunlight. They just have to outgrow everything else to be the first to catch the sun. I just found it amazing to watch! And it made me wonder how long it takes to become such a tall guy like this tree.