Roundtrip Borneo, June 2004
Karambunai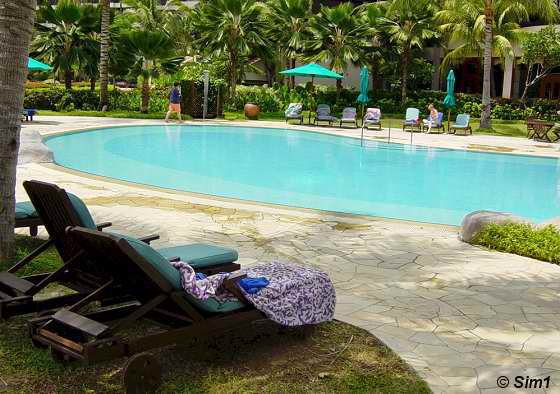 The pool area
So what shall we do this afternoon..... mmm, let me think..... how about some LAZZZZY time at the pool? Yep, that sounds good to me!
There are lots of LAZZZZY chairs at the pool area, which was perfect, and there is a counter where you can pick up free towels. There are several pools, so you can choose. And of course one of them has a pool-bar :-) None of the pools are very deep though, so the real swimmers are better of in the sea.
Happy Hour!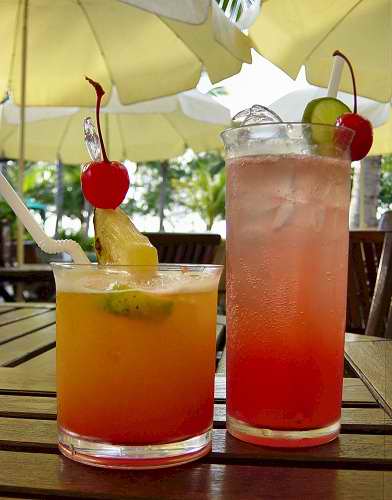 Happy Hour!
Happy Hour! Two drinks for the price of one! :-))
I was feeling so LAZZZZY and relaxed, it was the end of a wonderful day, sipping on a nice Singapore Sling at the pool area, the sun in my face. Mmmmm, it can't get any better... and more LAZZZZY, LOL..... than this :-)
The gardens and the beautiful flowers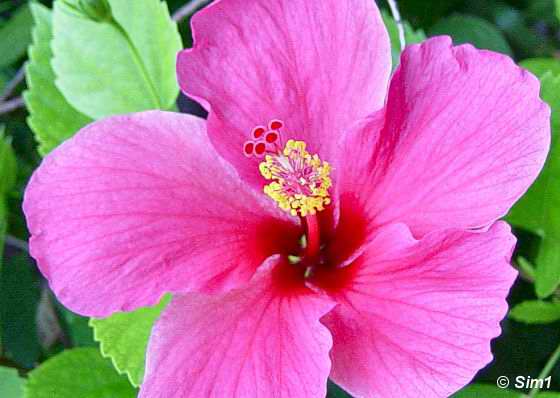 Beautiful hibiscus
The day is coming to an end, it is getting a bit cooler outside, and so the perfect time to go for a LAZZZY stroll through the gardens. It is amazing to see some of the flowers, so beautiful! This one I know, hahaha, but only in a much smaller version though and only as an indoor plant.
A round of golf maybe?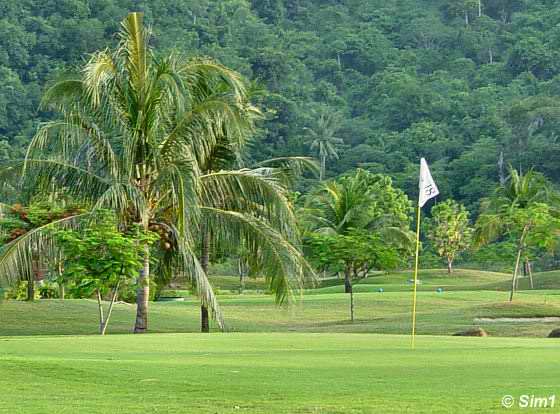 A round of golf maybe?
Something I really wanted to do, but never got to do, as I was tooo busy being LAZZZZZY, was playing a round of golf. I did take a quick look at the golf course though and it looked great. Now I am home I regret not haven given it a try. Oh well, maybe a next time :-))
A round of golf (18 holes) will cost you 300RM, which is about 65 euro or 80 USD. To play you need to have your official handicap card with you. Men must have handicap 24 or lower, woman 36 or lower.
Only allowed with golf buggy!


Golf buggy
Worried that your being-LAZZZZY image might be damaged by playing golf? Well, don't worry too much. You can always explain to everyone that you raced around the golf course in a golf buggy. So the real 'physical' element of walking around several kilometres has been cut down to a minimum. Hahaha, so, that makes it a rather LAZZZZY sport; doesn't it? ;-))
Well, I have to admit, having a golf buggy is maybe not a bad idea in this tropical heat :-)) But I always prefer to walk on the golf course. For me making a nice long walk like that is part of the fun. Hmmmm.... I have to watch what I say, hahaha, I think I just ruined my LAZZZZY image ;-))
Ducks have the right of way :-))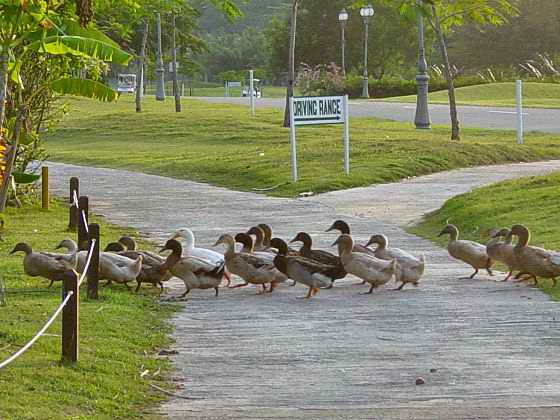 Ducks have the right of way :-))
Just a funny picture here :-) I had to laugh so much when we walked around at the golf course. This group of ducks clearly decided that THEY had the right of way, hahaha, and they made a lot of noise to make clear that WE had to wait... kwak, kwaak, kwak, kwaaak :-)
So we waited, patiently and with a big smile, while they LAZZZZILY crossed the street to reach one of the many ponds in the golf course.
Not always THAT good weather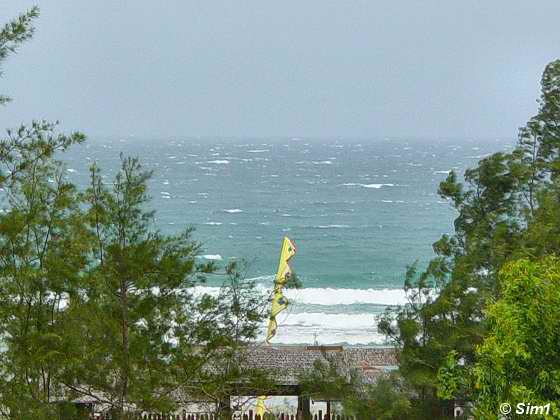 Stormy weather
Karambunai looks so idyllic, but it is not always so. The weather can change quickly here, and that is something you have to keep in mind. So when you are sitting LAZZZZZZILY on the beach and you see that beautiful blue sky turn into dark blue on the other side of the mountain, you know bad weather is on its way! And soon! So take your towel and make a run for it! :-)
We had quite a storm on the late afternoon and I was really happy that we left the beach on time so we could see the storm from our balcony instead of being blown away of the beach ;-)
A relaxing afternoon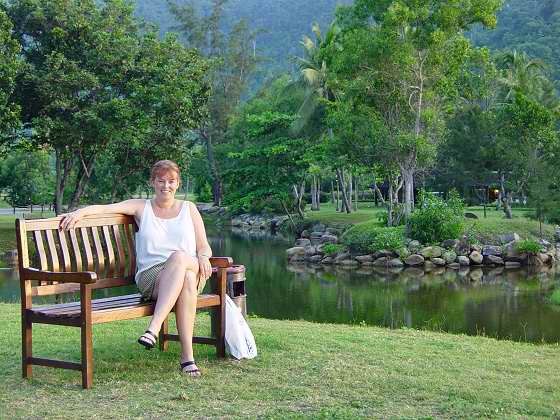 A relaxing afternoon
But it doesn't always have to be stormy weather in the afternoon, it can be beautiful and calm too, like I had on this day. It is wonderful to just walk around and find the perfect bench close to the beach and see the sun LAZZZZILY go down.... it won't be long before the sun will set.
The sunset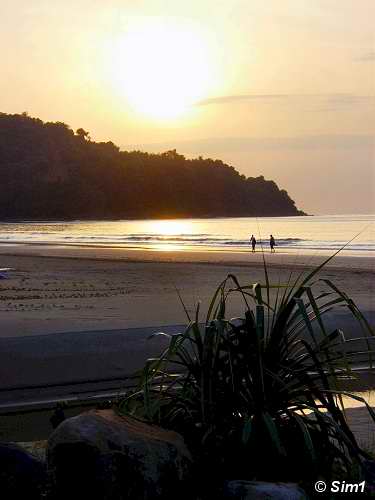 The sunset
I was so happy to see the sunset. Many of you might know that the sunset is my favourite moment of the day and I love to take photos of it. But on this trip I was a bit out of luck and this was my first chance to enjoy the sunset. And what a wonderful place to do so! Sitting quiet and LAZZZZY on the beach, just waiting for the sky to turn in all kinds of wonderful colours.