Brunei, June 2004
Bandar Seri Begawan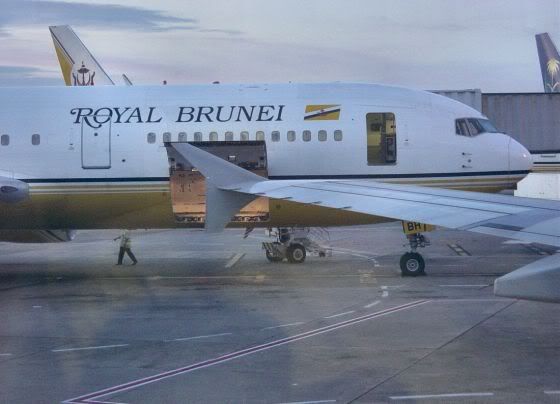 At the airport
I spend my last precious Brunei Dollars on coffee and lunch not knowing about the airport tax. Oops. that was a bad surprise. But luckily there was a desk close to the check-in counter where I could exchange some money to Brunei Dollars.
When you depart for Malaysian States or Sabah and Sarawak you have to pay B$5.00 departure tax and for all other destinations (Like Bangkok) the amount is B$12.00 per person.
Dress Code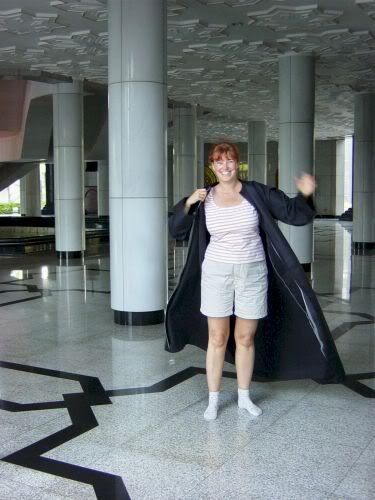 Dress Code
My trip to Brunei has come to an end. But before I go to my next destination, I would like to give you some practical tips about Brunei.
Brunei is a Muslim country and woman are advised to dress modestly. As I didn't know I was going to visit Brunei (I thought I would only make a very short stop-over in Brunei on my flight to Sabah) I was wearing the totally wrong type of clothing! Eeks! I had no chance to change into some descent clothing because everything was locked up in my suitcase and on its way to Sabah :-(
I was wearing shorts and a sleeveless t-shirt; not the most appropriate clothing for Brunei. I didn't get any comments on my clothing though and I didn't run into any problems. But be prepared to be stared at so now and then, and of course be prepared to feel a bit 'different' than anyone else you meet in Brunei. When I visited the mosque I could borrow a robe to cover myself. See the picture: me in action getting some appropriate clothing :-)
Visas


Jame' Asr Hassanil Bolkiah Mosque
I was in luck that I didn't need a special visa to enter into Brunei. Dutch (and Swedish) citizens together with several other countries (Belgium, Canada, Denmark, France, Indonesia, Japan, Luxembourg, Republic of Maldives, Norway, The Philippines, Peru, Spain, Switzerland, Thailand and The Principality of Liechtenstein) can stay 14 days in Brunei without a visa.
British, Malaysian, German, The Sultanate of Oman, South Korea, New Zealand and Singaporean citizens can stay 30 days without a visa.
US citizens can stay up to 90 days without a visa.
Australians are issued a visa upon their arrivals at the Brunei International Airport, but only for visits not exceeding 14 days.
It is wise to check your local Embassy for Brunei to know the most current rules to know whether you need to apply for a visa or not. You can find more info about visas to Brunei on this website : http://www.mfa.gov.bn/consular/
A muslim country


Jame' Asr Hassanil Bolkiah Mosque
Brunei is a Muslim country and for me that meant adjusting a bit to the local customs. I already mentioned the dress code, but there are a few more things. You can't buy any alcohol in Brunei or pork meat. If you wish you can bring a little bit of alcohol into the country, but be aware of where you drink it.
Another thing is not to give or accept anything with your left hand. At home I am a 100% 'left-hander', so for me that meant quite a bit of adjusting. But I think I managed rather well :-))
Money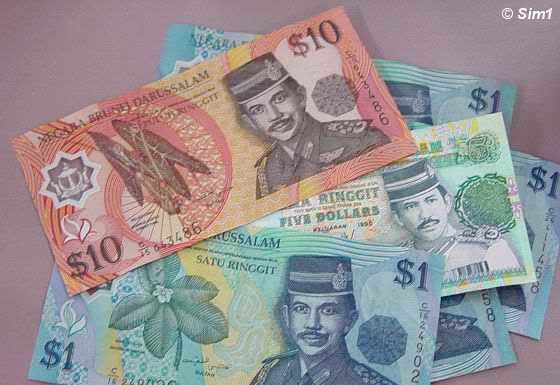 Brunei Dollar
The currency used in Brunei is the Brunei Dollar. Although this is the official currency, Singapore dollars are equally exchanged and can be used. As I was never expected of visiting Brunei I didn't have any Brunei dollars with me. But the ATM machine at the shopping centre was of great use and I was the proud owner of some Brunei dollars in no time :-))
The current exchange rate (June 2004): 1 Brunei dollar = 0.59 U.S. dollar or 0.48 Euro.
Credit cards are widely accepted in larger stores, hotels and restaurants. Smaller shops and restaurants often only accept cash.
The sultan, the sultan and again the sultan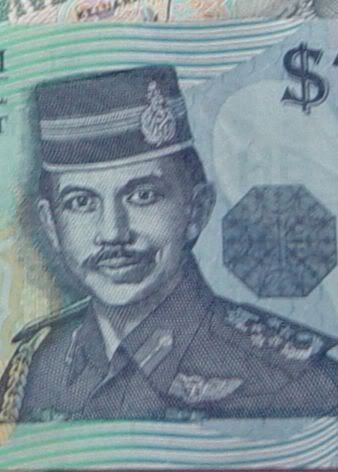 The Sultan of Brunei
The sultan, the sultan and more sultan.... and his family of course :-)) While visiting Brunei you can't escape from the world of the Sultan. Everything in this little Sultanate seems to evolve around him. In almost every sentence of my guide the word 'Sultan' appeared.
I've learnt lots about his life during my short visit, seen many of the palaces of him and his family and I've seen that he is a very generous man, taking good care of his people. My guide through Brunei was quite proud of his country and most of all the fact that they didn't have to pay tax :-)) But the Sultan is the absolute ruler of this country, which means no freedom of speech. A fact I was well aware of while being here.
The trip continues....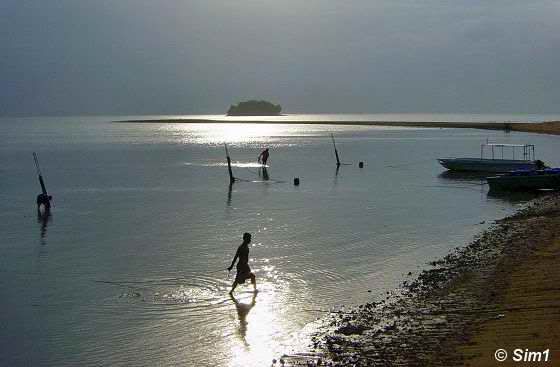 Libaran Island
Our time in Brunei has come to an end, so off we are to our next destination.... The trip continues.....
The previous leg of my journey was a short visit of two days to the bustling city of Bangkok
And from Brunei I am heading to the State of Sabah (Malaysia).
First stop on the trip: The amazing Mount Kinabalu.
I hope you will join me on this virtual trip and enjoy reading my travel stories and see the pictures. For me it has been fantastic to write about my journey because it has made me relive the trip once again :-)