Brunei, June 2004
Bandar Seri Begawan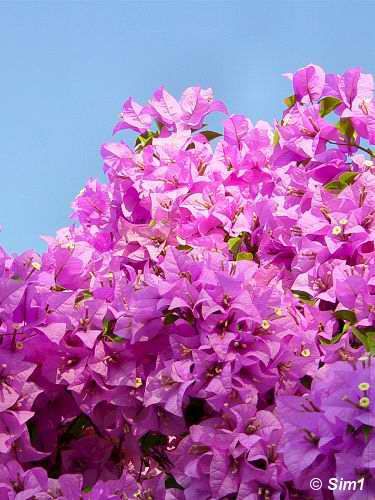 Bougainville
A luscious flowering Bougainville, with its abundance of pink flowers contrasting against the clear blue sky. For you maybe a normal sight, for me simply beautiful.
I've seen the beautiful flowering bouganville more often during my trips, but it never seizes to amaze me. I only know the Bougainville as a houseplant, hahaha, impossible to keep into flower. But here it seems to love the climate, the sun and is able to show off all its beauty.
A moment....


Jame' Asr Hassanil Bolkiah Mosque
One last look at the mosque, the sun is starting to go down, the day is getting to an end. The light reflected beautiful on the golden domes. A day that seemed to be starting as a bad day with a long stop-over and no flight tickets has turned into a wonderful moment. How quickly life can change. How happy you can be with just the tiny things in life, just a moment, a look, an emotion. For me this tiny moment has turned into a wonderful memory :-)
Brunei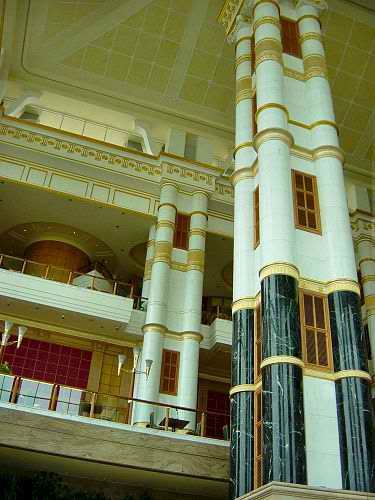 Empire Hotel and Country Club
I've actually been to Brunei twice :-)) But the second visit was only a very short one on the way home from Sabah to Sweden. A quick stopover of only a few hours, but nice to get out of the airport and do a quick tour around the city. First stop was at the Empire Hotel and Country Club: a hotel build to impress.
I have no clue why our guide brought us here, probably just to brag a bit about his country and this super-de-lux hotel. And yes: it is luxurious.... and yes, it is very expensive.... and yes, it has all you can wish for. And yes.... you need to bring your credit card! Uuhhh., probably all of them as this hotel IS expensive! LOL :-))
So if you want some luxury and you have a few dollars to spend, this is probably not a bad place to stay at. The cheapest room goes for almost 300 euro, and the most expensive will cost you around 13,000 euro per night.
Having a stroll along the seaside


Having a stroll along the seaside
The Empire Hotel is overlooking the South China Sea. And even on a not so sunny day as today, it was nice to take a stroll along the waterfront and feel the fresh sea breeze on my face. Hahaha, I think our guide was a bit 'upset' that we enjoyed this simple pleasure much more than the luxurious hotel.
Kampong Ayer (Water village)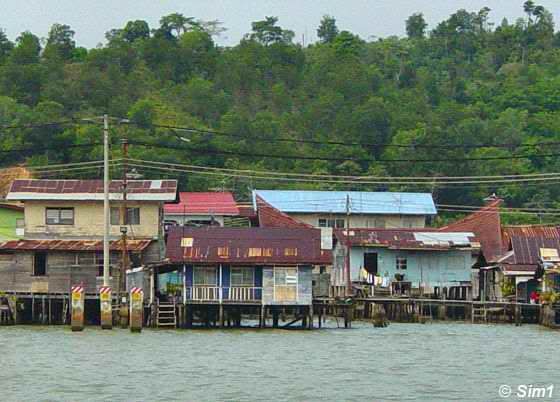 Kampong Ayer (Water village)
A heavy contrast in the city centre forms the Kampong Ayer (Water Village). On the one side of the Brunei River you have the modern buildings, clean streets and the beautiful Omar Ali Saiffudin Mosque (see previous tips) and on the other side of the Brunei River you see the Kampong Ayer (Water Village). The two just don't seem to belong to the same world. But they are! Don't be fooled by the appearance of these houses built on stilts, the houses have most modern comforts. TV antennas and satellite dishes are not the exception around here.
Going to the Water Village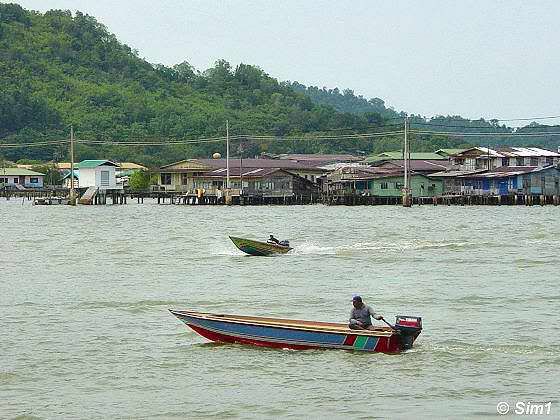 Going to the Water Village
Going to the water village is not difficult. As soon as you arrive to the pier there will be several water taxi's hovering around offering you a ride to the other side of the river.
Kampong Ayer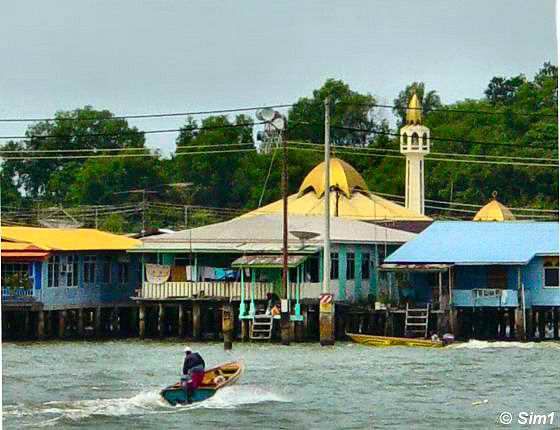 Kampong Ayer
The Kampong Ayer is huge. It is a collection of 28 water villages built on stilts and around 30,000 people live in this area. It stretches for several kilometres along the banks of the Brunei river. The village has its own markets, mosques, schools, police and even a fire station. In this picture you can see the golden top of the mosque and its minaret glistering in the midday sun.
Coffee, no beer!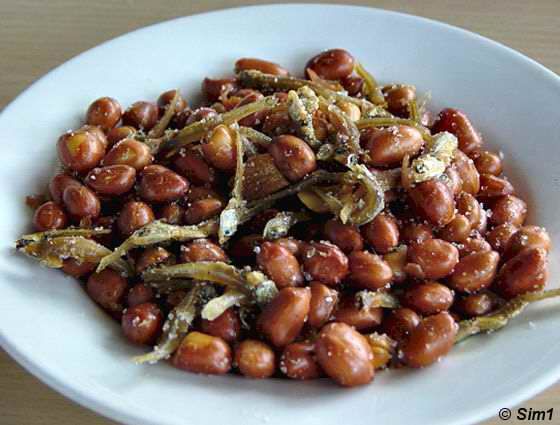 Peanuts and little fish
I have to admit that I didn't take a water taxi to visit the water village. We were feeling tired and just wanted a cup of coffee and after that it was time to catch or flight home. We didn't order any beer though, as you can't buy that here in Brunei. So coffee and tea it was.
Together with the coffee we were served this bowl of peanuts. Not normal ones (not for me anyway, hahaha) as they serve little fishes mixed together with the nuts to spice it all up. I enjoyed it lots though, yummy. I've seen it more around during my trip, hahaha, so it's not that exceptional. I just don't know it here in Sweden ;-)